Because of the COVID-19 outbreak, many crypto events have been postponed, but several have decided to be hosted online so that crypto enthusiasts can still participate from their homes. If you are interested in participating in an online crypto event, you have come to the right place.
Here is our list of the top online crypto events that are scheduled to take place this April.
4th Cointelligence Academy Community Meetup
Event date: 1-2 April 2020
Scheduled hour: 6:30 GMT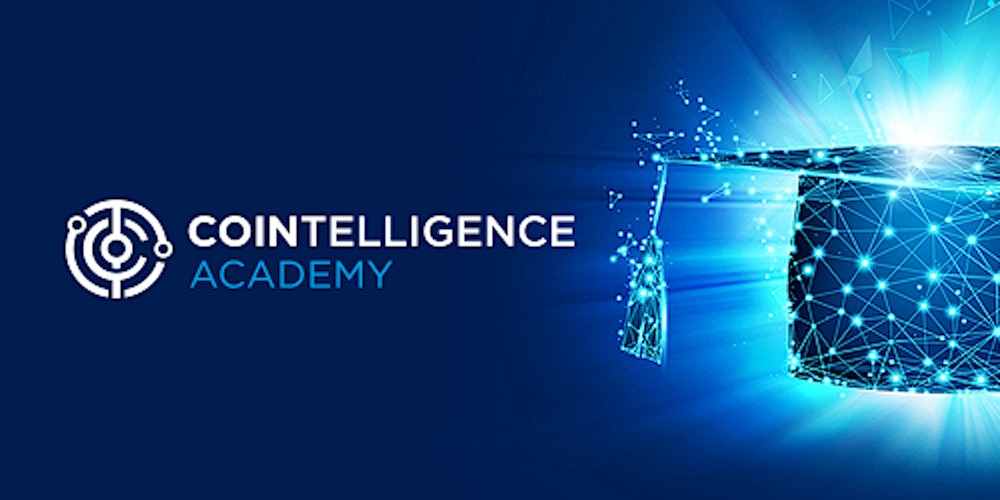 Cointelligence Academy will be hosting its online crypto event at 6:30 GMT on the 1st of April, so that people can take part in the event while still in self-isolation. The participation instructions will be sent to everyone who has registered via email, and they will be shown how to access this meetup.
The event will discuss some of the newest innovations in the blockchain and cryptocurrency industry and will provide a platform where the community will be able to share their knowledge and interact with people of similar interests.
Members will have access to online crypto education content, and they will be able to talk about the latest smart contracts platform which will enter the space or about the newest DeFi projects.
"We're doing this because we feel the need for an objective, non-judgemental, and agenda-free learning environment, which is why we created Cointelligence Academy in the first place," – stated the creators of the event.
Like their site, the meetups will not provide investment advice, try to promote a certain coin or project, or favor one project over another. The platform will provide an unbiased setting where everyone is welcome to discuss their own opinions and impart their insight on projects, and ultimately come to conclusions on their own.
There will be no speakers or keynote speeches at these events, but there will still be an agenda for topics to give a sense of organization. The agenda of this event is based on the information suggested by the community.
Cointelligence Academy allows community members to propose subjects before the meetup, and then the entire community votes which ones they want to be featured at the event. The topics that are the most voted will be ranked the highest on the topic list.
Brightlands Techruption Ideation Session 2/2
Event date: 7 April 2020
Scheduled hour: 10:00 – 12:00 CEST
The second session of the Brightlands Techruption event will take place this April and will be titled "Ideation on problems with confidentiality vs privacy and possible solutions."
To deter the spread of the coronavirus (COVID-19), the event will take place online, just like its first session. The members that have registered for the session will receive a link via an email address, which will invite them to the event's Microsoft Teams online meeting room.
The online crypto event will focus on matters related to confidentiality and privacy solutions that can be implemented via blockchain and transparency and confidentiality. Participants that are less tech-savvy will be able to understand at the end of the session how and which solutions to integrate solutions with blockchain.
The meetup will be examining the real-life problems encountered when using blockchain technology to improve communication between companies, government bodies, and other parties. The online session will be an in-depth exploration of how to balance transparency with confidentiality after a successful proof-of-concept implementation.
"The shared truth that the blockchain provides is nicely transparent & auditable, and even programmable (smart contracts!). However, most things that matter have aspects that you do not want the whole world to know. It could be confidential information that might benefit your competitors (pricing information, market size, etc) or you simply want to protect the privacy of the people involved. Luckily, there are methods to find a balance between transparency on the one hand and confidentiality on the other. Some work on an architectural level (move things off-chain), others require the application of advanced cryptography (e.g., zero-knowledge proofs, zk-SNARKS, bulletproofs)," – explained the organizers.
BlockDown 2020
Event date: 16-17 April 2020
Scheduled hour: N/A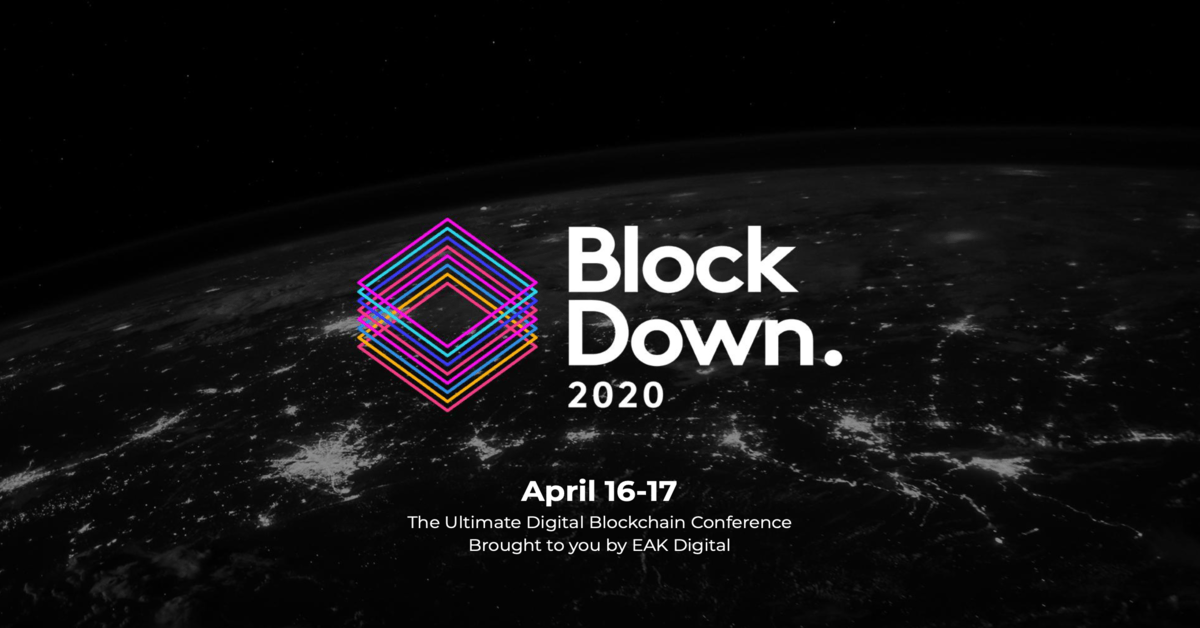 BlockDown is an online crypto event that will host interactive discussions, interviews, networking prospects, and AMA sessions.
While this is the first iteration of this conference, many important personalities from within the industry will be participating in keynote speeches. Some of the speakers that will attend are:
Roger Ver – Bitcoin.com executive chairman;
David Chaum – Elixxir founder;
Edward Moncada – Blockfolio chief;
Charlie Shrem – entrepreneur and bitcoin advocate;
Tone Vays – Content Creator, Derivatives Trader & Consultant at Tonevays.com;
Kyn Chaturvedi – CBDO at TomoChain;
Akon – Grammy-nominated artist that launched his own crypto Akoin and created his own crypto city in Senegal.
The organizers expect 3,000 people to stream the event, with BlockDown attempting to "recreate the essence of the traditional IRL conference." Exhibitors will be able to stream from their virtual exhibition booths and communicate directly with each participant. Those that are interested in participating will have to buy a ticket, which will cost $25.
Virtual Blockchain Week
Event date: 26 April – 2 May 2020
Scheduled hour: Apr 26, 2020 7:00 PM – May 2, 2020 10:00 PM EDT
Virtual Blockchain Week is an online crypto event that will be welcoming innovative leaders, tech gurus, and entrepreneurs from the crypto and blockchain space to impart their wisdom and knowledge to the attendees.
The conference was organized by the popular Bad Crypto Podcast and Cointelegraph, and it will be presented by the hosts of the podcast, Joel Comm & Travis Wright. The lineup features heavy names from the industry, including John McAfee, Changpeng Zhao, Roger Ver, Anthony Pompliano, Tim Draper, Peter McCormack, Rachel Wolfson, Caitlin Long, and Miko Matsumura.
The agenda on the event features 5 days, which will be packed with keynote speeches, panels, discussions, new projects, and sponsors in the industry.
What's more, anyone can participate, as the event is entirely free.
Connected Food Safety – Using the Blockchain for Food Safety Management
Event date: 23 Apr 2020
 Scheduled hour: 10:00 AM PDT | 01:00 PM EDT

Connected Food Safety – Using the Blockchain for Food Safety Management is an online crypto event where participants will be able to learn about the real-world implementations and use cases of blockchain and new technology platforms in food safety management programs and how it can revolutionize this industry.
The main topics that will be discussed include blockchain, Tangle technology, cryptography, encryption/verifications, traceability, FDA, and Food Safety Documents.
The instructor will be Jennifer Crandall, Founder of Safe Food En Route, LLC, who also has qualifications in PCQI, FSVP, HACCP, BRC Internal Auditing, with 22 years of experience in the food industry in areas concerning food manufacturing and corporate quality assurance and compliance.
Blockchain Fundamentals for Mortgage Professionals
Event date: 30 Apr 2020
Scheduled hour: 12:30-1:30 PM ET
Blockchain Fundamentals for Mortgage Professionals is an event aimed at people that are looking to learn what blockchain is and how it can be implemented in the mortgage industry from a business and technical perspective.
MBA Education, MISMO, and industry experts will be discussing the current status-quo of blockchain technology, its basic concepts, its associated challenges for its adoption, and the promising areas, use cases, and opportunities.
MBA members will be able to access this webinar for free and are required to use the promo code WEBINAR when they check out. Registered attendees will receive the login instructions in advance of the webinar.
The speakers that will be participating at the event are:
Shawn Jobe, Director, Factual Data;
Debbie Hoffman, Founder and CEO, Symmetry Blockchain Advisors, Inc;
Gnanesh Commaraswamy, Founder and CEO, FinBex;
Eric Lapin, FVP, Old Republic Title;
Andrew Garner, SVP, Wells Fargo Bank;
Jamie Stewart, Operations Manager, Janeway Law Firm;
Rishi Godse, Technical Architect, USAA Federal Savings Bank;
Conclusion
With this, we conclude our article featuring some of the online crypto events of this April. Seeing that all of them will take place online, you can participate in all of them if you want, especially the free ones.
Featured image: Btk-Fh.De
* The information in this article and the links provided are for general information purposes only and should not constitute any financial or investment advice. We advise you to do your own research or consult a professional before making financial decisions. Please acknowledge that we are not responsible for any loss caused by any information present on this website.