What is a Cryptocurrency Forum?
A cryptocurrency forum is a place where crypto enthusiasts can discuss everything related to the crypto world – the latest cryptocurrency-related news, what's happening in the crypto industry, what new blockchain technology appeared, and so on.
A cryptocurrency forum is basically a community of people interested in everything about crypto. Cryptocurrency forums were the early version of a Telegram group, Discord group, and so on – with way fewer scammers lurking and more enthusiasts.
The best 5 Bitcoin forums – What's the ultimate Bitcoin forum?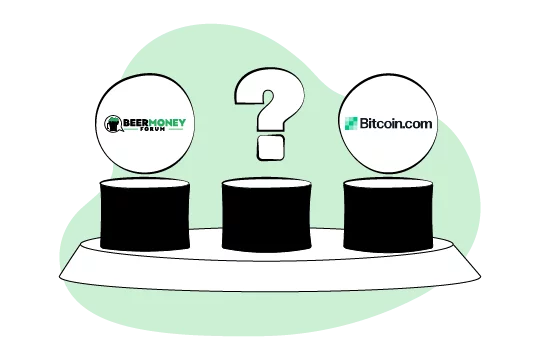 When I first joined the crypto world, the first thing I did was search for a place to learn more from other crypto enthusiasts. And a Bitcoin forum was the perfect solution for me.
That's why I will showcase in the following article the best 5 bitcoin forums where cryptocurrency enthusiasts can talk freely, have active members, and where the discussions are mostly high-quality information.
Bitcoin Garden forum
Bitcoin Garden Forum first appeared in 2013. It's one of those places where users love to discuss blockchain technology and what impact it would have on the world.
Back in the day, some extremely active users were very helpful in educating beginners.
Some of the best cryptocurrency discussions I had were on Bitcoin Garden Forum. Besides being a Bitcoin-focused forum, BitcoinGarden is also one of the most quality cryptocurrency forums.
Bitcoin Forum
Bitcoin Forum started in 2011 as a place for people to discuss Bitcoin economics, technical analysis, current market trends, and so on.
Some users are still active there even in 2023, even if the quality of the forum overall decreased over the years.
Bitcoin.com forum
One of the oldest from the industry was also Bitcoin.com forum. It was a great place for discussions about how to trade bitcoin, cryptocurrency mining, and new crypto coins in general.
The only issue with Bitcoin.com online forum is that it's owned by Roger Ver – which is the 'father' of Bitcoin Cash (BCH), a bitcoin fork.
Nonetheless, it's still a popular forum where you can learn about Bitcoin and find good market analysis of the current Bitcoin trends.
Beermoney Bitcoin forum
When I started, one of my favorite places was Beermoney Bitcoin forum. Here I found out about the Coinbase $25 promo they had in the past and many other offers that helped me gain some extra bitcoin. by registering to crypto exchanges or using different crypto wallets.
Note: This is not really a forum where crypto traders are active; this is a forum for people that want to make money online. Also, stay away from users with level 0.
Bitcointalk Forum
There's a reason why I've kept Bitcointalk forum as the last one, and that's because what's good comes at the end.
This is a one-of-a-kind forum where you can find everything related to Bitcoin. Every cryptocurrency enthusiast should join and be active there.
Want to learn new trading strategies? Bitcointalk forum has a section for that.
Want to be a part of the biggest communities of Bitcoin lovers? That's the Bitcointalk forum. 
Want to learn how to exchange cryptocurrencies from someone experienced? You can find a good thread on Bitcointalk.
Want to find gems or purely altcoins talks? This is the spot.
And what's best is that you can earn Bitcoin by participating in the forum. I can't say anything bad about Bitcointalk as it's the best Bitcoin forum and the best crypto forum overall.
Top 5 crypto forums – Picking the right crypto forum for you
A good cryptocurrency forum is a place where you can have elaborate discussions about the latest cryptocurrency news, new trends, and the crypto market and even share trading information.
While the forums above are focused on Bitcoin and blockchain technology, the ones below are more related to cryptocurrency in general. Without speaking too much, let's see the best cryptocurrency forums:
BitcoinGarden forum
As before, this forum is perfect for cryptocurrency enthusiasts and people wanting to learn more about cryptocurrency. The forum has a community of users, and it's perfect for people that want to connect with more experienced crypto investors.
BlackHatWorld Cryptocurrency forums
BlackHatWorld is a cryptocurrency with a whole different purpose. But the cryptocurrency forum is quite educative for beginners. A major advantage is that you don't need an account to read the topics.
Beermoney forums
On Beermoney forums, there are plenty of places where you can start a discussion on how to earn some cryptocurrency. The Beermoney community has one purpose only – to make some extra beer money.
CryptoCompare Forum
Crypto Compare is one of the oldest websites in the market. The forum has multiple threads for different cryptocurrencies.
There are over 8400 threads related to cryptocurrency and over 300 exchange threads. Crypto Compare is a place where all the crypto community comes together.
Bitcointalk forum
This is clearly one of the best cryptocurrency forums, if not the best. Almost all the old crypto OGs started here before Twitter & Reddit and it's been a great place for crypto enthusiasts ever since.
If you're trying to find the best cryptocurrency forums that you can be a part of, you have most of the above. Bitcointalk is clearly the winner here, even if many forums have tried to replicate its success.
Using a cryptocurrency forum for your own benefit involves doing the following:
Start lurking around – a lot of quality information is shared on these forums. Try to check the message board daily and see where the news appears faster
See what benefits each forum has – Bitcointalk allows you to earn cryptocurrency if you're a proven member by participating in the signature campaigns. Beermoney forum has a lot of small offers where you can earn BTC and other cryptocurrencies
Remember that there are scammers around – If something sounds too good to be true, maybe it's a post that the admins missed. Don't believe everything.
What is a subreddit?
If there's a type of cryptocurrency forum that had amazing success with the crypto growth, that's the cryptocurrency subreddits.
Subreddits are basically smaller communities where users discuss a certain on-point topic or a broader one. Usually, people talk about the latest news, personal opinions, debates, hypothetical situations, and so on.
Best Crypto Subreddits – What's the best crypto community from Reddit?
We've learned what's a crypto subreddit; now let's see what the best crypto subreddits are.
/r/Bitcoin subreddit
The place where everything started on Reddit was probably r Bitcoin subreddit. This was the place where bitcoiners discussed the project development, the latest trends, and a few altcoins talks here and there.
Discussions about other cryptocurrencies quickly began being redirected to other subreddits, and /r/bitcoin became the best place for Bitcoin maximalists to discuss and share their opinions.
/r/CryptoMarkets
This subreddit easily became one of the places where crypto enthusiasts gathered to post the latest news. This is among the crypto forums where you can easily check the headlines that matter.
It's one of my favorite subreddits as it's strictly focused on information and discussing the crypto market. /r/CryptoMarkets is one of the subreddits a crypto redditor should follow.
/r/ETHtrader
ETHtrader subreddit started as a community where traders would discuss their trades on Ethereum. It was purely a place for Ethereum enthusiasts, similar to /r/bitcoin.
Lately, the subreddit evolved into having Adoption discussions, media and comedy news, technical analysis discussions, news, and fundamental analysis on Ethereum cryptocurrencies.
It's a nice place to see what fellow traders are trading, what's other people's opinions on Ethereum, and so on.
/r/Cryptocurrency
The biggest subreddit related to crypto has a clear winner: /r/Cryptocurrency. This crypto subreddit became so big that it launched its own cryptocurrency, now at a $32 million market cap.
It's probably the biggest crypto community, where users connect to talk about crypto. If you want to find news in almost real-time before they gain traction, you should join r/Cryptocurrency.
The discussion on this subreddit varies: from the latest news to personal opinions and questions of the people. Make sure to respect the rules prior and have a little activity on Reddit before joining there.
It's hands down one of the best crypto forums there is.
Crypto Trading Forums – Getting quality crypto market information
You might not be interested in getting the latest news, trends, and so on – and you may only be interested in trading. Don't worry; we have a small list of places that you can check to find the latest stock market & crypto market insights.
SeekingAlpha – SeekingAlpha is a trading community, a large forum where people discuss trading stocks, ETFs, crypto, etc.
BlockchainWhispers – A community of traders, free but with a paid version where you'd get quality insights and signals. You need to join and create an account on their platform to see the latest discussion.
AskTraders – A closed community that you must join on their platform to investigate trading tips, tricks, and real-time alerts. It's a good place for a crypto discussion and stock trading.
The ultimate crypto trading forum
But the best one, which is not exactly a cryptocurrency forum, is TradingView. The platform has almost everything a trader needs. From technical indicators to financial information about the company – TradingView has it all.
Before you join, keep in mind that reading some of their most experienced trader's opinions as well as using the most advanced features of the platform, may cost a monthly fee. It's like paying to access quality information and deep insight about your favorite crypto or stock.
Conclusion
We hope that this article helped you pick one of the best cryptocurrency forums. Some of the forums about doesn't require joining to read all the information there, but you may join to show some support and thanks to the people who provided valuable information.
* The information in this article and the links provided are for general information purposes only and should not constitute any financial or investment advice. We advise you to do your own research or consult a professional before making financial decisions. Please acknowledge that we are not responsible for any loss caused by any information present on this website.