Coinbase and Coinbase Pro are two popular sister exchanges owned by Coinbase Global Inc. In 2020 alone, both platforms commanded cryptocurrency trading worth hundreds of billions of dollars. In this Coinbase vs Coinbase Pro comparison, we will explore what fees and other distinguishable features these two crypto exchanges have to offer.
Even if they are owned by the same parent company, they operate differently when it comes to cryptocurrency trading. For instance, Coinbase aims to help beginner investors to buy their first cryptocurrency, while Coinbase Pro is preserved for seasoned, active traders looking for professional-level trading.
Coinbase vs Coinbase Pro | Introduction
About Coinbase
Coinbase is the brainchild of two men Brian Armstrong and Fred Ehrsam. It is a San Francisco-based exchange that was launched in 2012, being one of the most reliable and secure platforms for cryptocurrency trading. The exchange holds a BitLicense, which means it's one of the few crypto exchanges allowed to legally operate in New York.
Coinbase works with top brands, such as Dell, Expedia, Time Inc., and others to process Bitcoin payments. The platform serves as a broker that allows users to buy and sell cryptocurrencies at specific prices based on prevailing market trends.
This means traders do not wait for orders to be matched because transactions are fast and simple.
About Coinbase Pro
Initially registered as GDAX, Coinbase Pro was first established in 2015 as a separate branch and service of Coinbase Global Inc., which was meant to serve professional investors. In May 2018, Coinbase renamed GDAX to Coinbase Pro.
However, on Coinbase Pro, users can make their own orders, set their own prices, and then wait for other traders to match the order. The platform supports more trade orders than the original Coinbase platform. In 2019, Coinbase Pro released a new fee structure, which reduced prices for large-volume trades.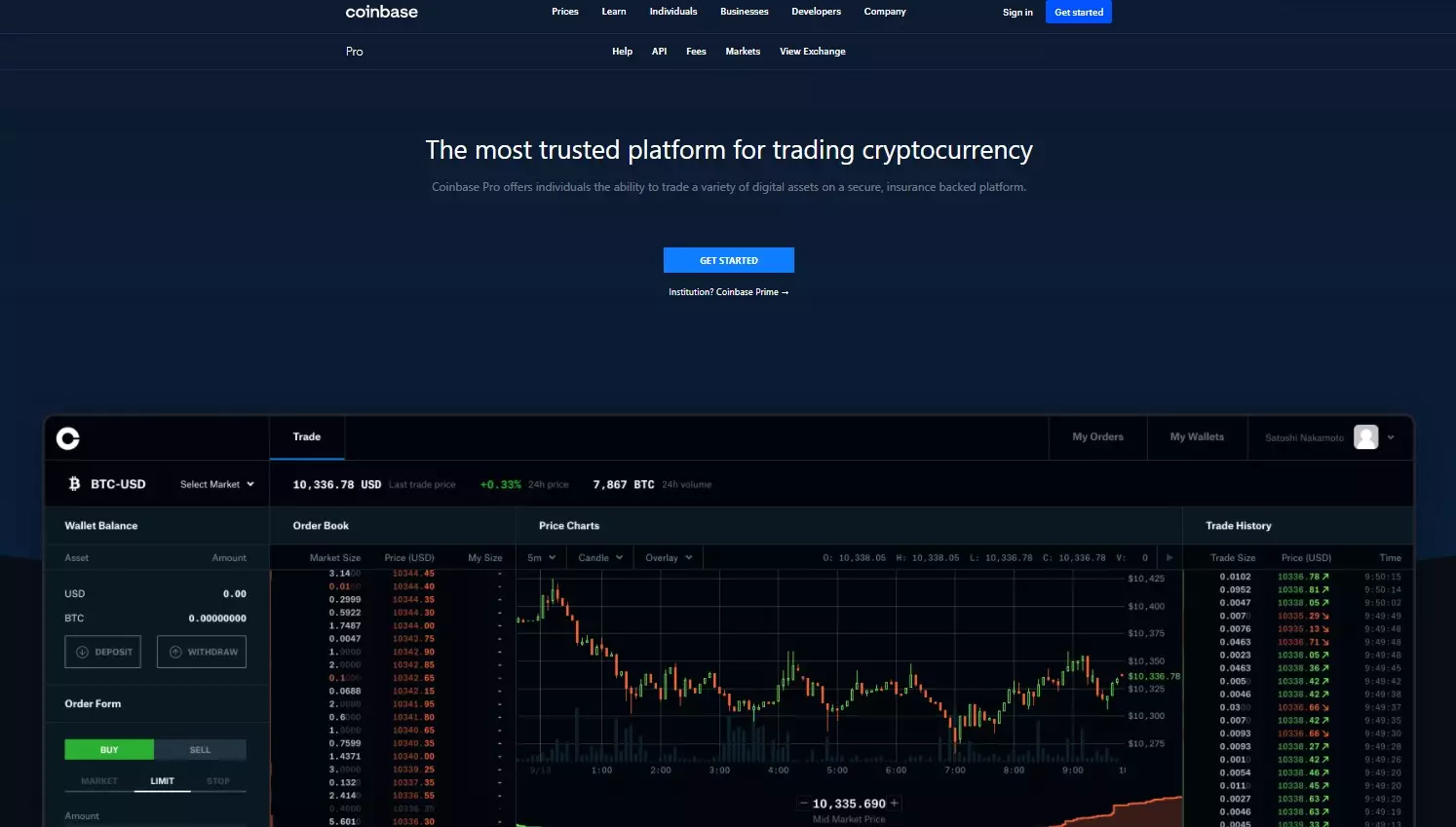 Coinbase vs Coinbase Pro: Supported Countries
Both services can be accessed by users from the following countries: United States, United Kingdom, Canada, Singapore, Andorra, Austria, Belgium, Bulgaria, Croatia, Cyprus, Czech Republic, Denmark, Estonia, Finland, France, Gibraltar, Greece, Guernsey, Hungary, Iceland, Ireland, Isle of Man, Italy, Jersey, Latvia, Liechtenstein, Lithuania, Luxembourg, Malta, Monaco, Netherlands, Norway, Poland, Portugal, Romania, San Marino, Serbia, Slovakia, Slovenia, Spain, Sweden, Switzerland, and Mexico and more. You can check all the available countries on their official website.
Some countries can only conduct crypto/fiat trading pairs while others can only access crypto/crypto trading pairs on Coinbase Pro. While Coinbase users can view the order book for any trading pair, they can only trade on the order books available in their countries. The availability of trading pairs must comply with local regulations so there are no exceptions.
Coinbase vs Coinbase Pro: Supported Currencies
To identify the winner of our Coinbase vs Coinbase Pro battle, we will continue with the cryptocurrencies available on both trading platforms.
Coinbase currently lists Bitcoin, Bitcoin Cash, Ethereum, Ethereum Classic, Litecoin, 0x, USD Coin, Basic Attention Token, Ripple, EOS, Stellar, Augur, DAI, USDC, Zcash, and many more.
Coinbase Pro supports the trading of a wider variety of cryptocurrencies and more pairs. There are lots of popular crypto available, some of them being Bitcoin (BTC), Ethereum (ETH), XRP, Litecoin, Bitcoin Cash (BCH), EOS, Cosmos (ATOM), Basic Attention Token (BAT), Bitcoin SV (BSV), Civic (CVC), DAI, DASH, District0x (DNT), Ethereum Classic (ETC), Golem (GNT), Kyber Network (KNC), Chainlink (LINK), Loom Network (LOOM), Decentraland (MANA), Maker (MKR), Orchid (OXT), Augur (REP), USD Coin (USDC), Stellar (XLM), Tezos (XTZ), Zcash (ZEC), and 0x (ZRX).
Payment Options
Both have the same payment options:
Bank transfer (as well as ACH in the US and SEPA in the EU);
Credit cards;
Debit cards;
Coinbase to PayPal withdrawal;
Listed cryptos;
CAD, EUR, GBP, SGD, & USD.
Coinbase vs Coinbase Pro: Fees
Coinbase has the following fee structure:
$10 and below: $0.99 fee;
$10 to $25: $1.49 fee;
$25 to $50: $1.99 fee;
$50 to $200: $2.99 fee.
Bank transfer purchases usually come with a fee of 1.49%, while card purchases have applied a fee of 3.99%.
Coinbase Pro's fee structure is based on a maker-taker fee system applied to a 30-day volume. In October 2019, Coinbase Pro raised its fees for new tiers of accounts that transact under $10,000 and between $10,000 and $50,000.
The platform uses a maker-taker fee model to determine its trading fees. Orders bring liquidity (Maker orders) and attract different fees from orders that take liquidity (Taker orders). Fees charged depend on the current pricing tier of a trader when the order is placed and not the tier of the trader after completing a trade.
For example, when you place an order at the market price that is filled immediately, you become a taker and, therefore, are entitled to pay a fee between 0.04% and 0.50%. But if you place an order that is not immediately matched by an existing order, that order is moved to the order book.
If another customer places an order that matches yours, you become the maker. In that case, you will have to pay a fee between 0.00% and 0.50%.
Coinbase vs Coinbase Pro: Interface and Features
It is worth noting that Coinbase has a simple and easy-to-understand interface, which displays the fees, delivery time, and trading amount.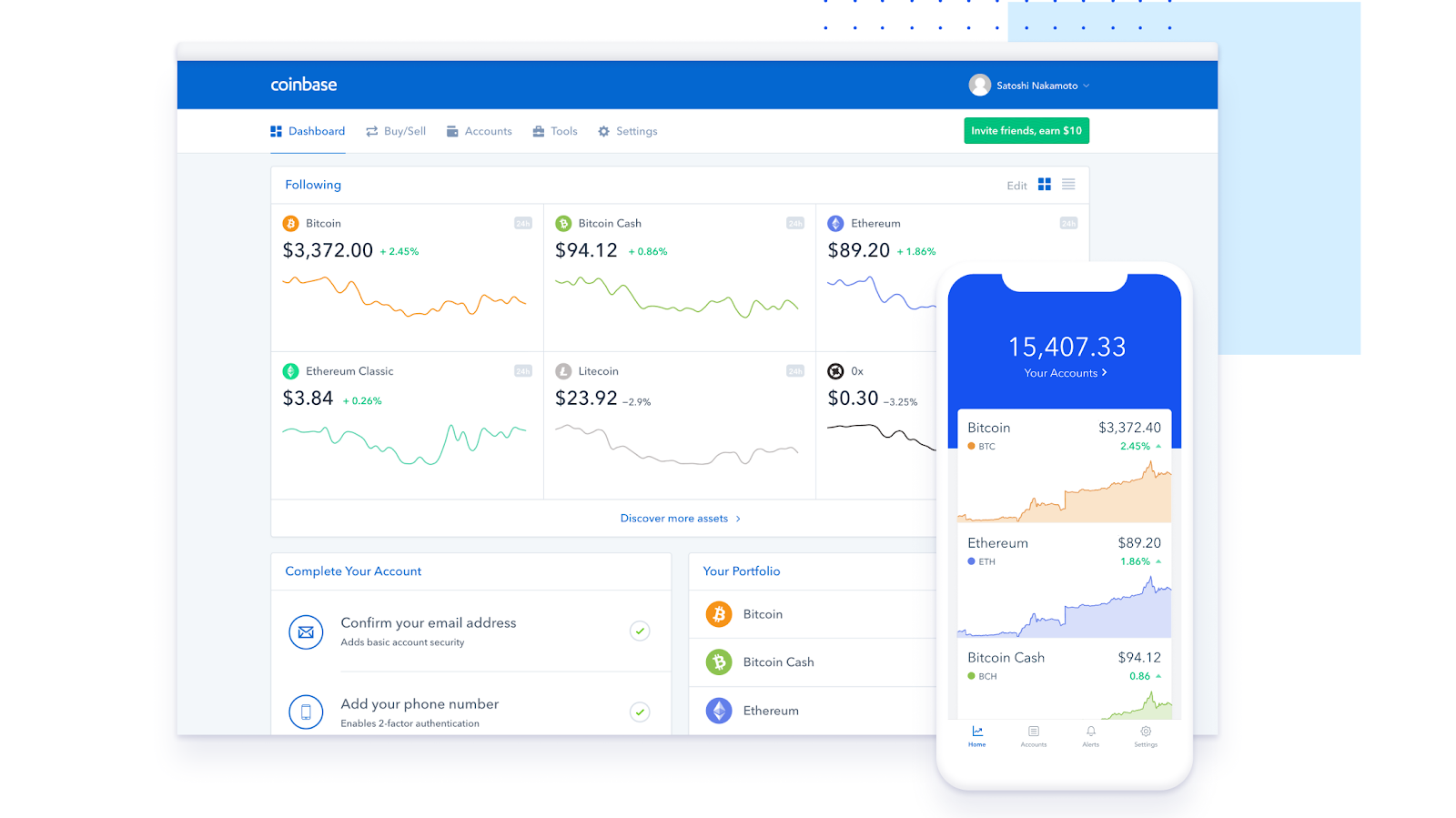 The user interface on Coinbase Pro is a bit more complex for first-time traders, with an order book, different order types (market, limit, good 'til canceled, stop orders, and more), and complex price charts for analyzing short-term trends (depth chart, order book, volume, etc).
Coinbase Pro also has a margin trading (up to 3x) feature, which can be used by accounts in certain jurisdictions. The exchange applies an annual rate of 8% for both open and filled orders.
Creating an Account
Another important thing to note in our Coinbase vs Coinbase Pro comparison is the process of creating an account, which is relatively straightforward. You have to send your personal information, email, phone number, and ID photo; then, you have to wait for your account to be verified, and that's all.
Coinbase vs Coinbase Pro: Trading Limits
Coinbase's limits vary based on your account verification level:
Level 1 – email address and phone number. Buy and withdrawal limit < $1,000.
Level 2 – full name, date of birth, and address of residence. US customers' daily purchase limit < $25,000.
Level 3 – input of bank account details, as well as credit and debit card details.
Level 4 – government-issued identification document, taxpayer identification number, and identity verification by responding to a few questions.
Transaction limits for a Coinbase account depend on verification status, deposit method, and country of residence. Coinbase Pro accounts have a withdrawal limit of USD 10,000 or its equivalent per day. Corporate accounts have a daily withdrawal limit of USD 50,000.
Customer Support
Coinbase's customer support can be available via email and phone. Users have reported the support team to have decent response times, usually replying within 24-48 hours for support tickets.
Security
The company and its platforms are fully compliant with all U.S. laws and regulations. The exchange keeps its user funds segregated, with 98% kept in cold storage.
Other protection measurements that are included by both exchanges are 2-factor authentication and an intricate identity verification process.
Coinbase offers an extra safety measure, as it has ensured its online crypto funds by a syndicate of Lloyd's of London. U.S. customers' USD wallets are insured by the FDIC for losses of up to $250,000.
Coinbase vs Coinbase Pro: Verdict
Looking at our Coinbase vs Coinbase Pro comparison, it is obvious that both services of the company are regarded as good platforms on which you can trade cryptos. It really depends on what type of trader you are and what your specific needs are.
If you are a day trader that performs multiple trades during the course of the month and has high volumes, then Coinbase Pro is more suited for you. If you are a novice and are not that good at placing trade orders, then Coinbase is the best cryptocurrency exchange for you. Otherwise, you can check out some Coinbase alternatives that might suit your needs better.
We hope this Coinbase vs Coinbase Pro comparison can help you make an informed decision.
* The information in this article and the links provided are for general information purposes only and should not constitute any financial or investment advice. We advise you to do your own research or consult a professional before making financial decisions. Please acknowledge that we are not responsible for any loss caused by any information present on this website.