A cryptocurrency exchange is a specific platform where users are able to sell or buy cryptos for other cryptos or fiat currencies. Since the crypto boom, the number of crypto exchanges has greatly increased, and many are wondering what platform is best suited for them.
To make things easier for you, we have compiled a list with some of the top cryptocurrency exchanges that you can use in 2020.
CoinBox
CoinBox is one of the most reliable and secure exchanges in the crypto world, having the broadest selection of crypto coins. In addition to the top 100 cryptocurrencies, including the most popular ones, like Bitcoin, Ethereum, XRP, and others, CoinBox also supports any ERC20 tokens. In total, the number of available coins that users can buy, sell, and exchange now exceeds 1,500.
CoinBox positions itself as a cloud-based mobile and desktop cryptocurrency storage and exchange app with a focus on security, speed, and convenience. This platform creates comfortable conditions for carrying out any operations with cryptocurrency and monitoring the prices of all cryptocurrencies and tokens.
The service is ideal for buying, selling, exchanging, and storing coins without any restrictions and limits. Recently there was an opportunity to sell crypto to your bank account via SEPA directly from your wallet.
In addition to being available on iOS and Android, customers can use it from the browser. Also, it's the first app in the world that made crypto trading available on Apple Watch.
CoinBox offers its users a great customers support. Highly competent and professional staff reply to all the emails instantly and solve issues quickly.
The exchange has a unique affiliate program, which gives the opportunity to receive up to 45% commission of the user's friends' transactions. The user just needs to send his referral code to his friends so that they can use it when signing up.
CoinBox boasts multilingualism as it supports 35 languages.
CEX.IO
CEX.IO is a London-based cryptocurrency exchange, and it was established in 2013. The platform is registered with FinCEN as an MSB (Money Service Business), which means it is legally able to provide crypto to fiat transaction services.
The exchange also features a registration with the non-departmental public body ICO (Information Commissioner's Office) in the UK.
The platform allows you to buy sell and trade with up to 8 cryptos (BTC, BCH, ETH, XRP, DASH, XLM, ZEC, BTG), as well as four fiat options. CEX.IO also features advanced trading options, such as margin trading.
There is the option of direct credit card cryptocurrency purchases with Visa/MasterCard, but this will require card verification beforehand.
You will be required to create an account with your email ID and comply with their AML-KYC ID requirements. After the verification process has been completed, you will be able to trade and finance your account with fiat currencies.
For users that are keen on maintaining their anonymity while trading crypto, they should probably opt for an exchange that does not enforce KYC identification. You can check out this no KYC exchanges list to find several suitable options.
BitMEX
BitMEX is a crypto futures trading platform based in Hong Kong which provides future and perpetual contracts tied to the price of Bitcoin.
The exchange is mostly targeted towards advanced traders, as it is focused on offering margin trading with 100x leverage. This site is probably not recommended to new traders because of its complexity.
The platform offers a number of futures options, including perpetual contracts that have no end date. The trading fees are reasonable, and there are no fees on deposits and withdrawals. Bitcoin is currently the only crypto that can be used for deposits and payments, but you can purchase a number of other altcoins using the platform. No US-based payments are accepted here, as well as fiat currencies, which is a disadvantage for some traders.
BitMEX is proud of its implemented security measures, as it so far never been successfully hacked, running 100 audits every second and keeps all user funds in cold wallets.
The platform has an easy to use interface and features detailed currency pair charts, as well as several analysis tools.
Coinbase
Coinbase is a well-known and reputable cryptocurrency exchange, which is based in San Francisco, the U.S. The exchange has been around since 2012, and since then, it has amassed a large user base and the trust of the community. The platform is registered as an MSB with FinCEN, which allows it to manage money to crypto transactions in the UK, EU, US, and other countries. The company also holds an eMoney license from the UK's FCA (Financial Conduct Authority).
The exchange complies with consumer protection regulations so that it implements a number of measures to protect its users' funds, and it also features an insurance policy in case there are losses because of a hack or breach.
While Coinbase is aimed more towards new traders, its sister platform Coinbase Pro includes advanced trading features but at more convenient fees. Coinbase supports a limited number of coins, BTC, ETH, BCH, & LTC, with three fiat options.
Coinbase Pro supports more cryptos, BTC, ETH, BCH, LTC, ETH, ZRX, BAT, with the same fiat options. Credit card purchases are also accepted.
Binance
Binance is one of the most popular exchanges in the crypto world, having an impressive selection of crypto coins.
The exchange was initially established in China, with the company relocating to Malta in 2019 because of crackdown pressures. Even though the platform launched in 2017, it quickly rose to the ranks of the most popular crypto exchanges.
The platform takes its security very seriously, applying an array of security measures, including anti-phishing code, pseudonymization, PCI scanning, Secured Sockets Layered encryption technology, internal data access restrictions, and many others. Binance supports hundreds of cryptos for trading on its platform, which makes it convenient for traders looking to diversify their portfolio.
The fees are extremely competitive, being lower than the industry average standard.
While Binance does not have fiat options, its sister platform Binance.JE (Binance Jersey exchange), allows UK and European users to buy BTC, BNB, LTC, ETH, or BCH with fiat currencies like EUR or GBP.
Binance also has a platform, Binance.US, which is available only to US clients.
Huobi
Huobi Global is a cryptocurrency exchange that first started out in China, but it has moved its headquarters to Singapore in order to provide worldwide access to its clients. The company has managed to conduct a successful operation in the crypto trading space for the past seven years.
The platform has around 244 cryptocurrency pairs, which ensures that there are options for all traders, even those looking for more exotic altcoins.
Huobi also features an OTC marketplace, where you can easily migrate your funds from your other Huobi accounts. The company also launched various exchange platforms for certain countries, such as Huobi Korea, Huobi Russia, and Huobi Indonesia, to cater to the special regulations on crypto trading imposed by these countries. HBUS is a branch of Huobi which allows US investors to trade with crypto.
Huobi is widely considered to be a safe exchange with high data security, which will require ID and personal data verification when opening an account.
The exchange charges fees according to the market average standard. It supports purchases with fiat options, except for credit cards, but it does not allow withdraws in fiat currency. The crypto exchange has mobile apps for both Android and iOS users.
eToro
eToro is a regulated trading platform that supports a multitude of trading options, such as cryptos, CFDs, stocks, commodities, forex, ETFs, and indices.
The platform operates from offices located in various locations all over the world and allows residents of more than 140 countries to trade with a variety of assets and investment options.
eToro Europe Ltd is dully regulated, being licensed by the CySEC (Cyprus Securities Exchange Commission), while all other regional branches are under the jurisdictions of the country in which they hold their operations.
The exchange has a diverse assortment of financial assets on its platform. CFD is the most used trading option with cryptocurrencies, including Bitcoin, Ethereum, Ripple, Litecoin, EOS, Binance Coin, Stellar, Cardano, and many others. Users can fund their account or withdraw by using a number of fiat options, including bank transfers, credit/debit cards as well as electronic wallets (PayPal/Skrill).
While the platform does not charge any commission for every trade, it applies other fees for its spread, overnight funding and withdrawal fees, which can add up. This makes eToro one of the more expensive cryptocurrency exchange options.
The exchange boasts a user-friendly platform that is translated into 20 different languages. It has also developed mobile apps for both iOS and Android users to facilitate trading on the go.
eToro registrants will need to have their identity verified before they can start making any trades or deposits.
The platform is considered secure, as so far, it has not lost any funds to hacks or any other type of online attack. It employs a Social Trading technology which is named OpenBook, and it enables users to follow or copy trading strategies from other platform users.
ChangeNOW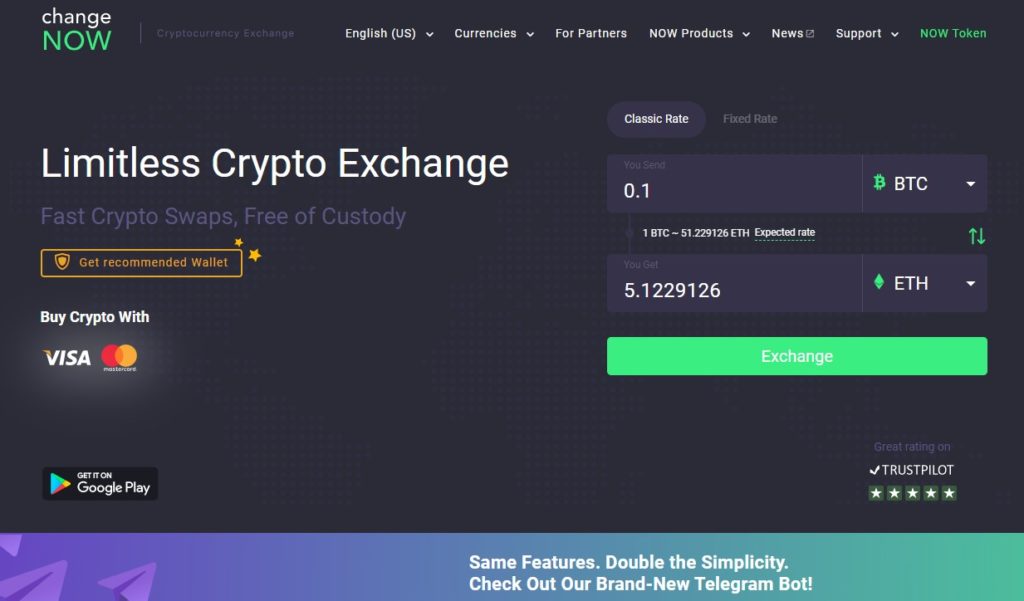 ChangeNOW is a cryptocurrency exchange that facilitates instant crypto swaps.
By partnering with top exchanges, such as Binance and Bitfinex, ChangeNOW intends to offer its users the most profitable exchange rates on the market.
The user interface has been developed with ease of use and simplicity in mind, to allow even the newest of traders to handle it. The platform is transparent, reliable, and comprehensible, to quickly convert cryptocurrencies without limitations.
ChangeNOW is a non-custodial service, meaning it does not store any of the users' crypto in its wallets. Also, there is no need for account registrations, and as users do not have to supply any type of personal information, none of your data is stored on their servers.
However, in case of suspicious trading activities, you might be prompted by the exchange to provide identity documents according to the KYC procedure of their geographical location.
The exchange supports more than 200 cryptocurrencies, including a wide selection of Ethereum based ERC20 tokens. Along with more advantageous exchange rates, ChangeNOW also boasts fast transaction processing times, which ranges between 2 to 40 minutes.
The platform has also recently introduced support for fiat payment, which enables users to cryptos.
Conclusion
This has been our list featuring some of the best cryptocurrency exchanges that you can use in 2020. You will have to do your own thorough research to find the exchange which best suits your needs and price range. One of the websites that can help you in your search might be CryptoZink, as there is a list of cryptocurrency exchanges sorted by 24-hour trading volume.
Featured image: hackernoon.com