Even though Dogecoin started its life in 2013 as a meme coin, it's fun, tongue-in-cheek nature attracted many from the crypto community, which is why DOGE is still among the high market cap coins.
The project grew in value so much that it climbed up, ranking 8th on CoinMarketCap on March 1, 2023.
The fact that Dogecoin is a successful project with lots of prospects is just part of the reason one might want to invest. Dogecoin is also renowned for having one of the best communities in the whole crypto sphere. Not only that, but Dogecoin is also one of the few projects of this type actively involved in making the world a better place.
If you are also looking to get your hands on some DOGE and need proper storage options, then continue reading our list featuring some of the best Dogecoin wallets.  
PS Not so good with crypto? But still want to own some Dogecoin? You can buy DOGE from eToro and hold it there. Be sure to activate your 2FA afterwards, and select a strong password.
What is a Crypto Wallet?
A cryptocurrency wallet, also known as a crypto wallet, is a tool that allows users to store and use their digital assets securely. Crypto wallets can either be hardware devices or software applications.
Types of Crypto Wallets
As a crypto wallet user, you have the option to choose not only the provider but also the way your wallet is set up.
There are two main types of crypto wallets: custodial and non-custodial. The primary difference between the two is who has control over the wallet:
Custodial wallets are managed by a third party, typically the cryptocurrency exchange itself. The exchange holds custody of the wallet and manages its operations, making it easy for users to hold and trade crypto assets. These wallets are directly offered by the exchange and are a simple option for those new to cryptocurrency.
Non-custodial wallets give control to the individual who holds the private keys for their crypto assets on the blockchain. The user can manage these wallets through software wallets or even through a paper wallet. With non-custodial wallets, the user is responsible for the security of their keys and must take steps to ensure their assets are secure.
Also, there are two subcategories of crypto wallets: hot wallets and cold wallets.
Hot wallets are always connected to the internet, while cold wallets are usually disconnected and only connected online when needed.
Within the category of cold wallets, there are two main types:
Hardware wallets – Hardware wallets store your private key on a physical device such as a USB drive, ensuring security by keeping your key offline.
Paper wallets – Paper wallets are a low-tech solution where you write down your public and private key information on a piece of paper.
Within the category of hot wallets, there are three types:
Online wallets;
Desktop wallets;
Mobile wallets.
Online wallets are the most common, where an online service such as a crypto exchange holds your keys, and you access your wallet by logging in to their service. Desktop wallets store your keys in an application on your computer, while mobile wallets store your keys in a mobile app on your phone.
Together, all these types of hot wallets are also known as software wallets.
Things to Consider Before Choosing a DOGE Wallet
Of course, the most important aspect of a cryptocurrency wallet is security. Hence, it's recommended that you pick the wallet with the strongest security features available. Features such as two-factor authentication, multi-sig functionality, and cold storage are the ones that will help you keep your tokens safe.
Ease of use is another significant aspect when choosing a DOGE wallet. Look for an efficient wallet with a clear-cut and user-friendly interface. To ensure that you will never lose your coins (even though no wallet is 100% safe), you should look for a wallet with decent backup and restore features.
Also, good customer support and positive reviews in the media and on the Internet are aspects worth considering before you choose a specific wallet for your DOGE coins.
The Best Dogecoin Wallets
Whether you are looking for a hardware wallet to store your Dogecoins in or looking for a software wallet, this article will introduce you to the best Dogecoin wallets for both:
The Best Dogecoin Hardware Wallets
Ledger Nano S
Ledger Nano X is Ledger's newest hardware wallet model and is regarded as the safest and most secure storage option, but Nano S is just as highly praised and at a more convenient cost.
The wallet boasts a wide range of security features that all work together to keep coins and private keys from hackers. In addition to Dogecoin, the wallet features compatibility with over 1300 different coins and tokens.
The Ledger Nano S has the aspect of a USB with an OLED display that can be operated with small buttons when you manually verify transactions. The Ledger features PIN, protection, dual-chip architecture, a 24-word backup seed, a restore feature, and 2-factor authentication.
Trezor Model T
Developed by Czech-based SatoshiLabs, Trezor Model T is among the most reliable hardware wallets. Besides Dogecoin, the wallet allows you to store thousands of other coins.
This wallet features a color touch screen unlike its previous model, Trezor One, which is also a popular choice.
The Model T also features a USB-C connector and a MicroSD card slot. Even if the MicroSD is not functional now, Trezor intends to use the slot for encrypting data, password management, and signing offline transactions. Regarding security, the wallet employs a 12-word recovery seed, PIN Code, address verification, password manager, and 2FA.
SafePal
SafePal is a cryptocurrency hardware wallet that offers a secure and anonymous way to store and manage digital assets. Backed by Binance, it has a dynamic interface and a range of features. It includes an air-tracking system that allows easy sign-in without leaving any traces of account details or transactions. The wallet has a long battery life and does not require USB, WiFi, or Bluetooth connectivity, ensuring added security. It also supports a wide range of coins and tokens, including Dogecoin. SafePal Wallet costs around $50 and comes with a leather case and a Cypher Seed Protection board for additional protection.
KeepKey
KeepKey is another hardware wallet that we just had to feature on our list of Dogecoin wallets. KeepKey manages the private key generation, private key storage, and the confirmation of outgoing transactions. It has a secure interface that allows it to communicate with your computer while keeping the cryptocurrency offline on the device.
The wallet stores many of the top cryptocurrencies and ERC20 tokens, as well as Dogecoins.
KeepKey was developed by the same person that created ShapeShift, a fast crypto-to-crypto exchange. As such, the wallet has seamless ShapeShift integration, which enables the direct sale and purchase of assets from within the KeepKey device.
The device has the largest display compared to other hardware wallets. Also, the wallet is protected against viruses, malware, and hacker attacks. Moreover, it is protected by PIN security, a 12-word mnemonic recovery phrase, and tamper-proof firmware.
The Best Dogecoin Software Wallets
Official Dogecoin Wallet
There are numerous advantages in picking the official wallet of a cryptocurrency, and the same can be said about the official Dogecoin wallet. The wallet is available for desktop platforms such as Windows, macOS, and Linux, as well as for one of the most popular mobile OS, Android.
The wallet can be downloaded from the project's official website and can be installed in a matter of minutes without significant effort.
The wallet is quite easy to use. However, it's not exactly a looker, as the interface needs to be updated. Nevertheless, choosing this wallet ensures that no suspicious activity is possible since the same team behind Dogecoin designed it.
However, there are two downsides: the wallet does not support other coins (which might be a problem for some investors), and there still needs to be an iOS version available.
Trust Wallet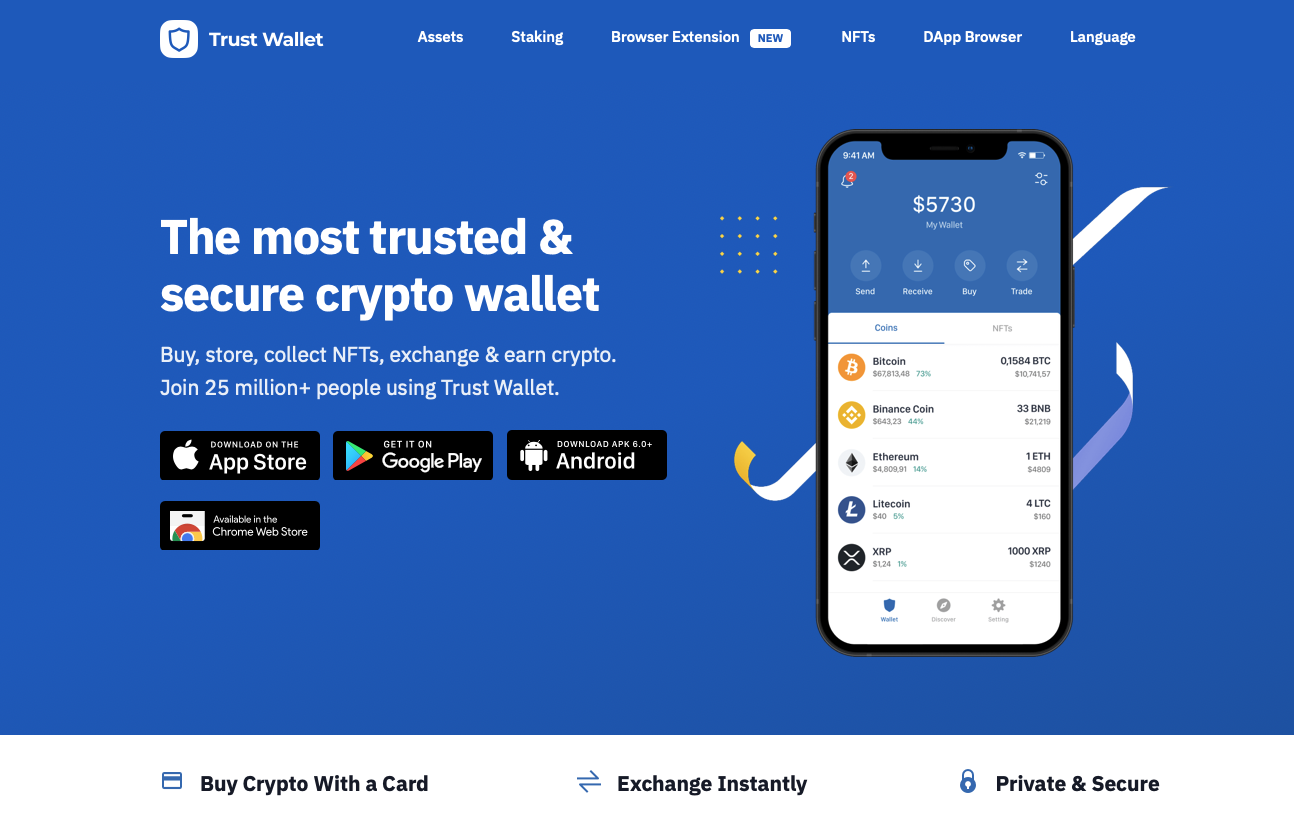 Trust Wallet is one of the best crypto wallets for Dogecoin (and not only) that gives users complete control over their digital assets. It's a non-custodial wallet, and it's supported by Binance, the world's largest cryptocurrency exchange.
One of the unique features of Trust Wallet is its support for decentralized applications (dApps), allowing users to safely and easily interact with different dApps across multiple blockchains. The wallet supports over 65 blockchains and more than 4.5 million digital assets, including Dogecoin, making buying, sending, receiving, staking, trading, and storing cryptocurrencies easy.
Trust Wallet is also a hot wallet, meaning it's connected to the internet, allowing users to manage their assets from anywhere with an internet connection.
The wallet is user-friendly and available on Android, iOS and as a browser extension.
Guarda Wallet
Guarda is a cryptocurrency wallet that can store over 400,000 digital assets, including Dogecoin (DOGE). It can be used on desktop and mobile devices or directly from your web browser.
Moreover, those who own DOGE can exchange the coin into other cryptocurrencies or convert other cryptos into Dogecoin, as there is a built-in exchange feature available for users.
Because Guarda is a non-custodial wallet, the user's private keys are generated and stored only on his personal device. However, customers can be sure of the security of data and funds, as nothing is stored on Guarda's servers.
Exodus
Exodus is another desktop multi-crypto wallet supporting over 290 cryptocurrencies.
The design of the UI is not only sleek but aesthetic as well. This non-custodial desktop also features hardware wallet integration with some top devices, enabling you to exchange Dogecoins within the desktop app.
The wallet is built on a semi-open-source code and implements password protection and an automatic lock after a selected period. Exodus also has mobile versions for iOS and Android users.
DogeChain Wallet
For users that prefer online Dogecoin wallets, there is DogeChain, which can be accessed via a browser. While the wallet is not praised for its security implementations but for moving tiny amounts of DOGE, the wallet is a decent online choice.
All user data is encrypted, and none of it is stored on DogeChain servers; instead, the encrypted files are held in the cloud. The wallet is non-custodial, meaning the user controls all the keys.
Other Dogecoin Wallets Worth to be Mentioned
Coinomi
For on-the-go traders, which would be much more comfortable using mobile Dogecoin wallets, we recommend Coinomi.
This multi-coin wallet is compatible with Android and iOS and supports 500+ cryptocurrencies, including Dogecoin. The wallet also developed in recent years a desktop version.
Coinomi stores the private keys and the transaction data on the user's terminal device. Separate encryptions secure all IP addresses, and the wallet is hierarchical deterministic. It also generates a seed phrase that enables you to back up your wallet. However, Coinomi lacks two-factor authentication.
The wallet also features integration with the Coinomi cryptocurrency exchange. This allows its users to buy and sell cryptos directly from the wallet.
Jaxx
Jaxx is a multi-coin wallet with cross-platform compatibility and supports Dogecoin, Bitcoin, Ethereum, Litecoin, Dash, Zcash, and many other cryptos.
The wallet is compatible with Windows, Mac, and Linux operating systems and Android and iOS mobile devices. There is also a Chrome browser extension that allows you to manage your DOGE funds online.
Jaxx is non-custodial, meaning all keys and data are stored locally on your device. Another feature is ShapeShift integration which allows you to perform crypto swaps without leaving the wallet.
FAQ
Which Wallet Can Hold Dogecoin?
There are lots of crypto wallets that can hold Dogecoin. The best wallets for Dogecoin are:
Hardware Wallets – Ledger Nano S, Trezor Model T, SafePal, and KeepKey.
Software Wallets – the Official Dogecoin Wallet, Trust Wallet, Atomic Wallet, Guarda Wallet, Exodus, and DogeChain Wallet.
Is the Dogecoin Wallet Safe?
If you're wondering whether the Dogecoin wallet is safe, the answer is that it depends on the specific wallet you are using. The Dogecoin wallets recommended in this tutorial are designed to secure multiple assets, including Dogecoin, and are generally considered safe to use. However, it's important to note that not all wallets are created equal, so it's crucial to confirm that your wallet has the necessary security features.
These features might include keeping, controlling, and backing up your private keys, PIN, password, and other inbuilt security protocols. By taking the time to research and choose a reliable and secure wallet, you can help ensure the safety of your Dogecoin and other cryptocurrency assets.
How Can I Buy Dogecoin?
If you want to buy Dogecoin, the easiest way is to create an account with a cryptocurrency exchange that offers Dogecoin. You can then deposit money and use it to buy Dogecoin, possibly for a small fee. After the purchase, you can keep your Dogecoin on the exchange or transfer it to your other crypto wallets.
Remember that not all exchanges offer Dogecoin, so check before depositing any money.
How Is Dogecoin Mined?
To mine new Dogecoin, miners compete to solve complex mathematical puzzles similar to Bitcoin. Winning miners receive a reward of 10,000 DOGE. However, due to the increased popularity of Dogecoin, mining difficulty has also increased. It can no longer be efficiently mined using a computer processing unit (CPU), and more powerful mining equipment, such as a graphics card unit (GPU), is needed.
Conclusion
What Dogecoin wallet you will go for is a matter of personal taste and necessity. We hope our list will make your mission of finding the perfect wallet simpler.
However, it's worth remembering that storing cryptocurrencies is your responsibility, and you should do your research on all Dogecoin wallets before choosing one.
* The information in this article and the links provided are for general information purposes only and should not constitute any financial or investment advice. We advise you to do your own research or consult a professional before making financial decisions. Please acknowledge that we are not responsible for any loss caused by any information present on this website.