If you're asking any traders what was one of those cryptocurrencies that got the crypto world by surprise, he'll surely mention DOGE.
Dogecoin price was around $0.0001 in 2015. In 2021, it had a major run in which it almost hit $0.7.
The 'meme tokens' bull season, alongside with elon tweets, made dogecoin appears worldwide and increased it's popularity.
This growth, alongside with the trading volume, made DOGE very popular – and it was listed on all of the major cryptocurrency exchanges and even on Etoro.
And a lot of people were curious on buying Dogecoin. To that end, we recommend reading this article, which provides valuable tips on acquiring DOGE safely on eToro. 
So, sit tight, grab a cup of coffee, and let's explore how to buy dogecoin on eToro.
What is eToro Trading Platform?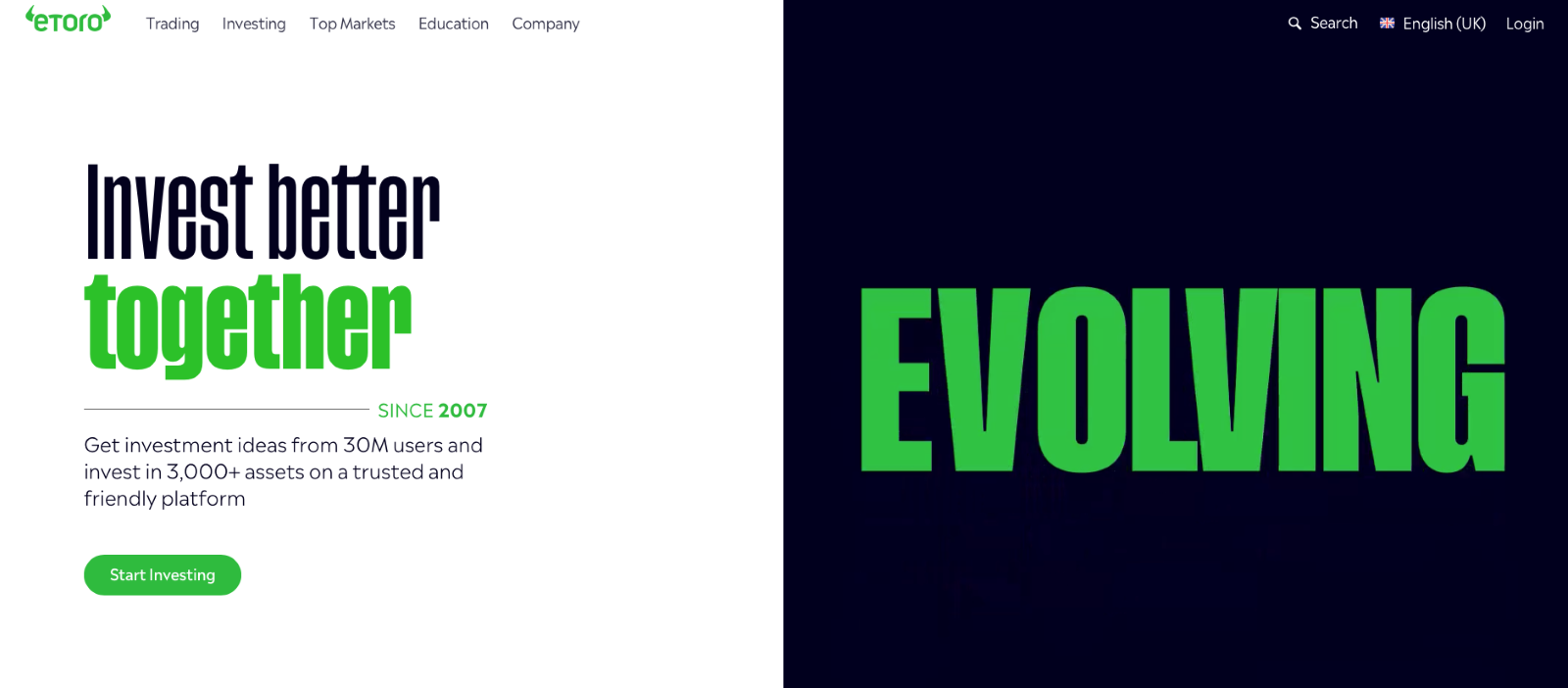 eToro is a user-friendly social trading and investment platform enabling users to easily trade and invest in various financial assets, including cryptocurrencies, stocks, Exchange Traded Funds (ETFs), etc. The platform is known for its user-friendly interface and comprehensive educational resources, making it an excellent choice for novice investors.
Today, on eToro, you can buy or sell many stocks and the most popular cryptocurrencies, such as Bitcoin (BTC), Ethereum (ETH), Dogecoin (DOGE), Solana (SOL), and others.
eToro has established a solid reputation for making the investment process in the stock market and cryptocurrency easy to use by beginners. Providing user-friendly solutions has enabled a large amount of people get into cryptocurrency easily.
Apart from its innovative approach, eToro has gained wide recognition and appeal due to its powerful promotional campaigns, particularly in the European market, which is its primary focus. The platform has been endorsed by some of the world's most well-known personalities, including the renowned actor Alec Baldwin, cementing its place as a leading investment platform in the market.
One of eToro's unique features is its social trading network, which allows users to connect with other traders and investors, follow their trading strategies, and even copy their trades. Social trading is a feature that allows people to invest easier, and copy the trades of successful investors.
Another notable feature of eToro is its CopyPortfolio investment strategies, which are professionally managed portfolios designed to provide exposure to a particular asset class, market sector, or trading strategy.
These portfolios are created by eToro's in-house investment team and are rebalanced regularly to optimize performance. At the time of writing, eToro has offices on four continents and was valued at $8.8B in 2022 (after the SPAC amendment).
What is Dogecoin (DOGE)?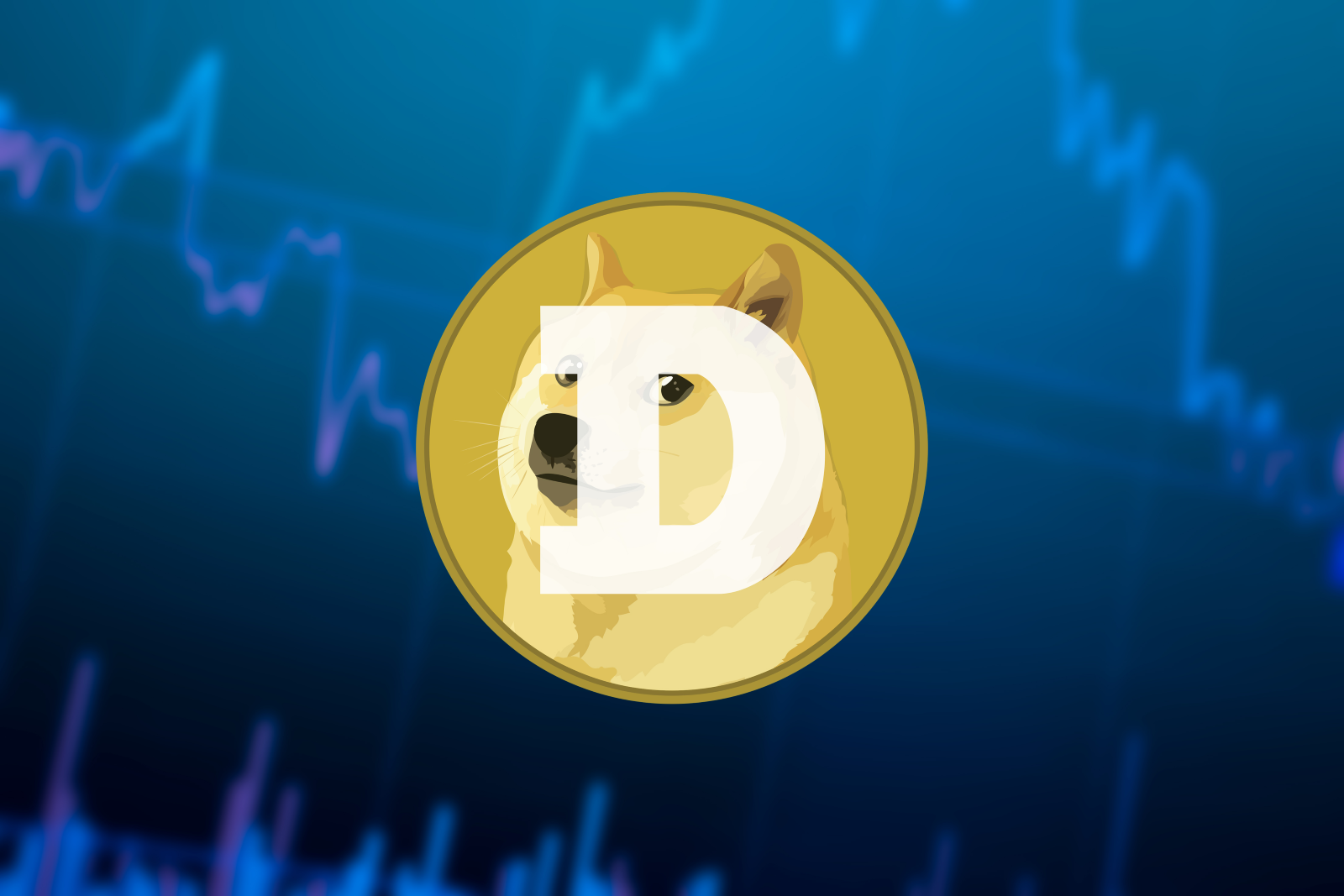 Market cap: over $9 billion (at the time of writing). 
Current Dogecoin Value: $0.07 
Dogecoin (DOGE), the internet meme coin, is a digital currency created in 2013 as a humorous spin-off of Bitcoin. It features a Shiba Inu dog as its mascot and has gained popularity among crypto enthusiasts. It was created by Jackson Palmer and Billy Markus.
Dogecoin's blockchain technology is based on Litecoin and uses the same proof-of-work algorithm, which makes it more accessible and less costly than Bitcoin. DOGE has an unlimited supply, meaning it has no cap on the number of coins that can be created.
Despite its origins as a joke, Dogecoin has developed a loyal community of supporters who hodl and use it as a tipping cryptocurrency for social media content. DOGE also gained attention from high-profile individuals such as Elon Musk, who has tweeted about it several times. What's more, Elon Musk changed Twitter's logo to Dogecoin's for a while, drawing attention to the coin once again.
Users can buy and sell Dogecoin on digital currency exchanges, such as Binance, Kraken, Coinbase, and many more. Besides that, buying dogecoin is something possible 
While it may not have the same widespread acceptance as Bitcoin or other established cryptocurrencies, Dogecoin's unique branding and supportive community make it a fun and exciting option for those looking to explore the digital currency world.
How to Buy Dogecoin on eToro Platform
Buying Dogecoin on eToro is a straightforward process. We've outlined them below to help you. Of course, this requires you to have an eToro account. The process of creating an account, checking out, and depositing is similar both on the mobile app and in the browser.
If you already have a verified and funded account or you've completed these steps and have a verified and funded eToro account, continue the step-by-step guide in order to understand how to buy Dogecoin using either the mobile app or the browser version. We will assume you don't have an eToro account, so follow these steps:
Create an eToro account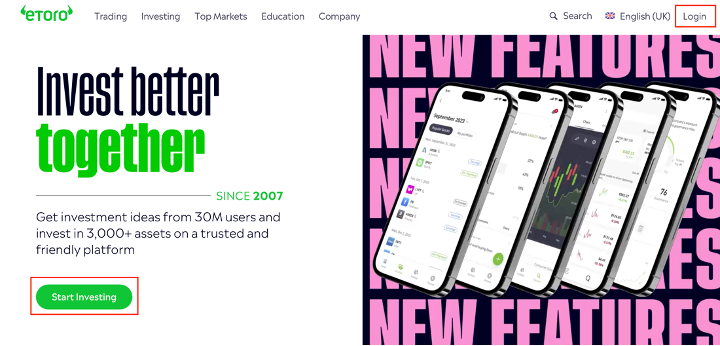 To get started and get into etoro dogecoin trading, visit their website and click the "Start Investing" button to create an account. You'll be taken to an eToro registration page where you must provide your email address and choose a username and password. After reading and accepting the terms and conditions, click the "Create Account" button to finish the process.
Verify your eToro account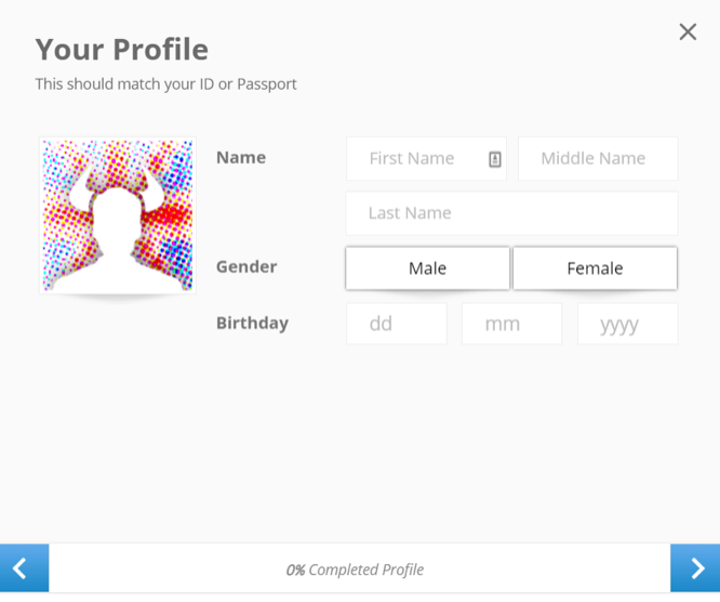 To verify your account, follow the link provided in the email to confirm your email address. Further, you must provide your full name, date of birth, address, and phone number.
You may also need to submit a photo ID (or driver's license) and answer questions regarding your investing experience to complete your profile.
Rest assured that your data is secure with eToro, but they must collect this information like any other trading platform due to Know-Your-Customer (KYC) and Anti-Money Laundering (AML) legislations. To secure your account, it's recommended to add also two factor authentication, a step that many new accounts miss and and put their account's security at risk.
Deposit funds on your eToro account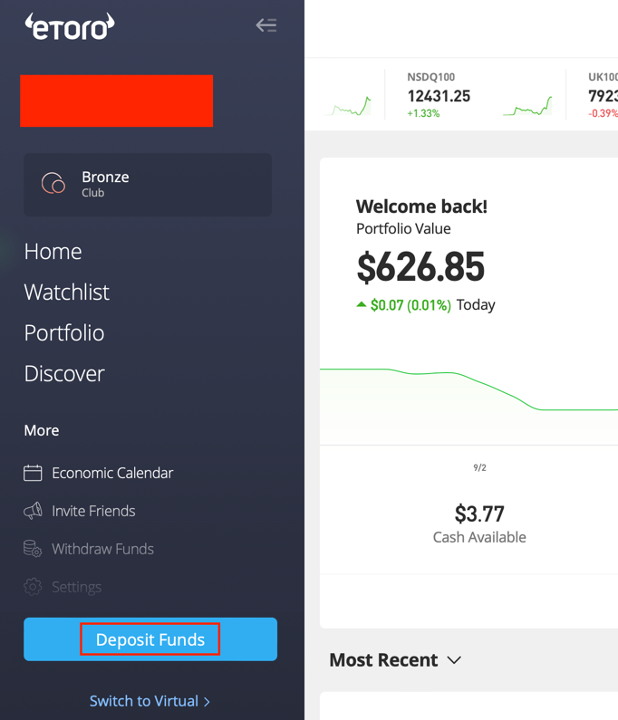 To add funds to your account, click the "Deposit Funds" button and select your local fiat currency. Enter the amount you wish to deposit, choose your preferred payment option from the dropdown menu (bank transfers, PayPal, etc.), and click "Continue." Finally, complete the transaction to add the funds to your account. Just as a side note here, bank transfers tend to take a bit longer than a Paypal or credit card ones – and your deposit may be credited in a day or two.
How to Buy Dogecoin on eToro Using Mobile App
Step 1. Use the search function to find Doge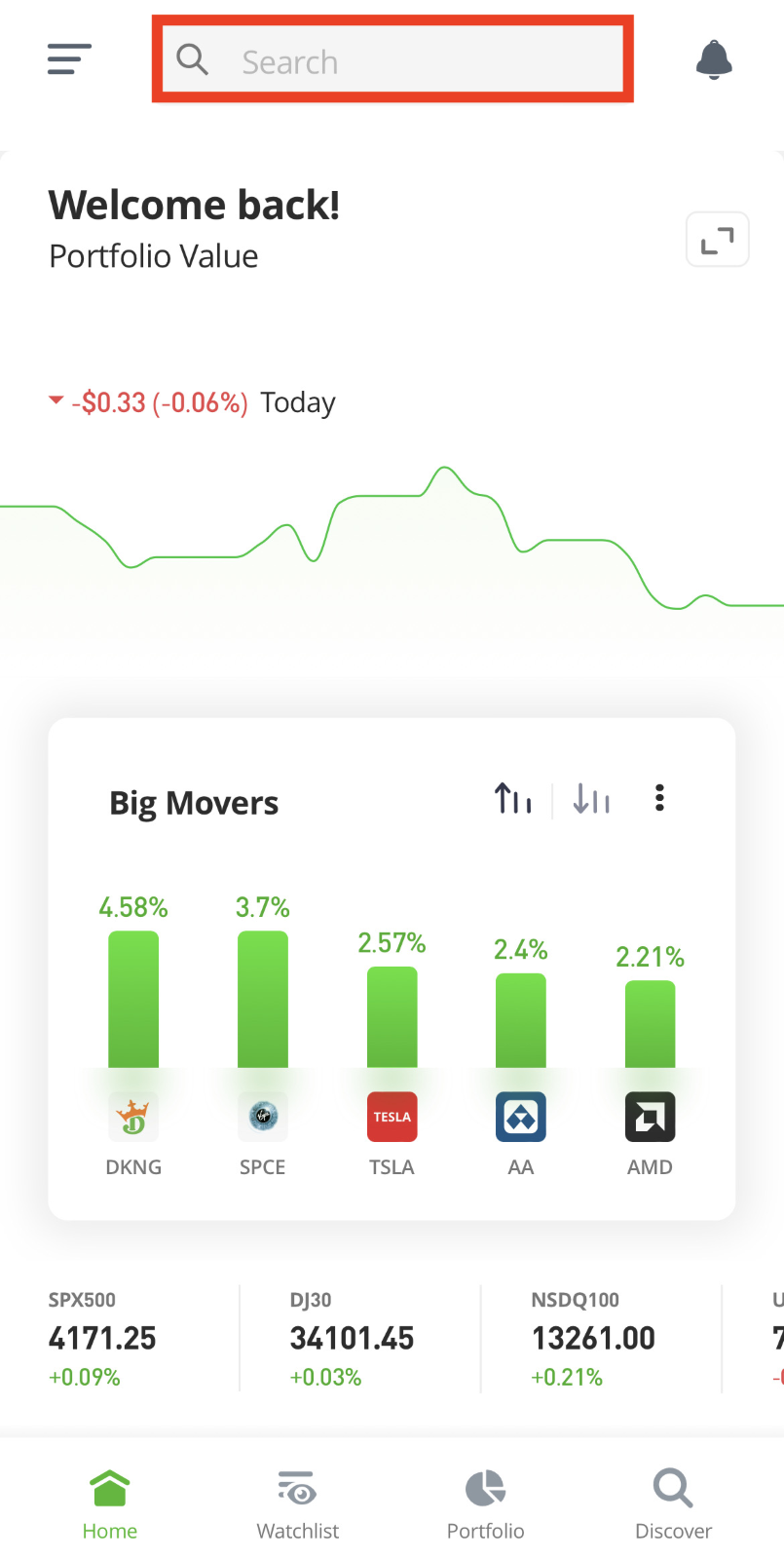 Once you've finished the steps mentioned earlier and logged into your account, you'll see a search bar located at the top of the eToro dashboard. To easily find the cryptocurrency you want to invest in, enter "Dogecoin" or "DOGE".
Step 2. Click the "Trade" button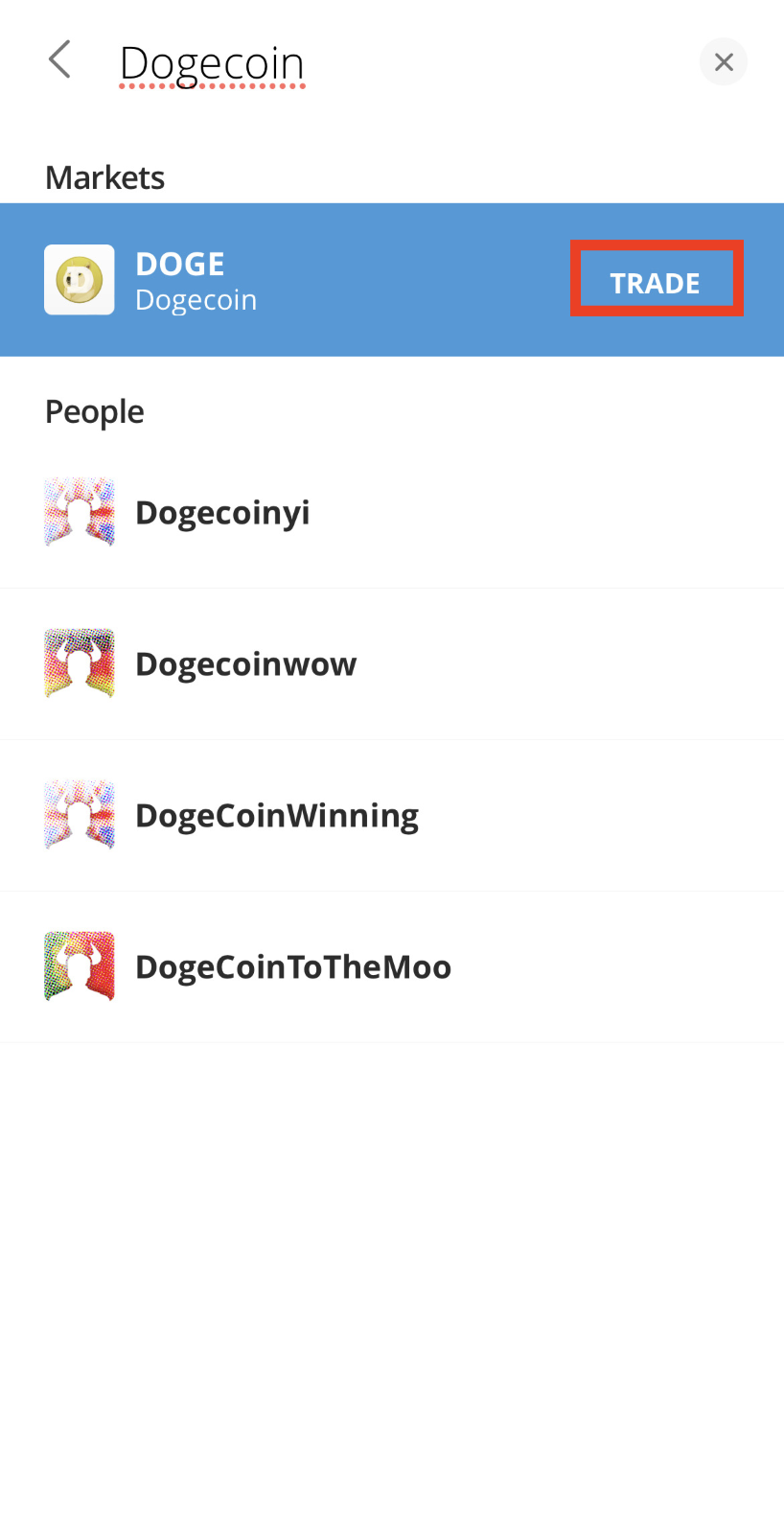 After finding Dogecoin using the search function, click the "Trade" button next to the cryptocurrency you wish to purchase.
Step 3. Complete the transaction by pressing the "Open Trade" button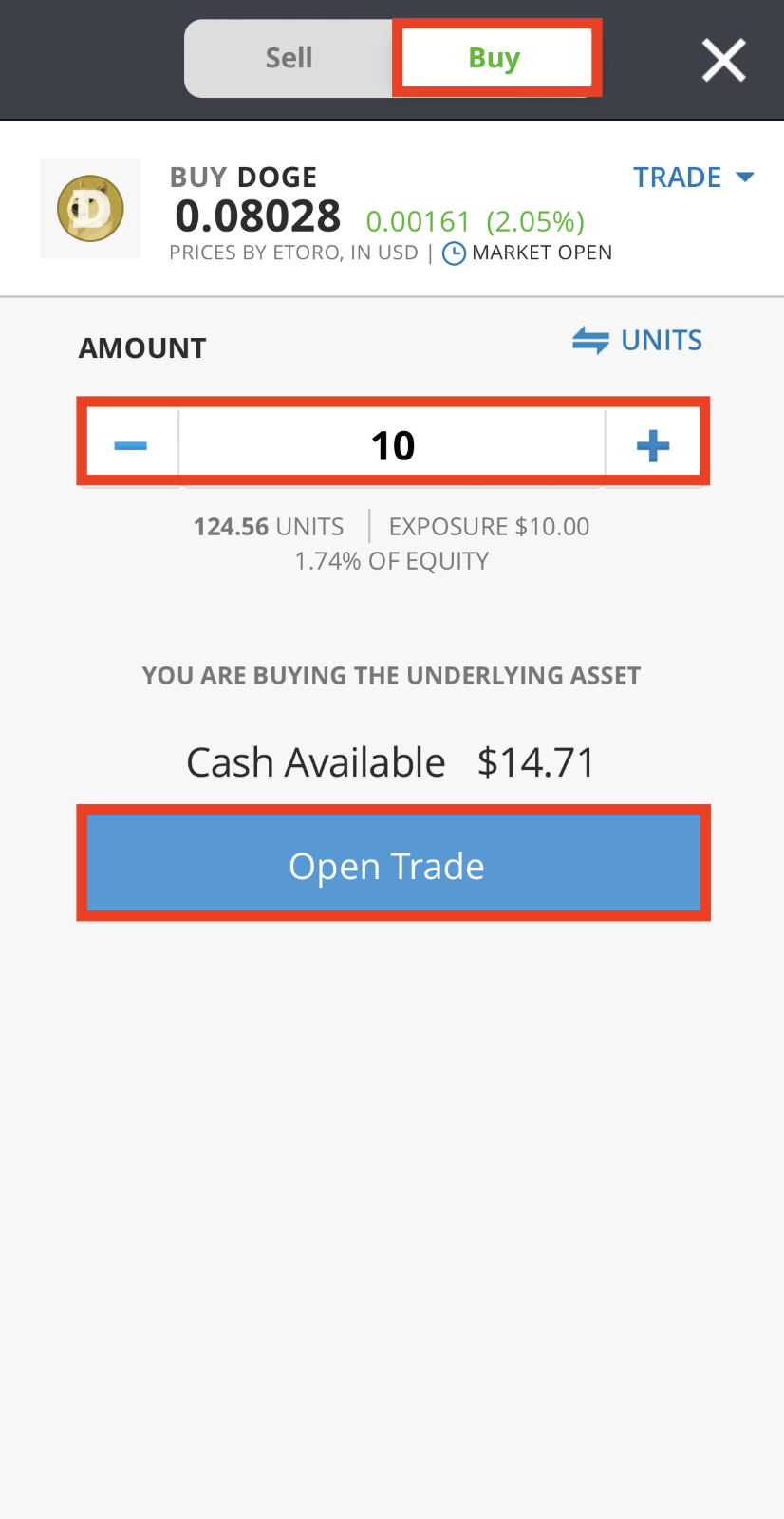 After doing the previous steps, and your deposit is credited, be sure you are on the correct page (Buy, not Sell) by checking the title at the top of the open window.
Then, enter the desired amount of funds you wish to use to purchase Dogecoin on eToro. Review all the information to confirm accuracy and click "Open Trade" to complete the transaction. Once the purchase is complete, DOGE will appear in your portfolio.
How to Buy Dogecoin on eToro Using Your Browser
Step 1. Use the search function to find Doge and press the "Trade" button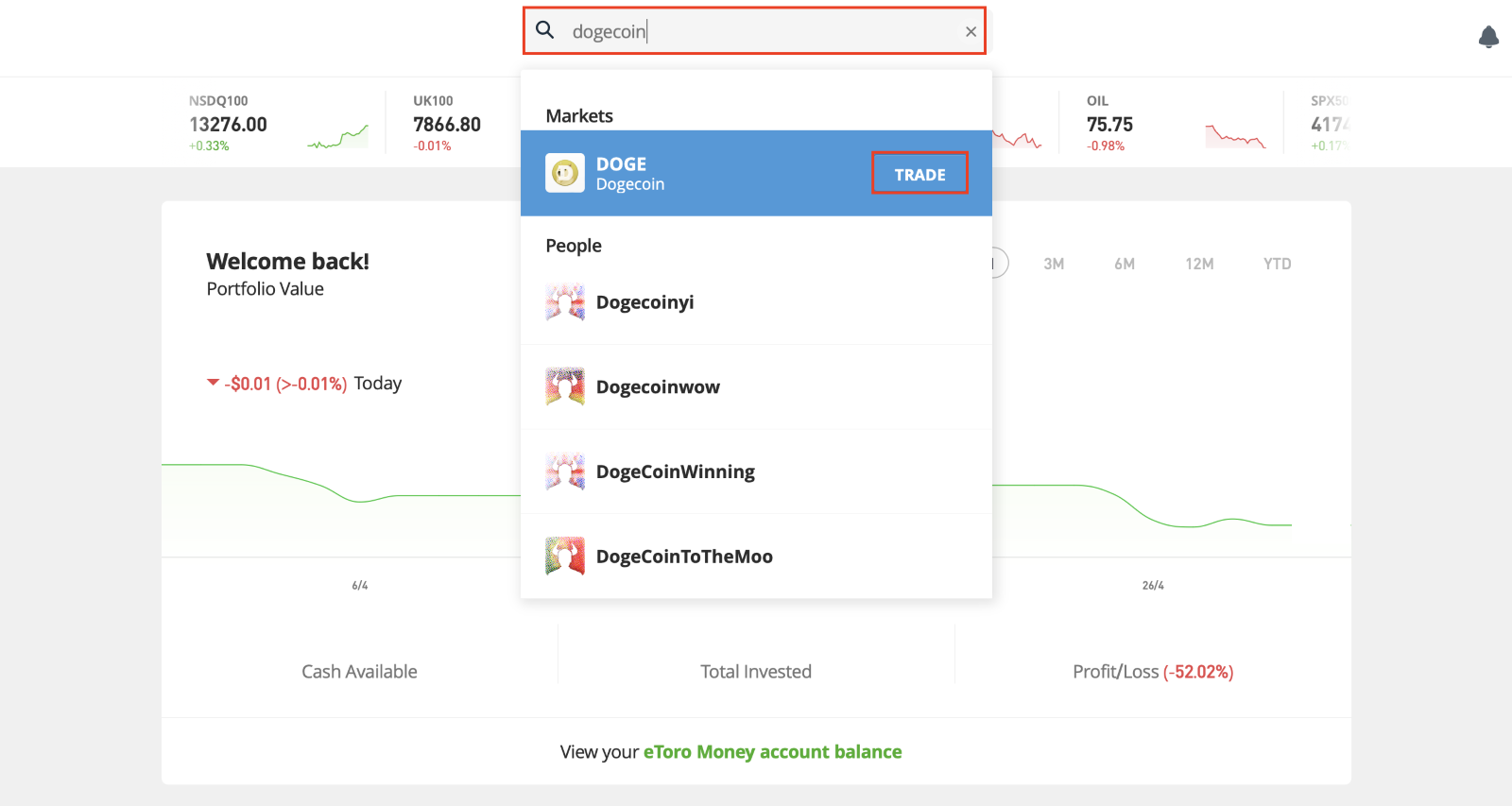 Buying Dogecoin on eToro using the mobile app is quite similar to the browser version (on the eToro website).
First, you must complete the initial steps and log into your account. Once you're in, you'll find a search bar at the top of the eToro dashboard that you can use to search for it by typing in "Dogecoin" or "DOGE." After locating Dogecoin, click the "Trade" button next to the cryptocurrency you want to purchase.
Step 2. Complete the transaction by pressing the "Open Trade" button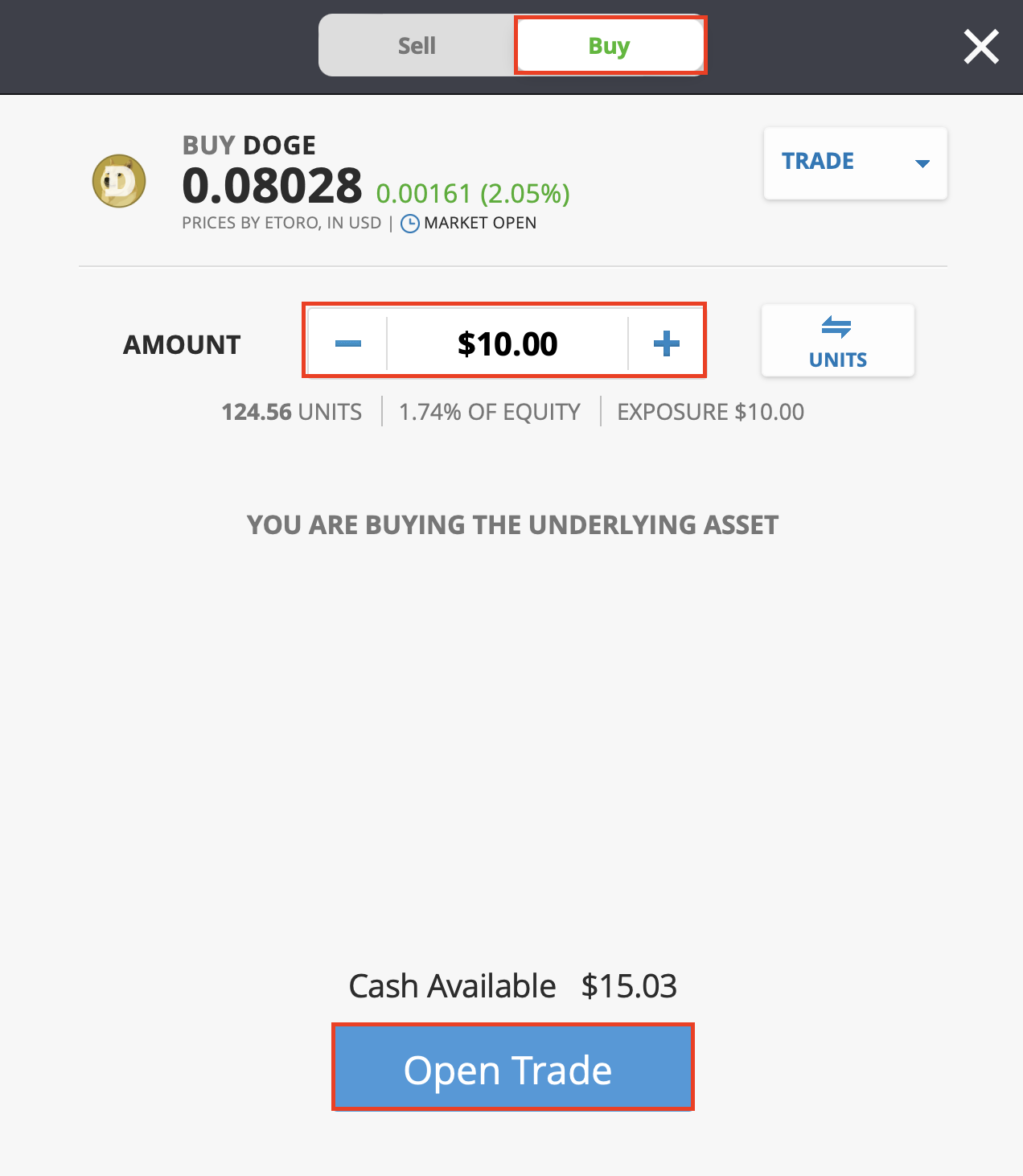 Click the "Trade" button, ensuring you are on the correct page (Buy) by verifying the title at the open window's top.
Input the amount you wish to use to purchase Dogecoin on eToro and click the "Open Trade" button to complete the transaction. After that, Dogecoin will appear in your portfolio.
FAQ
Can the Dogecoin price increase?
DOGE is one of the most popular cryptocurrencies, with a lot of buyers in 2021 and before. It became a hit on all the social media platforms and outperformed other cryptocurrencies. The price of DOGE increased from $0.0001 in 2015, to $0.63 in 2021. Many people thought Dogecoin will hit $1 in 2021, but that didn't happen.
Sitting at around $0.068 at the time of writing, Dogecoin price can increase again and even hit $0.6 one more time. But there's no guarantee it will happen, or when will happen. DOGE is a very volatile cryptocurrency, be sure to invest only what you can afford to lose.
Can You Buy Dogecoin on eToro?
Of course. You can buy DOGE on eToro. The trading platform offers a vast array of cryptocurrencies, including Dogecoin. It was added in 2021, when the price of DOGE was increasing almost daily. You can buy dogecoin by doing the steps above, fund your account with money and start trading.
Can I Withdraw Dogecoin from eToro?
Yes, you can withdraw Dogecoin from eToro. To do so, go to the "Portfolio" tab, select Dogecoin, click "Withdraw," and enter the amount and destination of your digital wallet address.
Keep in mind that there's charges a $5 withdrawal fee (one of eToro's additional fees) for each cryptocurrency. If you're a beginner, it's better to trade markets on eToro rather than use other exchanges or wallets that might be difficult tu understand.
How Do I Store Dogecoin?
Simple, after buying it on eToro – you can set up a two factor authentication method to increase the security of your account, and keep it there. eToro can be used as a dogecoin wallet – besides the fact that you can trade doge.
Final Thoughts
So, eToro offers a user-friendly platform that allows you to fund in various assets, including Dogecoin. It's essential to consider the potential risks associated with investing and develop a trading plan that suits your needs.
Stay up-to-date with market trends to make informed investment decisions.
To start investing in Dogecoin on eToro, simply create an account, verify your identity, deposit funds, and begin trading!
* The information in this article and the links provided are for general information purposes only and should not constitute any financial or investment advice. We advise you to do your own research or consult a professional before making financial decisions. Please acknowledge that we are not responsible for any loss caused by any information present on this website.