There are plenty of crypto wallets to choose from nowadays. One such wallet that has built quite a reputation for itself in the industry is Guarda Wallet.
In today's review, we will be taking an in-depth look at the features, security, pros, and cons of the Guarda wallet.
Guarda Wallet Description
Guarda is a multi-cryptocurrency wallet with a user-friendly interface that provides non-custodial services to users that want to store, manage, buy, exchange, and stake cryptocurrencies.
It was established in 2017 by the GUARDACO LDA company, which is registered in the European Union.
The Guarda Wallet is a well-known product, as it is very used in the crypto community due to its versatility and security. Users can receive, send, buy, exchange, stake, and do whatever they want with all coins in one secure, non-custodial, multiplatform wallet.
With Guarda Wallet, users can also swap crypto without registering or KYC and get up to 20% APY by staking some assets stored in their wallet to generate passive income.
Supported Currencies and Countries
With Guarda wallet, users are able to store, manage, buy, exchange, and receive 50 different coins and over 400,000 tokens, including:
Bitcoin (BTC), Bitcoin Cash (BCH), Bitcoin Gold (BTG), Bitcoin SV (BSV), Cardano (ADA), Ethereum (ETH), Ethereum Classic (ETC), Dash (DASH), Decred (DCR), Digibyte (DGB), Dogecoin (DOGE), Solana (SOL), Litecoin (LTC), Monero (XMR), NEM (XEM), NEO (NEO), Qtum (QTUM), Ripple (XRP), Stellar (XLM), TRON (TRX), Tether (USDT), Zcash (ZEC), Zilliqa (ZIL), Vechain (VET), Ontology (ONT), ERC-20 Tokens, BEP-2 Tokens, TRC-10 and TRC-20 Tokens, Waves (WAVES) and many others.
Users from all countries can purchase crypto within the wallet with a bank card or via a SEPA transfer, though it is better to check your country's legislation regarding crypto storing or trading. Another feature available currently in the EU only is the possibility to pay with crypto if you get your own prepaid Guarda Visa card.
Users can also exchange currencies via a built-in exchange service, make fast crypto transactions, and sell their crypto for fiat. Furthermore, you can get loans without selling your crypto or using documents.
System Compatibility
Guarda wallet is accessible from any device connected to the Internet. Also, it is very versatile, offering interfaces compatible with Web, Desktop, Mobile, or Browser Extension formats.
Desktop Wallet: Guarda's light desktop wallet is compatible with Linux, Debian, Ubuntu, Windows, and macOS systems. Using the wallet does not require you to register for an account.
Guarda Web Wallet: The Guarda Web wallet can be used on any device that has internet access. The web and desktop wallets can also be connected to Ledger's API.
Mobile Wallet: Guarda Mobile Multiwallet can be used on both Android and iOS devices. The Android wallet can only be used in versions that are higher or at least Android 4.4. The iOS version features a broad range of device compatibility (iPhone/iPad/iPod Touch), and it can only be installed on iOS 10.0 or later versions.
Browser Extension: Guarda also features a Chrome Browser Extension that enables all operations with cryptocurrencies and tokens as usual.
Interface and User Experience
The interface was designed to be minimalist and easy to access, making it a popular choice among beginner traders who are looking to buy or sell small amounts of cryptocurrency.
How to Get Guarda Wallet
Unlike other wallets, you will not have to provide any email address, phone number, or ID to sign up on Guarda. Here are the steps for creating a desktop wallet:
1. Download and install the Guarda wallet app on your computer;
2. Launch the app
3. Click "Create a new wallet";
4. Set up a strong password for your wallet;
5. Click "I've written it down";
6. Click "Download Backup" to have your backup file saved;
7. Your wallet has been created, and you will be taken back to your account dashboard;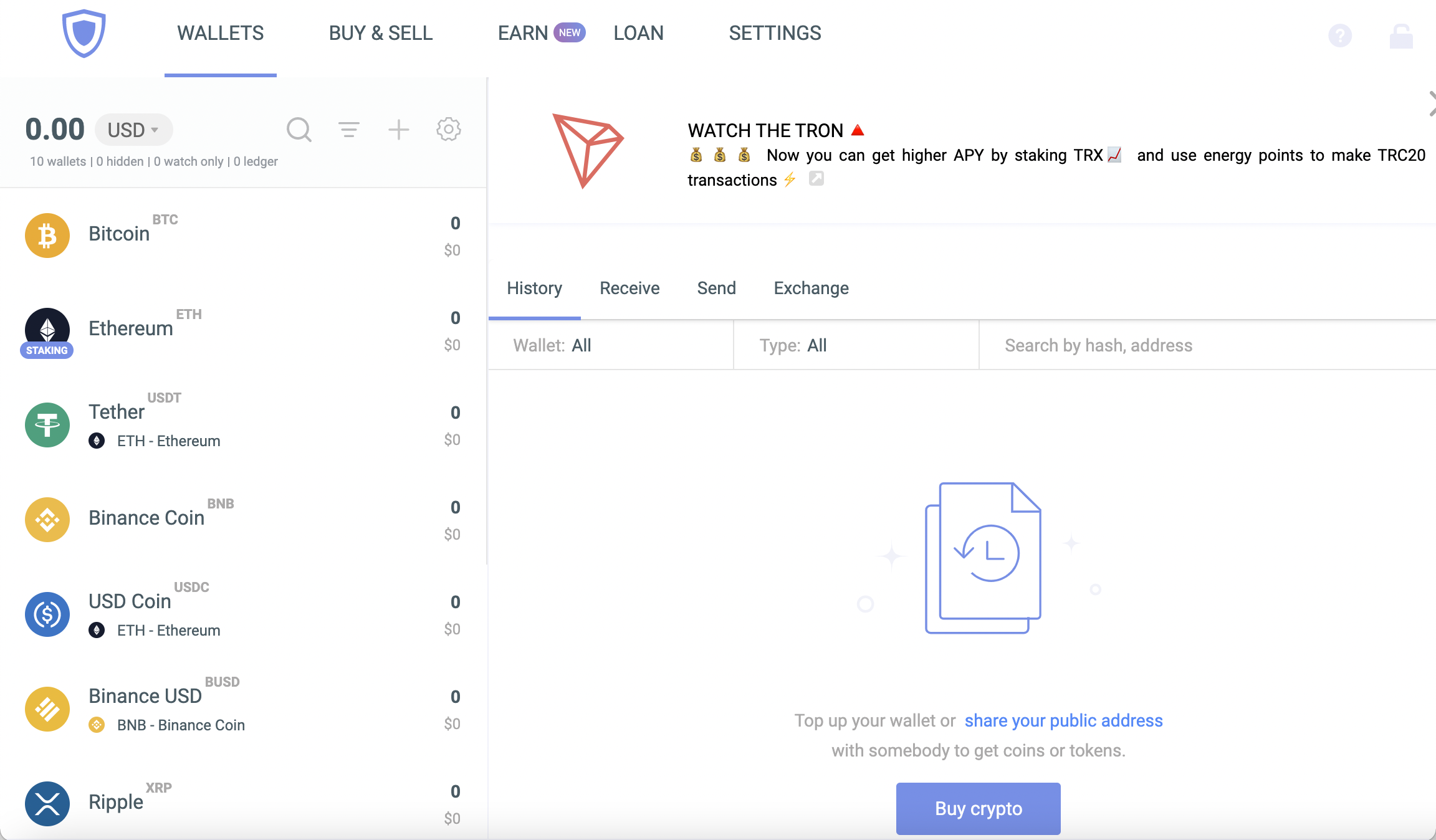 8. Create a wallet for every crypto that you want.
Of course, there is also the option of importing other wallets you own instead of creating a new one:
Open Guarda Desktop wallet on your computer;
Click on the "+" icon next to your Balance;
Head to "Import", select the currency you want to import and type in the private key of your existing wallet.
Click on the crypto that you want to import and type in the private key of your existing wallet;
Click "Confirm";
Download your backup file.
How to Use Guarda Wallet
How to Send Crypto
Select the currency that you want to use and click "Send";
Select the "From" address;
Fill in the "To" field, either manually or by scanning the QR code;
Type in the amount you would like to send.
Click "Next";
Carefully check your transaction details and click "Send".
How to Buy/Sell Crypto
Go to your Guarda wallet and click the "Buy & Sell" tab;
Select the currencies you want to use (Fiat to Crypto or Crypto to Fiat);
Fill in the "Amount" field;
Select the payment partner and click on "Buy"
Authenticate either via email address or phone number;
Verify your identity via an official document (either passport or ID card);
Type in your payment details and complete your transaction.
Additional Features
Staking Platform
The staking platform, built into the Guarda ecosystem, allows you to stake 15 assets currently. You can increase your asset's value with Guarda by earning monthly/yearly rewards and dividends just by depositing and holding funds on Guarda. On the platform, you can see:
the cryptocurrencies available for staking;
the APY you can receive depending on the assets;
the minimum staking amounts;
the length of the lock-up period;
the terms of staking, etc.
You just need to add the asset of your choice to your wallet, buy it, and stake it to earn more.
Referral Program
Guarda also features a Referral program. Register with the program, choose a wallet for rewards, share your unique link, and start earning rewards in Guarda's token, GRD. If you pay with GRD, you may get discounts on ERC-20 and HBAR token generator as well as Unstoppable Domains services.
Direct Coin Purchase
Guarda allows you to buy cryptos directly from your wallet using fiat currencies through bank transfers or credit cards.
Users can buy crypto using a variety of currencies, including EUR, USD, GBP, RUB, AUD, and more.
Also, you can purchase the native token to enjoy perks exclusive to Guarda Wallet users. For example, if you pay with GRD, you get a discount for a human-reliable address from Unstoppable Domains.
Ledger Integration
Guarda allows you to integrate your wallet with the popular hardware Ledger wallet. It functions without any problems on the Guarda Web Wallet in Chrome, Mozilla Firefox, or Opera.
Token Generator
Another service offered by Guarda is the ERC-20 and Hedera Hashgraph (HBAR) token generator. This feature allows you to create your own crypto token from scratch, be it for an ICO, a business, or just for the experience. If you create your own ERC20 token you can get a discount when paying with GRD.
Wallet Fees
All versions of Guarda wallet are free of charge. The only "fee" would be the network fees which have nothing to do with the wallet.
Security Features
Guarda developers created digital wallets that provide complete security. Everyone can use the software for easy storing and managing cryptocurrencies. Guarda's priority is the decentralization of the software in accordance with the basic principles of blockchain.
User privacy and anonymity are essential, which is why Guarda does not store users' private keys, backup files, or any other data on Guarda servers. All private data is stored only by users. The user is the only one to have control over his funds, and this reduces the chance of losing his data or keys to a hack into Guarda's servers.
Guarda requires the user to save the backup file each time he creates or imports a wallet. There is also an automatic session timeout option that logs you out of the account if there is no activity for a specified period of time.
Backup is essential as it is the only way to gain back access to your wallet should you have lost your keys.
What's more, all backups are secured through AES (Advanced Encryption Standard) encryption, a reliable algorithm used to secure sensitive data in electronic format.
The mobile version can be configured to have Touch ID/Face ID unlock on compatible devices.
Customer Support
Guarda's customer support consists of a ticketing system, a Telegram chat, and an extensive FAQ section that provides answers and explanations to most questions. Most users have reported that Guarda has fast response times whenever they send a ticket or a message.
The support team has been reported to be very active online, responding to all reviews, be they negative or positive, as well as comments, questions, or other issues. This attention and responsiveness have garnered them a lot of positive reviews online.
Guarda Academy
Furthermore, Guarda has a special section for learning more about crypto, blockchain, and DeFi called Guarda Academy.
Reputation
A vast majority of user reviews are positive, reporting to be satisfied with the wallet product and its services. However, there were some bad reviews that claimed the wallet stole crypto from them. But seeing as the wallet does not hold any keys, the problem might have been from bad management on the user's part.
Another issue reported was about bad exchange rates. All in all, Guarda is highly regarded in the community for its dedication to security and prompt services.
Guarda Wallet Review: Verdict
Guarda is a multipurpose wallet that can be used to store a lot of crypto coins and tokens in a safe environment where the user has total control over his assets.
Guarda Wallet Review: Pros and Cons
Pros:
Compatible with Desktop, Web, Browser & Mobile;
Easy to use;
Features built-in exchange;
Accepts credit card purchases;
Multi-currency support;
Good reputation;
Does not hold private keys.
Cons:
Some users reported high exchange rates.
* The information in this article and the links provided are for general information purposes only and should not constitute any financial or investment advice. We advise you to do your own research or consult a professional before making financial decisions. Please acknowledge that we are not responsible for any loss caused by any information present on this website.