As surprising as it may seem, crypto has become extremely popular. As of November 2022, there are over 400 million crypto users in the world. And among all the cryptocurrencies they prefer, Dogecoin is one of the most used coins at the moment.
Even though it all started as a joke, Dogecoin is now supported by several crypto exchanges, and users have multiple options for buying it. And in this article, we will discuss how to buy Dogecoin with PayPal as a funding method.   
But first, what exactly is Dogecoin? And how is it linked to Shiba Inu?
What Is Dogecoin?
Dogecoin is a P2P (peer-to-peer), open-source cryptocurrency launched in December 2013. The Dogecoin cryptocurrency was launched as a joke focusing on the whole popularity of Bitcoin and the crypto industry in general.
Developed by Billy Marcus and Jackson Palmer, Dogecoin's logo was a meme popular at the time, the Shiba Inu dog. Thus, Dogecoin gained remarkable popularity in no time, gathering an engaged community on social media.
On the technical side, Dogecoin's code was developed using Luckycoin, a derivation of Litecoin, basing its algorithm on the Proof-of-Work (PoW) consensus mechanism. In only 2 weeks after launching, Dogecoin's value jumped 300%. As for it's current all-time high, Doge hit it on May 7, 2021.
During the past 2 years, Elon Musk publicly supported Dogecoin on more than one occasion. Between other examples, he tweeted that he might start accepting cryptocurrency as a payment method at Tesla. Also, he stated that he would "eat a Happy Meal on TV" if McDonald's started accepting Dogecoin payments.
Such tweets were making waves in the crypto industry, making Dogecoin experience both extreme rises and dramatic falls. However, Elon Musk did manage to increase Dogecoin's popularity even more, making the first meme coin maintain its place in the rankings.
At the moment of writing, Dogecoin is ranked #9 on CoinMarketCap, with a price of $0.07414 and a market capitalization of $9,836,090,454.
Best Exchanges for Buying Dogecoin with PayPal
If you aim to buy Dogecoin with PayPal, you should keep in mind that it is essential to look into the crypto exchanges that accept PayPal funding. We have prepared a list of the top exchanges you can use for this operation.
eToro
If you're looking for the best crypto platform that accepts PayPal, eToro is our top choice. This platform is highly rated and widely used worldwide, and for a good reason. The easiest option to buy dogecoin is with eToro.
eToro is a popular and reliable crypto exchange that operates in more than 140 countries, with a massive user base of almost 30 million people. As of January 2023, eToro offers more than 30 cryptocurrencies to trade, including Dogecoin.
One of the reasons why eToro is so popular is its commitment to safety and security. It's fully compliant with various regulatory bodies like the FCA, ASIC, CySEC, FINRA, and FinCEN. This platform ensures the security of your funds by storing them in reputable banks. This means users can rest easy knowing that their crypto assets are in good hands.
One of the coolest things about eToro is its social investing feature, CopyTrader, which allows users to copy the trades of experienced traders. The platform is easy to use and accessible to everyone, whether you're a beginner or an established crypto investor. You can trade crypto on a web browser or through their mobile app, available on iOS and Android.
Moreover, eToro is highly rated in European countries, where it's promoted. They charge a 1% commission for each crypto trade, and best of all, you can trade stocks on eToro without paying any commission!
Pros & Cons
Pros:
Available in over 140 countries;
Easy-to-use platform;
Offers the CopyTrader feature.
Cons:
It is not available all over the US;
Limited account types;
Minimum deposit of $50 in Europe, $10 US.
Coinbase
Coinbase is a popular cryptocurrency exchange known for its user-friendly interface and a wide variety of crypto assets available for purchase, including Dogecoin. If you want to buy Dogecoin with PayPal instantly, you can sign up with Coinbase and connect your PayPal account directly.
Ranked #2 in the CoinMarketCap exchange list, Coinbase is a crypto trading and investing platform that allows transactions with over 200 cryptocurrencies and currently has over 98 million users. Launched in 2012, Coinbase was developed as a place to transact Bitcoin. Over time, the platform became one of the world's most intensively used crypto exchanges.
Currently, Coinbase is available in over 100 countries and offers two different platforms: Coinbase and Advance Trade. They both allow users to buy, sell, and trade crypto, but each offers unique features.
Although Coinbase does not provide a detailed fee schedule, you can see the costs on the trade screen before making a transaction. The fees range from $0.99 to $2.99, depending on the trade size:
$10 or less – $0.99;
Between $10 and $25 – $1.49;
Between $25 and $50 – $1.99;
Between $50 and $200 – $2.99;
Over $200 – percentage-based fee.
Coinbase uses bank-standard encryption and security, two-factor authentication, and stores 98% of customer assets offline using cold storage in a network of safe deposit boxes worldwide to keep customer deposits and assets safe. However, following online best practices to keep your account information secure is crucial.
While Coinbase has a large customer base and supports the trading of over 200 cryptocurrencies, the company has received negative reviews on customer service and lost funds due to hacked or frozen accounts. Despite these issues, Coinbase remains a trusted platform for managing cryptocurrency portfolios or trading plans.
Pros & Cons
Pros:
Easy to use for beginners;
Supports over 200 cryptocurrencies;
Offers many opportunities to earn crypto.
Cons:
Can have high transaction fees;
Customer support may contribute to a lower user experience.
Binance
With support for over 350 different types of cryptocurrencies, Binance is a top choice for investors who want to diversify their portfolios by investing in Dogecoin and other cryptocurrencies.
Binance offers various online tools, including API support, to help you manage your account. In addition to trading, the platform offers other ways to earn cryptocurrencies, such as mining, staking, liquidity providing, and loaning. And with 24/7 customer support and an advanced exchange interface, Binance is a user-friendly platform that caters to both novice and experienced investors.
Regarding reputation, Binance is one of the most well-known and widely used crypto exchanges worldwide. As a pioneer in blockchain technology, Binance has a solid reputation for security and reliability.
If you're looking to buy and sell cryptocurrencies, including Dogecoin, Binance is an excellent option. Plus, they allow users to deposit fiat money into their accounts and buying Dogecoin with PayPal is possible through their peer-to-peer trading.
Pros & Cons
Pros:
Over 350 cryptocurrencies allowed;
Available in over 140 countries;
Relatively low fees.
Cons:
US version is more limited;
The platform mostly suits experienced users.
Bitstamp
Based in Luxembourg, Bitstamp is an easy-to-use crypto exchange destined for both beginners and experienced investors. Offering over 82 cryptocurrencies and being available in approximately 100 countries, Bitstamp is well-known for its security features and low transaction fees.
On Bitstamp, trading fees are calculated based on a user's 30-day trading volume. The highest fee stands as low as 0.40% for users with under $10,000 in 30-day trading volume. The fees can get even lower for those with higher monthly trading volumes.
Moreover, Bitstamp also offers an advanced trading platform called Tradeview with more detailed charting features and trading forms. However, the fees are the same regardless of the platform used.
Bitstamp has developed a mobile app available on iOS and Android. Furthermore, the crypto exchange is among the safest cryptocurrency platforms at the moment. That is because the platform keeps 98% of assets in cold storage. The other 2% that are kept in hot storage are for everyday trading.
Pros & Cons
Pros:
Relatively low trading fees (0.40% or less)
Provides an advanced trading platform
Offers a highly rated mobile app
Multiple safety features
Cons:
Available in only 100 countries
Misses some popular cryptocurrencies
Sidenote: Keep in mind that the crypto exchange list includes just some platforms allowing users to buy Dogecoin. Besides them, you may want to consider OKX, KuCoin, Huobi, or BitFlyer. However, the crypto exchanges we mentioned before do have a combination of lower fees and security features that would suit most crypto enthusiasts.
How to Create a PayPal Account
If you do not have a PayPal account yet, you should create one before buying Dogecoin with PayPal:
Step 1: Access PayPal Website, Press the "Sign Up" Button and Select Your Account Type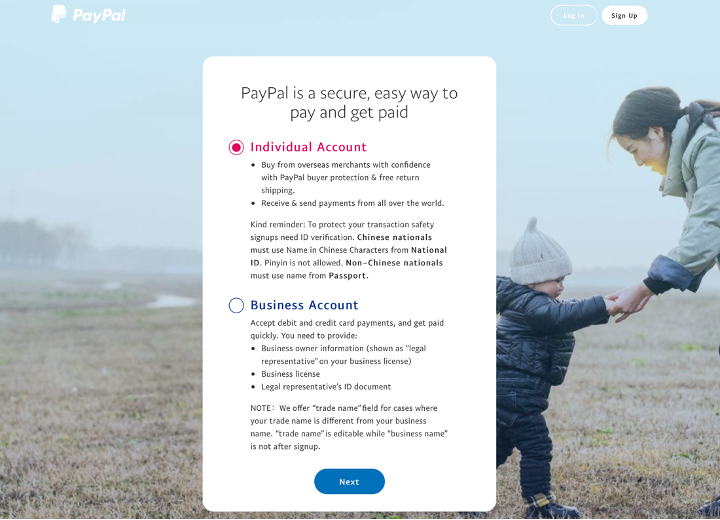 Once you have accessed the official PayPal website, click the "Sign Up" button at the top right of the screen and choose the type of account you want to open that suits you best. You will be able to open a business account or an individual account. Simply select in the left box your preferred option and press "Next" button.
Step 2. Select Your Country/Region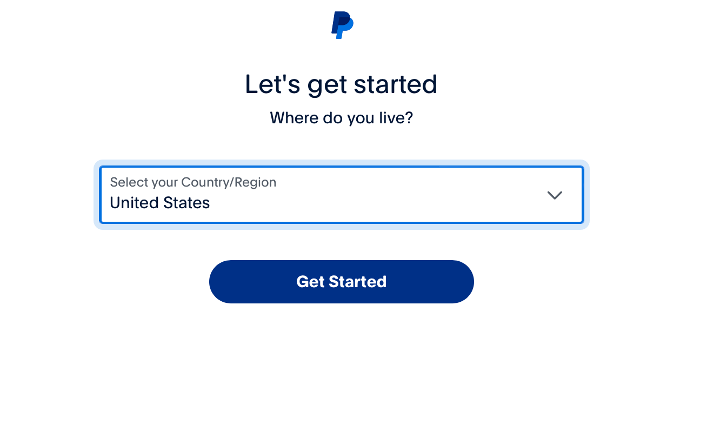 To continue the process, select the country you live in.
Step 3. Enter Your Phone Number and Confirm Your Number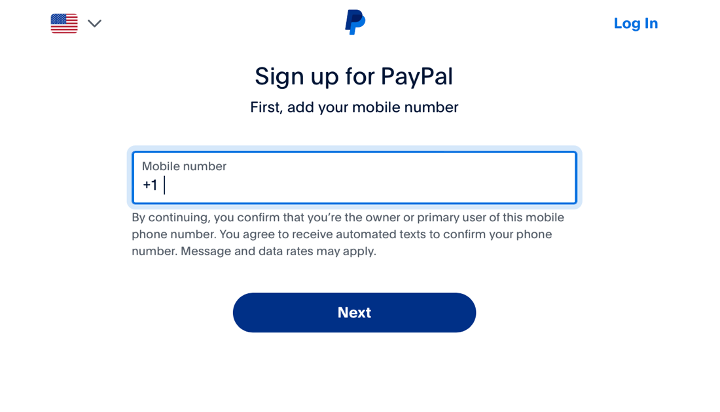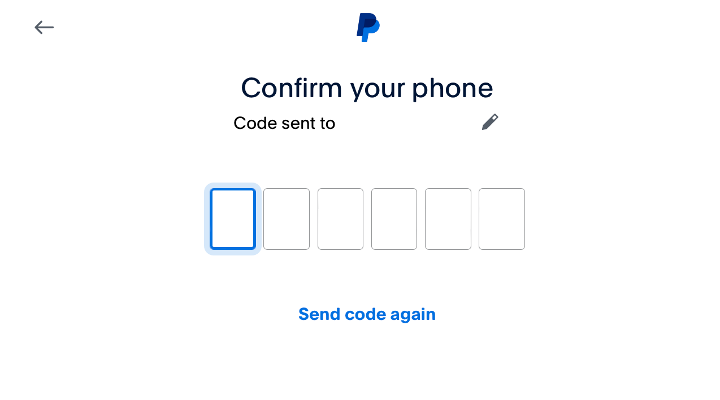 Enter your phone number in the white box based on the region you are from. Also, confirm your phone number before continuing the process. The easiest way is with the code you can receive via SMS. After the confirmation process is done, press the "Next" button.
Step 4. Set Up Your Profile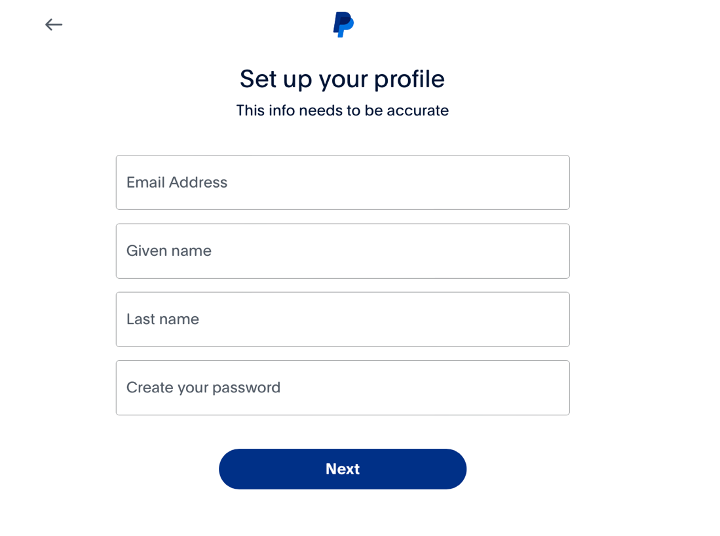 In this section, you will need to enter some of your details, such as your email address, last name, first name, and password for your PayPal account. You should also select a unique email address and password that you will remember to use when logging into your account in the future. If you already have a business account, you will need to create a new personal account with a different email address, bank account, and credit or debit card. Once entered, proceed to the next step.
Step 5. Enter Your ID Details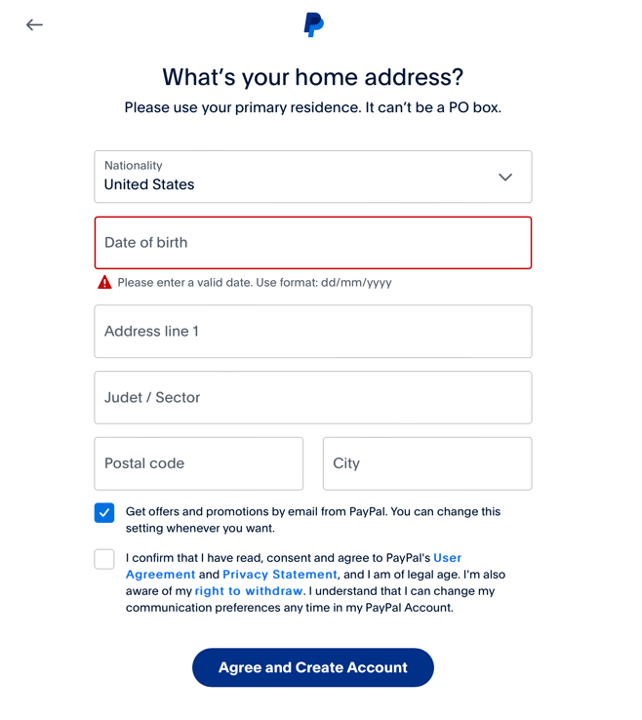 Ensure you provide your details, like date of birth, address, and contact details, ensuring they match your National ID or passport information. Lastly, don't forget to read and accept the PayPal Terms and Conditions before proceeding.
Step 6. Enter Your Card Details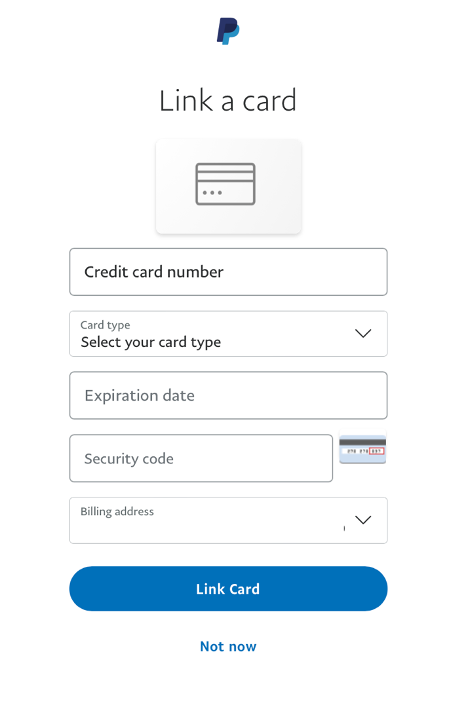 By linking your credit or debit card to your PayPal account, you not only streamline your online shopping experience but also add a layer of security to your financial information and purchases, protecting them from potentially fraudulent activities.
Step 7. Confirm Your Email

After creating your account, PayPal will send you an email to confirm your email address. This step is essential to ensure they have the correct email address on file for you. In addition, PayPal will send you an email notification every time you make a payment, allowing you to keep track of your purchases easily.
To verify your email address, simply click on the "Confirm Email Address" button in the email we sent you. Once you've completed this step, your account will be fully set up and ready to use.
Also, don't forget to fund your PayPal account.
How to Buy Dogecoin with PayPal
If you're interested in buying Dogecoin using PayPal, one of the simplest ways to do so is by signing up with a cryptocurrency exchange. This can be easily done online via your computer, smartphone, or tablet, providing you with quick and easy access to buy and sell Dogecoin and a variety of other cryptocurrencies. Here is a general step-by-step guide on how to buy Dogecoin with PayPal:
Step 1: Choose a platform
The first step is to select a platform. You can choose from one of our top picks listed above or review them in more detail before making a decision. To create an account, you must fill in your information on the registration form and provide a photo ID to verify your identity.
Step 2: Fund your account with PayPal
Once your account has been verified, head to the deposit page and input the amount you want to deposit. Set the payment method as PayPal, and you will be redirected to enter your password. Once done, hit the "Deposit" button to transfer your funds.
Step 3: Buy Dogecoin
Search for Dogecoin on your chosen platform. Create a limit order if you wish to buy DOGE at a specific price. Otherwise, use a market order to purchase it immediately at the current price. Enter the amount you want and click the "Buy" or "Trade" button to complete the transaction.
How to Buy Dogecoin with PayPal on eToro
1. Create a Free Account or Login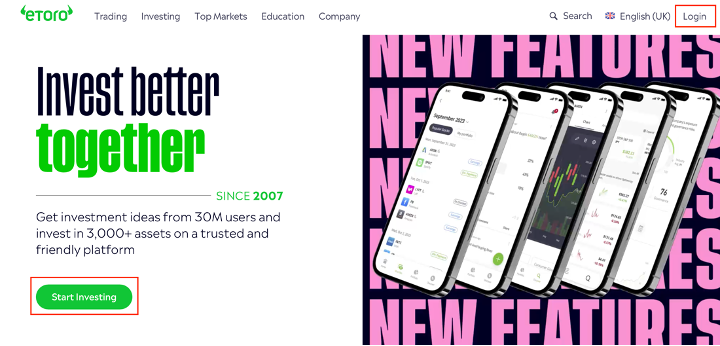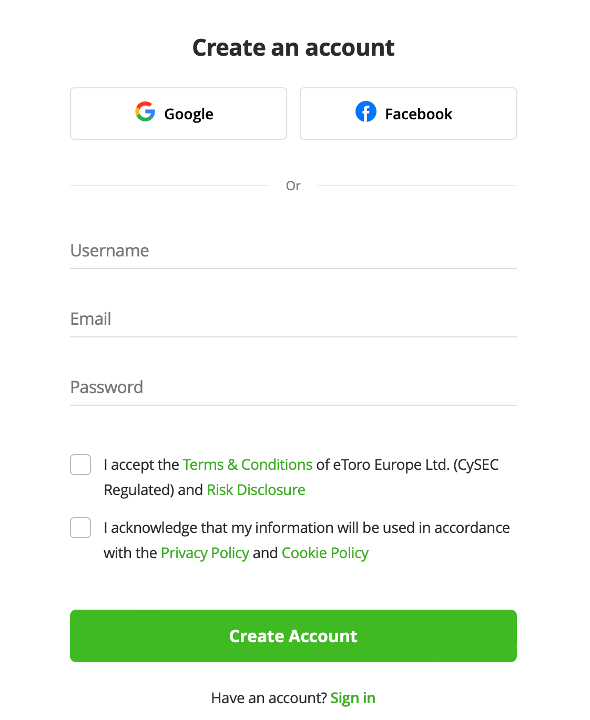 Visit the eToro website and click "Start Investing" to access the registration page. To complete the process, you must provide your email address, username, and password. Click the "Create Account" button after accepting the terms and conditions.
2. Verify your account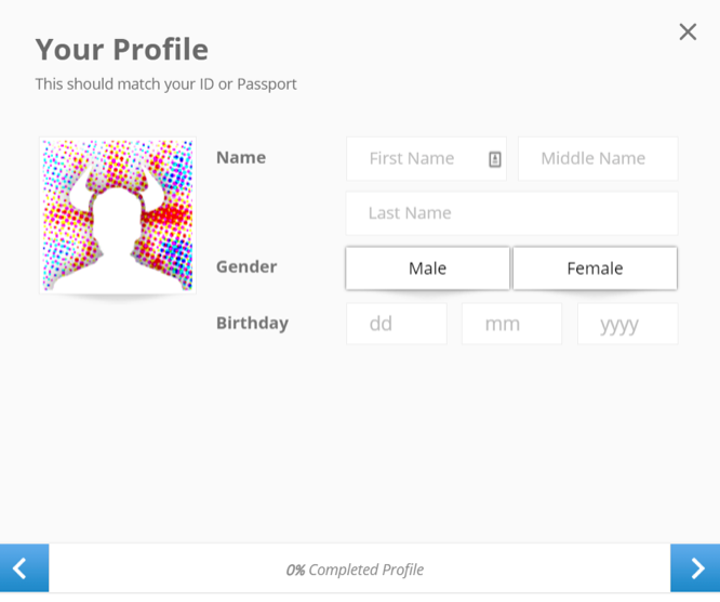 To verify your account, you'll need to confirm your email address by following the link provided in the email. You'll also need to provide additional details such as your full name, date of birth, address, and phone number. To complete your profile, you may be required to submit a photo ID and answer questions about your investing experience.
3. Deposit using PayPal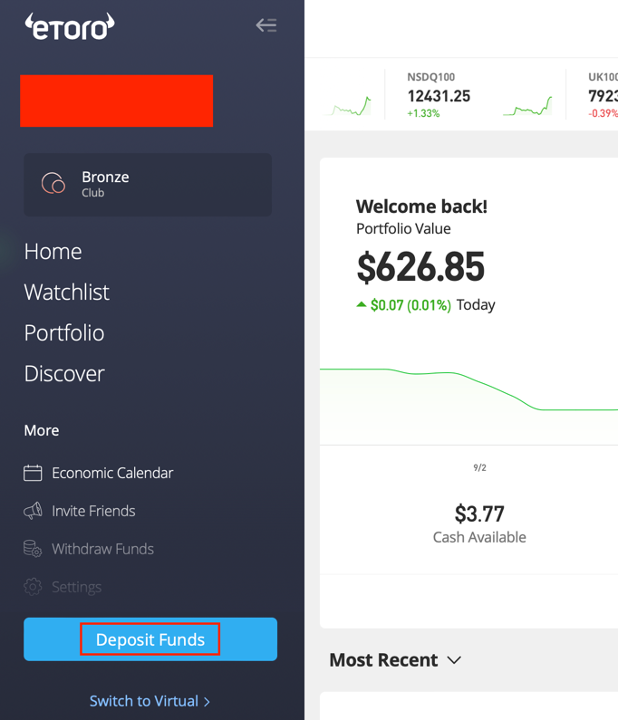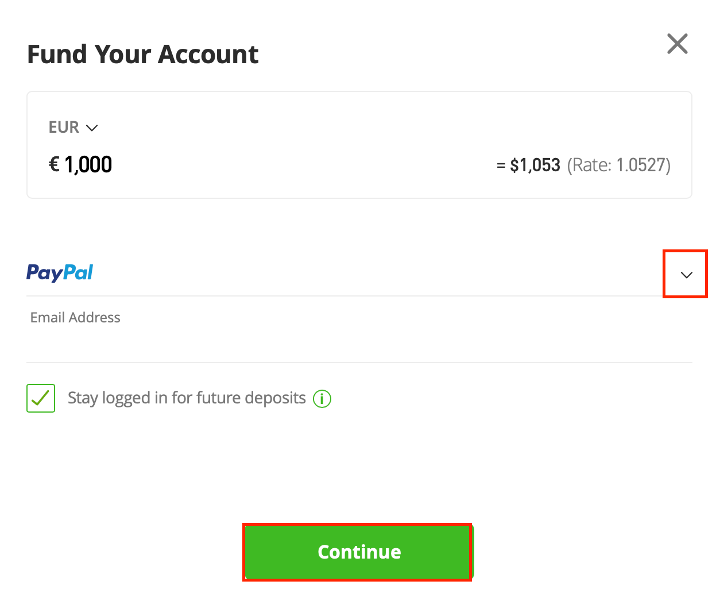 To fund your account, click the "Deposit Funds" button, select your local currency, and enter the amount you wish to deposit. In the payment options dropdown list, select PayPal, and click "Continue." After being redirected to PayPal, enter your password and complete the transaction.
4. Buy Dogecoin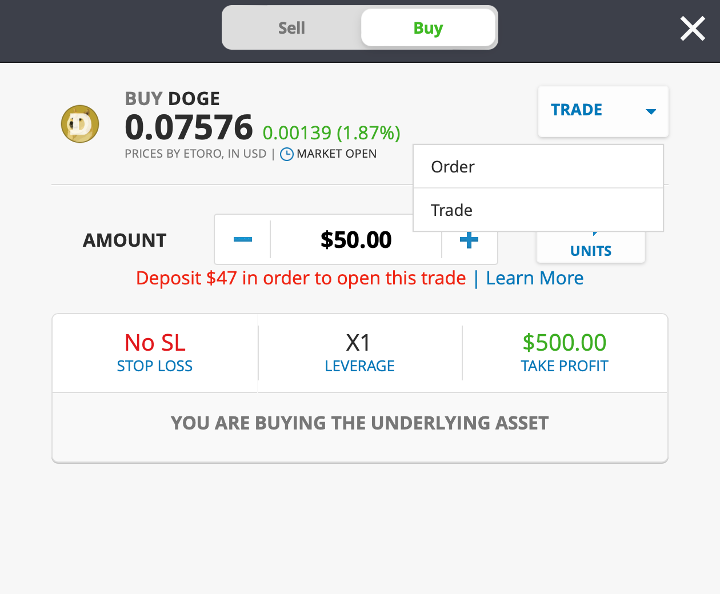 To buy Dogecoin, type Dogecoin in the search box at the top and select "Trade." If you want to specify a price at which to buy DOGE in the future, switch from "Trade" to "Order." To buy now, enter your purchase amount and click "Open Trade."
How to Buy Dogecoin with PayPal on Coinbase
1. Create a Free Account or Login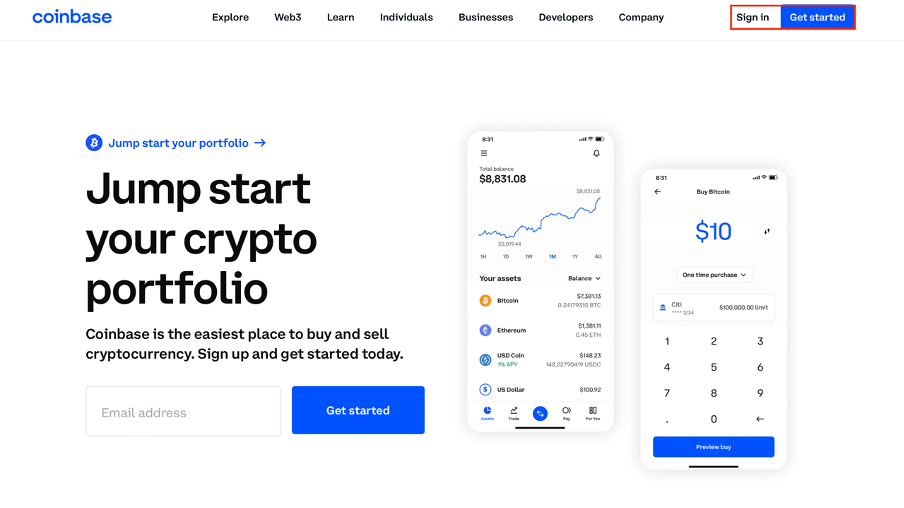 Go to the official Coinbase website, create an account (if you don't have one), and go through the steps to have your own Coinbase account. If you already have an account, just log in to your account.
2. Verify your account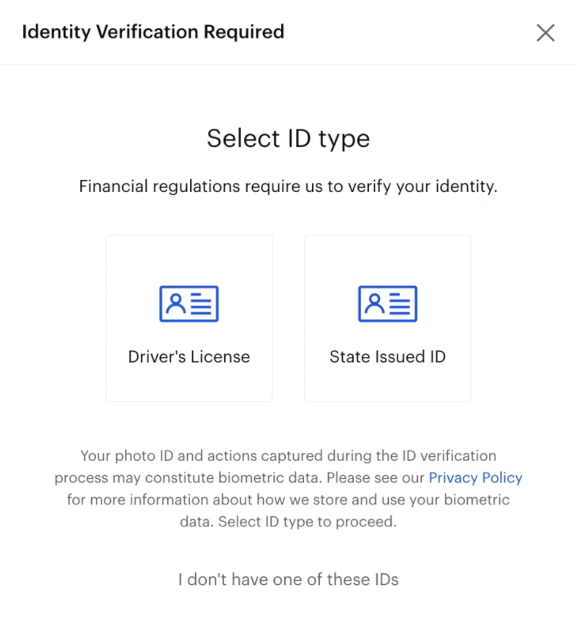 To complete identity verification, access the Document Verification prompt in your Coinbase account or mobile app, select your preferred identity document type and upload method, follow the on-screen instructions, and wait for an email confirmation. As with other platforms of this type, you will need to enter personal data into the Know Your Customer (KYC) process.
3. Add PayPal as a payment method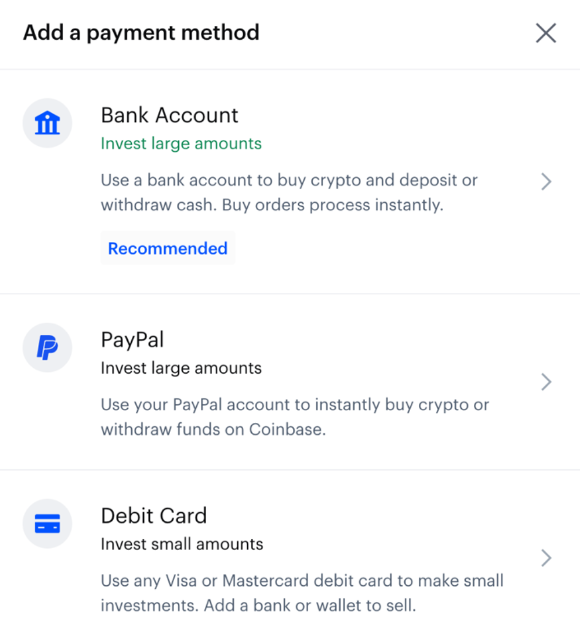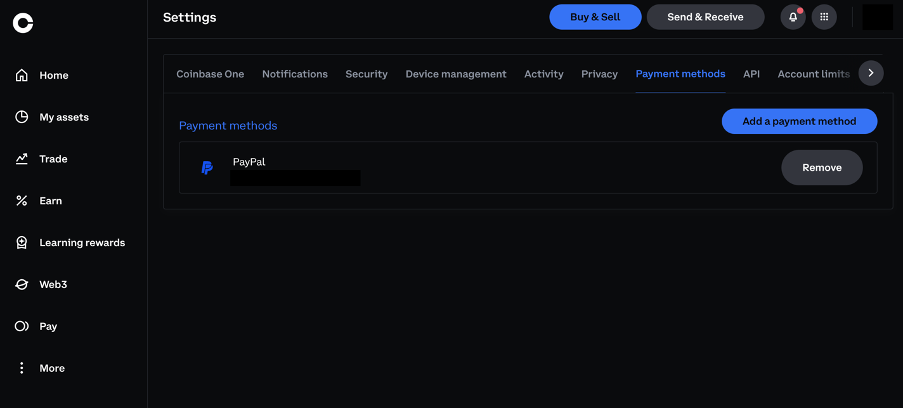 To add PayPal as a payment method for your account, navigate to the "Payment methods" section in your account settings and click on "Add a payment method." Select PayPal from the available options and log in to your PayPal account. After completing this process, customers can use PayPal to make deposits.
However, keep in mind that there is a chance that in some countries or regions, PayPal deposits may not be possible, but only PayPal withdrawals may be accepted.
4. Buy Dogecoin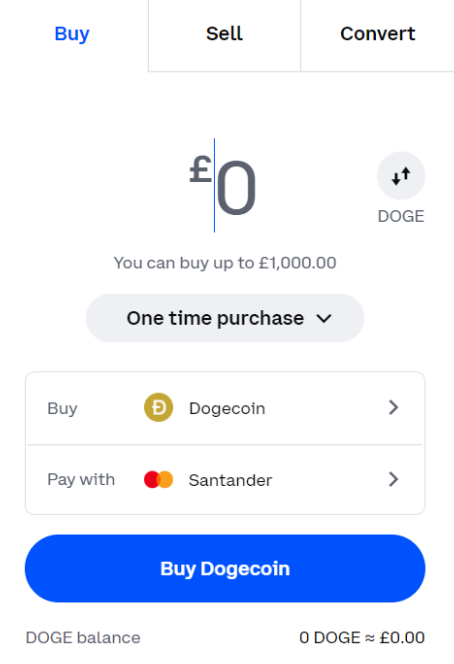 To purchase Dogecoin, click on the "Buy/Sell" button located at the top of the page and select Dogecoin. If you are not using pre-deposited funds, ensure that you choose PayPal as your payment method. Next, input the amount you wish to purchase, click on "Preview Buy," and then select "Buy Now" to complete the transaction.
How to Buy Dogecoin with PayPal on Binance
Currently, you cannot fund your Binance account directly through Binance, but you can buy Dogecoin using PayPal via P2P Lending on Binance.
1. Create a Free Account or Login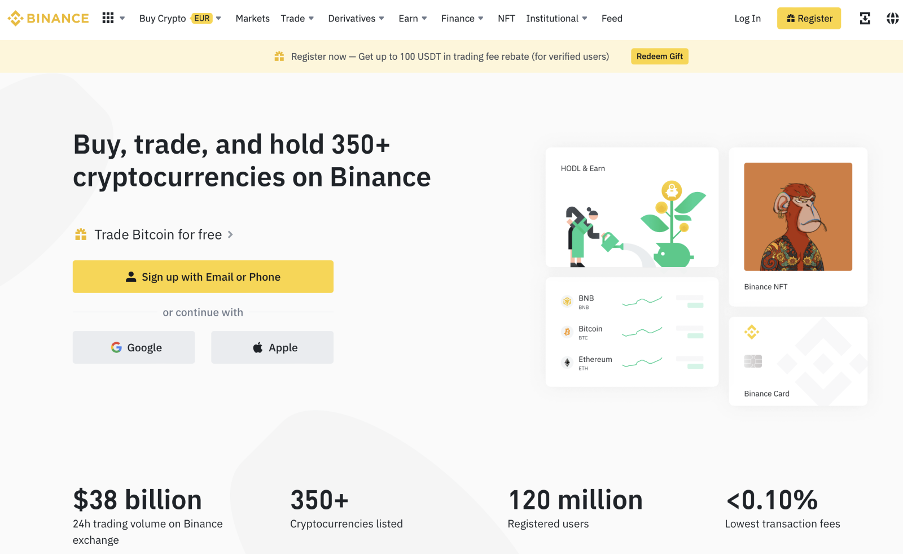 Go to the official Binance website or mobile app, create an account (if you don't have one), and go through the steps to have your own Binance account. If you already have an account, just log in to your account.
2. Verify your account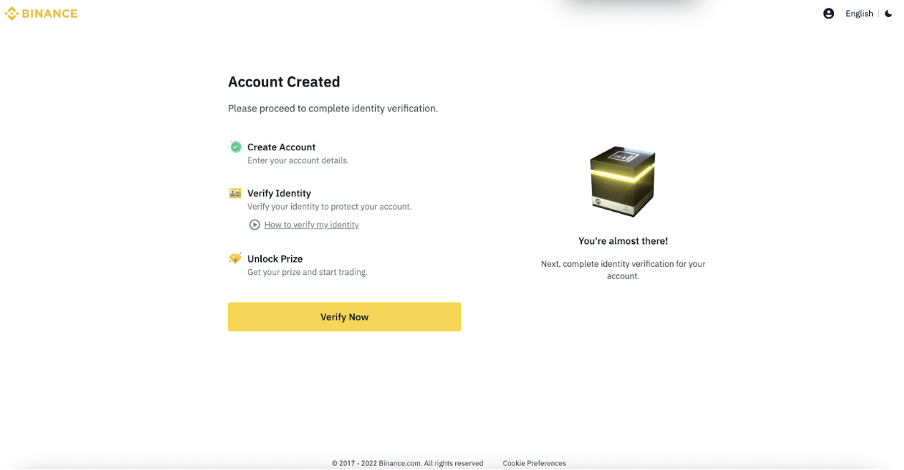 To verify your Binance account, you need to press the "Verify Now" button and select your country of residence. After that, check the list of verification requirements for your country and click "Continue," enter your personal information and make sure it matches your ID documents, upload pictures of your ID documents and, complete face verification, wait for Binance to review your application, input your address and choose a form of proof of address to provide, declare if you are a PEP and provide your Source of Wealth and wait for the Binance team to review your application and send you an email once you have been verified.
3. Add PayPal as a P2P Payment Method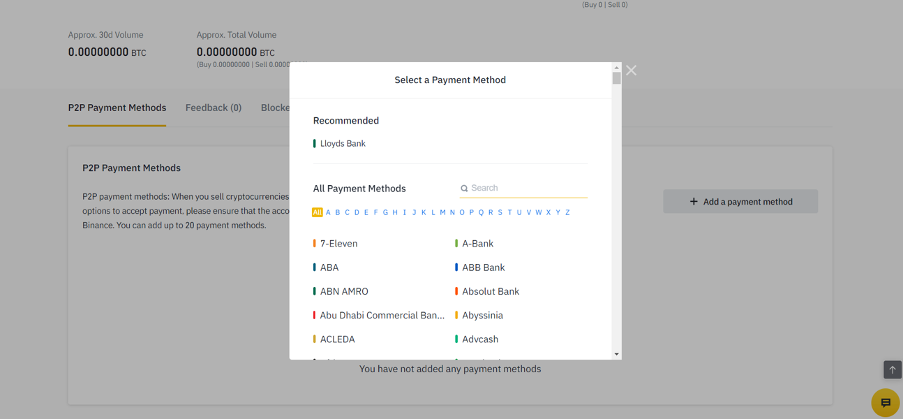 To add PayPal as a P2P payment method on Binance, navigate to the Payment tab on the left-hand side of your dashboard and click "Add a payment method." From there, you'll find PayPal under the "More" option. Enter your account details and verification code to complete the setup process. If you don't find PayPal, try to press the "Suggest a Payment Method" button.
4. Buy Dogecoin on Binance P2P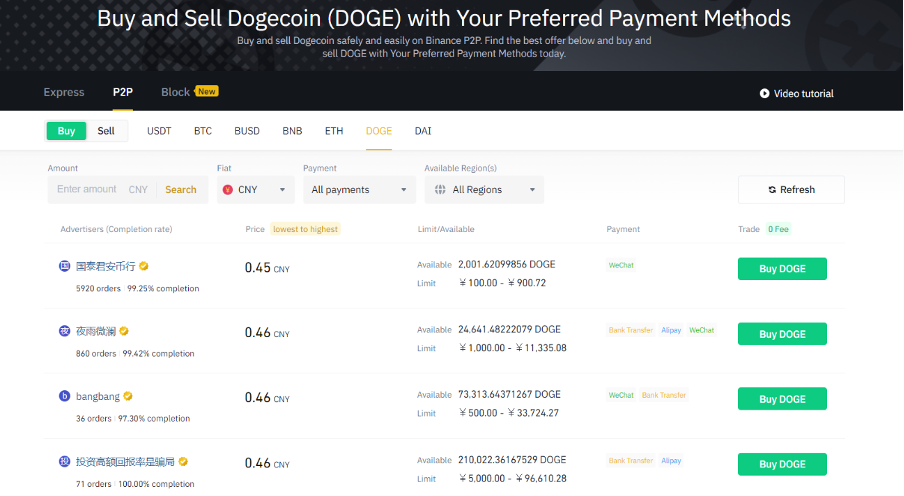 To buy Dogecoin on Binance using P2P trading, start by selecting "P2P Trading" from the Buy Crypto dropdown menu. Use the available filters to select "Buy", "DOGE", your local currency, and PayPal as the payment method. Browse through the list of sellers, choose the one you prefer, click "Buy DOGE," and follow the on-screen instructions to complete your PayPal payment.
It is possible that for some fiat currencies, there is no option to trade Dogecoin. You can try to exchange fiat currency.
Also, don't forget that to buy Dogecoin with PayPal using Binance, there must be someone selling Dogecoin through the PayPal payment method. If there's no one, you won't be able to buy.
How to Buy Dogecoin with PayPal on Bitstamp
1. Create a Free Account or Login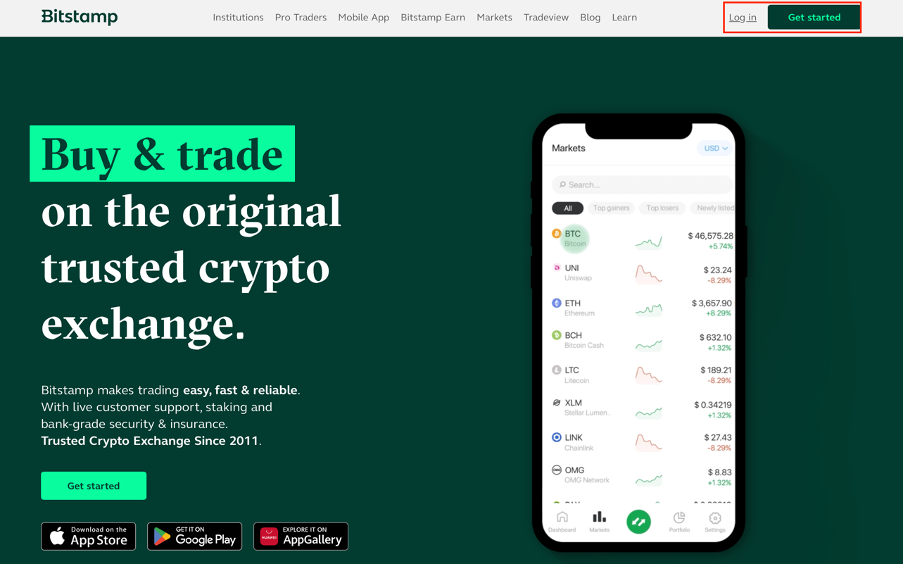 Go to the official Bitstamp website, create an account (if you don't have one), and go through the steps to have your own Bitstamp account. If you already have an account, just log in to your account.
2. Verify your account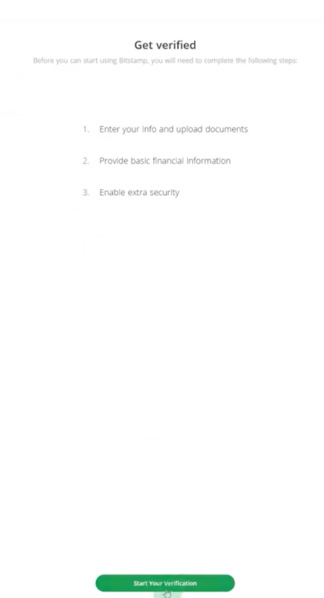 After creating your account, you must select the "Start Your Verification" option to verify your account. You must then fill out the verification form and upload the necessary documents. Once your verification request has been approved, you must submit the required information on the KYC form. Completing this form can help speed up the processing of your deposits and withdrawals.
They strive to process all verification requests as quickly as possible and will notify you via email once your request has been processed. Their goal is to make the verification process seamless.
3. Deposit Funds via PayPal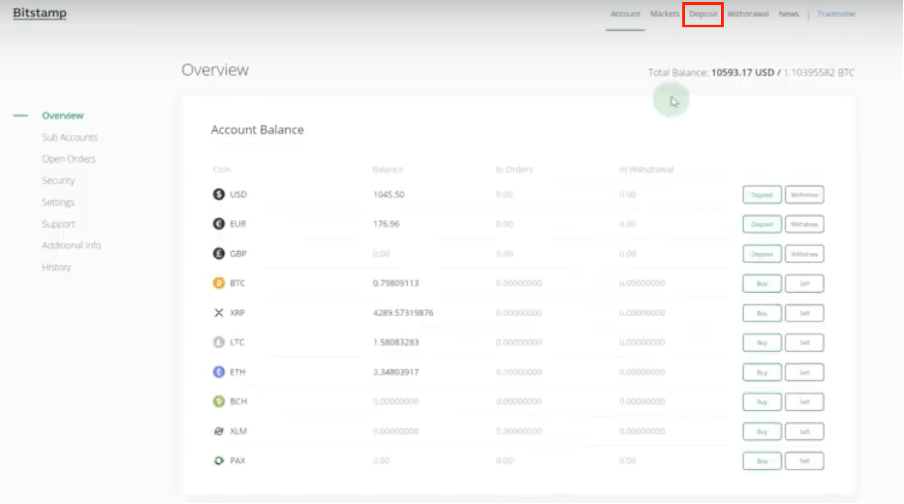 Currently, you can buy crypto using PayPal on our Bitstamp web platform. You can buy cryptocurrencies using PayPal with EUR, USD, and GBP.
To enable crypto purchases using PayPal, you must first link your PayPal account with Bitstamp. To do that, select PayPal as your payment method from the "Deposit" section, and you'll be directed to the PayPal login screen. There, you'll need to make sure you use the same name associated with your PayPal account as the one you've used to register your Bitstamp account. When logged in, confirm the transaction, which will connect your accounts.
4. Buy Dogecoin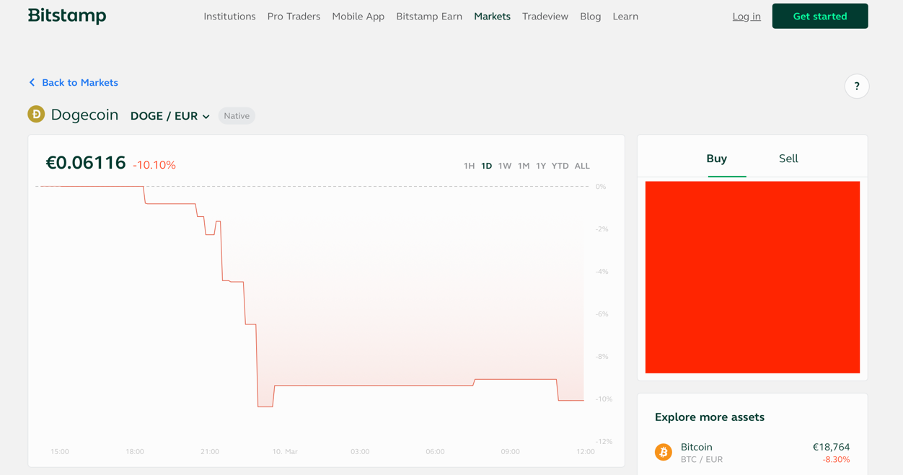 To purchase Dogecoin through Bitstamp using PayPal, begin by selecting Dogecoin and clicking on the "Buy with PayPal" option, or choose the "Direct Crypto Purchase" option located on the Deposit page. After specifying the desired fiat amount, click on "Buy with PayPal." If you have already linked your PayPal account to your Bitstamp account, you will not be required to log in to PayPal again.
Why Should I Buy Dogecoin with PayPal?
If you're wondering why you should consider buying Dogecoin with PayPal, there are a few good reasons to consider:
Firstly, security is a significant advantage of using PayPal. PayPal is a reputable and established payment method that provides buyer protection and monitors transactions for fraudulent activity. Additionally, PayPal uses end-to-end encryption to keep your sensitive information secure, and you can further enhance your account security by setting up two-factor authentication.
Convenience is another benefit of using PayPal to purchase Dogecoin. Once you've linked a funding source to your PayPal account, you must only enter your PayPal password to complete your Dogecoin purchase. This saves you time and hassle since you don't have to enter your account information or card details manually.
Lastly, PayPal is one of the fastest payment methods available. It only takes a few seconds to send money, so you can receive your Dogecoin almost instantly without waiting for funds to clear. And if you sell your DOGE, you can also use PayPal to withdraw your funds, which is often faster than other withdrawal methods.
We Also Recommend: How to Buy Dogecoin on eToro | Where and How to Buy Dogecoin
FAQ
Can I Use PayPal to Buy Dogecoin?
You can buy Dogecoin with PayPal using an intermediary like a crypto exchange. While PayPal supports only four cryptocurrencies, Dogecoin is not one of them and thus cannot be purchased directly on the PayPal platform. However, you can still buy Dogecoin on PayPal by using an exchange like eToro, which is recommended due to several limitations associated with buying crypto directly on PayPal.
What Cryptocurrencies Does PayPal Support?
At the time of writing, PayPal supports four cryptocurrencies: Bitcoin (BTC), Ethereum (ETH), Litecoin (LTC), and Bitcoin Cash (BCH).
What Dogecoin Exchanges Accept PayPal?
At the time of writing, the world's largest exchanges, such as Binance, eToro, Coinbase, Crypto.com, Kraken, KuCoin, OKX, Bitstamp, and others, accept payments via the PayPal platform.
What is the Safest Place to Buy Dogecoin?
If you're looking for a safe place to buy Dogecoin, we recommend using a regulated platform that follows guidelines to ensure user protection. eToro is a top pick for purchasing DOGE with PayPal if safety is a concern, as it offers various security measures such as encryption, two-factor authentication, and cold storage.
Is It Necessary to Deposit Funds in Advance to my PayPal Account Before Using It as a Payment Option?
No, it is not required. You can use a credit card or bank account linked to your PayPal account to make payments, regardless of whether or not you have a balance in your PayPal account.
Can You Buy Dogecoin with PayPal with no ID?
Although it is technically possible, we strongly advise against using such sites. Using a regulated and secure platform such as eToro is recommended.
Can You Buy Dogecoin with PayPal under 18?
Unfortunately, it is not possible as you must be at least 18 years old to create a PayPal account and access the platform's services.
Can I Use a Credit Card to Buy Dogecoin?
It is possible to purchase Dogecoin using a credit card as many platforms, including the ones reviewed on this page, accept credit cards for direct Dogecoin purchases or deposits. Furthermore, credit cards are widely accepted, so several other cryptocurrency platforms also support credit card deposits. Alternatively, linking your credit card to your PayPal account can enable you to use it as a funding source when making payments with PayPal. Besides, most vendors that accept credit cards also accept debit cards as a payment option to buy Dogecoin.
Can I Use Decentralized Exchanges with PayPal?
It is not possible to use PayPal when dealing with decentralized exchanges because DEX requires the use of stored tokens on decentralized wallets. If you want to use PayPal to purchase cryptocurrency, you can buy it from other platforms such as Coinbase, transfer the acquired crypto into your decentralized wallet, connect your wallet to the DEX, and then use the deposited crypto to trade or buy cryptocurrencies on the DEX.
Buy Dogecoin with PayPal – Final Thoughts
Dogecoin has become one of the most popular cryptocurrencies in the world. After starting as a joke in 2013, DOGE is now used worldwide and supported by several crypto exchanges.
Among the most suitable exchanges for buying Dogecoin with PayPal are eToro, Coinbase, Binance, and Bitstamp. Besides them, you can also research OKX, KuCoin, Huobi, or bitFlyer.
If you want to know how to buy Dogecoin with PayPal, first you should create a PayPal account and sign up on a crypto exchange offering Doge. Afterward, all you have to do is link your PayPal to the crypto exchange account, select PayPal as a payment method, and buy Dogecoin.
Ultimately, we should mention that you can use PayPal to buy cryptocurrency even other than Doge. As you fund your exchange account, you can use PayPal as a payment option to buy any crypto supported by your chosen platform.
* The information in this article and the links provided are for general information purposes only and should not constitute any financial or investment advice. We advise you to do your own research or consult a professional before making financial decisions. Please acknowledge that we are not responsible for any loss caused by any information present on this website.