Just like any kind of crypto faucet, Ethereum faucets are sites that offer visitors free ETH in exchange for completing several tasks, such as watching ads, clicking on ads, completing captchas, playing games, and many others.
There are many legit Ethereum faucets on the market, but you should be careful when choosing such a site, as there are many scams that might try to steal your personal information. To help you narrow down your search for a safe and rewarding Ethereum faucet, we have compiled a list with several options:
Free-Ethereum
Free-Ethereum is a rather new but popular ETH faucet, which mainly offers multiplying games for people looking to earn free Ethereum. You can make a claim once every 60 minutes, and payouts are directly sent to your Ethereum wallet.
There is also a referral program that you can join, where you can earn up to 50% of coins that your referred user makes. And if you decide to hold your coins, Free-Ethereum pays you an interest rate of 8% per year.
You can withdraw your claims after you have reached the minimum limit of 0.001 ETH. A fee of 0.001 ETH will be applied when you make any withdrawal transaction.
Faucetcrypto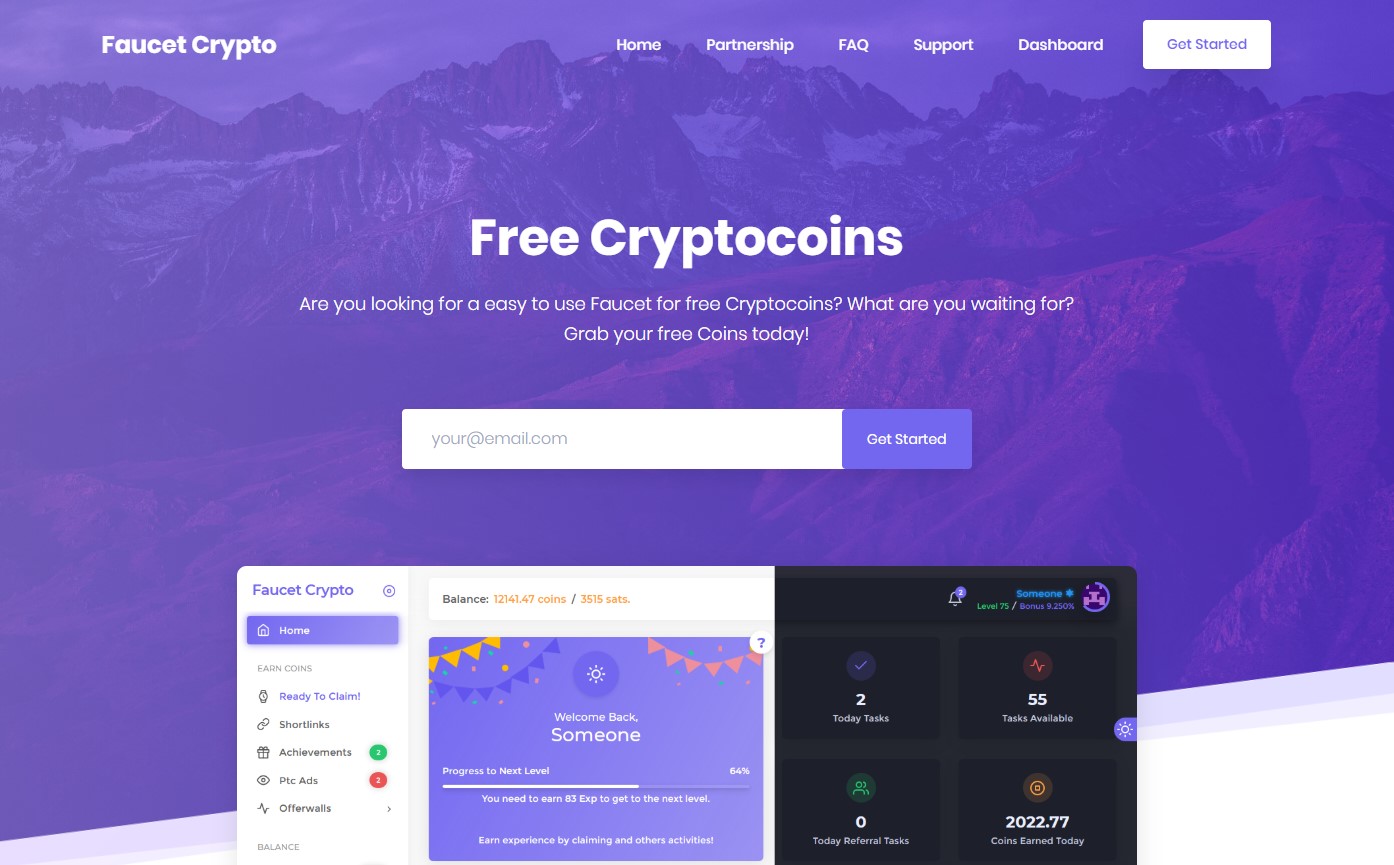 Faucetcrypto is a multicurrency faucet, where you can claim Ethereum, as well as Bitcoin, Dogecoin, Dash, Digibyte, and 11 other coins. You can earn cryptocurrency by doing a variety of tasks, such as interacting with ads, playing games, using shortlinks, and answering questions on offerwalls.
The faucet timer is set to 40 minutes. Withdrawals can be made after the 0.00012 ETH minimum is reached. The best part about this faucet is that there are no fees when withdrawing.
FireFaucet
FireFaucet is one of the most popular altcoin and Ethereum faucets, allowing users to claim 8 cryptocurrencies by completing simple tasks. Here you can earn crypto by playing games, clicking on ads and shortlinks, and many other things. The site also features a loyalty program that gives its users achievements, rewards, and bonuses.
There is no time limit that restricts at what time you can make a claim. You can withdraw your coins after reaching a minimum of 0.004 ETH, and there are no fees incurred.
ESFaucets
ESFaucet not only allows you to complete tasks for Ethereum, but you are also able to mine the site's native ES-Coins. Claims can be made once every 5 minutes.
This is one of the few Ethereum faucets that also features a mobile app. Regular users can take advantage of bonuses that are offered on a daily basis. When you have in our wallet more than 0.05015 ETH, you will be able to withdraw your claims. The fee per such transaction is 0.00015 ETH.
Althub
Althub is another multicoin faucet that also features Ethereum and 13 other cryptos for completing easy social tasks. The site also has a referral program, where users can get a 20% affiliate rate from the amount earned by the people they referred.
You can earn coins from shortlinks walls every day or claim coins every 5 minutes without the shortlink. Withdrawals can be made to your own wallet of FaucetPay wallet after you have accrued a minimum amount of 0.00005 ETH.
There are no fees applied to your transactions.
Allcoins
Unlike usual Ethereum faucets, Allcoins only offers games as a means to earn free ETH. The site also operates as a mining pool, where users can merge their computing power to generate new coins. While you can make claims manually every 4 minutes, there is also an AutoFaucet feature that automatically interacts with the faucet in your place.
This faucet has a higher minimum withdrawal limit, which is 0.0036 ETH. The fee charged for cashing out your coins is 0.0012 ETH.
Trust Dice
This online casino also features an Ethereum faucet as well as a multi coins faucet. You can make a claim once every 6 hours, but you have to create an account on the platform. The faucet has a multiplier feature that can enhance your crypto fund with 50000X. There is also a weekly wagering contest in which you can earn $3000, or you can take a small bet and win a jackpot of $24,691.
The minimum amount that can be withdrawn is 0.00002 ETH.
Free Faucet
Free Faucet is another multi-crypto faucet, allowing users to claim 17 different coins, including Ethereum. The timer is set to allow a claim once every 24 hours. You can make ETH by clicking on ads, accessing mail faucets, taking surveys, and many others.
The site has different membership levels and based on that level, you can increase the amount of ETH you claim. A Fire membership has an 8x reward multiplier, a Gold member – 12x, Ultimate member – 20x, and Platinum member – 30x.
Conclusion
This has been our list featuring the most rewarding Ethereum faucets that you can access this July 2020. Keep in mind that faucets are not effective ways of amassing large amounts of crypto, but to easily interact with them, as you do not have to go through an exchange.
Featured image: asiatimes.com
* The information in this article and the links provided are for general information purposes only and should not constitute any financial or investment advice. We advise you to do your own research or consult a professional before making financial decisions. Please acknowledge that we are not responsible for any loss caused by any information present on this website.