Litecoin is the top 7th most valuable coin according to its market cap. The crypto is currently priced at $43, and as such, many people are interested in either trading or buying LTC.
But buying LTC from exchanges can be a bit of a challenge for new users to crypto. A quick way of getting your hands on some Litecoin without any hassles is by using a Litecoin faucet.
Litecoin Faucets are sites that give out rewards in the form of a Litoshi, representing a hundredth of a millionth Litecoin, to users who complete various tasks, such as filling out captchas, playing games, clicking on ads, watching videos, or other tasks posted by the website.
A very popular Litecoin faucet is Moon Litecoin. Today, we will be showing you how to use this faucet in order to earn yourself some Litecoins.
About Moon Litecoin
Moon Litecoin is the sister website of other popular faucet sites, namely Moon Bitcoin, Moon Dogecoin, Moon Dashcoin, and Moon Cashcoin. The Moon faucet franchise has been around since 2015 and is considered one of the most lucrative sites of its kind.
It operates in the same way as its sister faucets, where users can cash out every 5 minutes after making a claim on the site. Visitors can claim even up to a thousand Litoshi every 5 minutes.
Moon Litecoin faucet is completely legitimate, as it has so far paid all its users for the tasks they have completed.
Earning LTC with Moon Litecoin Faucet
In order to claim free LTC on Moon Litecoin, you will first need to open an account on CoinPot. CoinPot is a crypto wallet service where the crypto earnings you make on the site are deposited. This is the only account you have to create to use the faucet.
Creating a Coinpot Wallet Account
Go to the official CoinPot site and click on "Register."
Enter your email and create a password.
Confirm your password.
Check "I am not a robot" and complete the human captcha test.
Click "I agree to the terms."
Click "Register."
You will receive an email from the site that will ask you to confirm your email. Check your inbox or spam to find the email.
Click on the link in the email to confirm your address.
You can also set up 2FA to offer your account extra protection.
Claiming on Moon Litecoin
The fastest and easiest way of making LTC on the platform is by making direct claims. The process is simple, and you should have no issues understanding the site.
Go to your CoinPot wallet and sign in.
Click on "Litecoin" from the crypto list under the deposit tab to get your wallet address for LTC.

Now go to https://moonliteco.in/ and sign in using your CoinPot email or wallet address.
Click on the captcha to solve it.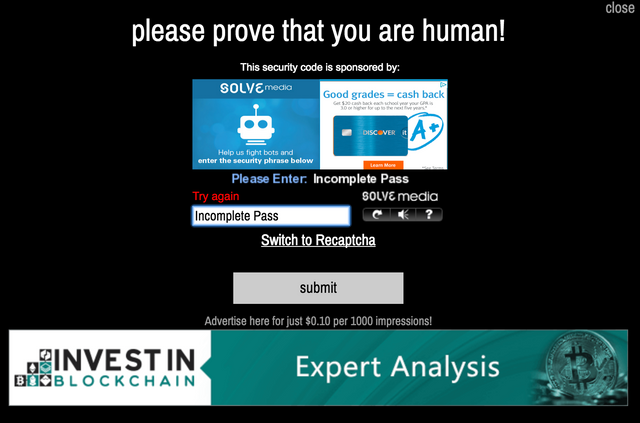 Select the related images to prove you are human.
Click on "Submit."
If you have an ad-blocker on, then go to your browser settings, disable it, and refresh the page.
The ads will then be featured on the page.
Complete the captchas and scroll down to find out if any Litoshis have been credited to your CoinPot wallet.
Wait for 5 min to make another claim.
You can check the alert box so that you can be automatically notified when the 5-minute period is up.
Other Ways of Getting Free LTC
In addition to making claims directly on Moon Litecoin, there are other ways of increasing your Litecoin revenue.
Make LTC through the Referral program
You can refer other people to Moon Litecoin and get a 25% lifetime commission on all their faucet earnings. The referral profits are immediately credited to your CoinPot account.
Referral bonus
For every active referral that you have, you will receive an additional 1% (up to a maximum of 100%) Litoshi bonus for every claim that you make from the faucet. An active referral user has to make at least 1 faucet claim within the past 72 hours.
Bonuses
You can also maximize how much you make per claim by as much as 300% if you use Moon Litecoin's Daily Loyalty Bonus, Referral Bonus, and Mystery Bonus schemes.
Daily Loyalty bonus
Moon Litecoin also rewards visitors with a percentage bonus for every consecutive day in which they make a claim on the site. Every day the bonus is increased by 1% and can reach up to a maximum of 100%, practically doubling your faucet payouts. But if you miss one day, the bonus will be reset back to 0%, and you have to start accumulating days all over again.
Mystery bonus
Moon Litecoin also delivers a percentage of Litoshi (up to a maximum of 100%) at random for every claim made on the faucet.
Withdrawing Your Funds from Moon Litecoin
Now let's say that you want to cash out your Litecoin earnings from CoinPot to another wallet due to convenience or security reasons. You will first have to meet the minimum withdrawal limit of 0.002 LTC. The minimum limits are changed by the site periodically, and you should always check the site before cashing out.
Go to your CoinPot wallet, click on "Litecoin," and send a withdrawal request.
Specify the amount and the external Litecoin wallet to which you want to withdraw your funds.
You will receive an email with a confirmation link from CoinPot, and you will have to click on it.
Now you will have to wait for the request to be processed and completed. The transfer usually takes around 48 hours.
Wait for the Litoshis to be deposited into your external wallet.
Also, if you have made other cryptos, such as Dash or Dogecoin from other faucets, you can convert these cryptos into Litecoin from your CoinPot account for free.
Conclusion
While faucets will not give you the highest of rewards, they are a fun way of getting acquainted with cryptos and learning how to use them. As you have seen, earning LTC on Moon Litecoin is pretty easy.
Featured image: Zipmex
* The information in this article and the links provided are for general information purposes only and should not constitute any financial or investment advice. We advise you to do your own research or consult a professional before making financial decisions. Please acknowledge that we are not responsible for any loss caused by any information present on this website.