Storing Litecoin
Storing Litecoin (LTC) and other digital assets in exchanges is not recommended. Instead, the best thing to do is to keep them far from the internet. This applies to both large holders and small investors.
A Litecoin paper wallet is going to be useful for users who want to protect their funds. And that's because a paper wallet is more secure than a hot wallet – as long as you take care of your private key.
A cryptocurrency market is where you will want to keep your funds protected at all times. In order to do so, there are many hardware options for you to hold your virtual currencies. If you are a long-term Litecoin holder or you just got some Litecoin from the many Litecoin faucets, one of the solutions is to own a hardware wallet.
However, a hardware wallet might be pretty pricy. And the normal Litecoin wallets doesn't have that level of security – so the best option is to create a Litecoin paper wallet. A process that will save you money and is probably more secure than hardware wallets.
Private keys and Public keys
It's important to know what private keys are and what public keys are when creating a paper wallet.
A private key is defined as a variable used by an algorithm to decrypt or encrypt data. That definition of a private key may sound complicated for a beginner – so let's change it.
The private key is the 'password' to your crypto. It's a bunch of random characters which encrypt your cryptocurrency in a secure location. Once you send someone your private key, your coins are at risk. Do not send your private key to anyone.
Let's take an example: your paper wallet is like a mailbox. And what does a mailbox have? A place to receive the letters and a key.
Where you insert the letters is the public address, also known as a public key. That's the LTC address where you can send your coins, and you can share that with other users.
The mailbox is, however, locked. Only you can access it because you have the keys to it. That's how the private keys work. All in all, You're safe from thieves trying to steal your money if you don't share the keys with anyone.
We do hope that this comparison helped you understand how a Paper wallet works. And let's get to the number 1 rule in how to create a paper wallet.
Never share your private keys with anyone. It's like handling money for them. As soon as they have the private key, they can access your funds from your paper wallet.
What is a Litecoin Paper Wallet?
A Litecoin paper wallet would allow you to store your funds without worrying about hackers. Indeed, attackers would not have the possibility to access your funds at all.
Paper wallets are literally made of paper. They can be printed from safe sites on the internet, and they can be used to store the funds you need. These wallets are the best solution for users who do not have hardware wallets and hold Litecoin. In just a few steps, you will have the possibility to protect your funds without worrying about hackers.
Users will have the public and private keys printed on paper that can be used unlimited times. The downside of this method is the fact that it can get lost or broken at any time. Indeed, paper wallets do not usually last long compared to hardware wallets. This is the reason why you should take special care around them.
Paper wallets were mostly used during the early years of the crypto market. At that time, the industry was not yet as developed as it is now. This allowed many individuals to store their funds properly. However, many of these users lost their funds over time, considering they forgot where they placed their wallets. So make sure to store your keys in a safe place.
Paper Wallet Good Practices
A paper wallet should not be kept on a device that is connected to the internet. Your device might get compromised, and hackers might get access to your seed phrase ( or private key).
Don't keep your QR code on your phone. The best thing is to print the QR codes ( without being connected to the internet) on a piece of paper and save them.
After you generate your new paper wallet, try to send a small amount of LTC to your address to make sure everything works ok. You can also create multiple wallets for an extra layer of security.
A paper wallet can be created even if you're not connected to the internet. Check this Reddit thread for more details on how to create paper wallets without ever touching the internet.
If your private key gets stolen, but you still have access to your money – move your LTC to other secure wallets ASAP. Your balance might get stolen otherwise.
Whenever your import your QR code or your private key into a new wallet, make sure it's a respectable one and not a scam. Search the web for reviews, ask other users, etc. If it's not secure, importing your private key might result in losing your money.
Crypto Exchanges vs Paper wallets – Which one is better?
Cryptocurrency exchanges are usually a great place to acquire crypto. Indeed, if you want to buy digital assets, they are for sure the best platforms to use. Nonetheless, handling virtual currencies on these platforms may be unsafe.
There's a saying in crypto: not your private keys, not your crypto. And that's what crypto exchanges are doing – they give you an account that is connected to the internet, but they don't give you private keys to own your crypto.
It is certainly important to understand that attackers and hackers generally target these platforms. This makes them very unsafe to store large amounts of funds, even if they're free and you've stored your crypto there for months.
This could be one of the main reasons to store funds in a paper wallet. This would work as long as users store their funds for long periods of time. Individuals that keep their funds for a short time in a paper wallet may realize that they would be uncomfortable. As this is not a device or is not connected to the internet, it can be more tedious to use it. This applies to users who want to make daily purchases or use their wallets on a daily basis.
Hardware wallets were thought and planned as a solution for long-term holders who wanted to keep their funds safe. However, a Litecoin paper wallet would provide a cheap, fast, and secure way for users to store LTC. You don't need to hold just one Litecoin hardware wallet, but you can have several of them. In this way, you reduce the risk of losing all the funds at once.
So the conclusion is a paper wallet is better than an exchange or a normal Litecoin wallet, but only for long-term holders. If you're trading Litecoin or having multiple Litecoin transactions, a hardware wallet or a crypto exchange might be good for you.
Litecoin Paper Wallet Generator
There are several websites that would allow you to create your Litecoin paper wallet properly. It is always important to check that the site is the official one and this is not fake. There are several scammers and phishing sites which would steal your data.
If you search on the internet, try to look for recommendations, recognized websites, and who supports them. Understanding whether the Litecoin paper wallet generator is genuine or not is pretty hard. This is why you will need analytical skills and realize whether the site is trustworthy or not.
It is always recommended to check that. One of the websites you can use to start a Litecoin paper wallet is liteaddress.org. It's been up and running for a good amount of time, and people have created multiple paper wallets using it.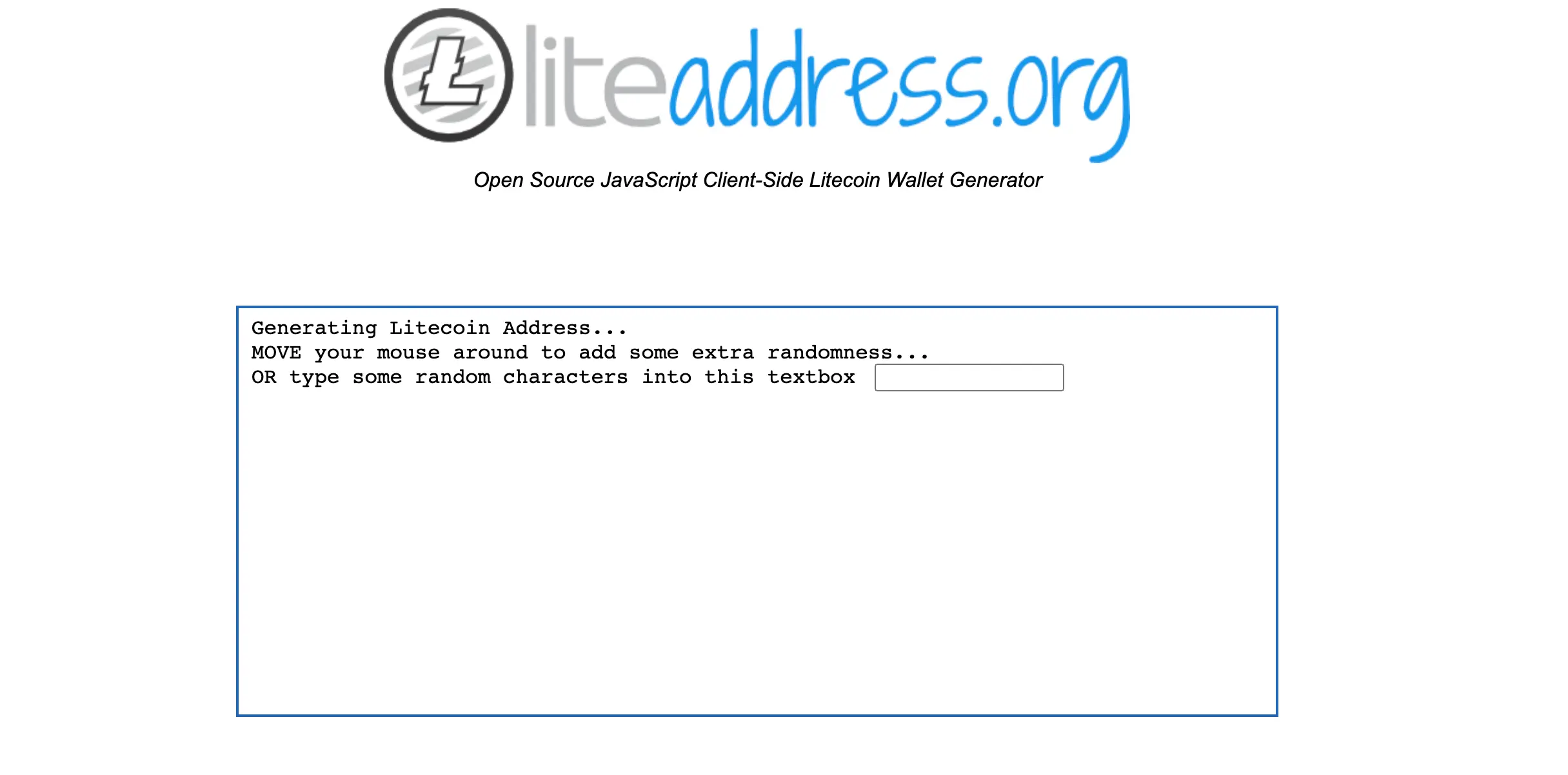 Another good option to create a paper wallet for LTC is LitecoinPaperWallet.com. You can generate the private key in only a few seconds, you also have a QR code that you can print and keep in offline mode, and you also have your LTC address.
Once you have selected the site, you will be able to generate your paper wallet, which will work at all times. Remember that you must keep the wallet protected and in a safe place. Moreover, it is always a good practice to keep the private key in different places in case you lose it.
If you want to check your balance, the process is very straightforward. Obviously, you will not be able to do so on paper. This is why you can always copy the public address (your Litecoin address) in a Litecoin Explorer. You can google Litecoin Explorer and paste your public address on the search bar. This would provide you with clear information about the transactions received, sent, and the funds stored.
Remember not to give the private keys to anybody. The private keys of your Litecoin paper wallet are only for you to confirm you hold these funds.
Conclusion
Using a Litecoin paper wallet is a good idea for users who want to hold their funds for long periods of time. It is not recommended if you want to make daily purchases or if you usually use your funds.
Remember that Litecoin paper wallets have their issues, and they are not perfect. You must take care of them very well. Moreover, you must be aware of the way in which you create a paper wallet, as many sites may be trying to scam you.
Paper wallets. are extremely useful. Storing the funds is hassle-free after creating the paper wallet, and verifying them can be made by checking your LTC address.
Litecoin Paper Wallet | FAQ:
How do you use a Litecoin paper wallet?
You can use the generated QR once you've printed the paper wallet or simply use the Litecoin address for someone to transfer LTC securely to you. You will need the private key to recover and spend your LTC when ready, so store it in a safe place where no one can see or scan it.
How do I make a paper wallet?
Go to the dedicated platform for each coin.
Generate a random private key.
Choose "Paper wallet."
Print how many copies you need. It is best to store them in a safe box at your bank if possible.
BIP38 Encrypt (optional)
Enjoy it!
Are paper crypto wallets safe?
Paper wallets are considered one of the safest wallets, yet there is the risk of losing or damaging the paper. Still, it outweighs the security benefits, especially when you wish to store your digital assets having a long-term strategy. However, knowing that you cannot recover your cryptocurrencies once you lose your paper wallet is essential.
* The information in this article and the links provided are for general information purposes only and should not constitute any financial or investment advice. We advise you to do your own research or consult a professional before making financial decisions. Please acknowledge that we are not responsible for any loss caused by any information present on this website.