Many crypto users want to know how to buy Bitcoin with Cash App because they need a reliable interface. More than that, it's possible that the same users will want to avoid bank issues or other incompatibilities.
So, if you want to know how to buy Bitcoin on Cash App, you have come to the right place. Keep reading our guide to find out how to quickly purchase BTC through this app.
What Is Cash App?
Cash App was developed by Block (formerly Square), a San Francisco financial technology company that has released mobile credit card readers and many other financial services. The app was created to provide an easy-to-use platform for beginners to buy, sell and withdraw Bitcoin.
As it facilitates buying and selling Bitcoin, users from most states can make USD and Bitcoin transfers between their peers and businesses that also have Cash App. Other available features include BTC withdrawals, deposits, USD, and BTC storage, linking your debit/credit card, and more.
Block's app allows beginners to purchase Bitcoin more easily. It should be noted that the Cash App platform is not for day trading. For that, you can use Crypto Engine, which is a more suitable app.
When it launched in 2013, Cash App was initially used to send money to family and friends for free (like Venmo), pay for goods and services, pay bills, etc. But then the app expanded its functionalities by adding in 2018 buying and selling Bitcoin options. This mobile app has gained a lot of traction, enabling P2P transactions with Bitcoin while incurring no fees.
Unlike other crypto financial platforms, your Bitcoins are not stored externally in Block. Instead, the funds are kept in your Block Cash account on your behalf while you make your transfers. You can withdraw your coins when you have completed your purchase or sale.
*Note: You will be required to verify your name, date of birth, and the last four digits of your SSN before you will be able to send more than $250 a week or receive $1,000 a month. After identity verification, the weekly sending limit is raised up to $7,500.
Cash App Limits
Before looking at how to buy Bitcoin on Cash App, you should know that Block limits purchases and BTC deposits to $10,000 per seven-day period. So, depending on how much Bitcoin you need in a week, it might be inconvenient.
However, Cash App users can sell Bitcoin without restrictions. Also, it can take up to several hours for Bitcoin transactions to be confirmed on the blockchain.
Cash App Usability
Residents of 50 United States can only use Cash App with the expectation of Puerto Rico, Guam, the US Virgin Islands, American Samoa, and the Northern Mariana Islands. You will not be able to use the Cash App if you travel to other countries or live outside US borders. A version of the app is available for people based in the United Kingdom, Japan, Australia, and Canada.
How to Buy Bitcoin with Cash App: Step-by-Step Instructions
Go to the Google Play Store or Apple AppStore and download Cash App for your mobile device;
Then, set up your Cash App account;
2.1. Enter the code sent to you and confirm your phone number or email address;
2.2. Select if you want to use your Cash App account for business or personal matters. If you want to send money only to friends and family, select "Personal." If you want to send money for goods or services, select "Business." After you have registered, link your bank account;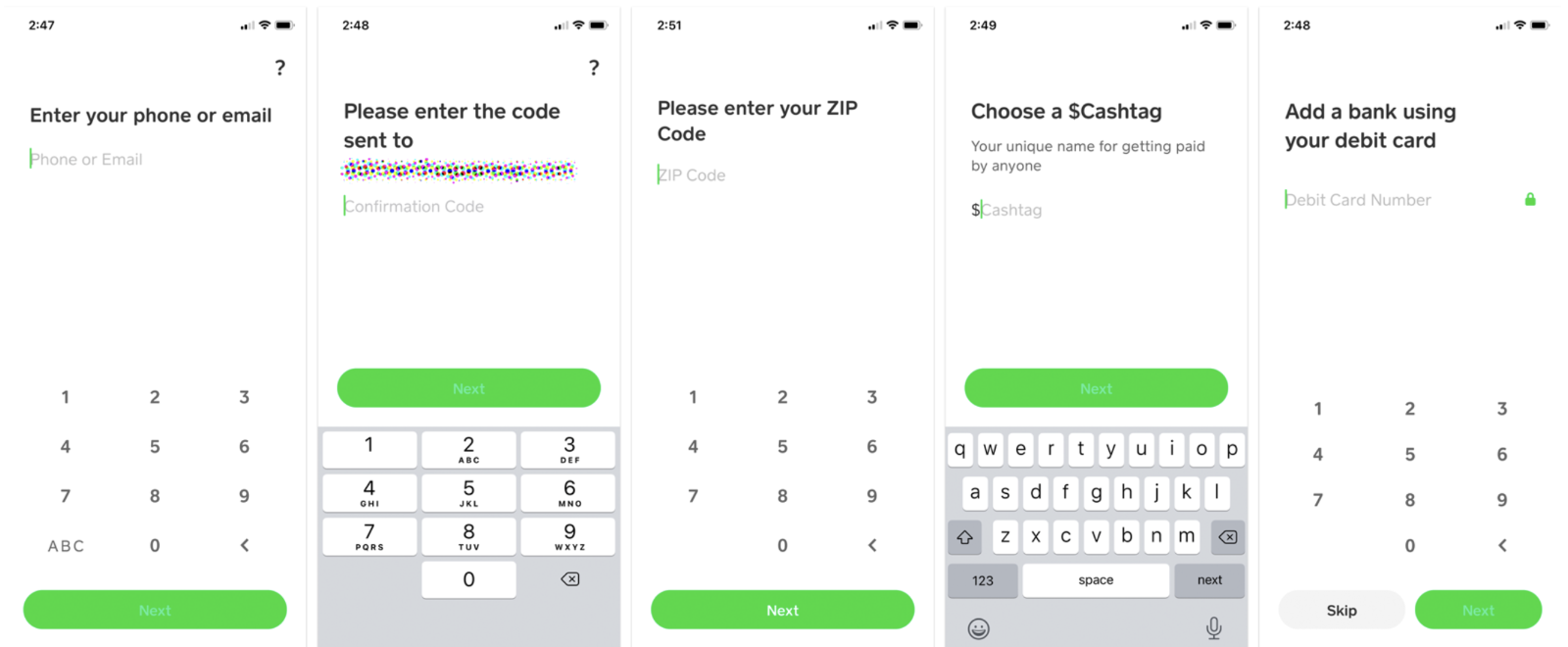 3. Before you can buy Bitcoin (BTC), Cash App will have to deposit money into your account. This may require additional identification steps;
4. Swipe left or tap the BTC symbol (if you don't have the BTC symbol, tap on the following symbol after the dollar symbol) in the lower right corner;
5. Tap "Buy;"
6. Select the amount or adjust the price slider to enter the sum you want to buy. and tap "Next;"
7. Type in your Cash pin or identify yourself via Touch ID;
8. Tap "Confirm."
Are There Any Fees for Buying Bitcoin?
The question that comes after you wonder how to buy bitcoin with Cash App is usually related to fees.
Cash App does not apply a supplementary percentage or fixed fee. The price of BTC is calculated by averaging the market prices featured on major exchanges, including a margin or spread.
The margin may differ from buying Bitcoin on Cash App and selling it to the app. The price and margin may also vary from the values featured on other exchanges, trading platforms, or marketplaces.
Cash App Fees for Deposits and Transfers 
Regarding Cash App fees, there are no fees applied to debit accounts transactions, but it applies a 3% fee to credit card transfers for the sender. Personal use accounts do not incur fees for sending, requesting, or receiving personal money payments from a debit card, a bank account, or a standard deposit.
Using the instant deposit option will add a fee between 0.5%-1.75% of the amount deposited to your bank account.
If you receive a payment on a business account, the business has to pay a fee of 2.75% of the sum that is being transferred to you.
Withdrawing Bitcoin to Your External Wallet
As we all know, leaving your crypto fund on any online platform is unsafe, and it is best practice to transfer your funds to a secure, external Bitcoin wallet. 
Follow the steps presented below to move your Bitcoin to an external wallet:
Open your Cash App;
Swipe left or tap the BTC symbol (if you don't have the BTC symbol, tap on the following symbol after the dollar symbol) in the lower right corner;
3. Scroll to "Funds;"
4. Tap on "Bitcoin," then "Send" button and insert the amount you want to withdraw to your external wallet;
5. Insert your external wallet address and press "Next;"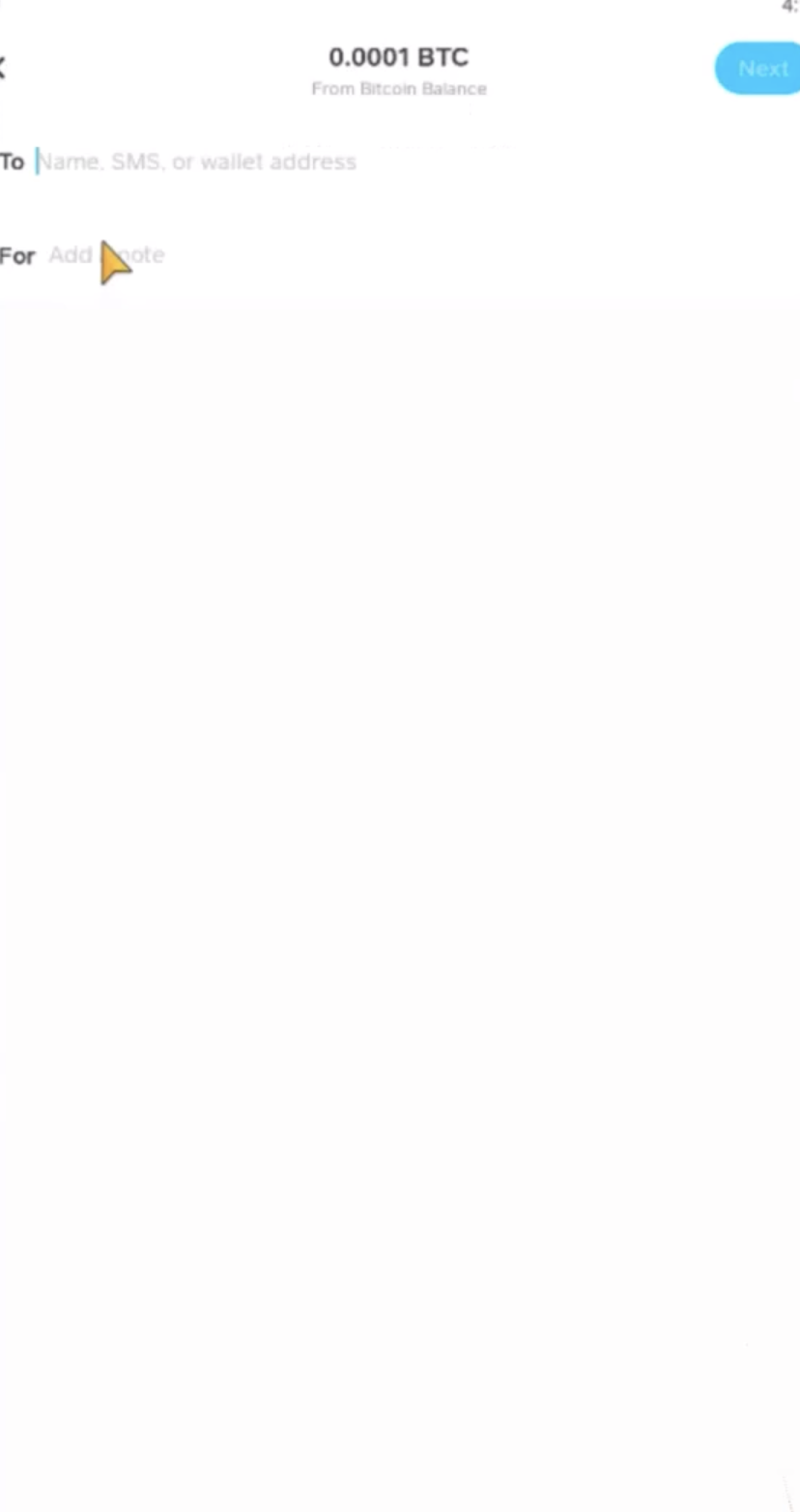 6. Tap "Confirm." Don't forget that you will have to verify your identity before withdrawing.
It's important to know that whether we're talking about send or receive, the process is similar.
After the withdrawal from Cash App has been processed, your Bitcoin (BTC) will be deposited into your external wallet. Bitcoin transfers can take up to several hours to be completed, so be patient.
Cash App can also be used as a means of transferring Bitcoin P2P when you opt to buy Bitcoin on online marketplaces, such as Paxful and LocalBitcoins if you have agreed to use this method with the other transitioning party. 
We Also Recommend: How to Buy Saitama Inu
FAQ
Is It Safe to Buy Bitcoin on Cash App?
Considering the information provided, buying Bitcoin on Cash App appears to be a safe option.
The platform was developed by Jack Dorsey, a well-known supporter of cryptocurrencies like Bitcoin, and is not a product of some anonymous and obscure company. While no application is immune to hacking attempts, Cash App has implemented security measures, such as PCI-DSS Level 1 compliance and encryption of payment information, to ensure that purchases made through the app are safe and secure. However, it is important to note that what you choose to do with your Bitcoin on Cash App is entirely your responsibility. Regardless, the security measures in place suggest that the act of purchasing Bitcoin with Cash App is safe and reliable, and users can be confident in their transactions through the platform.
How Do I Deposit Bitcoin on Cash App?
Depositing Bitcoin is a straightforward process that can be done in just a few simple steps. Start by opening the application and tapping on the "Money" tab on the Cash App home screen. Next, locate the "Bitcoin" tile and tap on it. From there, you can select the "Deposit Bitcoin" option to begin the deposit process.
For an even more precise explanation, you can see the article attached above in the "Related articles" section related to this topic.
It's that easy! With these steps in mind, you'll be able to deposit Bitcoin on Cash App in no time.
How to Buy Bitcoin with Cash App: Conclusion
Now that you have reached the end of our article, you should know how to buy Bitcoin with Cash App. Also, remember that you must be from the specified US states and countries to be able to use the app.
* The information in this article and the links provided are for general information purposes only and should not constitute any financial or investment advice. We advise you to do your own research or consult a professional before making financial decisions. Please acknowledge that we are not responsible for any loss caused by any information present on this website.