How to Buy Bitcoin with Prepaid Card
Last Updated on Oct 15, 2021 at 17:38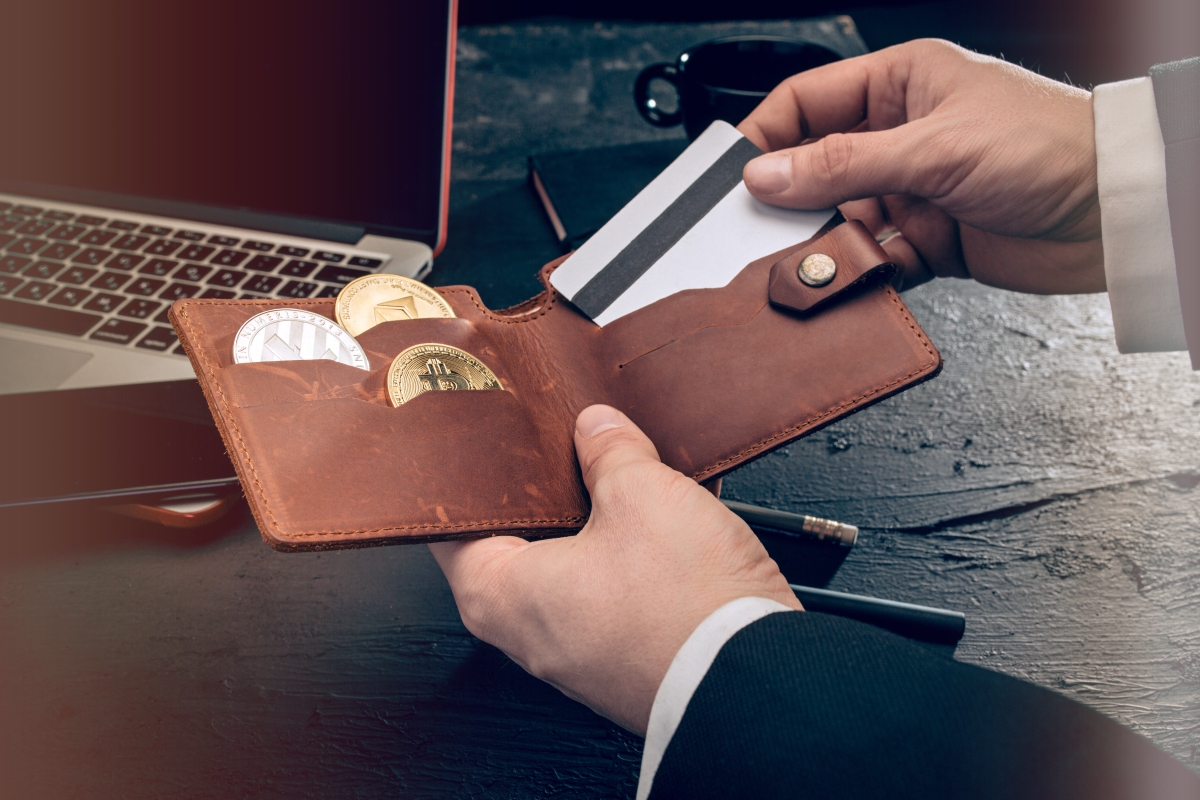 If you're interested in how to buy Bitcoin with prepaid card, then you will be glad to know that many platforms who accept Visa and Mastercard offer this option. Bitcoin Revolution claims to help ordinary people to enter the crypto market through crypto automated trading.
Prepaid cards are different from debit cards, as they are not linked to your checking accounts. Prepaid cards allow you to buy goods or services with money that you loaded on the card beforehand.
Moreover, prepaid cards have recently been used as a method to buy Bitcoin. In this article, we will show you how and where you can buy Bitcoin with prepaid card.
How to Buy Bitcoin with Prepaid Card
Buying Bitcoin with a prepaid card is not similar to buying with a conventional debit or credit card. This process is usually very easy, and everyone can deal with it by following the steps described below:
Step 1 – Choose an exchange
A very important first step is to find a suitable exchange. There are several exchanges that support buying Bitcoin with prepaid card as you will see shortly. However, there are factors to consider, one of which is fees, as exchanges tend to charge more for using cards to buy cryptocurrencies.
Step 2 – Create an account
In order to buy Bitcoin, you need a user account at the chosen exchange. If you don't already have one, then you need to create it. This is as simple as providing your name, email address, and password. While some exchanges do not require KYC, it is likely that you will be required to supply KYC information to complete this process.
Step 3 – Get a wallet
You need a wallet to store your Bitcoin in when you buy it. Download and install a wallet that supports Bitcoin. Then, it would be good to make sure that your internet connection is fast and stable before using your wallet so that you do not have any trouble.
There are many available wallets to use, some of which support only Bitcoin, while others support many cryptocurrencies. Note that the Bitcoin you buy will be deposited in an exchange wallet by default. So, if you want to avoid losses in case the exchange is hacked, you can opt for hardware wallets.
Step 4 – Add your card as a payment method
There are usually a number of payment options. You need to add your prepaid card as your method of payment. Go to the payment option, select debit card, and add your prepaid card. This involves supplying card details, such as card number, expiry date, and PIN.
Step 5 – Buy Bitcoin
Now you are all set! You can place an order to buy Bitcoin and pay using your prepaid card. You should have sufficient funds to cover fees. These are all steps you need to follow if you want to buy Bitcoin with prepaid card.
Where You Can Buy BTC with Prepaid Card
As earlier stated, there are many exchanges where you can purchase BTC. The following are the best ones that you can use to buy Bitcoin with prepaid card. The exchanges listed below are some of the safest, so you can choose one of them for your operations.
Coinbase
Coinbase is one of the top cryptocurrency exchanges and also one of the most secure. They serve customers from 32 countries, which is a pretty important factor to consider if you want to buy BTC using a prepaid card.
The exchange charges a fee of 3.99 percent for all purchases. This fee is reasonable considering that most exchanges charge between 4 and 5 percent. It is worth noting that Coinbase is very popular due to its simple user interface that even a completely new user can figure out quickly.
Crypto.com
Crypto.com, previously known as Monaco, was founded in 2016 with the mission to bring cryptocurrency into the mainstream.The plaftorm gained popularity with its MCO Visa Card, powered by MCO token which was released through the ICO in 2017.
Users are able to buy Bitcoin directly via Crypto.com App by debit card or credit card. Crypto.com now has a promotion of buy crypto at 0% credit card fee until the end of June 2020 with payment by credit card or prepaid card.
Users can also buy Bitcoin via fiat currencies by bank transfer. Crypto.com supports up to 7 fiat currencies (USD, JPY, EUR, etc.) deposit and 55 different crypto assets, so Crypto.com is really the best place to buy and sell cryptos, as well as to perform Bitcoin payments.
LocalBitcoins
LocalBitcoins is not a conventional exchange but rather a peer-to-peer trading platform. It is one of the exchanges that let you buy Bitcoin with your prepaid card. Although it is P2P, it is very secure because there is an escrow that holds the Bitcoins and only releases when they are paid for. In fact, most Bitcoin trades are now done on platforms like this because they are easier to use.
It also has many other payment options, such as IDEAL, Western Union, PayPal, and Amazon Gift Card. You can just add your prepaid card as the preferred payment method to buy Bitcoin securely on LocalBitcoins.
Coinmama
Coinmama was founded in Israel in 2013 and now supports users from over 220 countries. The platform has a user-friendly interface and supports multiple languages so that people from different parts of the world are able to use their services.
You can buy Bitcoin using your prepaid card on Coinmama, provided it is either from Visa or Mastercard. It is worth mentioning that the platform charges 5% for purchases using prepaid cards, unlike Coinbase that charges only 3.99%.
CEX.IO
This is a European cryptocurrency exchange based in London. It is one of the most affordable exchanges when it comes to cryptocurrency purchases using cards. CEX charges only 3.5 percent, probably the lowest for buying Bitcoin with prepaid card in the space. The services are, however, restricted to Europe and the United States. If you are buying with any other currency, you will have to pay conversion fees in addition to transaction fees, which is a bit of a headache.
It can be considered the best cryptocurrency exchange to use even for newbies. If you are looking for where to buy Bitcoin with prepaid card for cheap, especially if you are in Europe or the U.S, CEX is one place you should try.
Paybis
Paybis is a UK-based exchange that supports the selling and buying of Bitcoin and five other cryptos through a variety of payment methods, including credit and debit cards issued by Visa and MasterCard.
What Are the Advantages of Buying Bitcoin with Prepaid Card?
Like anything worth doing, there are advantages and disadvantages of buying Bitcoin using a prepaid card. First, we will consider the advantages.
Ease of use
Prepaid cards, just like other cards, are easy to use compared to other methods of buying Bitcoin. You only need to provide the card details, and you are ready to buy BTC.
Security
If you decide to buy Bitcoin using a prepaid card, then you should know that it is more secure than other methods since less customer information is revealed in the process. Also, because it is not connected to a bank account, stealing it will not grant access to unlimited funds, only what is loaded on the card.
Instant buy
Using prepaid cards ensures that you get your Bitcoin almost instantly, compared to methods like bank transfer that may take days to receive your coins. This removes anxiety and saves time spent waiting for Bitcoin to arrive in the wallet.
What Are the Disadvantages of Buying Bitcoin with Prepaid Card?
Using prepaid cards also has its disadvantages which are as follows:
Higher fees
Fees for buying Bitcoin with a prepaid card is traditionally higher than other methods. For instance, a bank transfer may only cost 1 percent instead of the 5 percent charged by some platforms.
Few platforms
Not many exchanges support the use of prepaid cards to buy Bitcoin. This makes the options very limited, and customers may not be able to use their favorite exchanges for this service.
KYC
One of the ideas behind cryptocurrency is anonymity. Buying Bitcoin using prepaid cards strips users of such privilege, as KYC is mostly required to buy Bitcoin using this method.
Limited purchase
Some platforms do not allow the use of prepaid cards to buy large amounts of Bitcoin. This is a major problem if you wish to buy a significant amount of Bitcoin at once.
Conclusion
With this, we conclude our article on how to buy Bitcoin with prepaid card. Although it is an easy and fast method, there are not so many exchanges where you can buy BTC. The listed platforms are, however, available for purchase, and you can do this very easily if your country and currency are supported. We hope this guide helps you to buy Bitcoin successfully.
Featured image: time24.news
Note: This post was originally published on 15 February 2019 and has been totally updated for the completeness and veracity of the content on 3 March 2021.