As Warren Buffett said, it is essential to "look at market fluctuations as your friends rather than the enemy; thus, profit from folly rather than participate in it."
But what's the key of the most successful traders and crypto investors? They understand the market in-depth, make educated predictions and decisions, identify growth opportunities, and discover trading opportunities to integrate them within the overall strategy.
However, as the crypto market is already a volatile investment with the capital at risk, they don't make irrational decisions based only on others' decisions.
Instead, they check the real-time data and metrics by looking at key technical analysis indicators, crypto charting tools, and technical indicators using different crypto research tools to ease the process and create a comprehensive investment strategy.
Whether you are an experienced trader or a novice and wish to perform profitable trades, multiple exchanges, or sell cryptocurrencies to diversify your coin portfolio, we will help you make informed decisions, discussing the best crypto tools for your future cryptocurrency investments.
Ideally, in today's fast-paced world, you can gradually adopt new strategies and track your performance over time, one step at a time, to enhance your crypto trading skills and crypto investments, elevating them to the next level to reach your money goals. So, without further ado, let's get started!
What are Crypto Tools?
Crypto tools are instruments developed to help cryptocurrency traders improve their trading methods and track their crypto portfolios. There are various crypto trading tools on the market, such as crypto trading platforms, crypto charting tools, crypto research, calculators, cryptocurrency data feeds, and more.
How many categories of crypto tools are there?
There are around 17 types of crypto tools, each category specially designed to serve its specific purpose. To name a few, the best exchange tools, DEXs, trading platforms, charting tools, market data, portfolio trackers, crypto wallets, and many more to track your investments.
In today's article, we discuss the most used ones, and we invite you to read further and discover the right tools for your coin portfolio and investments.
Best Crypto Exchanges of 2023
1. Best Exchanges for New Starters: Coinbase
When it comes to newbies in the crypto world, Coinbase stands out as the perfect choice for a crypto exchange. Its platform is designed with user-friendliness and offers a broad range of supported crypto assets.
With its robust security measures and advanced trading capabilities, Coinbase ensures a seamless experience for newcomers venturing into cryptocurrencies. Therefore, it is a good recommendation for individuals embarking on their crypto journey to diversify their crypto portfolio.
2. Best Exchanges for Experienced Traders: Kraken
Kraken stands out as a leading trading platform in the crypto exchange world, offering highly competitive fees among the lowest in the market. Experienced traders and investors particularly favor it due to its advanced order options and comprehensive support for margin and futures trading.
As a result, Kraken is a preferred choice for many professionals seeking to manage a high-quality, low-fee exchange experience.
3. Best Mobile App Exchanges: Crypto.com
Crypto.com could be the top choice for the best mobile crypto tool exchange app primarily because it offers a user-friendly platform accessible from smartphones, allowing users to manage an extensive ecosystem for trading conveniently and investing in various digital assets. Notably, Crypto.com supports over 250 coins and provides a diverse range of cryptocurrency products.
Best Decentralized Exchange Crypto Tools
4. The Largest DeFi Exchange Tool: Uniswap
Being an open-source project, Uniswap falls under decentralized finance as it leverages smart contracts to enable trading. This protocol facilitates automated transactions between different crypto tokens on the Ethereum blockchain.
As of October 2020, Uniswap was recognized as the most prominent decentralized exchange and the fourth-largest cryptocurrency exchange worldwide in daily trading volume.
5. The Most Influential DeFi Tools: dYdX
dYdX is a prominent developer of a non-custodial decentralized exchange (DEX) that features advanced crypto products, particularly derivatives such as crypto perpetual. Its operation is based on audited smart contracts deployed on blockchains like Ethereum, eliminating the reliance on trusted intermediaries.
The name dYdX is derived from the mathematical concept of a derivative equation, dy/dx, which represents the rate of change.
6. The Oldest DeFi Exchanges Tools: Idex
Idex, a longstanding decentralized exchange, remains operational to this day, making it one of the oldest in the industry. It is a website platform that features a polished user interface that enhances the crypto trading experience. Idex also offers sufficient liquidity, ensuring the average trader can manage orders without difficulty filling them.
The Best Trading Platforms for 2023
7. The Most Used Trading Platform: Coinigy
Coinigy is one of the most utilized trading platforms available on the market. Since its establishment in 2014, it has consistently expanded its traders and investors base. Coinigy sets itself apart by offering support for over 45 exchanges, comprehensive trading detailed charts, technical indicators, and top-notch customer support.
8. The Most Known Crypto Trading Platform: Binance
With a staggering daily trading volume of $76 billion on its exchange as of August 2022, Binance has solidified its position as the world's largest cryptocurrency exchange.
Serving over 90 million customers globally, the platform has earned a reputation as a trusted entity within the crypto industry. Binance allows users to buy, sell, and store digital assets, granting access to over 350 cryptocurrencies and thousands of trading pairs.
9. Real-time Crypto Trading Tools: Bittrex
Bittrex is an internationally recognized cryptocurrency exchange designed for active crypto traders who seek instant trading capabilities. This platform offers users a diverse selection of listed tokens and a sleek and user-friendly interface.
Users can benefit from the platform's low fixed fees, referral programs, industry-leading security measuring tools and live orders, and advanced trading features. These features include multiple order types, such as limit and stop orders, and access to advanced charting books.
Best Charting Tools for Your Crypto Investments
10. The Most Popular Charting Tool: TradingView
Thanks to its extensive charting and technical analysis metrics for traders of all markets, TradingView has emerged as the unrivaled favorite among traders and investors from various markets.
TradingView has made notable efforts to seamlessly integrate its toolkit with the leading cryptocurrency exchanges in recent years, yielding remarkable outcomes for traders and investors.
Their comprehensive online charts are accessible to free and pro users, accommodating a wide range of traders seeking to analyze and visualize market data.
11. A Comprehensive Crypto Charting Tool: CryptoWat.ch
Kraken owns Cryptowatch, a comprehensive charting tool that offers crypto investors and traders instant access to live cryptocurrency prices, volume, technical analysis, and order book data from over 800 exchanges.
While the initial dashboard may appear overwhelming, Cryptowatch is remarkably user-friendly and valuable to any trader's toolkit to create a crypto investment strategy with the help of market charts.
12. An Extensive Crypto Charting Tool: CryptoView
Best Mining Calculators for Your Crypto Portfolios
13. Best Newbies' Mining Calculator: Crypto Compare
Crypto Compare, for example, is a prominent crypto data company specializing in comprehensive market analysis and helpful mining tools. Their mining calculator caters to digital coins such as Bitcoin, Litecoin, Ethereum, etc.
Its user-friendly interface and precise calculations set the Crypto Compare mining calculator apart. By inputting parameters such as hash rate, power consumption, electricity costs, and mining pool fees, users can obtain accurate figures for their mining operations.
The calculator also provides daily and monthly profit projections, ensuring transparency in evaluating potential earnings.
14. A Dynamic Mining Calculator: WhatToMine
WhatToMine is a dynamic and user-friendly crypto-mining calculator that enables users to assess mining profitability based on their equipment.
Whether you are mining Bitcoin, Monero, Ethereum, or other coins, WhatToMine provides insight into the potential yield. Also, it is one of the most straightforward calculators, making it accessible even for novices.
15. A Popular Mining Calculator: CoinWarz
CoinWarz is a popular and straightforward crypto mining calculator appropriate for novice users who have just started within the crypto area and wishes to maximize their profits.
You just need to input the hash rate and select the correct algorithm and the traffic. CoinWarz will give you a comprehensive analysis of mining data, profitability, and difficulty. The mining calculator can be accessed in the browser.
Best Crypto Wallets for Your Crypto Holdings
16. Coinbase Wallet to Secure Your Holdings
Coinbase says their wallet supports an extensive array of crypto assets, numbering in the "hundreds of thousands." However, it is essential to note that Bitcoin is exclusively supported through the wallet's mobile app, distinguishing it from other cryptocurrencies.
The Coinbase Wallet seamlessly integrates with the exchange's native platform, as well as numerous major decentralized crypto exchanges (DEXes) such as Uniswap (UNI), Sushiswap (SUSHI), 1inch (1INCH), and TraderJoe, among several others.
17. Crypto.com DeFi Wallet for Your Investments
If you seek a single platform to securely store Bitcoin, Ethereum, and USD Coin (USDC), the Crypto.com DeFi Wallet might be the ideal solution. This wallet supports over 800 crypto assets, including popular stablecoins and the top 20 cryptocurrencies based on market capitalization.
While Ethereum staking is unavailable, you can stake other coins, such as Cosmos (ATOM) and Crypto.com's native token, Cronos (CRO). Additionally, select tokens to provide the potential for earning rebates.
18. A Popular Wallet for Your Cryptocurrencies: Metamask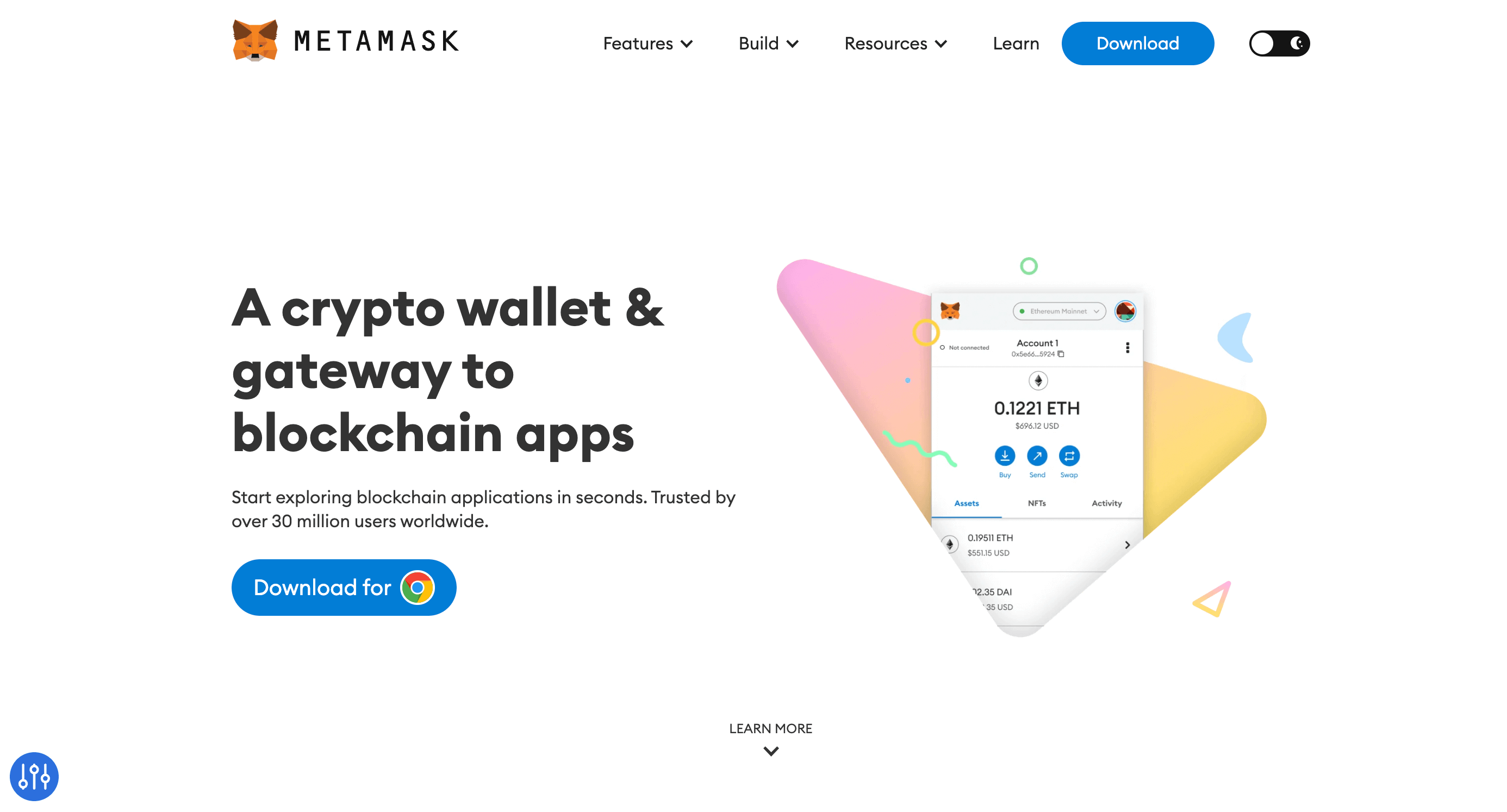 Metamask is a widely-used Ethereum wallet renowned for its widespread usage and an excellent example of a site wallet accessible as a Chrome or Brave browser extension. This convenient setup enables seamless transactions of Ether and ERC-20 tokens to decentralized applications (dApps) on the web. Additionally, Metamask is compatible with most dApps, making it a popular choice among users.
Best Crypto Market Data Platforms to Get You Started
19. Most Popular Tool for Market Data: CoinMarketCap
CoinMarketCap is the most frequently accessed site in the market for checking coin prices, trading volume, market cap, and supply. In addition, they offer a reliable and comprehensive API that enables users to integrate data into their user interfaces seamlessly. Awareness of the information presented to the broader market can also be advantageous.
20. One of the Best Tools for Market Data: OnchainFX
OnchainFX provides a wealth of data similar to Coinmarketcap but distinguishes itself by offering additional unique statistics. OnChainFX allows customization of the dashboard to suit individual preferences. With its growing reputation, OnChainFX is steadily becoming one of the most reliable market data sources.
Final Thoughts | Best Crypto Tools To Use In 2023
So, now that we arrived at the end of this comprehensive guide, we hope that all the crypto tools presented here are helpful for your journey and make it easier to navigate within the industry.
We could not conclude this guide without giving you some tips and tricks to set you on the right track. Check the latest crypto trends, crypto news, and other social media platforms to stay informed and make the best decisions. Also, it is best to compare the market cap of coins and see what the price of a token would be if it reached an equivalent.
Learn about technical analysis to determine whether to buy or sell your digital assets, but be aware of the fact that cryptos are not tied to national currencies and do not have any direct connections to national economies that often define how stocks, fiat currencies, and commodities behave in the international arena.
Nonetheless, diversify, and don't put all the eggs in one basket!
* The information in this article and the links provided are for general information purposes only and should not constitute any financial or investment advice. We advise you to do your own research or consult a professional before making financial decisions. Please acknowledge that we are not responsible for any loss caused by any information present on this website.