By far, Bitcoin is one of the most traded cryptocurrencies in 2023. Whether you wish to diversify your crypto assets through a crypto exchange, you are a novice thinking of investing in cryptocurrency, or you are interested in selling Bitcoin, a starting point for you could be the eToro platform.
However, before leaping without looking at the crypto world, it is also necessary to understand the market in all its glory, as it can also be highly volatile.
In today's article, we discuss everything you need to know when buying Bitcoin on eToro, as this is the most awaited step-by-step guide. So, without further ado, let's jump in!
What is the eToro Platform?
eToro is a trading platform that allows you to invest in all major cryptocurrencies, such as Ethereum (ETH), Cardano (ADA), and, most importantly, Bitcoin (BTC). Many crypto enthusiasts trust the platform since it aims to revolutionize how people invest and enhance investors' financial education.
To better understand this, in 2008, 1 year after its launch, eToro had 174K users registered. In the 3rd quarter of 2022, the eToro site reached 30.6M users, with 3.7M new users.
Also, you need to know that eToro charges aren't hidden, thus making it an excellent option for investors, offering an array of stocks, currencies, commodities, crypto-assets, ETFs, and indices through its innovative investment platform.
The Advantage of Buying Bitcoin With eToro
Now that we have discussed the eToro trading platform, it's time to uncover the advantages you get when you buy Bitcoin on eToro. We can all say that it all comes down to personal preferences since there is no difference in Bitcoin's price or value.
First, eToro is an easy-to-use platform that integrates the features of a crypto exchange and online brokerage. You can interact with other traders and even buy Bitcoin using your PayPal account as a payment method.
The security features offer peace of mind when buying BTC: 2FA verification, cold storage, FDIC-insured USD balances, multi-signature facilities, private keys, and KYC. Also, the financial instrument, eToro, obeys the strict regulations of several authorities, including FCA (UK), ASIC (Australia), CySec (Cyprus), GFSC (Gibraltar), FinCen, and FINRA (United States).
Another important aspect is the eToro wallet which gives you easy access to crypto trading using the same login credentials as your trading account.
Nonetheless, the eToro site offers advanced charts and analysis tools to follow when trading Bitcoin and real-time insights into the latest crypto market news.
Given all the benefits of the above, we can say that eToro is one of the most suited platforms for novice investors looking to jumpstart their investing careers through social trading features. Experienced traders will also value the broad spectrum of tradable assets and the ability to interact using the platform's social network features.
Buy Bitcoin on eToro: Step-by-Step Guide for 2023
Upon embarking on this journey to purchase Bitcoin, first, you need to create your eToro account. However, this process might vary depending on your chosen exchange, and it is best to check your bank's stance on cryptocurrency before creating an account.
The setup is pretty straightforward, with no management fees, and in 3 easy steps: create your eToro account, deposit funds choosing from multiple payment methods, and then you can start buying Bitcoin, simply and securely. However, the account and profile setup is multi-step, hence the security we've discussed. Upon completing these, you'll be prompted with a resolution and recommendations based on your answers.
Also, please take your time with all these steps, as we want to offer you one of the most comprehensive guides on how to buy Bitcoin on eToro, simply and securely.
Step 1: Visit the official website to create your account

Step 1.2: Create your eToro account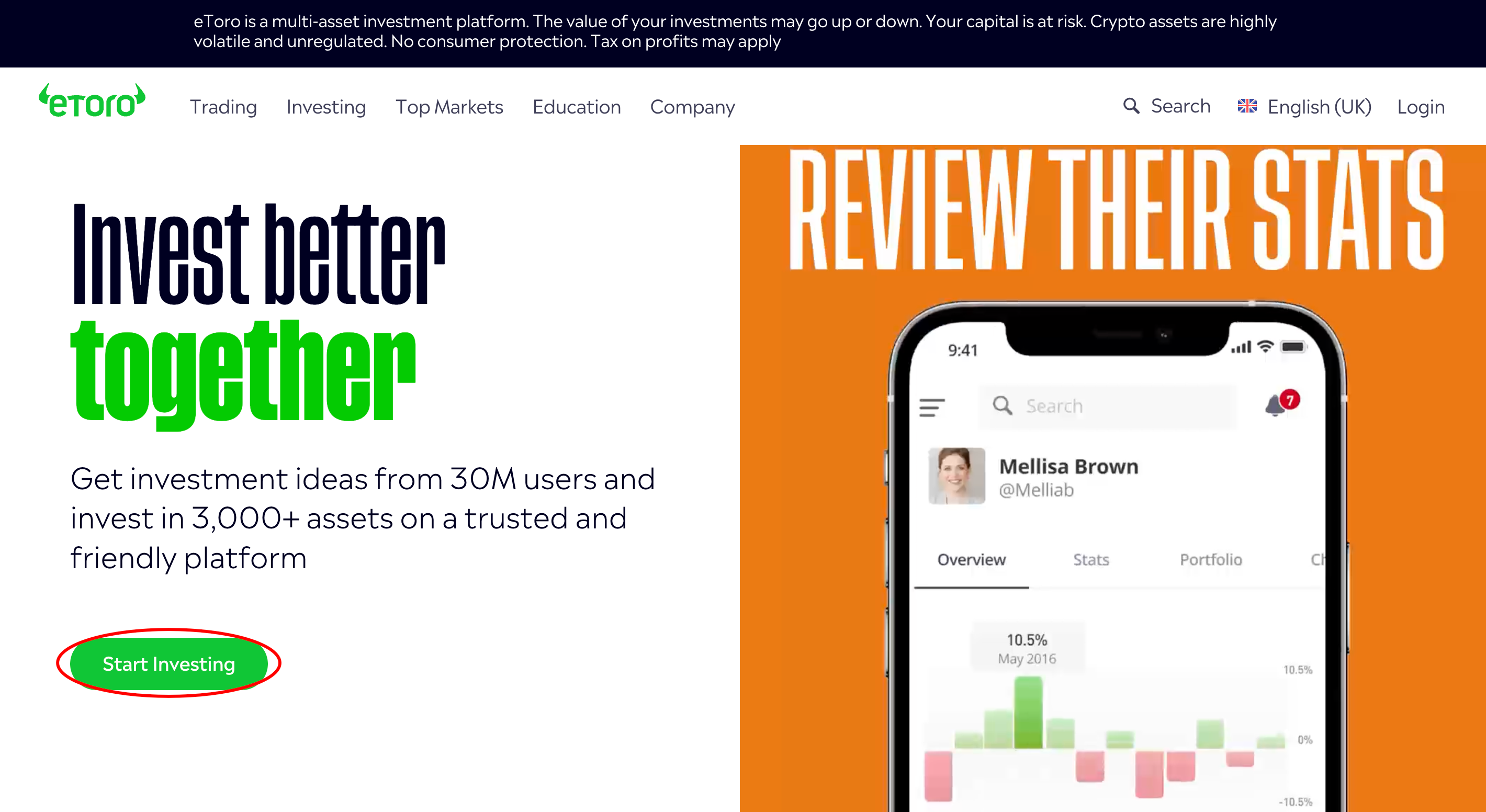 Step 1.3: Follow the on-screen instructions
At this point, you need an email address, username, and a strong password.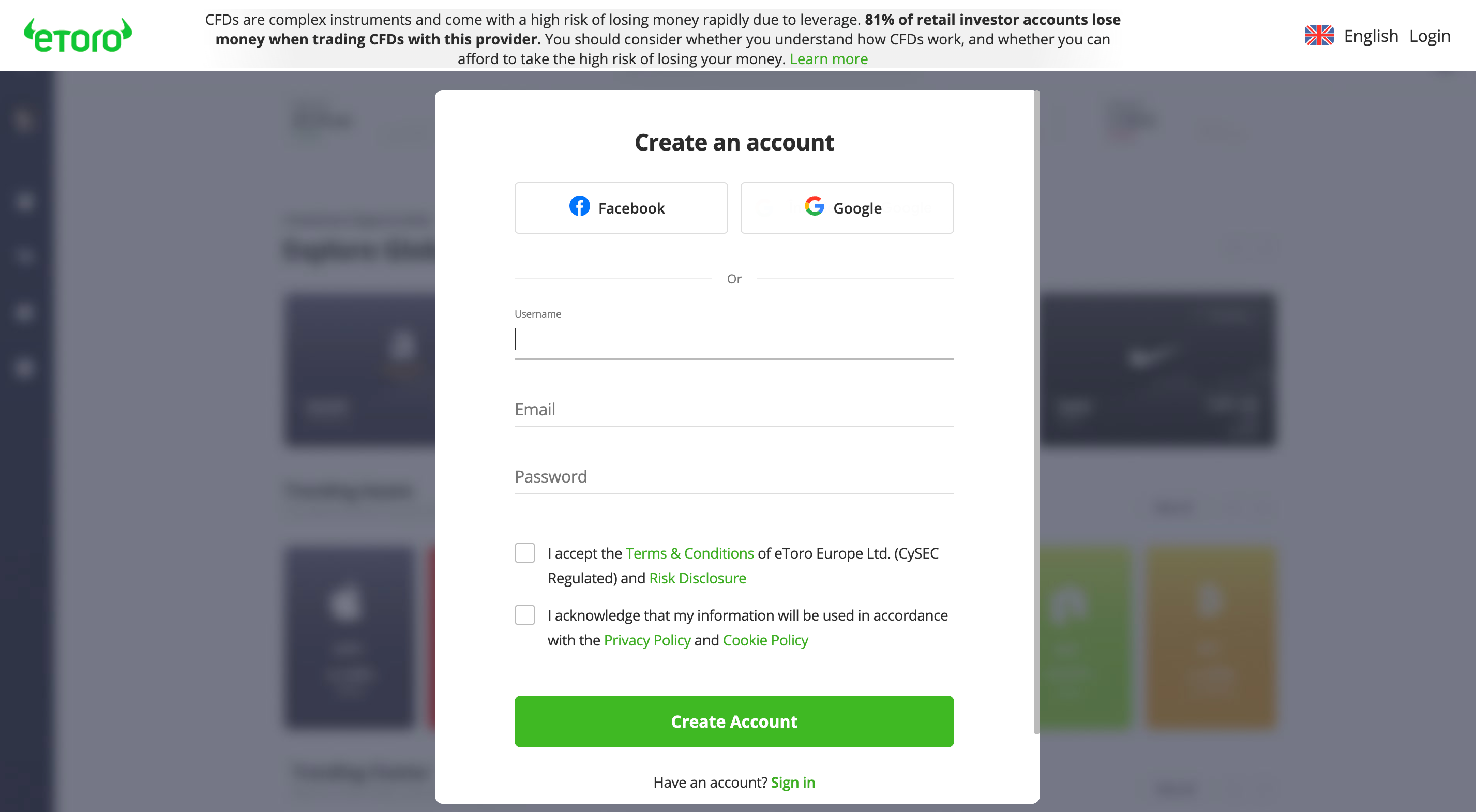 Tick the agree boxes (if you agree), and then click the 'Create account' button.
Step 1.5: Verify your eToro account
Once you have added all the necessary details, you will receive an account activation key via the email address you used to create your eToro account.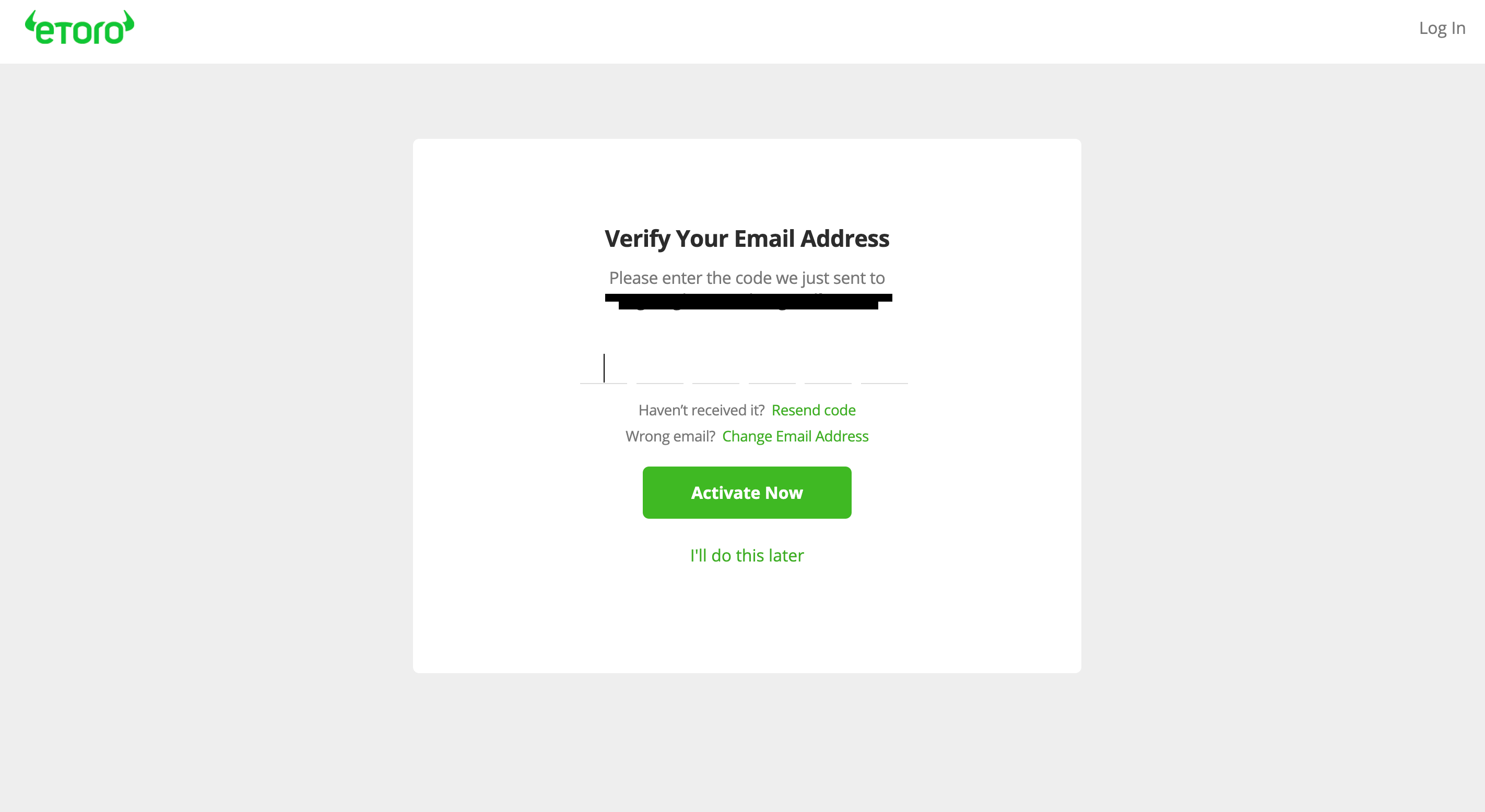 Step 1.6: Select the financial instruments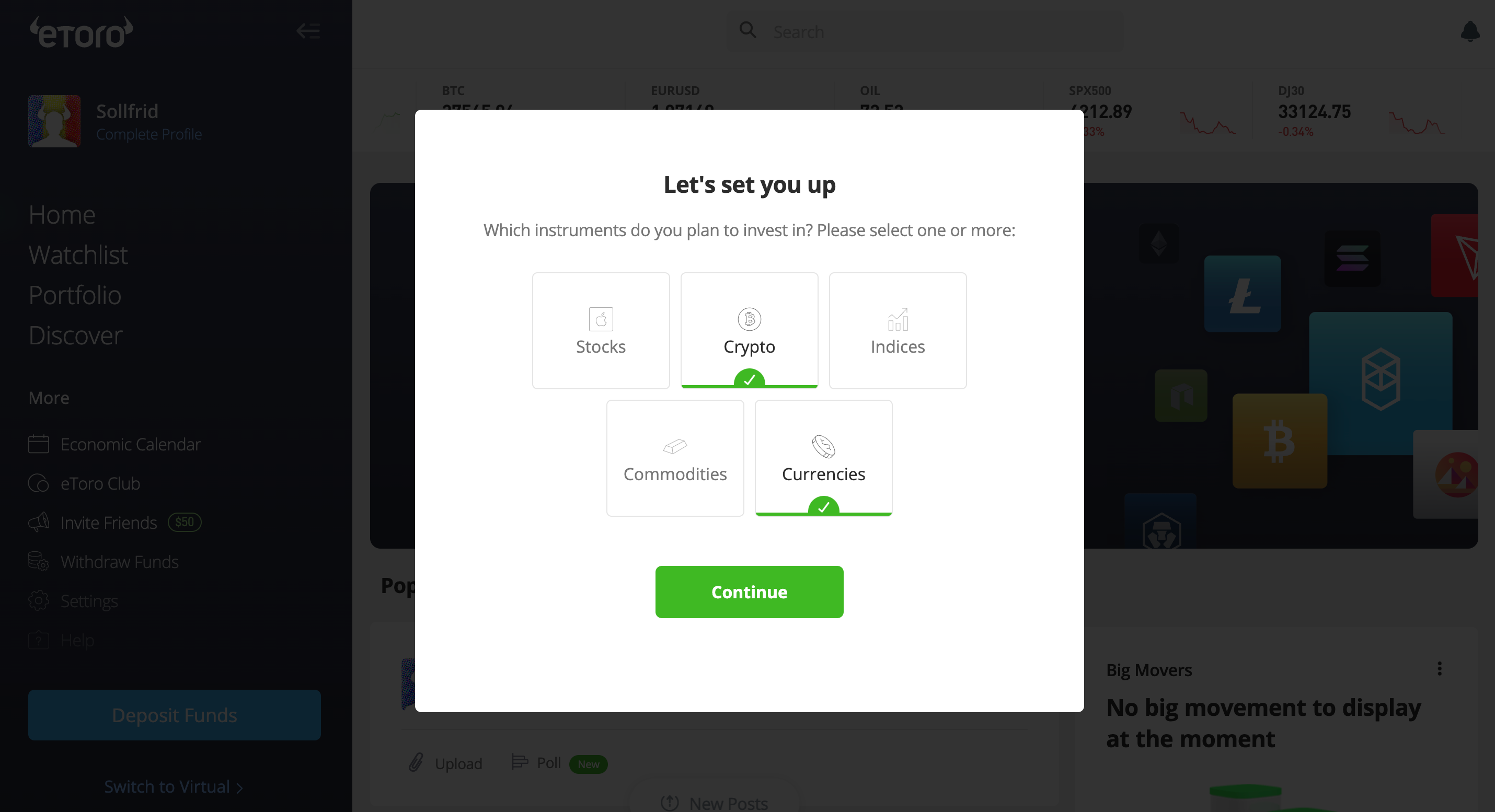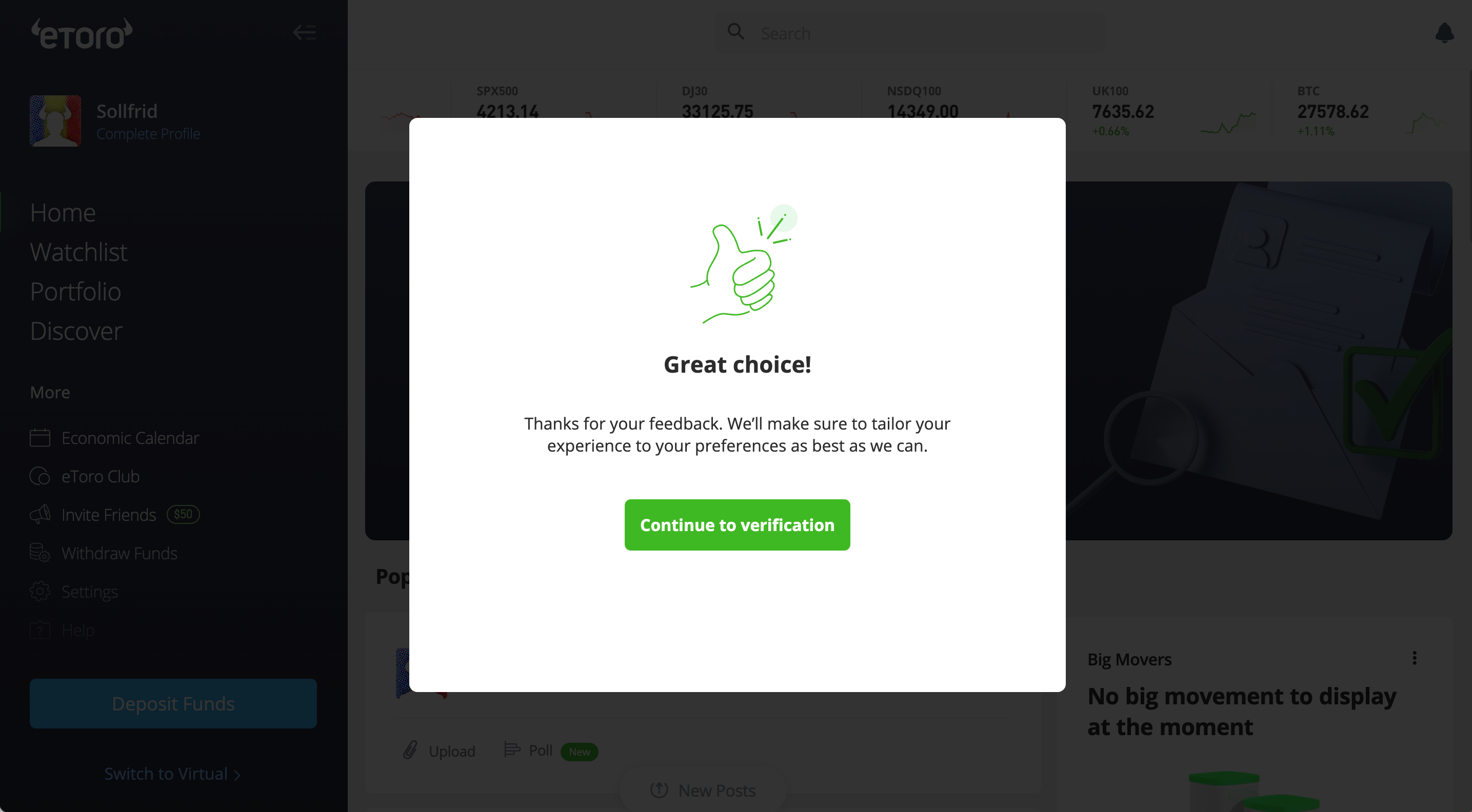 Step 1.7: Complete your eToro account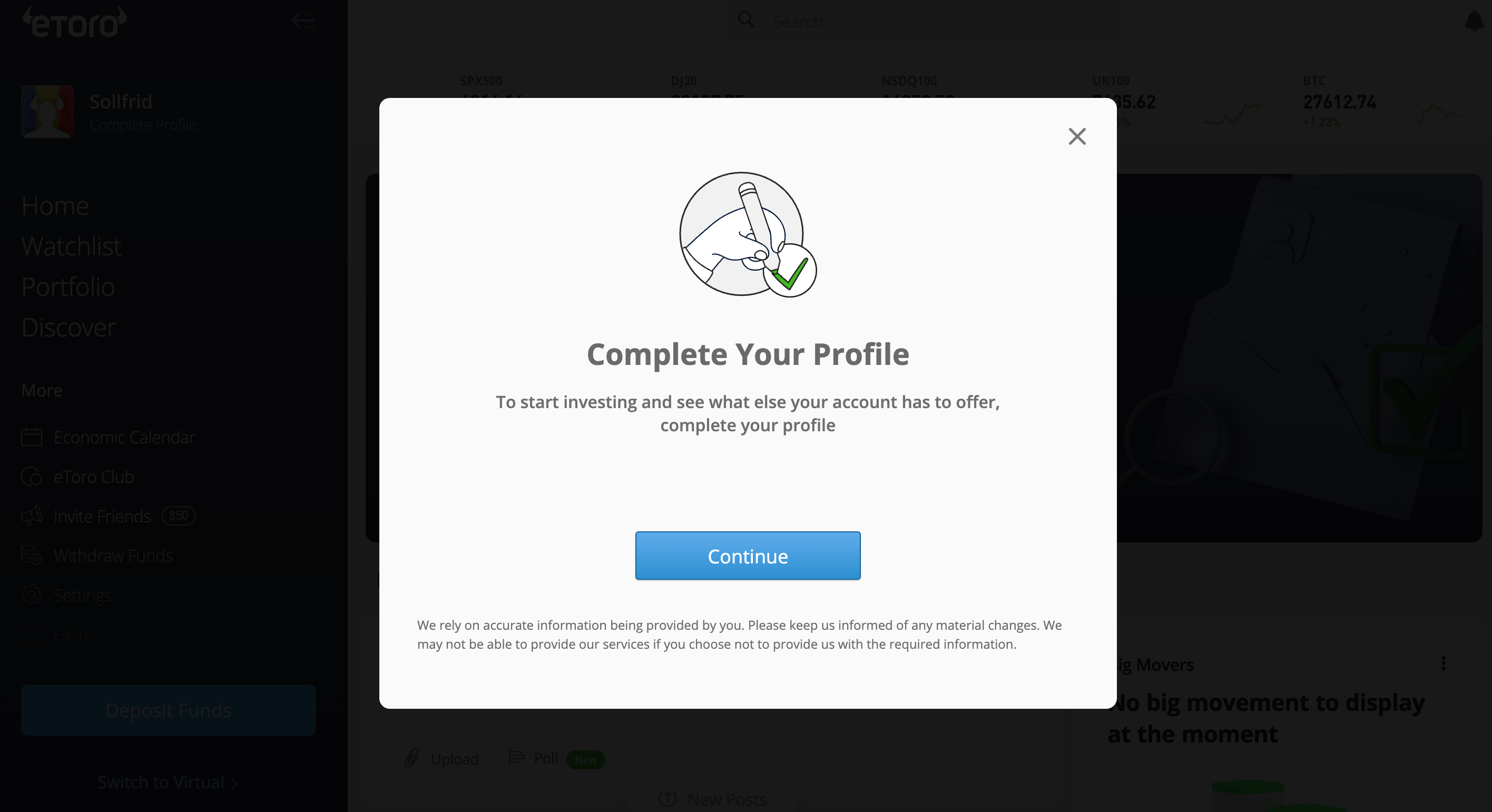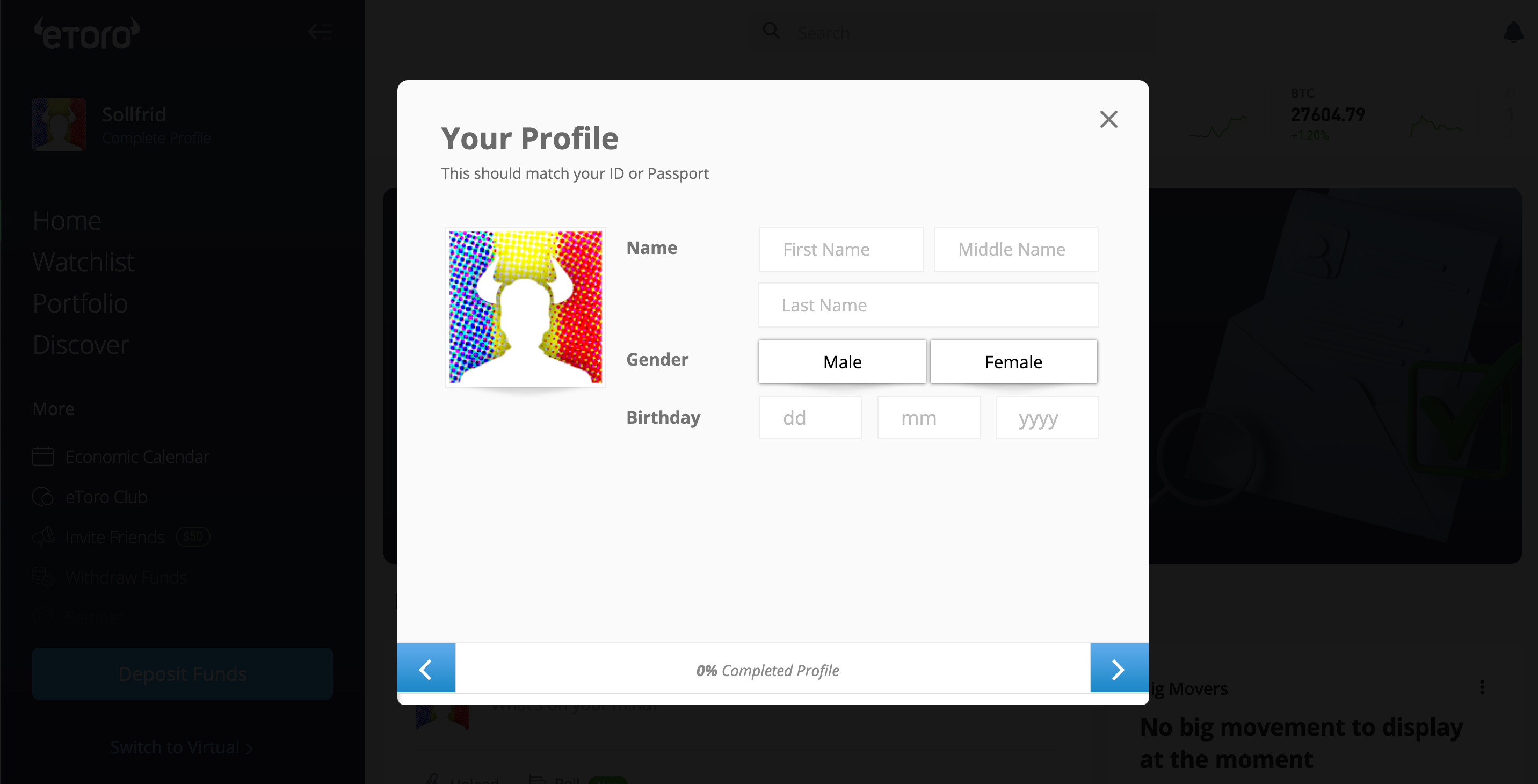 eToro will need your details, including your first and last name, date of birth, and ID or passport.
Step 1.8: Complete your address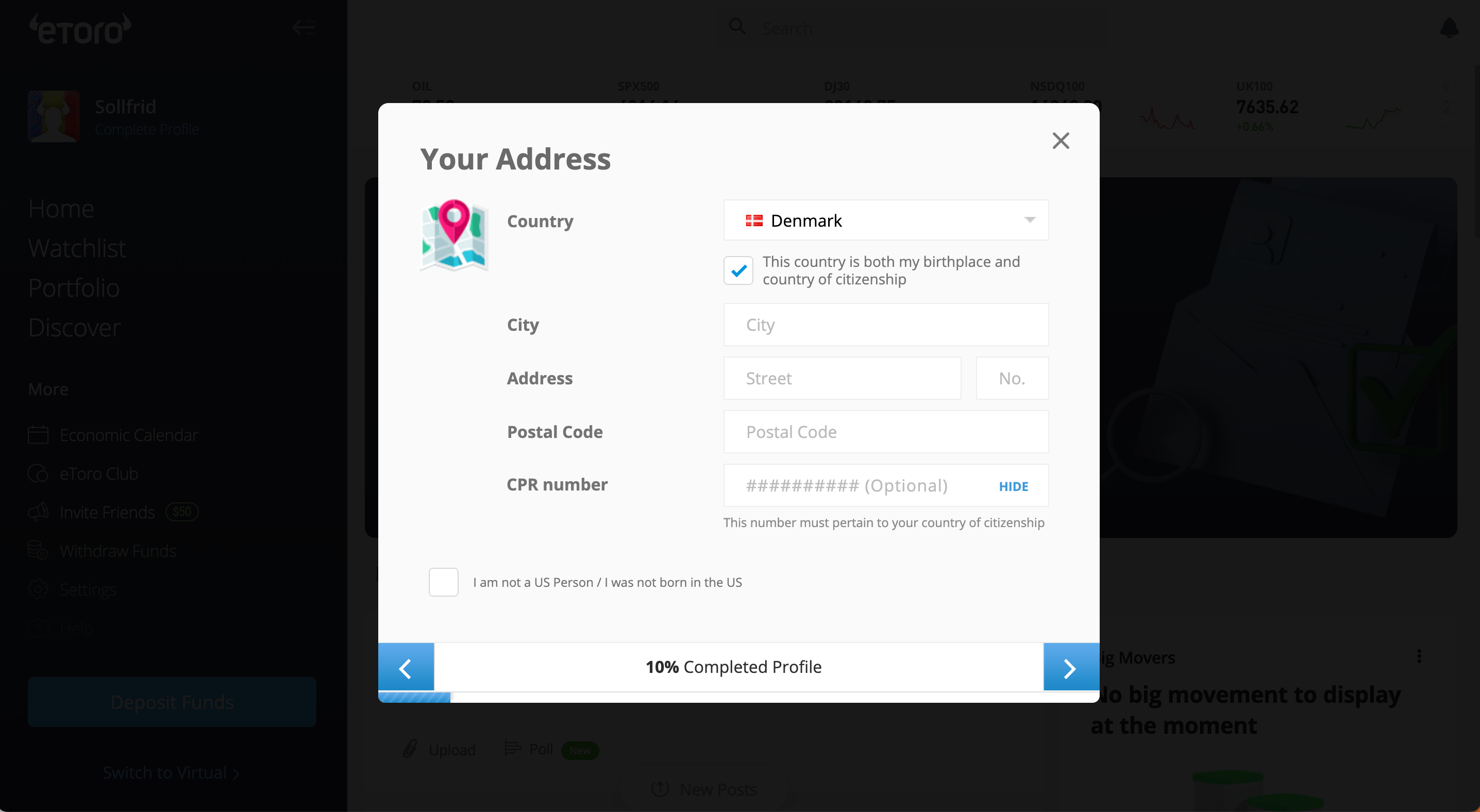 Step 1.9: Select your stock investment experience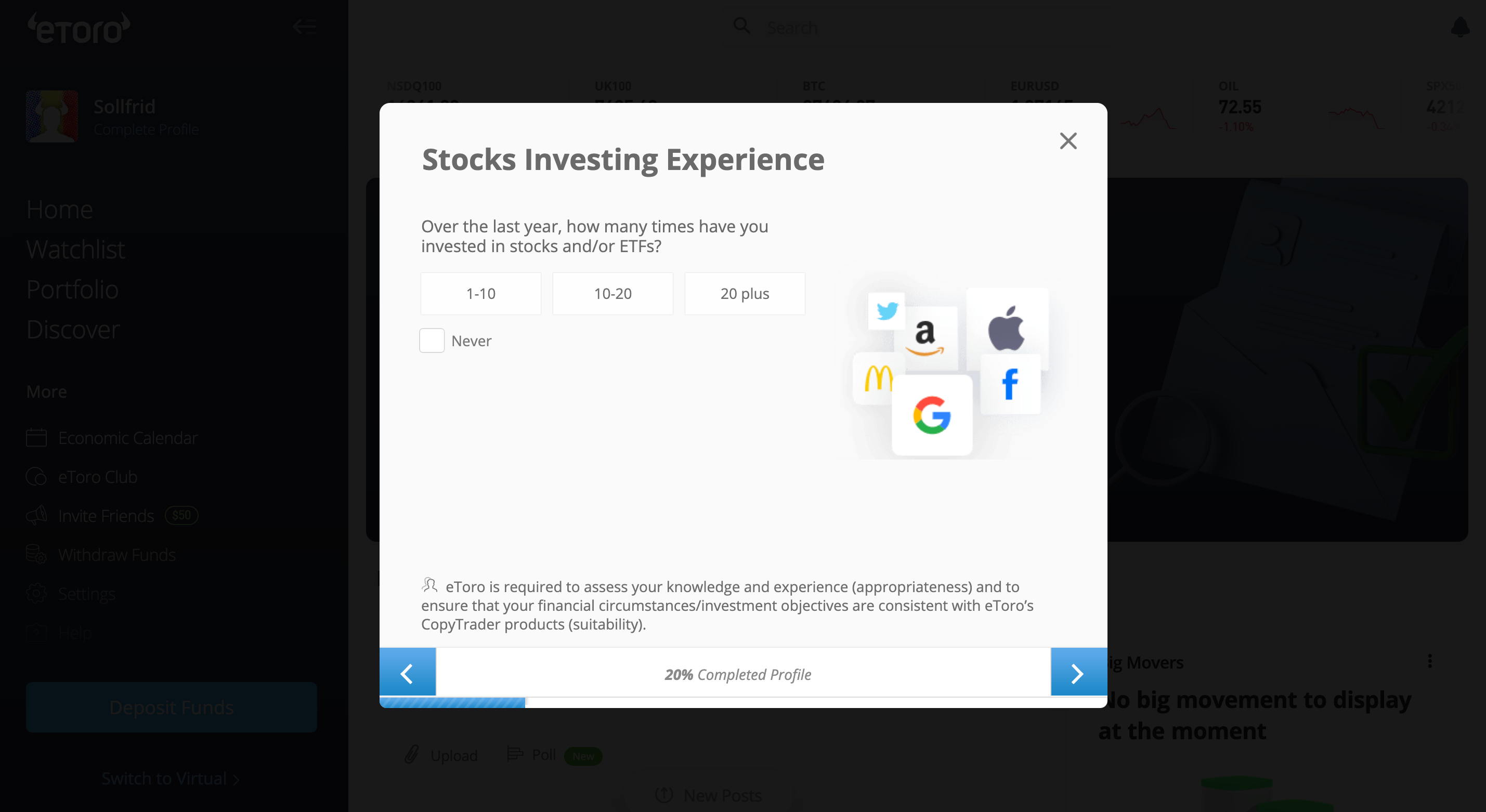 Step 1.10: Select the level of your crypto investing experience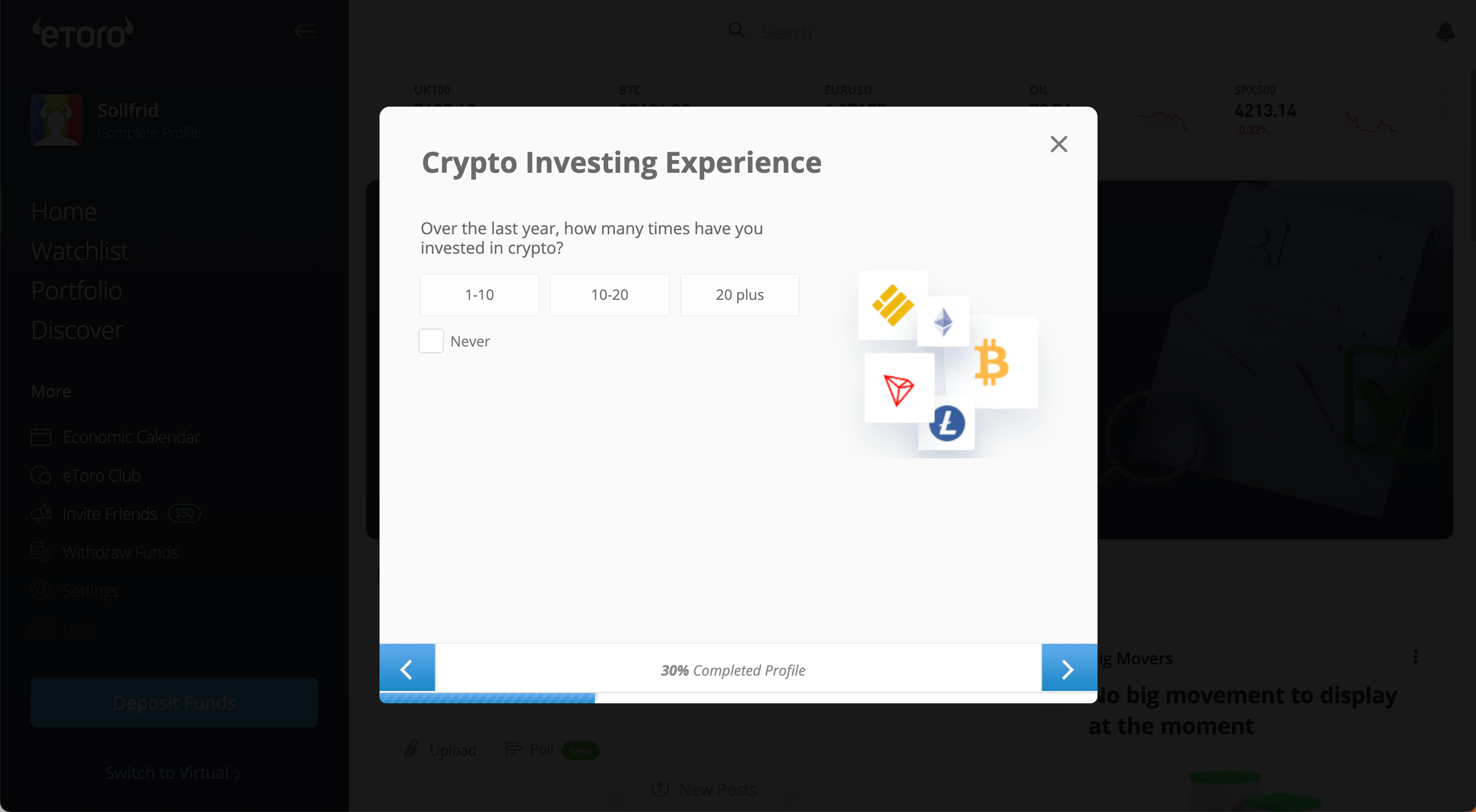 Step 1.11: Choose the leveraged investing experience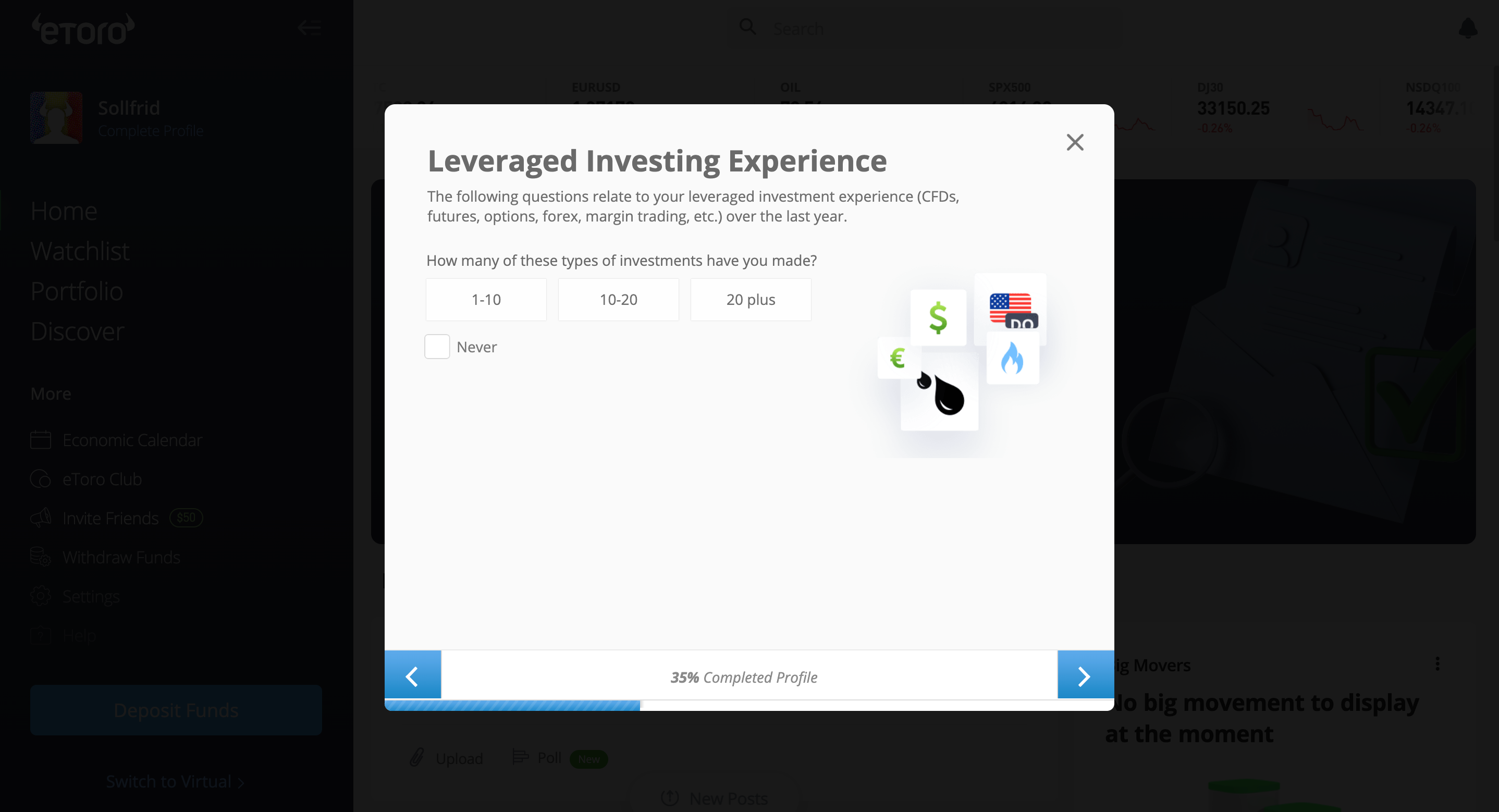 Here you select the answer that best represents your leveraged investing experience over the past year, such as CFDs, forex, margin trading, and so on.
Step 1.12: What is your trading knowledge?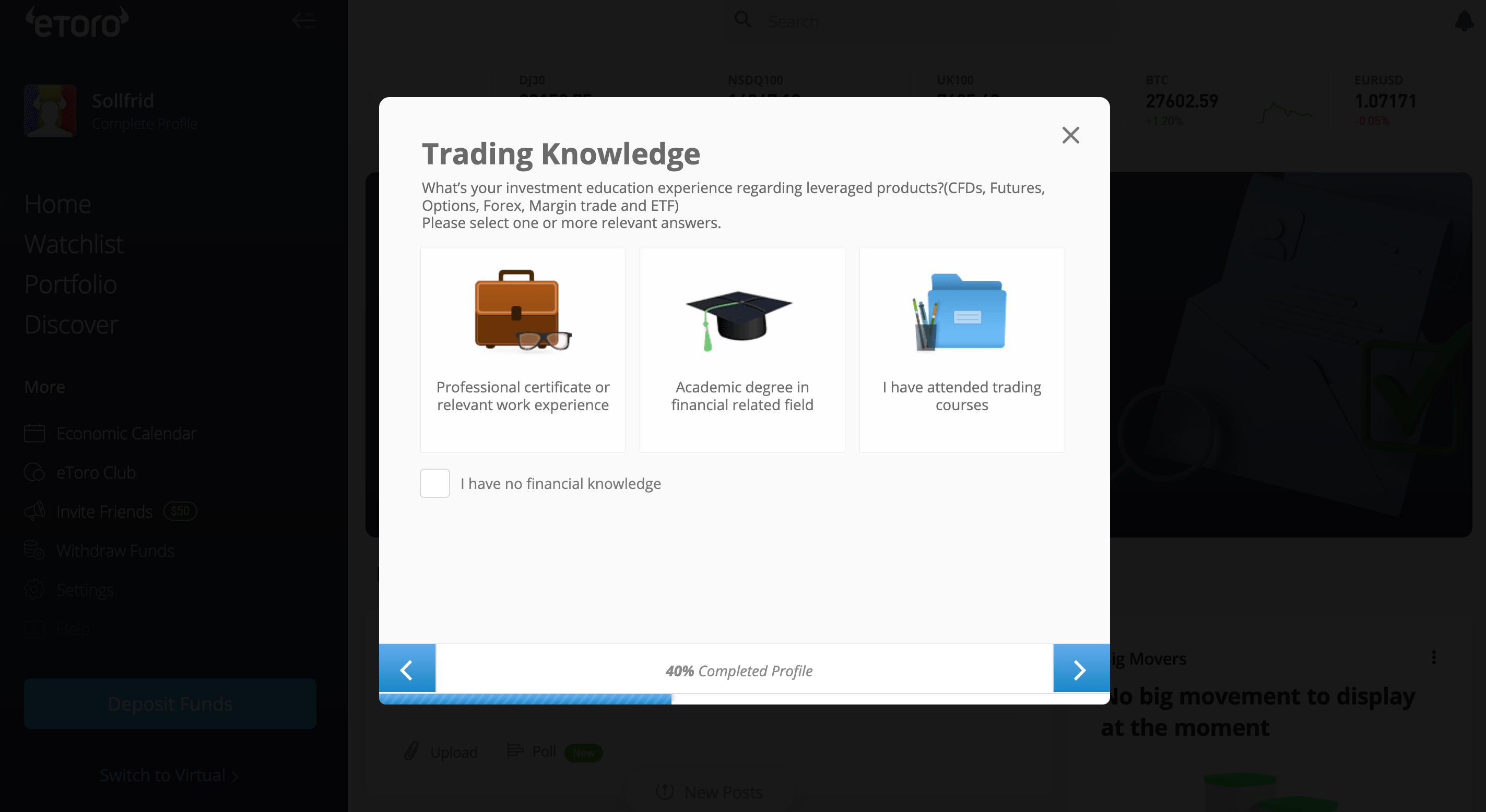 Step 1.13: Trading knowledge assessment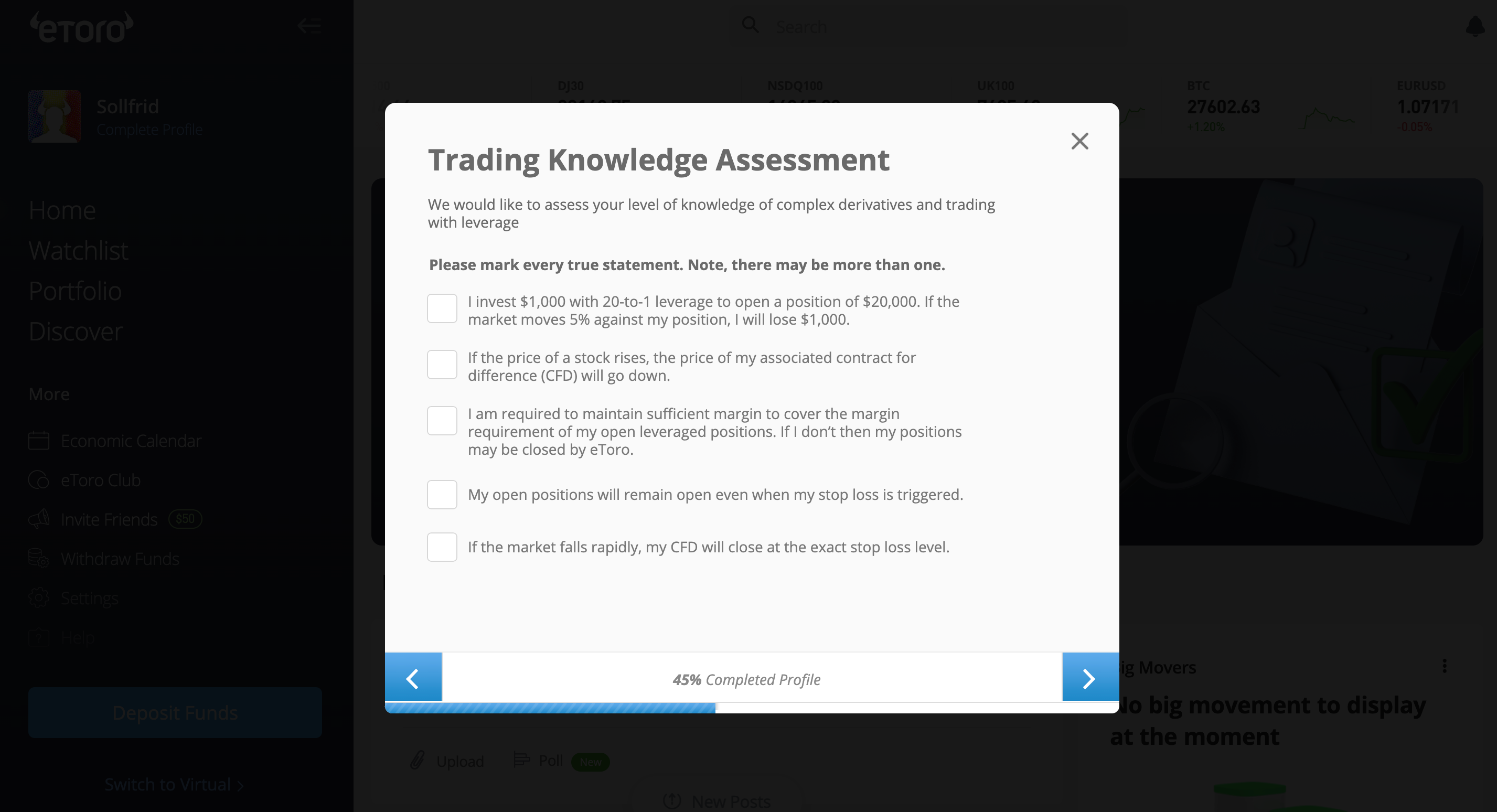 Step 1.14: What is your trading strategy?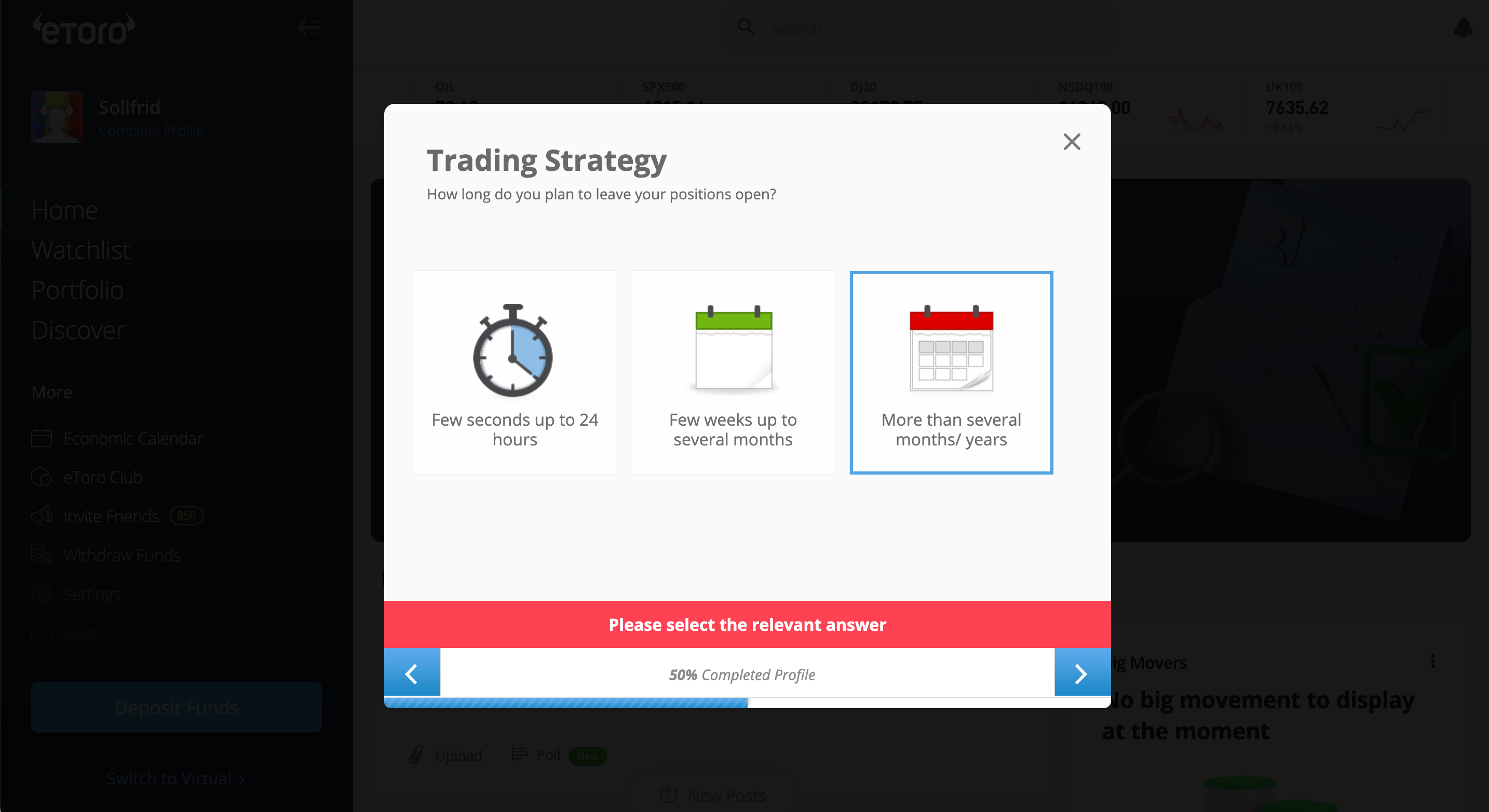 Step 1.15: The Purpose of trading digital currencies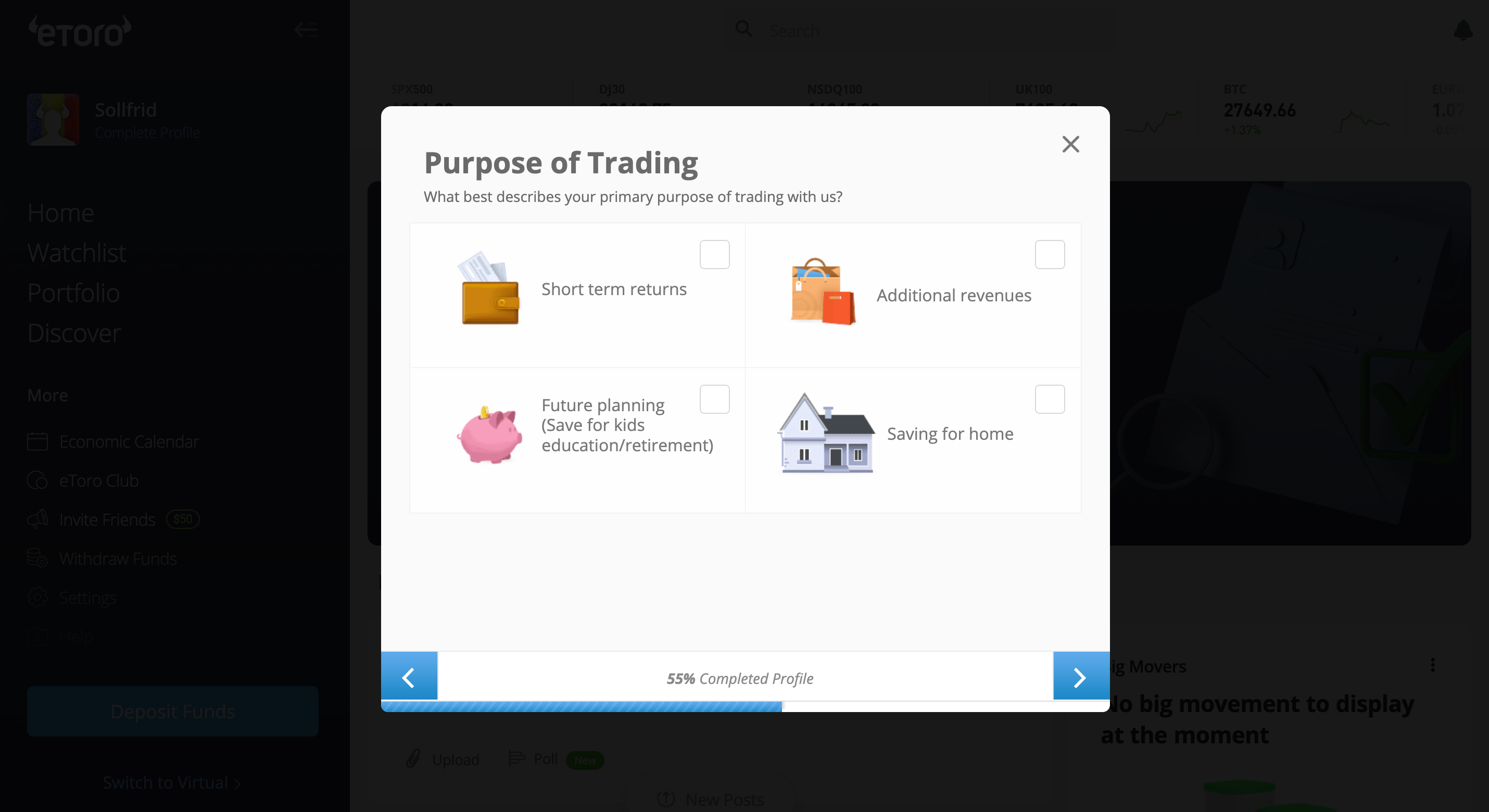 Step 1.16: what is Your attitude to risk?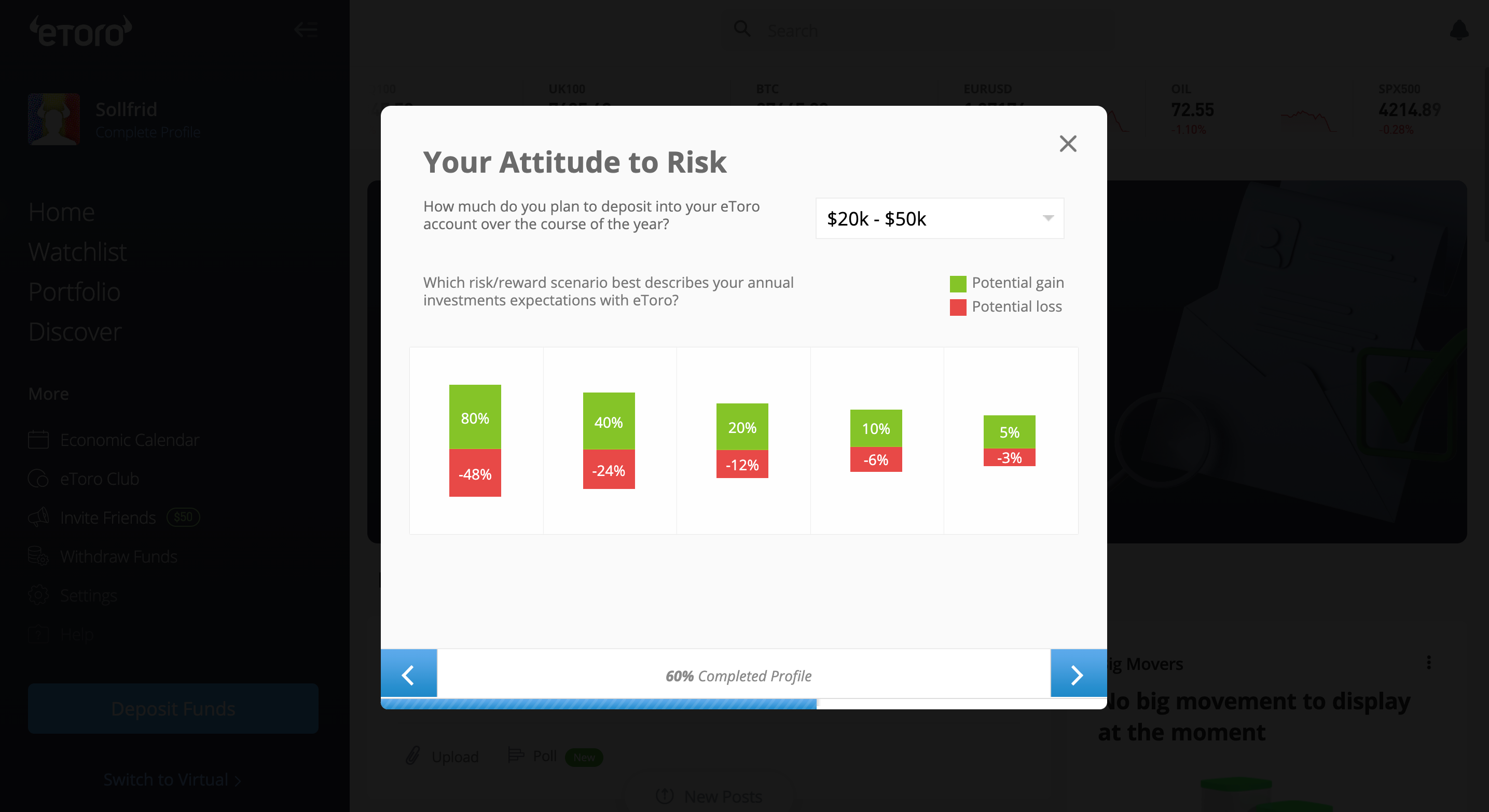 Step 1.17: Complete your eToro profile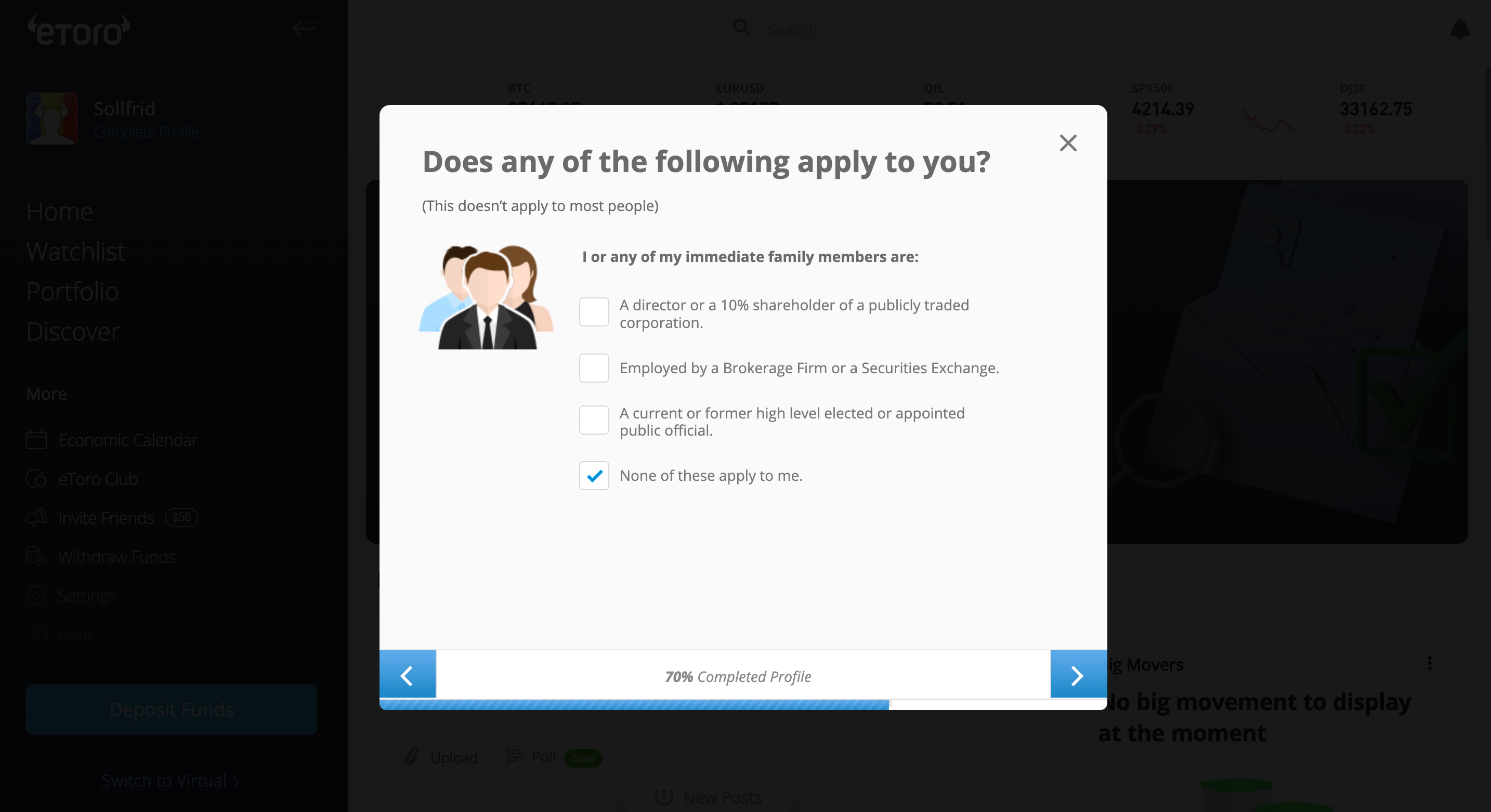 Step 1.18: Select your financial status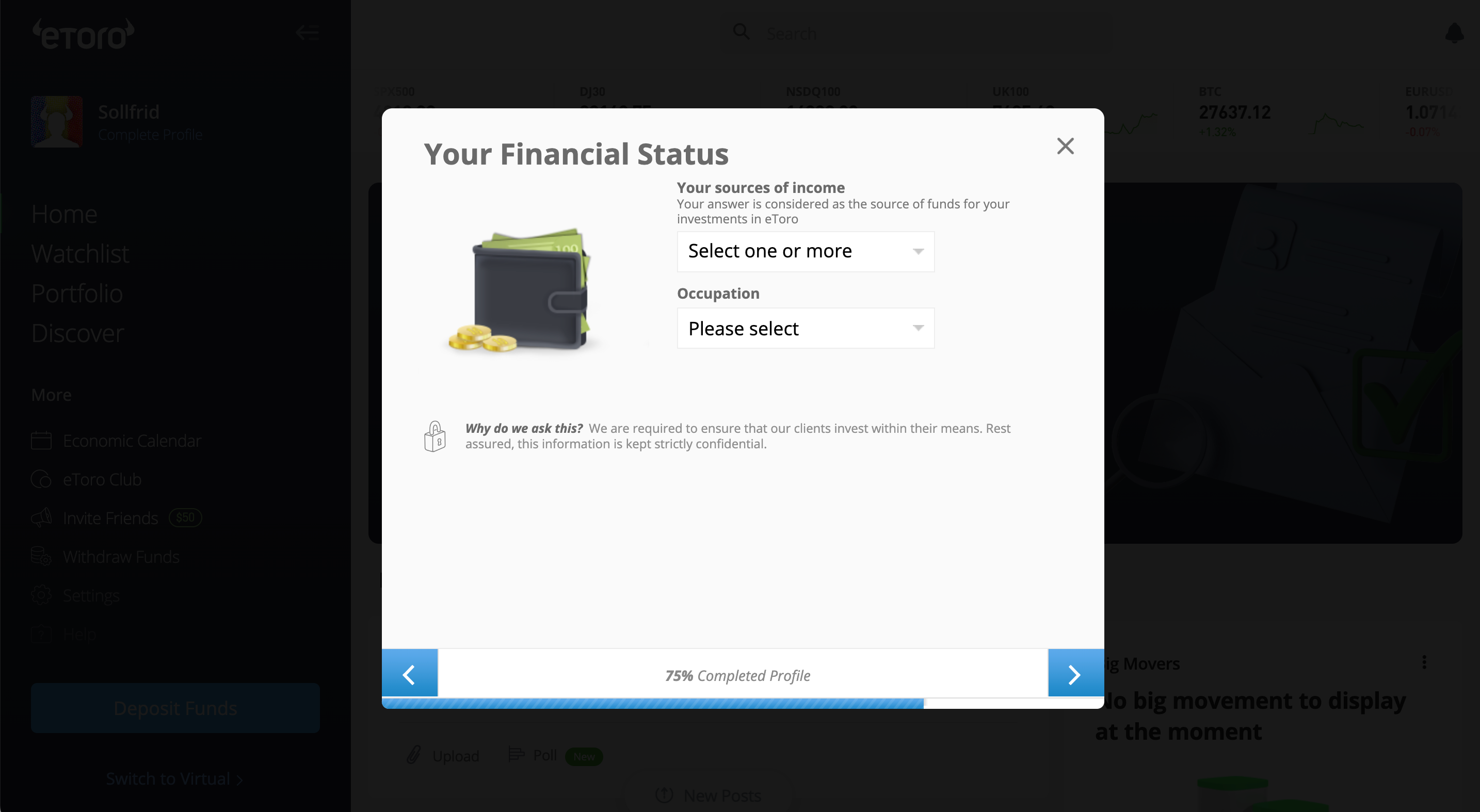 Step 1.19: Your eToro account resolution is here!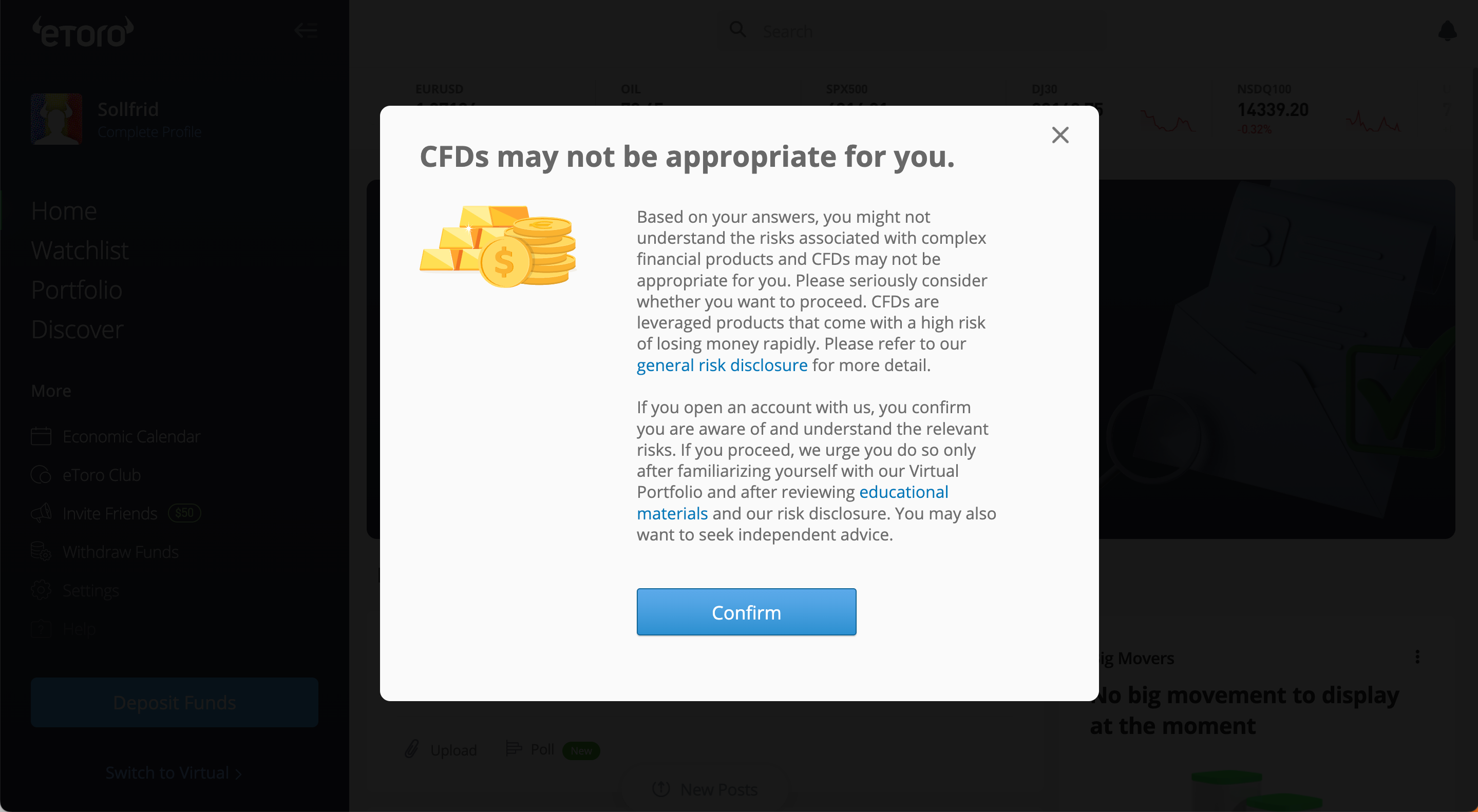 Step 1.20: Complete your profile to deposit funds into your eToro account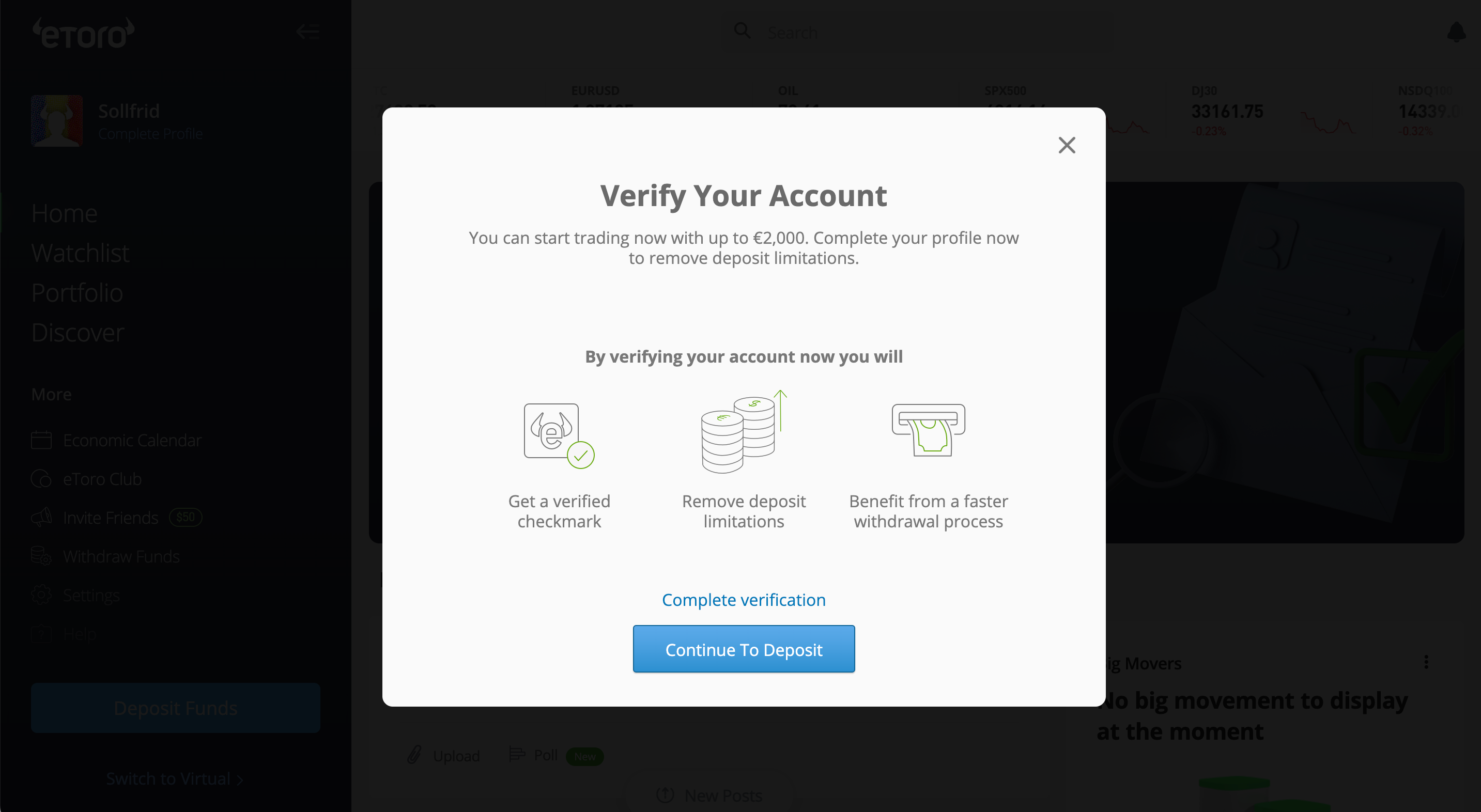 Step 2: Deposit Funds into your eToro account
Once you are on the homepage and logged in, you'll see the "Deposit funds" button left down corner.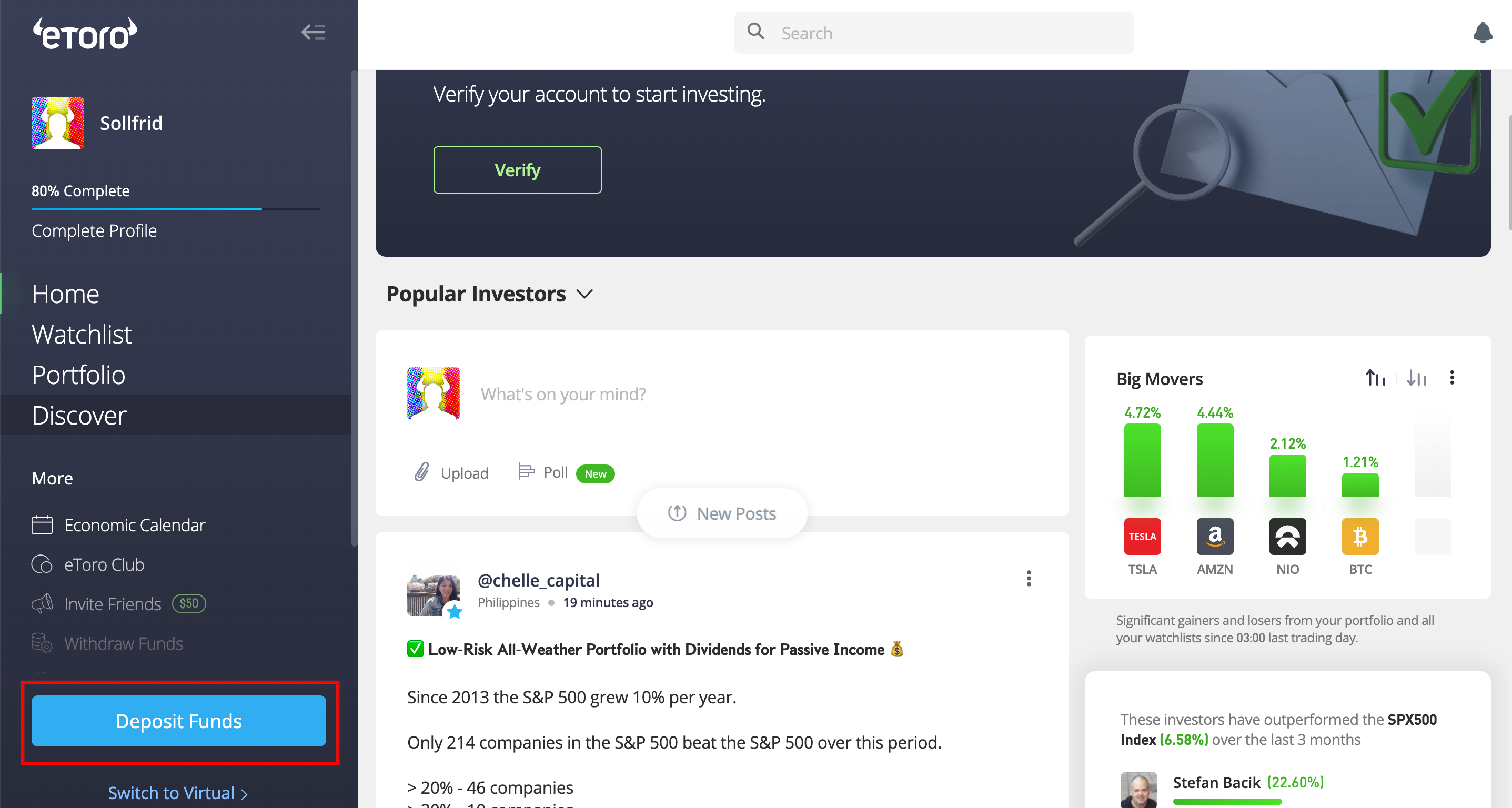 Please complete all the required details and hit the "Deposit" button. Also, note that the minimum deposit amount in fiat money is 95 € or $100, and you can choose your preferred payment method, including credit, debit card, or a regular bank transfer from your bank account. Moreover, PayPal is only available after making the 1st deposit.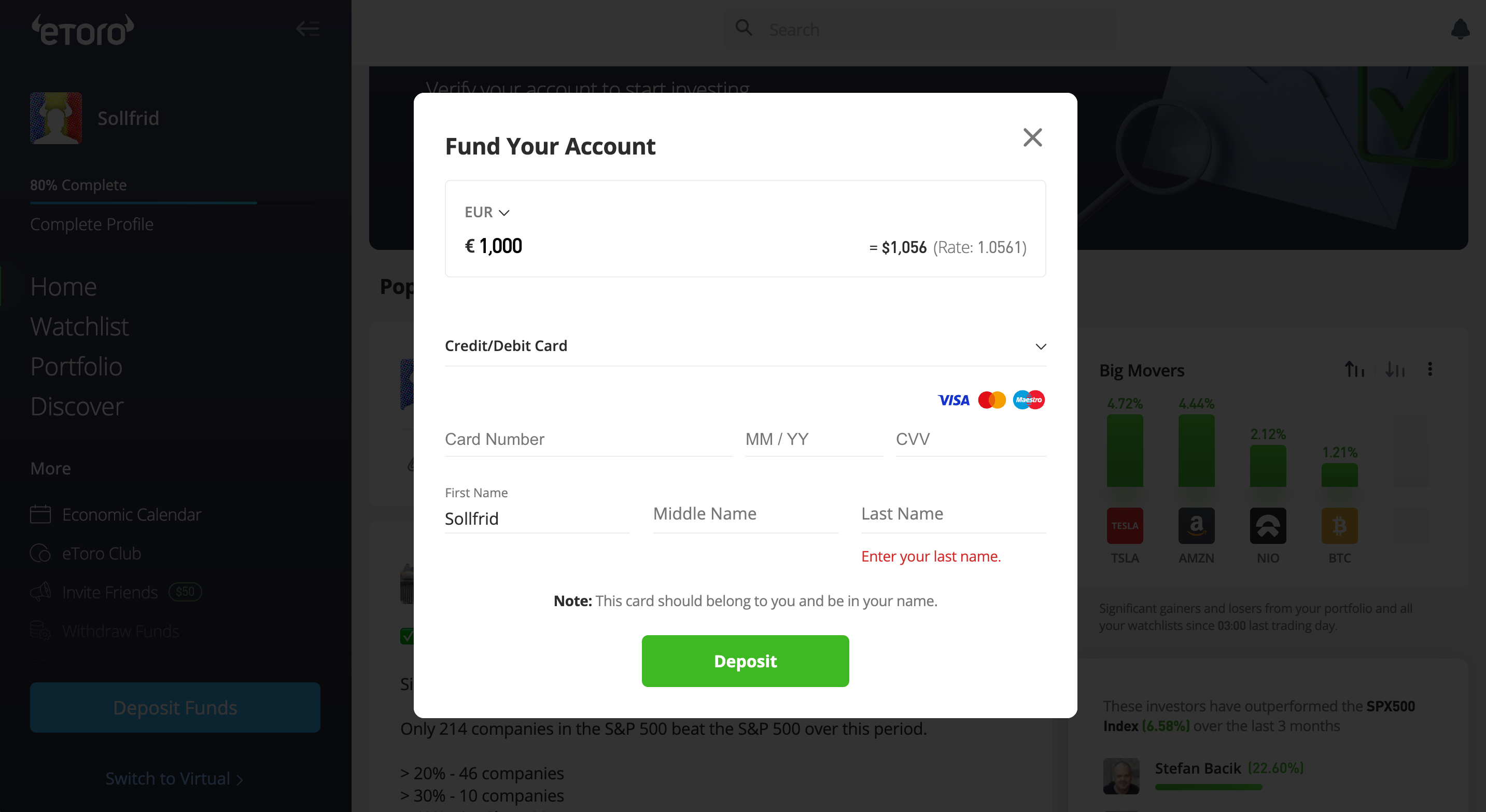 Your deposit is processed immediately, and the money will be shown instantly in your trading account. However, ACH bank transfers can sometimes take longer, depending on the bank.
Step 3: Buy Bitcoin
Write and select "Bitcoin" from your homepage in the search bar, navigate to the Bitcoin page, and click "Invest" to purchase at the current market price. You'll see two options: Trade or Order. Bitcoin Trade represents a specified amount at the current price, and Bitcoin Order sets a BTC price target and how many coins to purchase.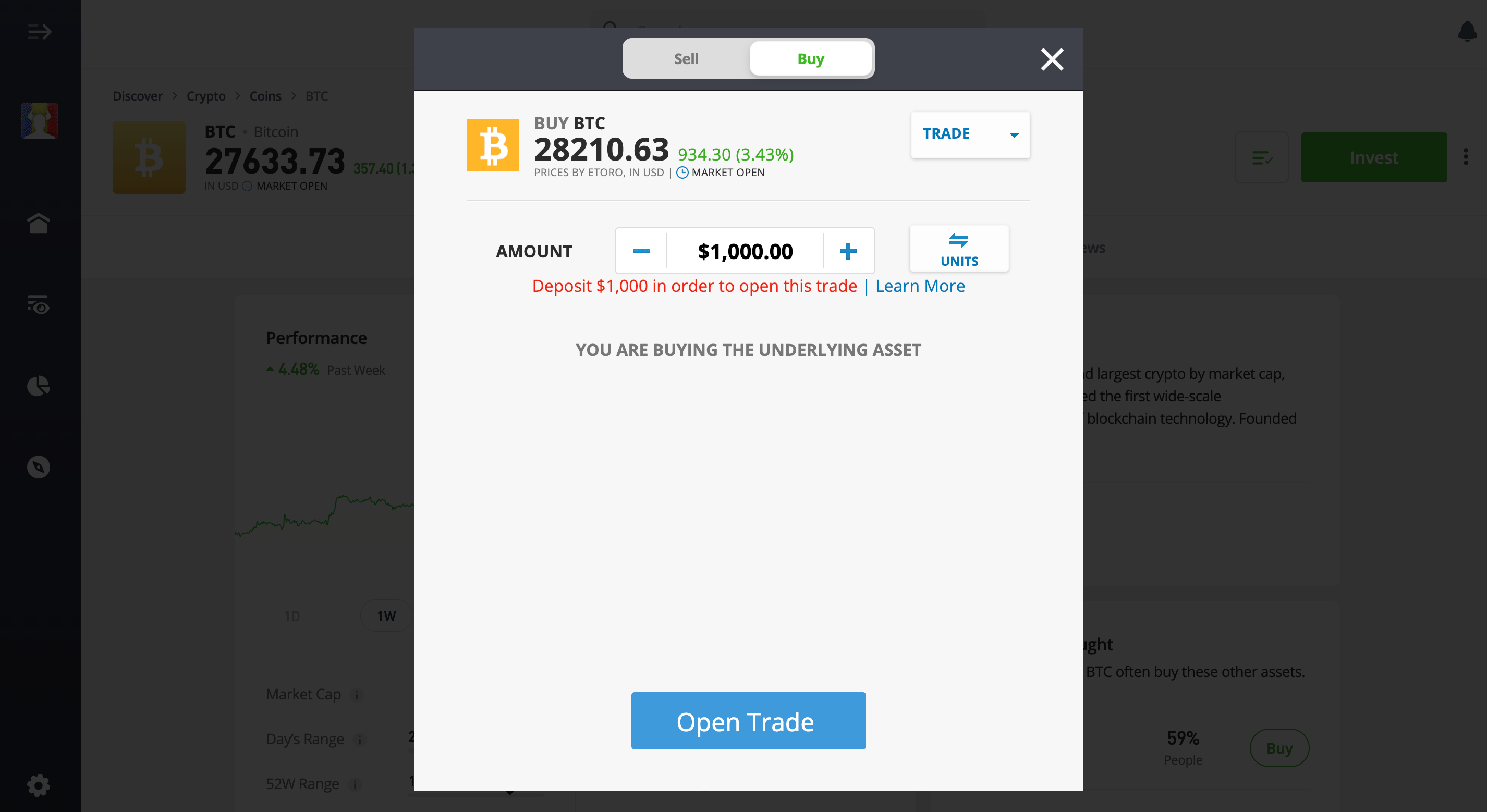 Your order will be executed once the price hits your target, and take note of the 1% Bitcoin trading fees. Once you buy Bitcoin from eToro, you'll be able to connect your eToro wallet and the mobile app and view all of your trades.
Step 4: Set Up a Crypto eToro Wallet
When you buy Bitcoin with eToro, you can securely store your coins in your eToro account or adhere to the eToro crypto wallet. Even though, unlike at other exchanges, you are not required to have a crypto wallet, we highly recommend one.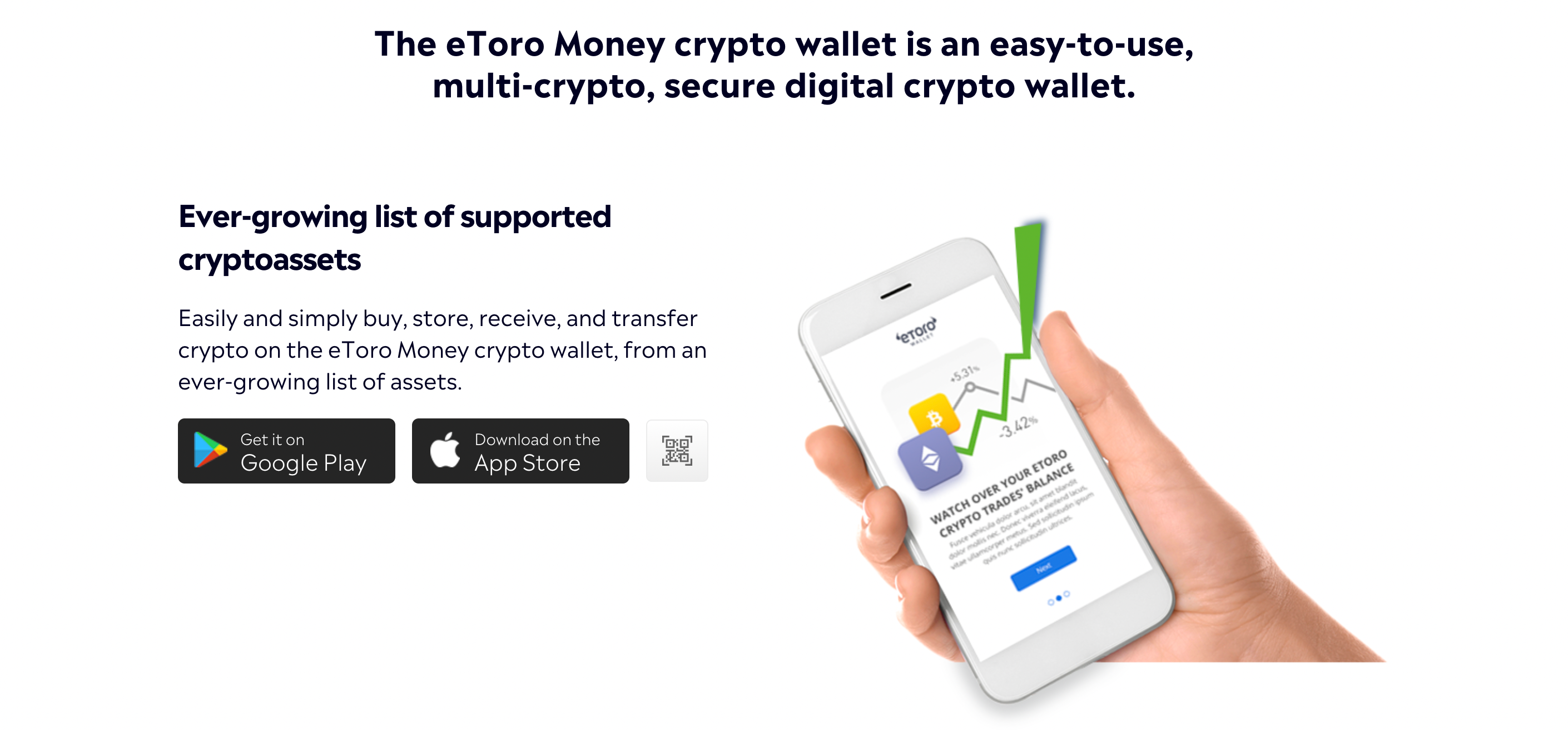 However, crypto wallets are highly secure and allow you to use your Bitcoin for various applications. eToro offers its cryptocurrency wallet, eToro Money, that you can download for free on iOS or Android devices or use other wallets already owned.
With the eToro wallet, trading crypto or performing a crypto exchange is easy. Send Bitcoin or any other digital currency supported by eToro and receive cryptocurrency from other wallets while maintaining security with several high-level security features to protect against unauthorized access, including DDoS protection and standardization protocols.
Buy Bitcoin With eToro: 3 Things to Be Careful About
Since cryptocurrency holdings are growing in popularity and more and more people start investing, you must understand that the crypto market is highly volatile and has a market risk.
1. Do your research
Before embarking on such an adventurous journey, it is necessary to do your research on which crypto you wish to invest in. As there are many digital currencies, also there is a high potential for fraud. In today's digital era, there are also many resources to learn more about how to transfer Bitcoin, what is a crypto exchange, the underlying asset, and so on. A good source of knowledge that can kickstart your journey could be Coindoo. We provide one of the most educational guides, reviews, and blockchain technologies, trusted by many, to help you get started in crypto.
2. Invest what you are willing to lose
This could be a general rule that applies to the crypto world. Only invest what you are willing to lose, as the crypto space is already volatile, and here we're referring to fiat money, crypto exchanges, loans, and many other financial investments. At any point, a negative outcome could appear; even though you thoroughly research the coin, there is always a risk to crypto trading.
3. Expand your crypto portfolio
Remember the saying, "Don't put all your eggs in one basket"? We might say it is a must in the cryptocurrency space to invest in at least two other coins before investing. It doesn't matter how well-researched your financial plan is, as the crypto market is already volatile; having different options to boost or sustain your investment is the key to success.
The Bottom Line
In conclusion, we hope we answered all of your questions regarding buying BTC on eToro, and this step-by-step guide helped you make your first crypto transaction on eToro. Be sure to research before investing thoroughly, follow other crypto communities, and whenever you feel lost, check our guides and tutorials for a well-researched decision.
FAQ on Buying Bitcoin on eToro
How to buy Bitcoin on eToro?
Upon buying on eToro, there are three simple steps: create your eToro account, deposit funds choosing from multiple payment methods, and then you can start buying Bitcoin, simply and securely.
Is eToro good for buying Bitcoin?
EToro is a safe trading platform that facilitates Bitcoin trading, including selling and buying. Moreover, eToro offers 2FA verification, cold storage, FDIC-insured USD balances, multi-signature facilities, private keys, and KYC.
What is the minimum deposit on eToro?
Depending on the country of residence and the payment methods chosen, one must deposit between $1o and $10,000.
* The information in this article and the links provided are for general information purposes only and should not constitute any financial or investment advice. We advise you to do your own research or consult a professional before making financial decisions. Please acknowledge that we are not responsible for any loss caused by any information present on this website.