Crypto.com and Coinbase are international cryptocurrency trading platforms offering various products, operating within a maker-taker fee structure. But more importantly, they provide affordable ways to buy, sell, or transfer crypto tokens.
But unlike Coinbase, which offers many educational materials created for beginners, Crypto.com has few educational resources. Instead, Crypto.com focuses on creating more products, such as Visa Cards, and adding ways for investors to earn from crypto.
This article explores the differences between Crypto.com and Coinbase by looking at how the two exchanges compare on fees, security, available cryptocurrencies, and more. You can find out which exchange might be best for you in our detailed Crypto.com vs. Coinbase rundown.
It is important to remember that cryptocurrency exchanges are not members of the Securities Investor Protection Corp. (SIPC), unlike traditional brokerage firms. So, unless user terms specify otherwise, investors with cryptocurrency assets commingled on a custodial cryptocurrency exchange could potentially lose their funds as unsecured creditors.
Investing in cryptocurrencies, DeFi, and other Initial Coin Offerings (ICOs) carries considerable risks. It is subject to high speculation as the market can be extremely volatile. Just to let you know, this article does not constitute a recommendation by Coindoo to invest in cryptocurrencies.
At-a-Glance Comparison
| | | |
| --- | --- | --- |
| Criteria | Coinbase | Crypto.com |
| Fees | Coinbase applies maker fees that range from 0.00% to 0.40% and taker fees ranging from 0.05% to 0.60%. Additional fees may apply depending on the payment method. | Crypto.com has a maker fee ranging from 0% to 0.075% and a taker fee between 0.05% to 0.075%. |
| Supported Currencies | 200+ | 250+ |
| Security | Coinbase has a strong security track record and offers insurance protection for digital assets held on its platform. | Crypto.com has a multi-tier security architecture that includes secure storage, two-factor authentication, and insurance protection for digital assets. |
| Features | Coinbase offers a range of features including a mobile app, recurring purchases, and the ability to earn interest on certain cryptocurrencies. | Crypto.com offers a range of features including a mobile app, a Visa debit card that can be used to spend cryptocurrency, and the ability to earn interest on certain cryptocurrencies. |
| Wallet | Coinbase provides a hosted wallet service for customers to store their cryptocurrencies. | Crypto.com provides a hosted wallet service for customers to store their cryptocurrencies. |
| Usability | Coinbase has a user-friendly interface that is easy to navigate. | Crypto.com has a user-friendly interface that is easy to navigate. |
We can't deny that both platforms are popular, but here's the thing: Crypto.com is cheaper for low-volume takers, while Coinbase can be more affordable depending on your trading volume; purchasing digital currencies from the platform will result in fixed fees instead of the maker-taker fees that we all are familiar with.
Crypto.com allows users to earn crypto and interest on their deposits, offering ways to earn rewards. Meanwhile, Coinbase stands out for its user-friendly experience and educational materials that enable users to earn crypto.
About Crypto.com: The World's Leading Cryptocurrency Exchanges
Crypto.com is an international decentralized finance cryptocurrency exchange platform founded in 2016 that has become a popular hub for cryptocurrency enthusiasts due to lower trading fees. Furthermore, Crypto.com offers an extensive range of supported cryptocurrencies and appealing services, including crypto staking, an NFT Marketplace, and lending and borrowing options.
Crypto.com was founded as "Monaco" in Hong Kong by Bobby Bao, Gary Or, Kris Marszalek, and Rafael Melo. The company was later renamed Crypto.com in 2018 after purchasing a domain valued at $5-10 million from cryptography researcher and professor Matt Blaze.
Crypto.com ecosystem includes services such as the Crypto.com App, Crypto.com Exchange, Crypto.com DeFi swap and Wallet, Crypto.com Pay, Crypto Earn, Crypto Credit, and more.
The company works with regulatory institutions worldwide and strives to provide a convenient way for users to perform crypto trading, deposits, and many more. With the Crypto.com App, users can buy over 100 top cryptocurrencies at actual cost, earn high interest on their crypto assets, manage their Crypto.com Visa Card, and make crypto payments easily, among other features.
Foris DAX Asia, a Singapore-based company and a subsidiary of Foris DAX MT (Malta) Limited, operates the platform.
About Coinbase: The Easiest Crypto Exchange Platform
Coinbase is a crypto exchange founded in 2012 by Brian Armstrong and Fred Ehrsam that has grown to become one of the biggest crypto exchange platforms. With over 4,500 employees worldwide, Coinbase offers access to dozens of unique cryptocurrencies and operates with users in more than 100 countries. With a trading volume of approximately $145 billion per quarter, Coinbase manages a robust cryptocurrency ecosystem supporting 13,000 financial institutions.
Coinbase runs two crypto trading tools and a standalone crypto wallet service, thus making crypto traders' journey much more straightforward when starting and managing a cryptocurrency portfolio, and its simple interface makes it particularly suitable for those who have started with cryptocurrency. Nonetheless, Coinbase incentivizes users to learn about cryptocurrency by offering courses that pay you crypto rewards.
With meager fees, users can buy and sell cryptocurrency assets and deposit using debit cards and bank transfers. Yet, the Coinbase Card is a Visa debit card available to Coinbase users and earns rewards on every purchase.
Coinbase is also a fully regulated crypto exchange, ensuring a reliable and trustworthy experience for its users.
Crypto.com vs Coinbase: Main Features
Besides offering users a wide selection of cryptocurrencies, the cryptocurrency exchanges have more similar features, including:
Both have mobile apps that are compatible with Android and iOS devices;
Volume discounts;
Non-custodial crypto wallets that allow users to control the private key;
A staking option that will enable users to earn interest/reward;
Additional trading features such as limit.
Although the two platforms share various features, Coinbase is more suitable for crypto beginners than Crypto.com, which addresses advanced users. Unlike Crypto.com, which provides users with additional products, Coinbase focuses on delivering new crypto investors by watching educational videos encouraging them to invest wisely.
Crypto.com vs Coinbase: Supported Currencies
Both crypto exchange platforms have a wide selection of supported currencies. Crypto.com, for example, supports over 250 cryptocurrencies and over 20 different fiat currencies, while Coinbase supports over 200 digital currencies.
In addition, Crypto.com allows investors to access the top ten tokens in the market cap, whereas Coinbase gives access to all top coins besides XRP and Binance (BNB).
Examples of currencies supported by Crypto.com are:
Bitcoin (BTC);
Ethereum (ETH);
Tether (USDT);
Binance (BNB);
Cardano (ADA);
Polygon (MATIC).
In other words, you will find all major cryptocurrencies on both platforms, including Ethereum (ETH), Bitcoin (BTC), Cardano (ADA), etc. Both also offer major stablecoins, such as USD Coin and Tether. Yet, the number of currencies supported varies from state to state, with some states having additional restrictions.
Coinbase does not support Binance (BNB) since it is a separate blockchain that cannot integrate with the Coinbase platform. There could be a loss, thus risking your unsupported coins if you send them to your Coinbase account; they will not reach the account.
Although Coinbase supports almost as many currencies as Crypto.com, the fact that sending unsupported coins to your Coinbase wallet might result in you losing them, which makes it even worse. Comparing the two, Crypto.com is the most suitable for anyone planning to diversify their investment portfolio.
Crypto.com and Coinbase: Transaction Fees
Both platforms have free options for ACH transfers, but Crypto.com has a minimum transfer requirement of $20. Wire transfers are free on Crypto.com but require a minimum deposit of $1,000, while Coinbase charges $10 for deposits and $25 for withdrawals.
Also, Coinbase and Crypto.com have partnered with Visa to offer credit and debit card options. The fees charged by both companies vary based on the number of ATM withdrawals and purchases.
Crypto.com Transaction Fee
Crypto.com does not charge fees when converting currencies within their wallets, whereas Coinbase uses a 1% conversion fee. For debit or credit card transactions, Crypto.com charges 2.99%, while Coinbase does not offer this payment method.
Crypto.com has a maker fee ranging from 0% to 0.075% and a taker fee between 0.05% to 0.075%. Crypto.com users can pay lower fees by trading more frequently with a volume-based trading fee structure or staking CRO.
Coinbase Transaction Fee
When you place an order on Coinbase, the fees are calculated based on several factors, such as location, selected payment method, order size, and market conditions.
Coinbase applies a spread in the price when you use a simple trade to buy or sell cryptocurrencies and in the exchange rate when you convert cryptocurrencies. However, the advanced trade option on Coinbase does not include any spread because it interacts directly with the order book.
Coinbase applies maker fees that range from 0.00% to 0.40% and taker fees ranging from 0.05% to 0.60%. But, for most customers who fall into the category of the highest taker fee, Crypto.com is a more affordable option.
Crypto.com vs Coinbase: Security
When comparing Crypto.com vs Coinbase on security bases, you will notice that both employ the industry's best practices. That said, their security terms differ in a few aspects.
For example, unlike Coinbase, which covers 98% of assets stored in a hot wallet, Crypto.com only covers assets held in cold storage; in short, it doesn't have hot storage.
Besides this difference, they offer bug bounty and multi-factor authentication with additional security measures like background checks on employees and various compliance and security certifications.
Besides, both provide:
Insurance on USD balances;
Federal Deposit Insurance Corporation (FDIC);
Insurance against theft or damage.
Crypto.com and Coinbase: Wallet
Both cryptocurrency exchanges have a highly rated decentralized crypto wallet, so you have complete control over your private keys. The decentralized wallets are non-custodial and are separate from the custodial wallets on the trading platforms. Users control their keys and account security, which helps reduce hacking risks and frozen accounts.
Crypto.com and Coinbase crypto wallets also support a wide selection of crypto tokens. Yet, Coinbase's cryptocurrency selection could be broader, but it is yet to support big tokens like BCH, ETC, XLM, and XRP.

Crypto.com vs. Coinbase: Ease of Use
Both crypto exchange platform offers simple and easy-to-use web and app-based trading, although the exchanges look different. Coinbase takes a much simpler approach, making the navigation more intuitive, instead of its competitor, Crypto.com, whose pathway can be a bit more overwhelming at first glance and more suitable for experienced traders.
Therefore, novice cryptocurrency investors may find it more convenient to trade on Coinbase until they become comfortable with the industry terminologies and the various tradable coins.
Crypto.com vs Coinbase: Accessibility
It is worth noting that both platforms are available in more than a hundred countries, including the US, Canada, and Singapore. Yet, it is unfortunate that New York residents cannot access Crypto.com, and Hawaii residents cannot use Coinbase.
Despite these limitations, Coinbase outshines Crypto.com by being accessible in three African countries. This demonstrates Coinbase's commitment to offering its services to a vast audience, giving more people access to the benefits of cryptocurrency trading.
Crypto.com and Coinbase: Customer Service
Crypto.com Help Center
Crypto.com's Help Center offers an extensive collection of FAQs, which you can easily navigate using the central search bar to find relevant topics. If you experience any challenges while using Crypto.com, you can contact their support team via email or live chat. To open a ticket on the Crypto.com app, click on the chat bubble in the screen's bottom-right corner.
Additionally, you can contact Crypto.com through email at [email protected]. Please note that it typically takes a few days for the Crypto.com support team to respond to inquiries.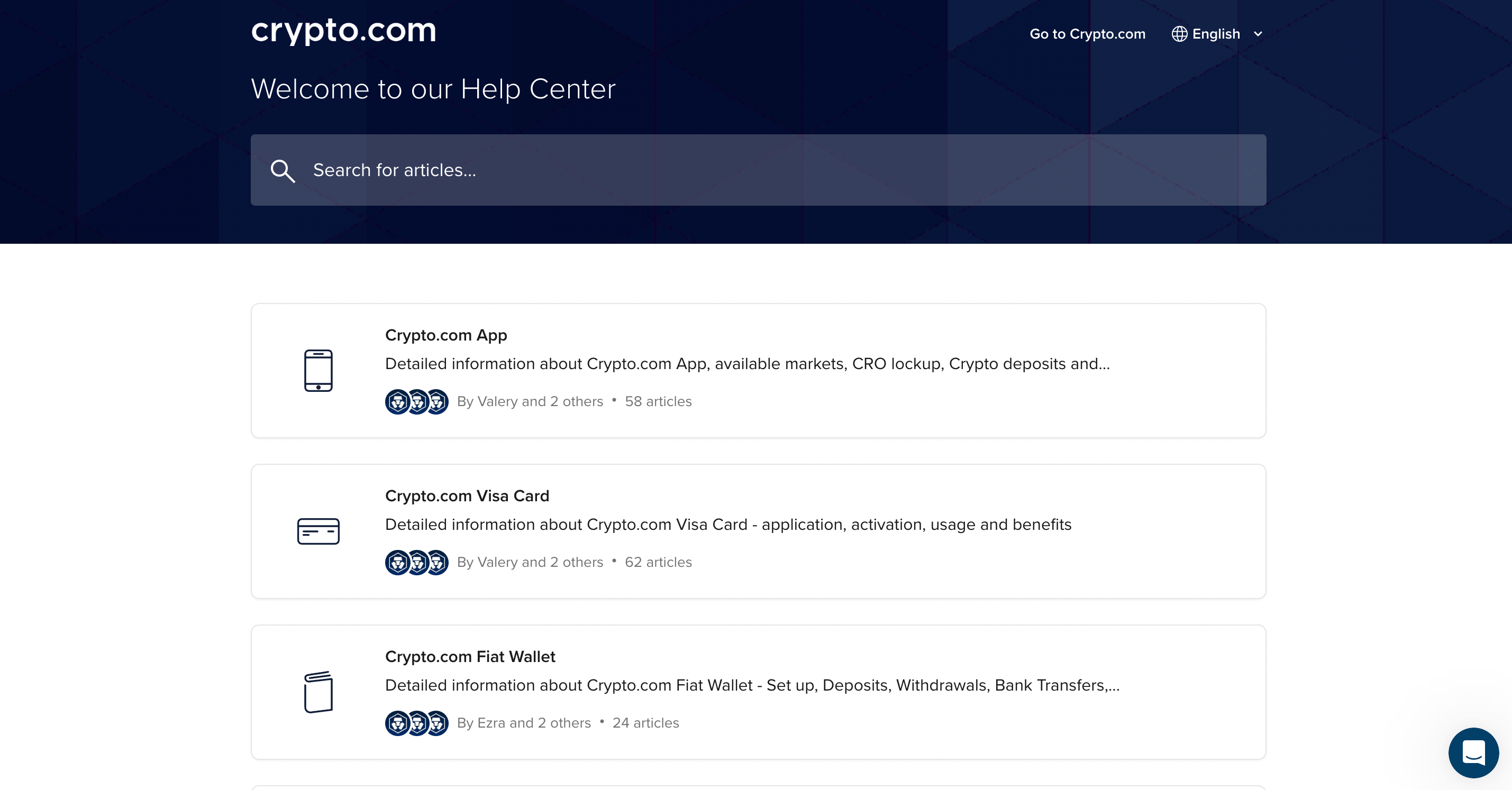 Coinbase Help Center
Coinbase provides a comprehensive Help Center with FAQs and instructions for all their services. You can submit tickets through the designated "Contact Us" button to reach their customer service team. In case you are still waiting to receive a response within a few days, you also have the option to reach out to their official Twitter account via a Tweet.
But, it's worth noting that Coinbase's phone assistance at (888) 908-7930 is exclusively available to Coinbase Card holders, partly explaining why their customer service ratings may be lower than they are.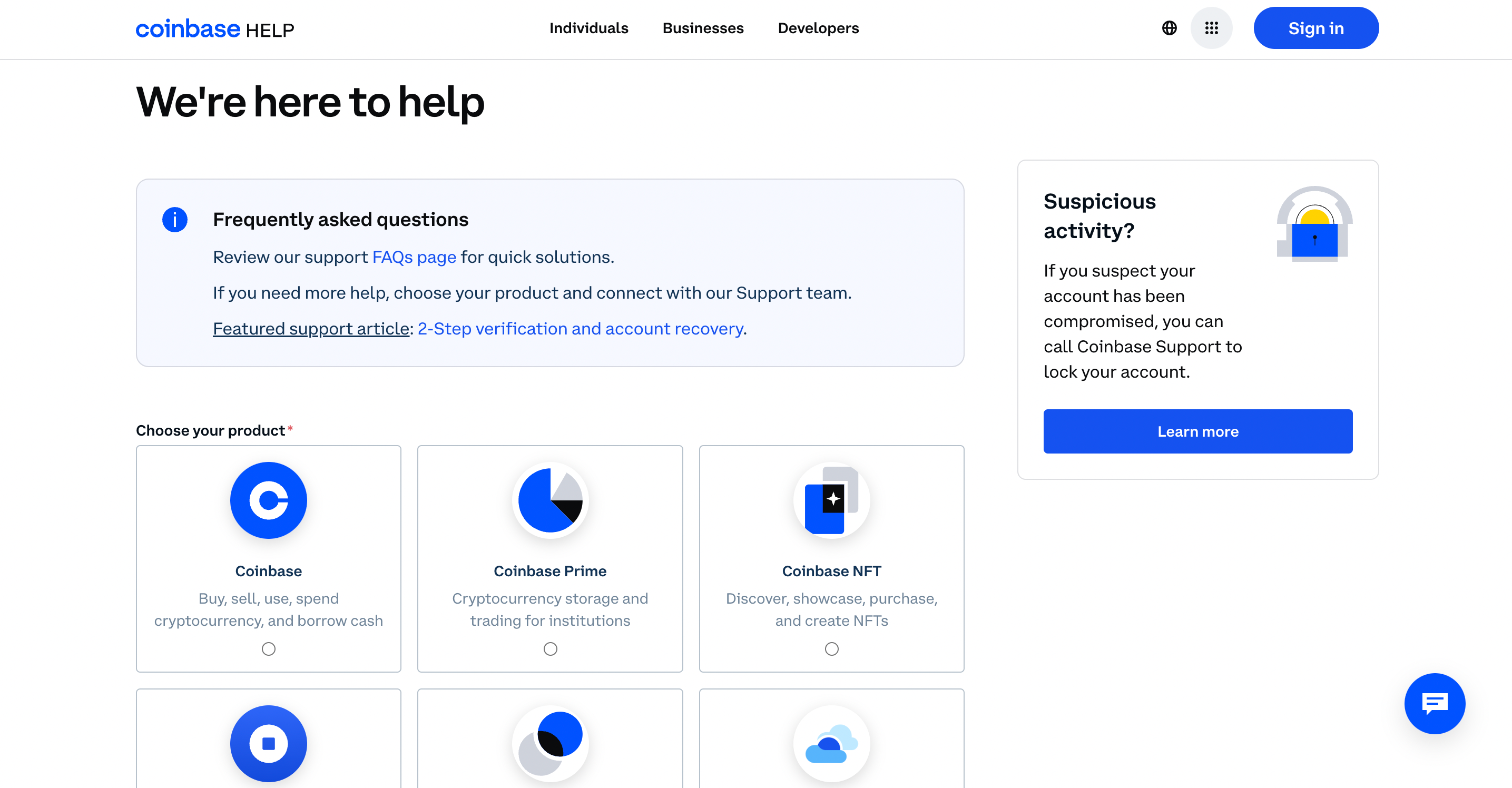 FAQ
What is Crypto.com?
Crypto.com is a Singapore-based cryptocurrency exchange platform that supports crypto deposits, trading, staking, investing, and digital wallet, among other products. It supports over 250 crypto coins while offering reasonable fees and discounts to large-volume investors or its native coin users (CRO). It is considered the best trading platform due to its transparent and competitive transaction fees. However, its trading charges discount can take time to navigate.
What is Coinbase?
Coinbase is a US-founded cryptocurrency exchange platform that allows users to buy, sell, transfer, or store popular crypto coins such as Bitcoin (BTC), Ethereum (ETH), and Solana. But unlike Crypto.com, Coinbase does not support various cryptocurrencies due to their low demand, including BCH, ETC, XRP, and XLM. It also doesn't support BNB because its separate blockchain cannot integrate with its platform.
Are Crypto.com and Coinbase Safe?
Crypto.com and Coinbase are considered safe for U.S.-based residents as they employ industry-standard or above security measures. Although Crypto.com is based in Singapore, it gives equal importance to security as Coinbase. Both reputable exchanges use bug bounty hunters to identify potential security vulnerabilities.
Who Should Use Crypto.com vs. Coinbase?
Coinbase could be a suitable option for beginners that offer intuitive interfaces accessible through a web browser and limited features that minimize confusion. On the other hand, experienced users who prioritize more advanced features and a mobile-first approach might prefer Crypto.com, accessible through a smartphone app.
Crypto.com vs Coinbase: Conclusion
Coinbase and Crypto.com have better sides, offering more than the ability to buy and sell crypto. For example, Coinbase is more beginner friendly for its many training materials, ease of use, and wide selection of tradable coins. However, experienced traders or those looking for advanced services might prefer Crypto.com.
But while Crypto.com is less user-friendly than Coinbase, it offers a broader selection of tradable coins at lower charges. It also has more features, such as a visa card allowing users to pay for typical transactions using crypto coins.
* The information in this article and the links provided are for general information purposes only and should not constitute any financial or investment advice. We advise you to do your own research or consult a professional before making financial decisions. Please acknowledge that we are not responsible for any loss caused by any information present on this website.