Crypto is still a pretty new concept, but considering the surprising growth it has seen over the past years, increasingly more users have decided to invest in various cryptocurrencies. However, crypto is volatile, and some investors, especially beginner traders, do not know how to start their crypto journey in order not to lose all their funds. After all, you start investing in crypto to gain profits, not to lose your savings, right?
However, the magic with crypto is that you can find so many ways to earn some coins or tokens, and the most popular crypto projects constantly work to develop new tools suitable for those too stressed to invest in crypto. Coinbase is one of those crypto projects, and its debit card has become pretty popular thanks to its benefits and the way it works.
In this article, we will talk about the Coinbase debit card, how and if you can get one, what are the advantages of such a product, and whether there are some alternatives on the market.
About Coinbase
Coinbase is one of the largest centralized cryptocurrency exchanges on the market at the moment. Launched in 2012 by Bran Amstrong and based in San Francisco, Coinbase is one of the top choices for users from over 100 countries. In 2022, Coinbase reached more than 108 million worldwide users, and the number is increasing with each day that passes.
As many of us know, Coinbase offers 2 main trading platforms: Coinbase Simple Trade and Coinbase Advanced Trade. While the former is designed for beginners, the latter is more suitable for those with significant crypto knowledge.
If you didn't know about Coinbase Advanced Trade, it is probably because this service was launched a little while ago. In June 2022, Coinbase announced that its advanced trading platform, Coinbase Pro, would no longer be available and would be replaced by Coinbase Advanced Trade.
However, after over 1 year, both Coinbase Pro and Coinbase Advanced Trade are available. So, it is to see when users' funds will be automatically migrated from Coinbase Pro to Coinbase Advanced Trade.
At the moment, Coinbase supports hundreds of cryptocurrencies, depending on the trading service you use. Coinbase Simple Trade supports over 240 crypto coins and tokens, while Coinbase Advanced Trade reaches more than 350 cryptocurrencies and trading pairs supported.
What Is a Coinbase Card?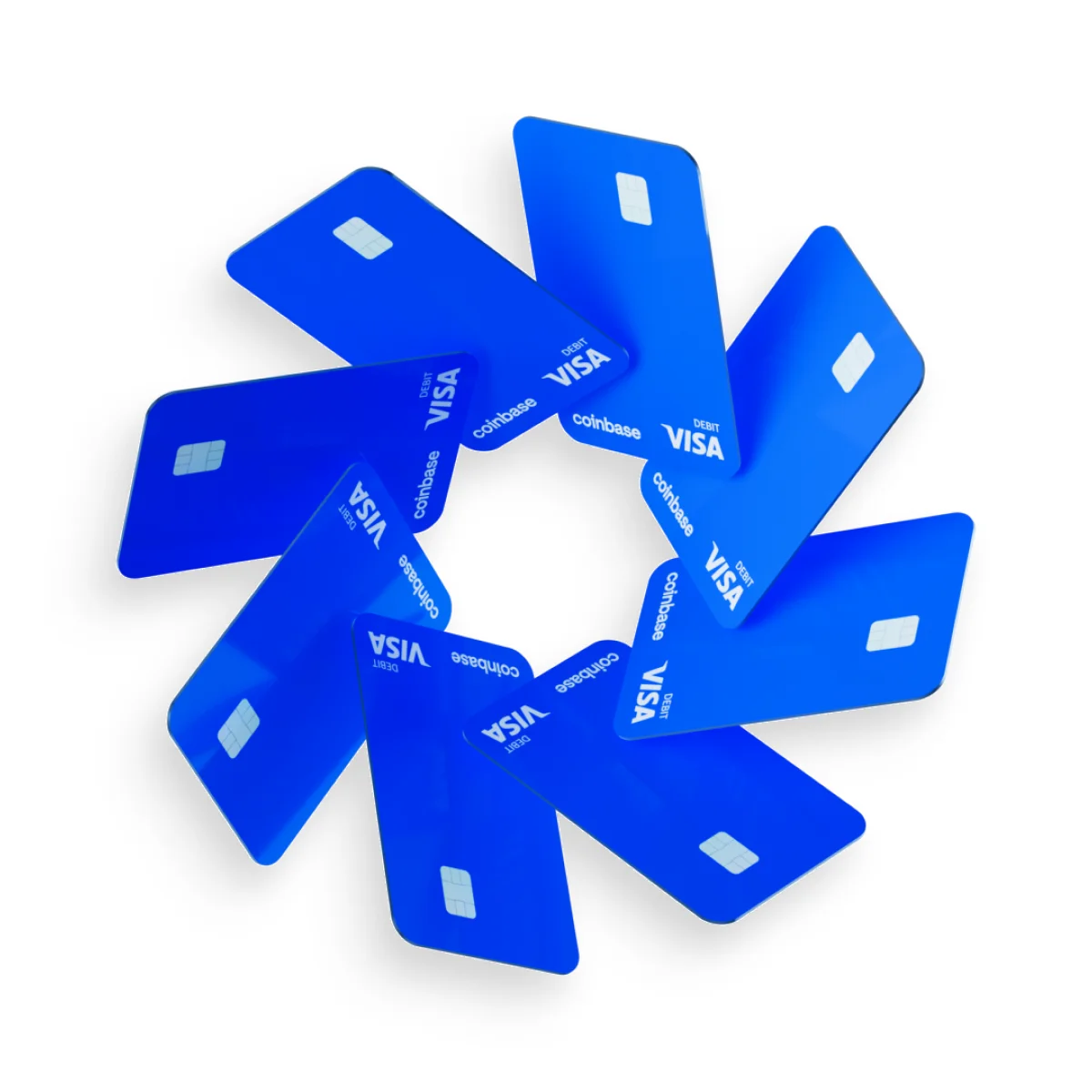 Coinbase launched its debit card in 2019, and since then, it has become one of the most popular options for those users who want to start using crypto but do not know where to start and how to use cryptocurrencies.
The Coinbase card is a Visa debit card that can hold both crypto and fiat. Basically, Coinbase users can apply for a Coinbase card and pay for various products and services with the crypto they earn and with the fiat they store in their Coinbase accounts.
Just like any other Visa card, the Coinbase card can be used anywhere Visa cards are accepted. So, if you want to go to the grocery store, order something to eat, or buy some clothes, you can pay for all of these with the Coinbase card.
At the moment, the Coinbase card is available in multiple areas, including the US, the UK, and Europe. However, you should research the areas it supports, as not all countries are included yet. Still, with the fast growth of Coinbase, it is highly possible that the company will start supporting increasingly more countries, depending on the regulations applied in each area.
How Does the Coinbase Card Work?
Basically, the Coinbase card works like any other debit card. As we mentioned before, it is like Visa debit cards, so you can use it in any location that accepts Visa cards, no matter the type of product or service you want to purchase. According to Coinbase, you can use its debit card for over 40 million merchants, so the options are so many that you cannot even name them.
But how do you actually pay with crypto when there aren't so many merchants accepting crypto payments? Moreover, few of them accept payments in multiple cryptocurrencies. And it is hard to believe that all those 40 million merchants Coinbase mentions accept crypto payments, right?
Well, it is not exactly like this. While you can pay with your crypto, the merchant that receives your funds will not get crypto coins or tokens. Instead, Coinbase automatically converts all crypto payments to US dollars. So, whenever you spend crypto with your Coinbase card, the merchant actually receives fiat.
Crypto Rewards with Coinbase Debit Card
Another intriguing feature of the Coinbase card is that users can receive crypto rewards for using it for various everyday purchases. Whenever a user pays with the card, they can receive a specific percentage of the payment as cashback. The reward depends on the crypto you use for payments, but some of the most popular include:
Bitcoin (BTC): 1.5%;
Ethereum (ETH): 1%;
USD Coin (USDC): 1;
Dai (DAI): 1%;
Amp (AMP): 2%.
As we mentioned before, the Coinbase card is a great opportunity for those just starting their crypto journey, as it does not require buying crypto in the first place. You can apply for the card and use it with fiat until you gain some crypto through cashback. With that crypto, you can actually start learning more about how crypto works.
Fees and Spending Limits
Many users prefer using the Coinbase card because it comes with many great benefits, and one of them is fee-related. For example, there is no annual fee for using the Coinbase debit card. Furthermore, there is no fee charged for paying with the card, so users can rest assured that they spend only on what they purchase.
Even though they should not worry users that much, there are some fees applied to the Coinbase card, too.
Service
Fee
Card Issuance
4.95 €/£*
Conversion
2.49%
Domestic Cash Withdrawal
Up to 200 €/£* monthly: free
Over 200 €/£* monthly: 1% per transaction
International Cash Withdrawal
Up to 200 €/£* monthly: free
Over 200 €/£* monthly: 2% per transaction
Card Replacement
4.95 €/£* (per card issued)
Intra-EEA Purchase
0.2% per transaction
International Purchase
3% per transaction
Chargeback Processing
20 €/£*
*Or currency equivalent.
Furthermore, it is extremely important to know the limits the Coinbase card has. This way, you will always be prepared to spend just as much as you can and not get in any trouble.
| | |
| --- | --- |
| Item | Limit |
| Daily Spending Limit | 10,000 £*. If needed, you can change this limit by contacting the Coinbase support team. |
| Monthly Purchase Limit | 20,000 £* |
| Yearly Purchase Limit | 100,000 £* |
| Daily ATM Withdrawal Limit | 500 £* |
How to Apply for a Coinbase Debit Card?
If you ensured that the Coinbase card is available in your area, the process of applying for one is pretty straightforward.
Step 1: Sign in or sign up on Coinbase
First, you should sign in to your Coinbase account. If you don't have one, the sign-up process is simple and quick:
Access Coinbase and click on "Get started"; 
Provide personal information (name, email address, create a password;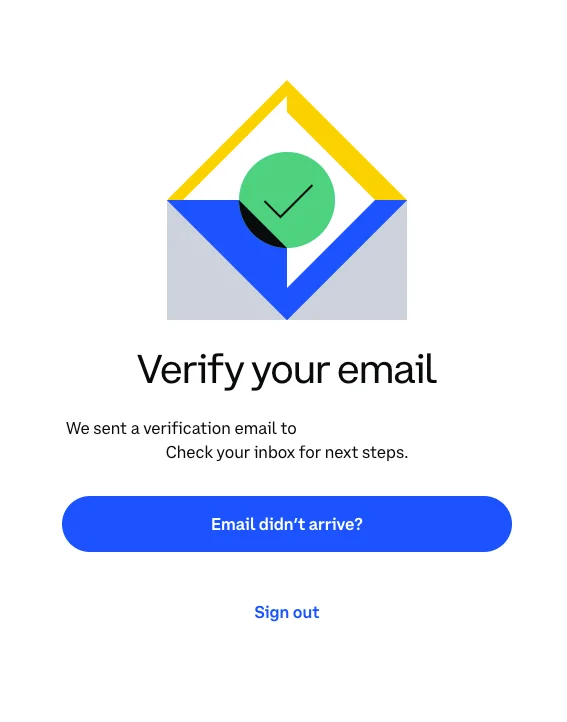 Set up 2FA (Two-Factor Authentication) by providing a valid phone number;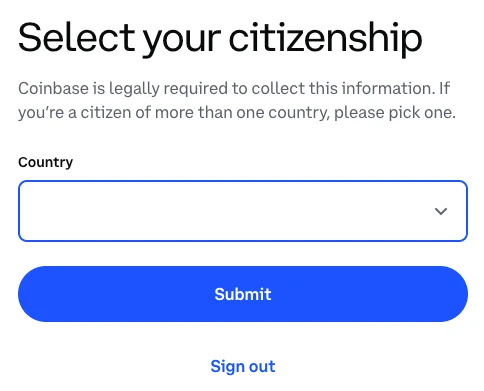 Confirm your phone number;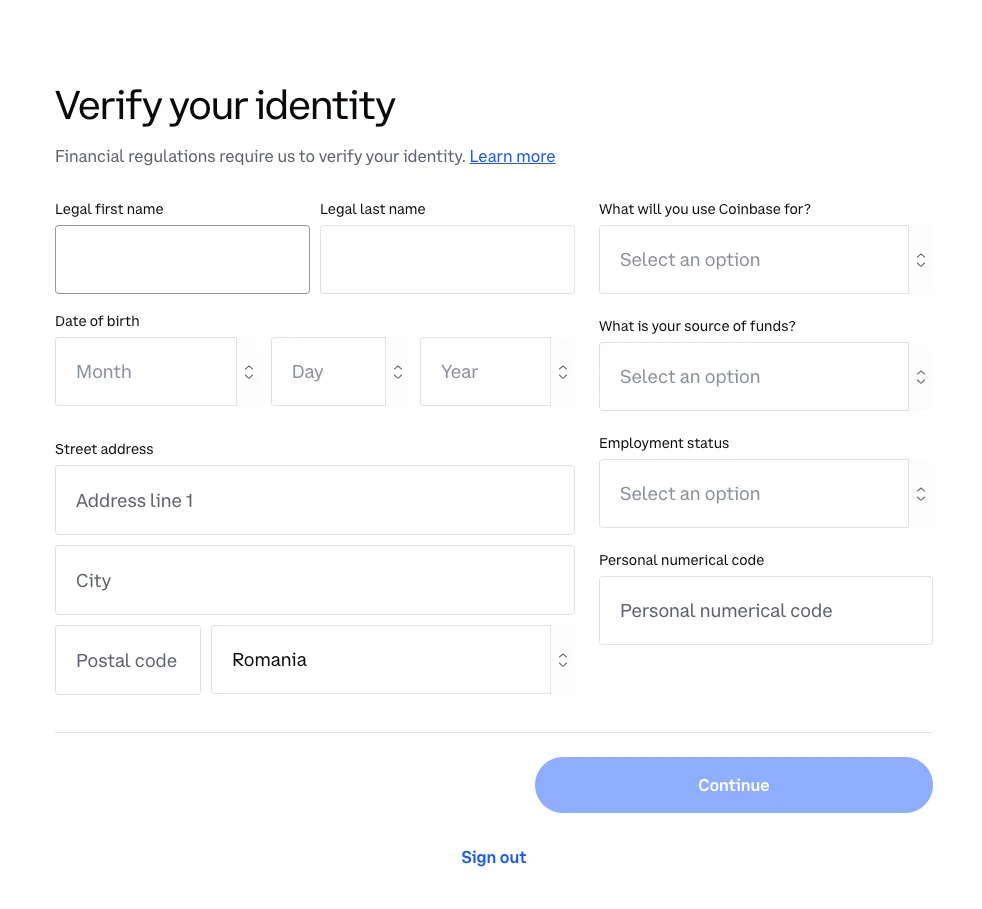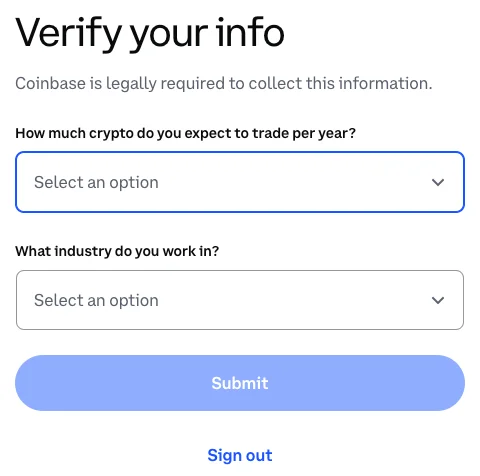 Provide a personal document for identity verification;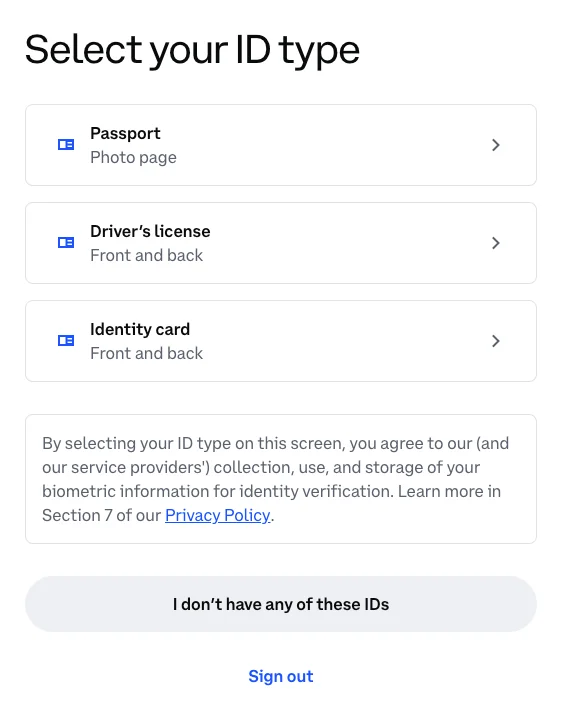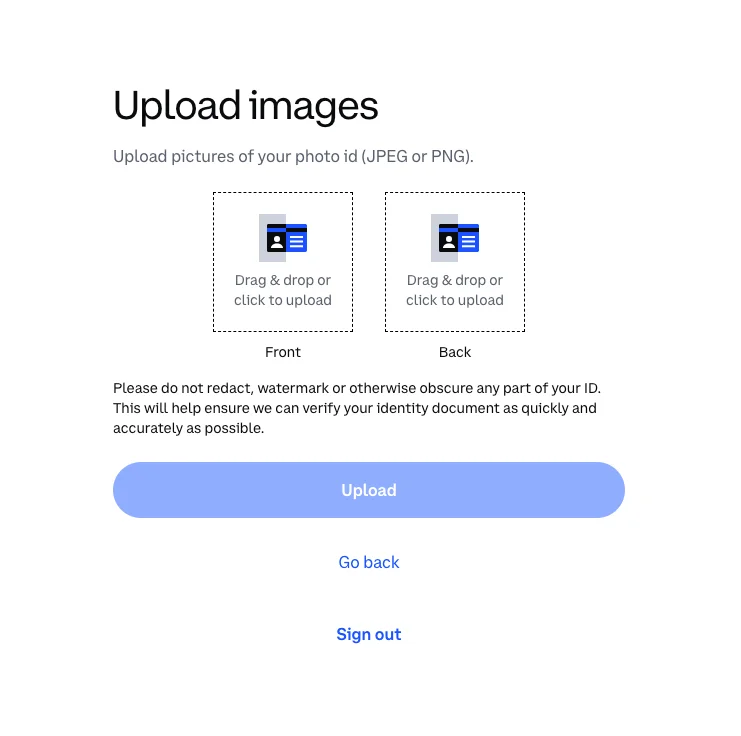 Wait for Coinbase to verify your document.
Step 2: Click on "Pay"
After you sign in or sign up, and if the Coinbase card is supported in your area, you will notice a "Pay" button on the left part of the screen. Click on it to go to the Coinbase card page.
Step 3: Find the Coinbase card app section
There, you will find the Coinbase card section, where you will be able to click on "Get started."
Step 4: Confirm your personal information
As Coinbase already has your personal information from when creating your account, you won't be required to provide it again. However, it is recommended to check it and ensure that it is accurate and up to date. Then, you can click on "Confirm."
Step 5: Confirm your address
Coinbase will ask you to confirm your mailing address again. Nobody wants their debit card to arrive at the wrong address, as this might result in the loss of some funds.
Step 6: Agree to the legal disclosures
Then, you will be required to read the legal disclosures and agree to them. This way, you will get even more extensive information about how the Coinbase card works.
Step 7: Wait for your card
After you agree to the legal disclosures, your card should be on its way in no time. Usually, it takes up to 10 days for Coinbase to deliver such a card in the US. In the UK and Europe, on the other hand, you can receive it in around 5 days.
Pros and Cons of Coinbase Debit Card
| | |
| --- | --- |
| Pros | Cons |
| It is a Visa debit card and can be used at every merchant that accepts Visa payments | There still are some fees applied in certain situations |
| There is no fee for using it | It does not offer the consumer protection of a credit card |
| Users can earn rewards by simply paying with the card | In specific situations, you may not be able to earn crypto rewards |
| Your crypto can be spent quickly and easily | |
| You can spend multiple cryptocurrencies | |
FAQ
How does the Coinbase card work?
The Coinbase card works just like any other debit card. You can use it to pay for products and services from various merchants.
When can I use the Coinbase card?
You can start using your Coinbase card immediately after you create it. First, you will be able to use the virtual version, but once you receive the physical Coinbase card, you can use it just like any other card.
Where can I pay with the Coinbase card?
You can pay with the Coinbase card at over 40 million merchants. Basically, every merchant that accepts Visa cards should also accept the Coinbase debit card.
How to get the Coinbase card?
You can get the card if you have a Coinbase account and you are in an area supported by the service. The process is simple and quick and should not take more than just a few minutes.
Final Thoughts
Coinbase is one of the most popular crypto exchanges in the industry, and millions of users decide to trade, sell, and buy crypto coins and tokens on the platform. Besides offering a user-friendly centralized exchange, Coinbase has developed many other tools and products that can improve crypto enthusiasts' trading experience.
The Coinbase card is great for those just starting their trading journey, as they don't have to buy crypto to use it. Instead, they can pay with the card and wait for the crypto rewards to come. If you want to apply for such a card, you can do that once you have a Coinbase account.
* The information in this article and the links provided are for general information purposes only and should not constitute any financial or investment advice. We advise you to do your own research or consult a professional before making financial decisions. Please acknowledge that we are not responsible for any loss caused by any information present on this website.