What is Crypto.com?
Crypto.com is probably the best crypto app that you can use. Originally called Monaco and launched in 2016, Crypto.com became a top player in the space after its 2018 rebranding.
The Crypto.com app offers many features for its users, such as:
Trade crypto assets;
DCA on your favorite cryptocurrencies;
Crypto.com Earn (where you can earn interest on your favorite cryptocurrencies);
A Visa Debit Card that can be topped up with crypto;
An NFT marketplace;
A crypto-to-fiat and fiat-to-crypto option – which allows you to withdraw fiat currency into your bank account or deposit from one;
A portfolio tracking interface;
Crypto.com pay – for payment services to your favorite merchants;
Unparalleled security – If you respect all of their requirements (2FA, Whitelisting, etc.);
A good digital wallet for daily usage;
Many more features that a crypto trader needs.
How to Contact Crypto.com's team – The Crypto.com Team Recommended Way
There are 2 ways recommended to contact Crypto.com's team: by email or using the live chat from the app. Below, we will explain them both and the steps you need to take.
But first – the one and only thing that anyone needs to understand: A Crypto.com support agent will never contact you first. If someone is doing that, it's most likely a scammer.
Contacting the Crypto.com team via email address
Contacting the customer support team is one of the easiest ways to contact Crypto.com, but it takes a while until you hear back from them. The steps are easy:
Open your email provider (Gmail, Outlook, Apple, etc.);
Write an email to [email protected] email address – This is the only official email address for user issues.
Tips: Make sure that your title describes your issue. For example, if you cannot withdraw money, your title should be something like: Issue withdrawing [Crypto/Fiat] from my Crypto.com account. This way, the person reading your title will probably know exactly to which team to send it.
It would also be a good practice to include your referral code in case the email from which you've sent the email is different from your crypto.com one.
It's recommended to explain your issue in detail to avoid the back and forth questions about your issue. Describing it from the first try will help you cut down the time needed by the agent to understand your problem and will help them solve your issue faster.
Be patient, though; being one of the fastest-growing companies, Crypto.com probably receives tens of thousands of emails daily, and filtering them takes time. It's not worth sending multiple messages as it will make the service team's job harder.
Contact Crypto.com Customer Support Team via In-App Chat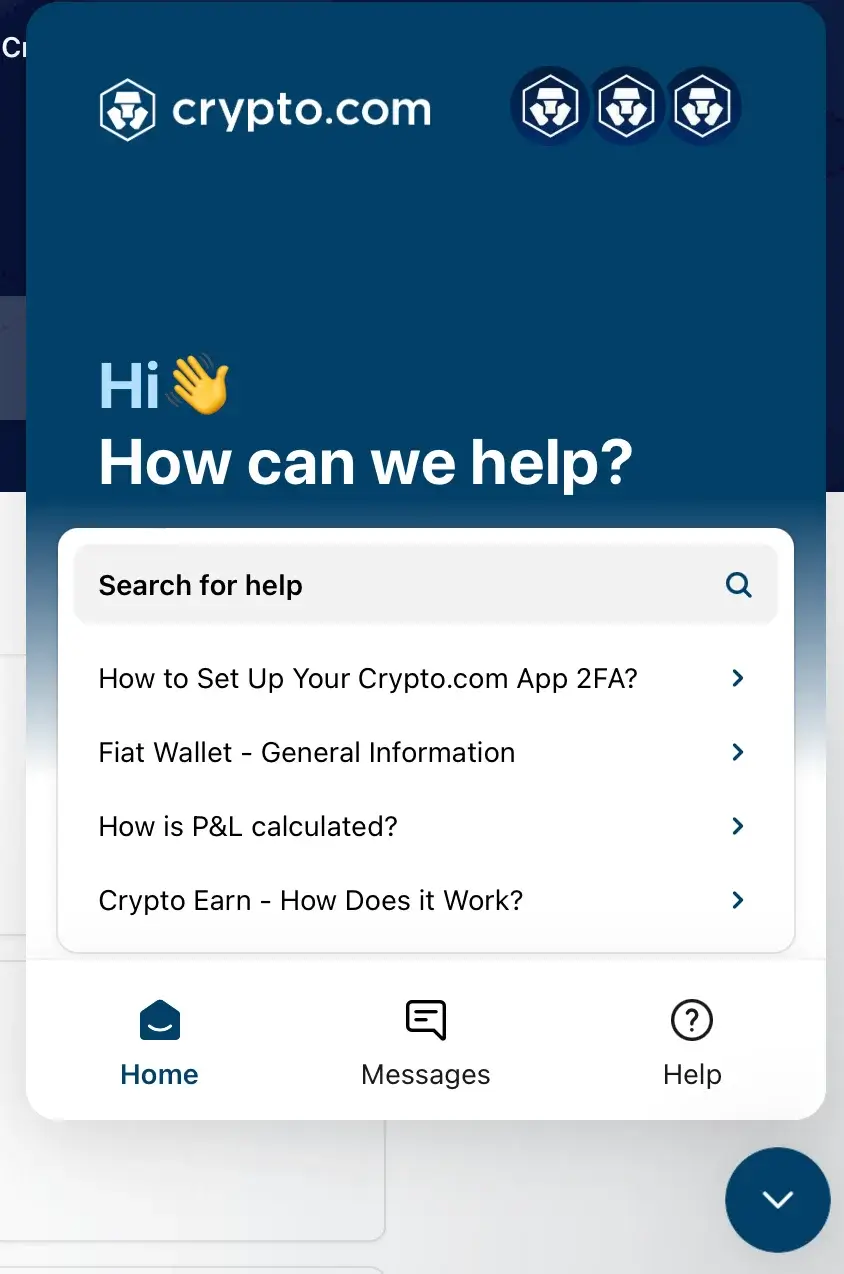 The live chat way is probably the hardest for a beginner to contact the support team. The whole process feels a bit 'robotic' and has a lot of steps, but it's worth it. But don't you worry; we'll try to explain it as well as we can below:
First, you have to access your Crypto.com app and log in;
After the interface loaded, click on the 3 dotted lines in the top left corner;
Scroll down to 'Customer Support' and tap on it;
Click on 'Send us a message';
Choose your language – For now, there are 8 languages available in the Crypto.com app;
Then, you would need to pick a topic for your issue – The list will have the following: Crypto.com app ( General one, if nothing else fits), Transactions, Security, Crypto.com Visa Card, Crypto.com Exchange, DeFi Wallet, and NFT;
Depending on what you've picked, you'll have to select a few different categories again;
At one point, you'll be offered a text with 3 options: "Thank you, that helped," "Talk to someone," or "Go back." If you need further assistance, click the "Talk to someone";
Explain your issue in detail as much as you can, and make sure you have your notifications active so you receive an answer from customer support.
The customer support team usually responds in less than 24 hours if no troubleshooting issues affect a large group of users. If there are, it might take a few business days. Meanwhile, you can read the help center, a place created for users who need help that contains many resources necessary.
Note: Once your issue is solved, the ticket will close. However, you can still view the previous conversations. Also, an email will be sent to your email inbox once a support member replies to your issue.
Also, always remember the #1 rule in crypto: Crypto.com Staff, Support, Volunteers, or Community managers will NOT message you first.
The Best 5 Ways to Contact Crypto.com Customer Service Team
Even if there are only 2 official methods to contact the Crypto.com customer support, you can try a few more tricks for a faster answer – if your issue is urgent. Otherwise, please don't try it, as there are people who need it more.
Contact Crypto.com Support Team via Reddit
Crypto.com managed to get over 189,000 subscribers to the Crypto.com Reddit page. Having such a large number of users there, it's normal that they've launched a way to explain your issue there as well.
So, the best thing to do to contact Crypto.com on their Reddit is to scroll down and search on the right side of the page for the button 'Message the mods.' Don't forget to mention the referral code of your crypto account (you can find it by opening the Crypto.com app – Click on the 3-line button on the top left side and scroll down to Refer).
The moderators from there will help you escalate your issue if that's the case. Be sure to provide them the necessary details.
Contact crypto.com Customer Service via Twitter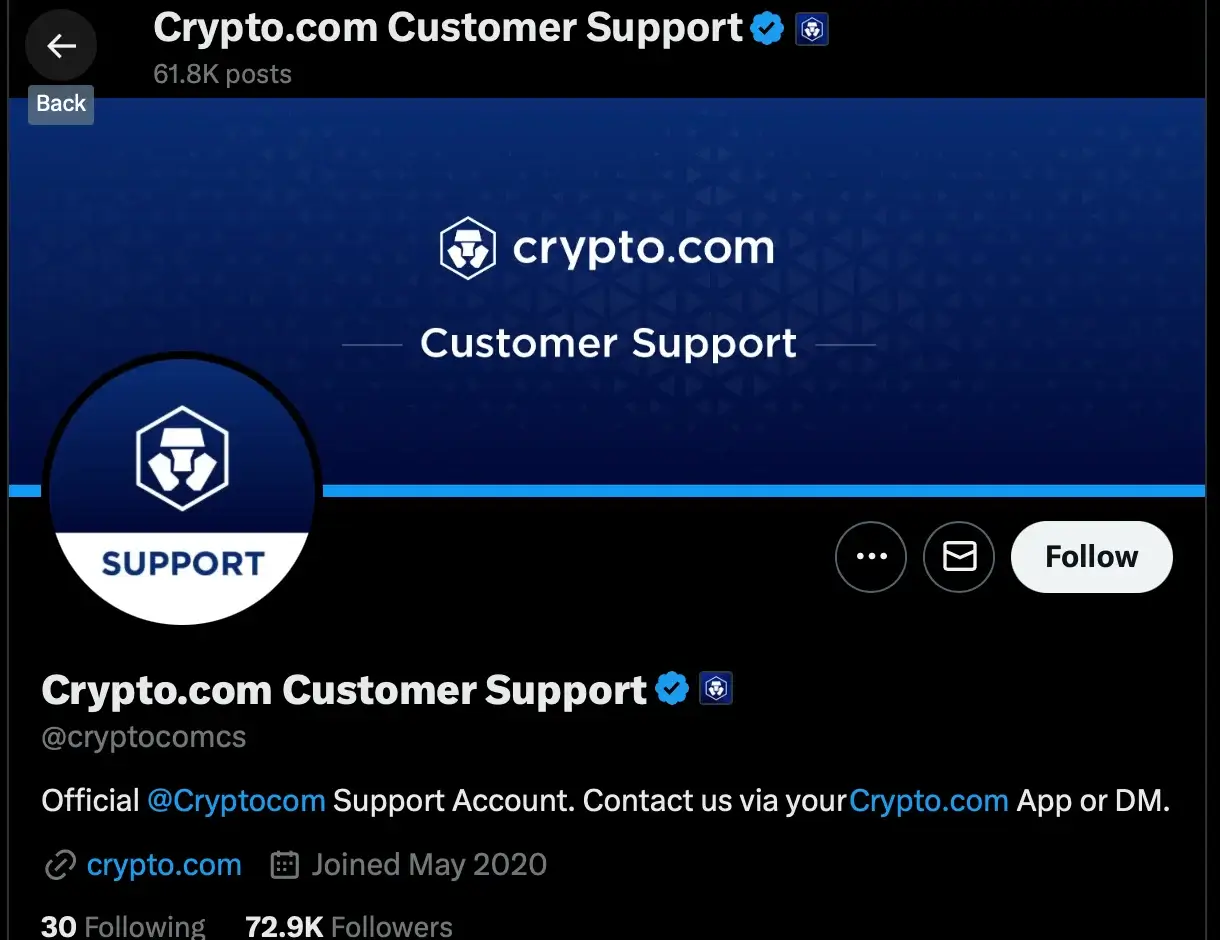 There are two ways to get in touch with the Crypto.com team on Twitter.
Tagging them in your post
Post your issue and tag Crypto.com Twitter customer support( @Cryptocomcs). Avoid sending multiple messages to them. One is enough to catch their attention.
This is one of the easiest ways to contact support, but you need to be sure that your profile is public when you tag them. You can also mention your referral code but do not share sensitive information such as your email or phone number.
Messaging Crypto.com Support directly
The second way is to message the Twitter Support of Crypto.com directly at @Cryptocomcs. To do so, go to their Twitter page, click on the message icon, and send a direct message.
Again, it's important to mention your referral code from the Crypto.com app, as that's the only non-intrusive thing that they can use to identify your account. Usually, the team responds in less than a day to a direct message.
If someone asks for your phone number, email, or password, it's most likely a scammer. Remember: Crypto.com support or admins don't contact you first at any time.
Contact Crypto.com Customer Service via Live chat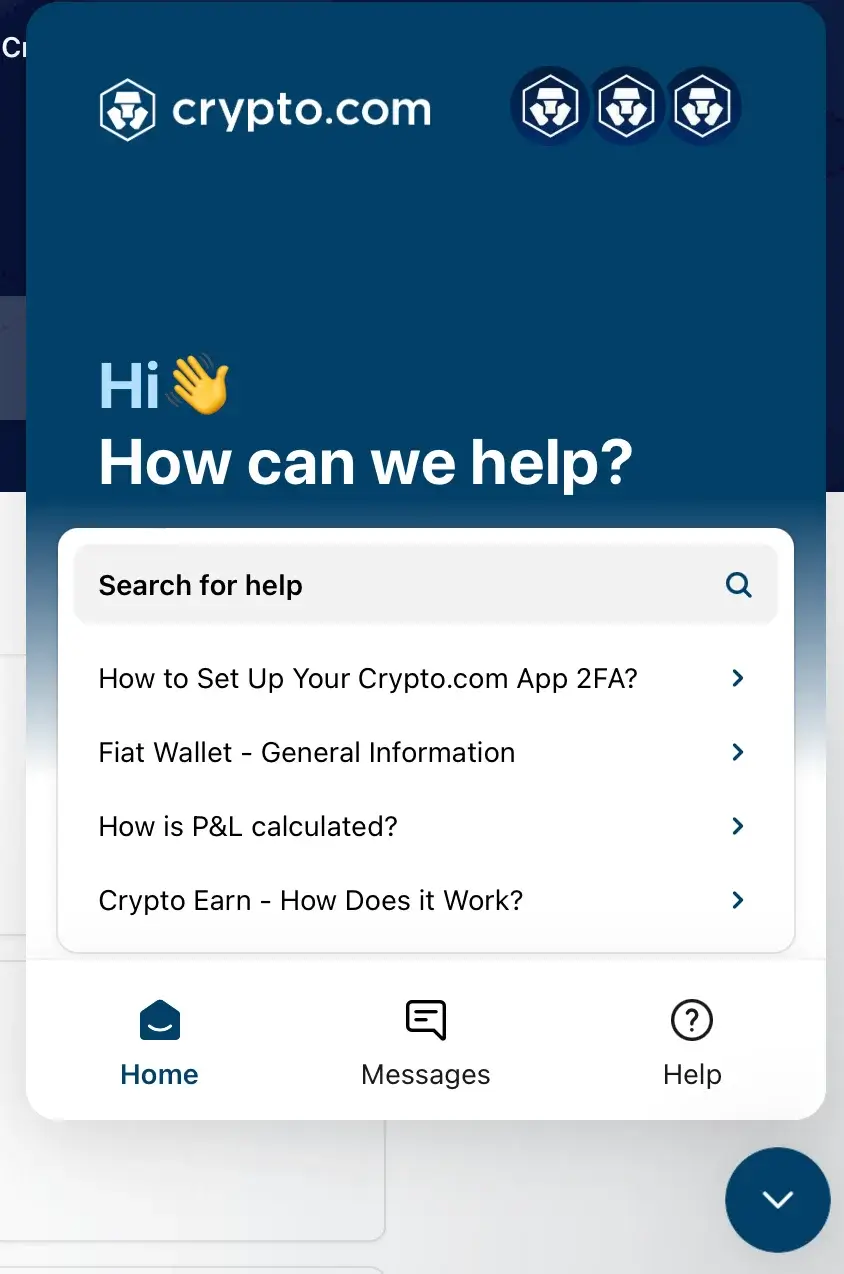 The live chat is present on Crypto.com Exchange or the customer support page ( Help Center ). It's very similar to the Crypto.com app, as it offers customer service faster than sending an email.
The live chat icon can be found on the bottom right corner of the above-mentioned pages.
Same as before, you need to go through the number of steps presented on "Contact Crypto.com Customer Service via In-App Chat" to present your issue better & be sure it reaches the relevant department.
Live chat is a good option, given that phone numbers are unavailable on Crypto.com.
Contact Crypto.com Customer Service Team via Telegram
The riskiest way to contact the Crypto.com support staff is via Telegram. Why? Because over 90% of the people who do that need to learn the #1 rule: Crypto.com Staff, Support, Volunteers, or Community managers will NOT message you first.
If you know that – it's easy peasy. But how do you contact the CS team on Telegram? Well, you can't directly.
In the past, any Telegram groups of Crypto.com had community managers – who were the main connection between Users, support & other staff members.
They also took care of the users, educating them on how to use the services, when to message the customer service team, and when not to. For any tips, tricks & detailed information, community managers were the best people to go to. Now, the torch has been passed to the Ambassadors.
Crypto.com Ambassadors
Crypto.com ambassadors are basically volunteers that are there to help you. They are not paid a dime; they just do this because they want to help other users & probably enjoy the community.
So, whenever you need someone to talk with urgently, you can enter the Crypto.com Telegram Groups and private message an ambassador from there, explaining your issue in detail, the same as you'd do with a staff agent. If your issue is simple, you'll probably be sent to the Help Center.
But if not, they have the ability to 'escalate' the issue to the Customer Service team. Note: This is only for urgent matters, not issues like "my USD bank deposit hasn't reached yet" or "my card has not arrived after 2 months of waiting".
Tips: Be nice to ambassadors. They don't get paid, so it's just a stranger trying to be nice and help you.
Contact Crypto.com Customer Service via Facebook
Some users left a few tips on Reddit and Telegram for others needing help. From those tips, we understood that contacting Crypto.com's support works faster on Facebook.
The reason might be the fact that not so many people in crypto use Facebook nowadays, and there aren't so many users messaging them there, but there are a certain number of customer agents set there to answer user complaints & help them.
We recommend you try this option only on the Crypto.com Facebook page and not any affiliated Facebook pages that might impersonate Crypto.com staff. Their official Facebook page, as well as other social media, can be found by accessing Crypto.com and scrolling down right above the footer.
FAQ About Contacting Crypto.com Customer Service
How can you contact the Crypto.Com team by email?
Here are the emails for all the related Crypto.com issues:
Can you contact the Crypto.com team on live chat?
Yes. You can contact Crypto.com on a live chat. There are 2 places where you could do so:
Crypto.com Exchange – in your crypto account, bottom left corner, on the message icon
Crypto.com Help Center – same as before, bottom left corner.
Does Crypto.com have a phone number?
There is a Crypto.com number, but it's only used to verify your card – and only in the USA. The number is +1 888-824-8817. There's no fee mentioned, so we're guessing it's a toll-free number.
Unfortunately, although they have a toll-free number for cards, Crypto.com doesn't have a phone number to offer customer support, as they do on email or the other mentioned sources. So there aren't any phone numbers except the one above – where you must speak English to the agent on the other side.
How long does it take the Crypto.com CS team to reply to you?
From what we've heard, the Crypto.com Customer Service Team is answering pretty fast right now. Depending on your issue, it can take between a few minutes and 24 hours to get a reply back.
In the bear market, it might take a few hours. But in a bull market, some people reported ten business days or more to resolve the issue. Note: To get the issue solved, not only to reply. In case that multiple departments are involved, the process can take a while.
How do I close my Crypto.com card?
If you want to close your card for good, you can message the Crypto.com Customer Service team on the previously mentioned ways (Preferably email in this case, as it's not something urgent and can wait).
However, if you lost your card and want to freeze it – You can open your Crypto.com app – Go to the Card tab and press the 'Freeze' button. You can also un-freeze it if you find it or get a replacement card.
Does Crypto.com have a good customer service?
Even if the Customer Service Team of Crypto.com is rated 2 out of 5 stars on Trust Pilot, following the steps above will most likely solve your issue.
After checking the Trust Pilot reviews, we can see that their team responded to 81% of the negative comments. Most of the negative comments might be from users who don't understand how to use the app, frustrated users who don't understand the concept of fees, or, who knows – maybe a competitor targeting them.
One thing is certain: neither I nor any of my friends had any issue that wasn't solved with the Crypto.com Customer Support Team. Even if the reviews look bad, they do offer effective customer service, and the customer support team responds in a timely manner.
* The information in this article and the links provided are for general information purposes only and should not constitute any financial or investment advice. We advise you to do your own research or consult a professional before making financial decisions. Please acknowledge that we are not responsible for any loss caused by any information present on this website.