When choosing a Litecoin wallet there a couple of questions that should be answered such as is the wallet provider known through the crypto community,
About Litecoin
Currently ranked 7th on CoinMarketCap, Litecoin has always been one of the best performing cryptocurrencies out there. Created in 2011 by one of the most prominent figures in the crypto community, Charlie Lee, Litecoin is the world's first altcoin, a crypto alternative to the mighty Bitcoin.
Litecoin is a decentralized, P2P cryptocurrency platform that's all about enabling fast, zero-fee payments to anyone from any area in the world. Considering Litecoin's development and rise over the years, as well as its mission, it might be worth investing in it for future times when cryptocurrencies will most probably have a much bigger part of the stage. That said, a wallet is the most important tool you need to have for securing and protecting your Litecoins.
When choosing a Litecoin wallet there a couple of questions that should be answered such as is the wallet provider known through the crypto community (reputation is important), does it offer good platform compatibility, does it allow you to be in complete control over your private keys, does it provide a backup and restore feature, and does it focus on security more than fancy features? If the answer to all these questions is YES, then the said wallet is worth considering.
To help you out, we've created a list of the best Litecoin wallets currently available on the market.
Atomic Wallet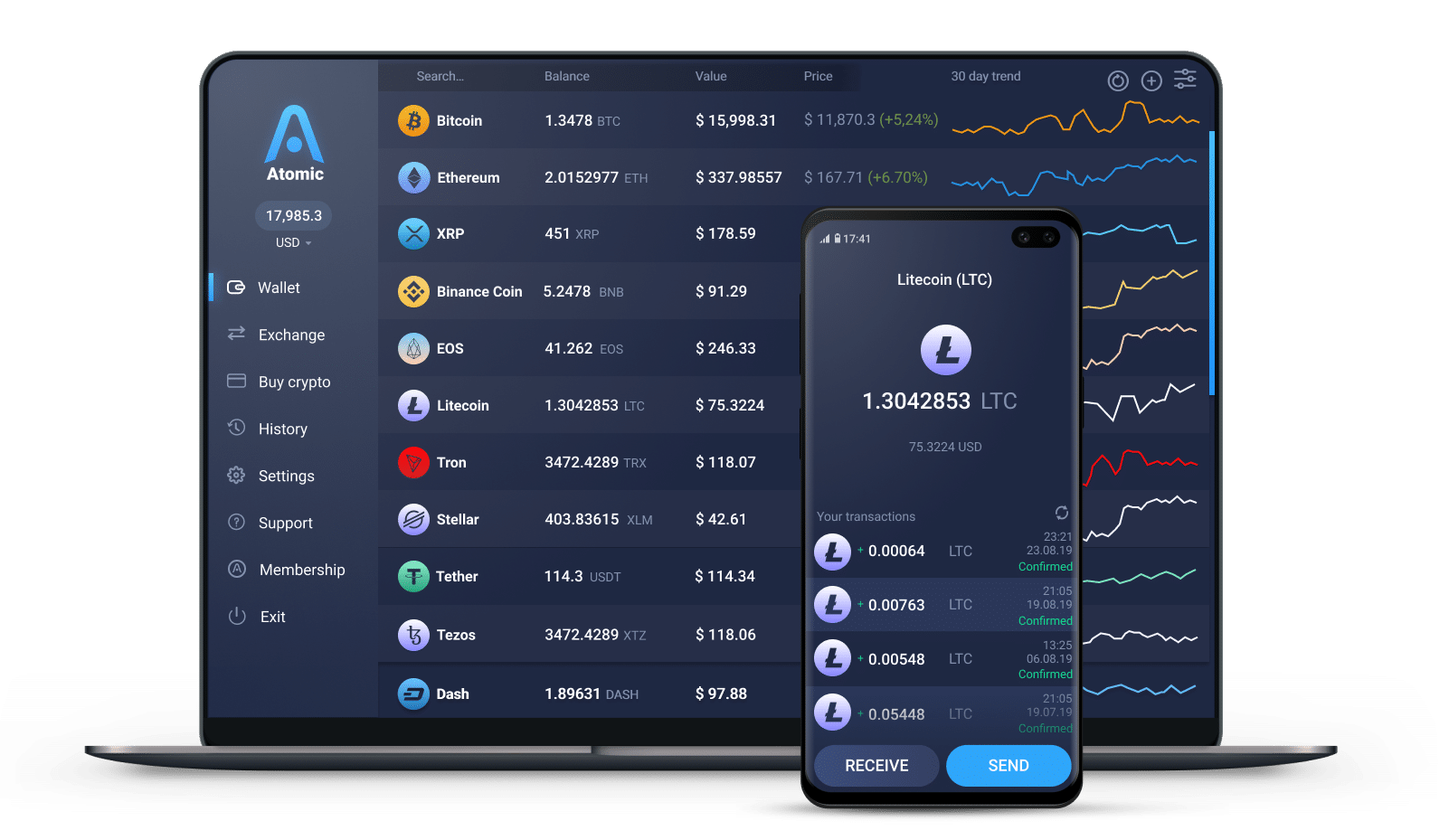 Created in 2017, Atomic Wallet was built around the principle of atomic swaps, which are instant conversions between different cryptos. The wallet is compatible with Litecoin and 300 other coins, and it can be used on both desktop and mobile devices.
Litecoin owners can perform swaps with other coins and execute purchases with USD, EUR, CAD, and other fiats via their credit cards.
System compatibility ranges from Windows, macOS, Linux, Ubuntu, Debian, and Fedora, to Android, and iOS. This allows all users, even those on the go to check their Litecoin balance or send them to other wallets.
As it is a non-custodial wallet, the data is stored only in your device protected via AES encryption, and only you can access it.
Litecoin Core
Litecoin Core is the official desktop wallet for Litecoin that supports Windows, macOS, Linux, and Android. One of the most important aspects of this wallet is the fact that it contains all the protocols and rules required to access the Litecoin blockchain. It boasts advanced security features, great stability, and a user-friendly interface. It's also open-source, free, and it automatically encrypts the files for you.
Litcoin Core can be downloaded from the dedicated section on the project's official website.
Guarda Litecoin Wallet
Guarda is a multi-crypto wallet, supporting over 40 major blockchains and over 10,000 tokens at the moment. Users are able to store, sell, and send major coins such as Bitcoin and Ethereum, as well as coins like Litecoin.
The wallet can be installed on both mobile and desktop devices, or it can be directly used from your web browser. Users are able to store or trade with Litecoin on the go from their smartphone or from their PC or laptop.
The wallet is non-custodial, thus none of your data or personal keys are kept by the wallet's company.
Guarda has also implemented multiple useful instruments for managing digital assets such as a built-in crypto exchange and a fiat payment system that allows crypto purchases with credit cards.
Electrum-LTC
Electrum Litecoin is a powerful, desktop Litecoin wallet that works on the Lightweight Litecoin Client platform. It's available for Windows, macOS, and Linux and it allows users to ensure the safety of their private keys by storing and encrypting them on your hard drive. The software wallet also offers integration with various hardware wallets, making it a good option for those who are constantly trading Litecoin but don't want to renounce the enhanced security provided by a hardware wallet.
Liteaddress
If you're looking for a paper wallet, then Liteaddress is probably one your best bets. The main benefits of this type of wallet are that it's inexpensive and that it cannot be hacked (however, being a paper wallet, it does mean it can be easily misplaced or lost). It's the cheapest and most secure alternative to hardware wallets. All you have to do to get started is to visit the liteaddress.org website and create a pair of private and public keys. The keys should be kept on a paper and stored in a secure, offline environment.
Ledger Nano S
When it comes to secure wallets, they don't get much better than hardware wallets. Ledger Nano S is one of the most popular hardware wallets which allow you to keep your private keys extremely safe.
Currently, Ledger Nano S comes with support for over 712 crypto coins and tokens, making it a very good choice for users looking to store Litecoin as well as other types of crypto. It's easy to configure, and it can be used even without a computer or laptop nearby as its small OLED screen, and two buttons are enough to help you confirm transactions. It's built around a secure chip and boasts support for security features such as backup (24-digit) seed key and pin code.
Trezor
Developed by a renowned company that goes by the name of SatoshiLabs, Trezor is one of Ledger Nano S' biggest competitors. It's the oldest "player" in the crypto hardware wallet industry and boasts one of the best reputations. Just like its main competitor, it also comes with support for over 700 cryptocurrencies, an intuitive user interface and various advanced security features such as Firmware verification, ultrasound hardware seal, protected key options, and additional passphrase support.
Trezor also has a very compact design, making it a very practical piece of kit. It has a small OLED screen and two buttons, and it can be operated with ease even by the most inexperienced users. Trezor is a very good choice for anyone looking to store Litecoin as well as for multi-currency lovers.
Exodus Litecoin Wallet
Exodus is a multi-currency desktop wallet that's made a name for itself. Not only is Exodus one of the most stylish and premium-looking desktop wallets, but it also comes with support for a wide array of cryptocurrencies (over 100), including Litecoin, and for the most popular desktop platforms such as Windows, macOS, and Linux.
One of Exodus' main advantages is represented by the fact that it boasts ShapeShift integration, making it very convenient for passionate traders.
Jaxx Litecoin Wallet
Jaxx is one of the most versatile wallets out there. It's a well-renowned multi-currency wallet that can be installed on both desktop and mobile devices. It supports a wide array of cryptocurrencies, Litecoin included, and it's a very good option for users looking to trade on a daily basis or on the go.
Since it features integration with ShapeShift, it's also very convenient for users looking to quickly exchange cryptocurrencies. It has one of the best user interfaces, and it allows you to control your private keys by importing and exporting them whenever required. Jaxx is available for iOS, Android, Windows, MacOs, Linux, and it's also available as Chrome and Firefox extensions.
We hope this article was useful to you! Keep trading safely!
* The information in this article and the links provided are for general information purposes only and should not constitute any financial or investment advice. We advise you to do your own research or consult a professional before making financial decisions. Please acknowledge that we are not responsible for any loss caused by any information present on this website.