Crypto has come a long way. First, there was Bitcoin, and somebody decided to use it to buy pizza. Then, DogeCoin and the never-ending posts about the first meme coin launched. These days, there are almost 23,000 cryptocurrencies on the market, a whole lot of technology updates behind them, and nearly half a billion crypto users worldwide.
From fiat to crypto, offline to digital, and Web2 to Web3, first, it is essential to understand Web 3.0. How it will change the internet, and as you may have heard, several Web3 companies are making their way in various industries. But what is Web3, and how do Web3 companies interfere with crypto investing? Well, let's find out.
What Is Web3?
Web3 is believed to be a new and better version of the internet, considered one of the most essential parts of the internet. Because it uses blockchain technology and is a series of open-source, interconnected decentralized applications, you could address Web3 as the decentralized internet that gives users the power of ownership through crypto and non-fungible tokens.
Various Forms of the World Wide Web
Web1 represents the first internet bubble, roughly from 1990 to 2004, where the internet consisted of static pages to be read and surfed, kind of like a traditional magazine but on a global distribution network for anyone to access.
Web2 is the next step on the ladder we are all used to, and it represents a shift from a read-only internet towards a decentralized web. But we are not there yet, and now, Web2 allows us to interact with web pages. The internet is not only to be read but interacted with based on users' preferences; remember all the pop-ups and the cookies information?
Web2 consists of user-generated content on platforms such as Facebook Meta, Google, YouTube, and many more, where users can interact with each other by liking and commenting on the available content. As nothing is as easy as it seems, big tech companies have made a custom browsing experience available to billions of users, thus raising concerns over centralization and data privacy.
But here's the thing, Web3, with all of its implications, has the potential to change this towards a more data-secure and private internet, where users still enjoy Web2 features but comprise concepts of decentralization, openness, and more excellent user utility. The pioneer of early internet development, Berners-Lee, addresses Web3 as the Semantic Web, which aimed to introduce structure to the meaningful content on webpages and empower software to execute complex user tasks.
What Defines Web 3.0?
To better understand the "Why," it is essential to look at the key features and what defines Web3:
1. Web3 is Decentralized
The Web3 data and information will be stored in multiple locations simultaneously, including phones, desktops, vehicles, and many more, thus ensuring that users retain ownership control.
2. Web3 is Trustless and Permissionless
Web 3.0 will allow parties to interact instantly without going through a trusted intermediary, meaning anyone can partake without authorization from a governing body, storing digital assets within the blockchain infrastructure.
3. Web3 uses Artificial Intelligence and Machine Learning
In Web 3.0, computers will use data and algorithms to imitate how humans learn, gradually improving accuracy, thus producing more relevant results and new materials instead of merely targeted advertising that forms the bulk of current efforts by the world's leading companies.
What Are Web3 Companies?
Web3 companies use the blockchain ecosystem and blockchain protocols to transform the internet to users' benefit, in our case, to facilitate crypto investing, to purchase digital assets or digital currencies, offering creative freedom. The main features of Web3 companies include offering users ownership over their data and enabling them to share data in a peer-to-peer manner and monetize their content.
Why Do We Need Web3 Companies?
Web3 companies provide high levels of privacy and security. They usually achieve that by storing data across multiple servers spread all over the world, thus making Web3 companies more reliable and trustworthy.
Furthermore, dApps or reliable decentralized applications are based on a cooperative governance architecture, where a community makes decisions for new token holders in the open and are publicly documented on a blockchain. Web3 eliminates many of the Web2 issues that derive from its centralization, offering custom software development services, NFT creative services, and many decentralized finance opportunities.
Top Web3 Companies Revolutionizing Crypto
Thousands of Web3 projects are being developed, but some have remarkable results and offer valuable features while revolutionizing the industry. Here are a few instances of Web3 applications:
Polygon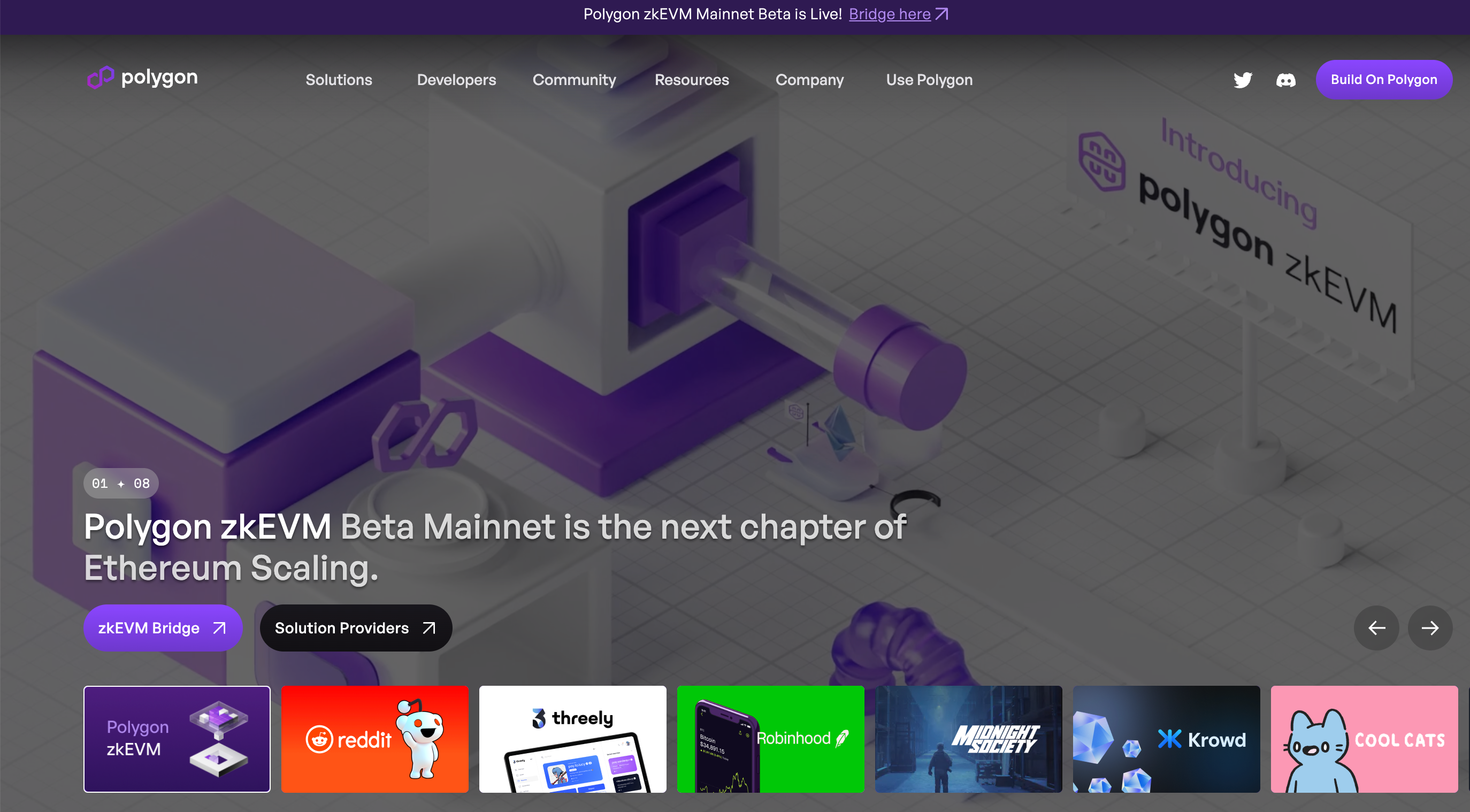 Polygon is a decentralized Ethereum scaling platform that enables developers to build scalable, user-friendly, affordable dApps without compromising security. Despite interacting with the Ethereum blockchain infrastructure, Polygon is not a layer 2 protocol. Instead, it helps improve transaction speeds and lower costs for developers.
Polygon, formerly recognized as Matic Network, was established in 2017 and has gained considerable popularity as a cryptocurrency, consistently ranking among the top 15 cryptocurrencies in market capitalization. The MATIC token facilitates over 7,000 decentralized applications (dApps), which operate without intermediaries.
BitGo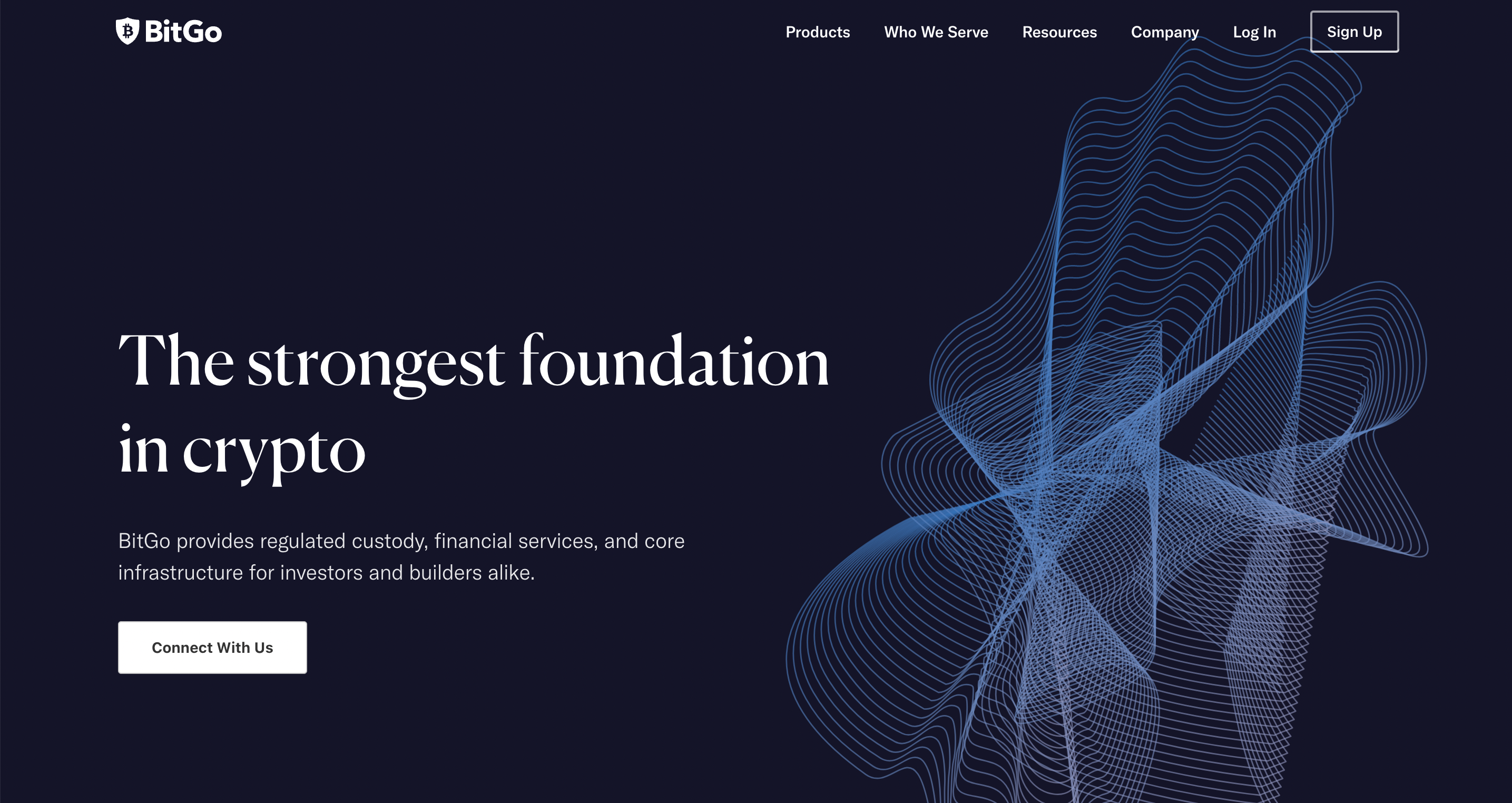 BitGo is a California-based company focused on offering digital assets and financial services, and it also provides institutional investors and crypto platforms with liquidity, custody, and security.
In 2018, it was launched BitGo Trust Company, the first qualified custodian purpose-built for storing digital assets. BitGo's customer base includes the world's largest cryptocurrency exchanges and spans over 50 countries, including qualified custodial entities in Switzerland and Germany. Also, BitGo processes over 20% of all global Bitcoin transactions and supports over 250 coins and tokens.
BitGo was acquired by Galaxy Digital for $1.2 billion in May 2021. Before the acquisition, BitGo had raised $69.5 million in funding over seven rounds, backed by Goldman Sachs, Craft Ventures, Digital Currency Group, DRW, Galaxy Digital Ventures, Redpoint Ventures, and Valor Equity Partners.
Trust Wallet – Top Web3 Wallet Company for Digital Assets
Founded in November 2017 by Viktor Radchenko, Trust Wallet is a non-custodial software wallet supporting almost half a billion digital assets, including BTC and ETH, 2 of the most popular cryptocurrencies. Trust Wallet offers users complete control over their crypto investment while allowing crypto-specific services such as exchanging, sending, receiving, and holding cryptocurrencies and NFTs (Non-Fungible Tokens).
Over 25 million crypto enthusiasts use Trust Wallet, available on Android and iOS as a browser extension. It also offers users the opportunity to stake 12 cryptocurrencies, including BNB (Binance Coin), XTZ (Tezos), VET (VeChain), TRX (TRON), and ATOM (Cosmos). The software wallet also offers a DEX (Decentralized Exchange), and considering this, it is fair to say that Trust Wallet delivers an all-in-one experience for crypto investors.
Besides, considering that it is a hot wallet, Trust Wallet delivers high levels of privacy and anonymity. The platform will never require users to complete the KYC (Know Your Customer) procedure when registering.
Brave – Top Web3 Browser Company
Brave Browser was launched on January 20, 2016, by the tech company Brave Software. Though it is one of the newest browsers, Brave already has over 20 million daily active users and does offer a safe and secure online experience. Cofounded by the creator of JavaScript, Brendan Eich, Brave Browser is leveraging Chromium.
Brave Browser is available on various operating systems, such as Windows, macOS, Android, iOS, and Linux. Its primary focus is on security while also aiming to offer high-speed levels. Brave Browser automatically blocks ads and trackers, thus achieving the high speed it is famous for.
Kepler – Top Decentralized Web3 Digital Identity Company
Kepler is a self-sovereign storage Web3 company that allows users to decide where to store personal data and to whom they want to offer access. The personal data vaults are called Orbits. An Orbit can be represented by a smart contract that can only be controlled with the user's private keys. The user's interactions with Kepler are managed through their Web3 wallets.
Uniswap – Top Decentralized Web3 Exchange
Launched in 2018, Uniswap is a fully decentralized crypto exchange built on top of the Ethereum blockchain, which makes Uniswap compatible with all ERC-20 tokens, besides other popular cryptocurrencies built on blockchains such as Polygon, Optimism, and Arbitrum. Uniswap will also integrate BNB Chain shortly.
Being fully decentralized, Uniswap is not owned or controlled by a centralized entity. Instead, the ownership spreads across various servers. Besides, Uniswap is open source, meaning that anyone can copy the code to create other similar projects.
Etherisc – Top Web3 Insurance Company
Etherisc is among the Web3 companies that focus on safety, providing a platform for decentralized insurance applications. It was built on the Ethereum blockchain and launched in December 2016.
The primary purposes of Etherisc are to provide on-chain insurance, offer users lower insurance costs and democratize access to reinsurance. The platform uses smart contracts to automate insurance processing and transactions. Besides, Etherisc allows users to develop insurance applications to increase the efficiency of insurance purchases and sales.
AAVE – Top Web3 Lending Company based on Smart Contracts
AAVE is a Web3 company that has developed a decentralized crypto platform allowing users to borrow and lend crypto assets. Using smart contracts, AAVE works with preset rules regarding funds distribution, collateral handling, and fees.
AAVE was launched in January 2017 by a Finnish programmer called Stani Kulechov. The company specializes in overcollateralized loans; thus, those who borrow crypto must deposit several digital assets worth more than they will take.
Lido Finance – Prominent Web3 Staking Company
Lido Finance is a DeFi (Decentralized Finance) platform launched in late 2020. The platform allows users to stake tokens, including Ethereum, Solana, and Polygon.
Users who stake on Lido Finance are rewarded with stETH (staked ETH), tokens that can be used in various activities, such as liquidity provision, borrowing, lending, and trading.
The main focus of Lido Finance is to make staking more accessible to a broader audience, no matter the users' technical knowledge and funds. The platform achieves that through lower fees and reduced requirements.
Decentraland – Top Cap Metaverse Web3 Company
Launched in February 2020, Decentraland is a game developed in 3D that was built on the Ethereum blockchain. Decentraland aims to offer crypto users a virtual world empowered by virtual reality and augmented reality, also called an open-world metaverse.
In the Decentraland universe, users can be part of a shared digital experience where they can play, exchange various collectibles, socialize, interact, and buy digital real estate or wearables.
Arpeggi Labs – Top Web3 Music Platform
Arpeggi Labs has revolutionized music production with its Web3 music platform built on the ARP protocol. Arpeggi allows musicians and music producers to share their music for reuse while being assured that their sounds will be attributed to them whenever they are used.
Furthermore, Arpeggi Labs offers Arpeggi Studio, a platform where musicians can quickly produce music and get ownership in the form of NFTs. Every created sound is published as an on-chain record which other producers can use for their songs.
OpenSea – Top Used Web3 NFT Marketplace
OpenSea is an NFT (Non-Fungible Token) marketplace launched in 2017 as a non-custodial platform. OpenSea is among the largest crypto collectibles platforms ever created, with millions of active users and hundreds of millions of visits monthly.
OpenSea allows users to look for NFT collections of all sorts, from collectibles created by beginner artists to popular NFTs created by some of the most renowned NFT creators.
Axie Infinity – Top Web3 Play-to-Earn Game
Axie Infinity is a P2E (Play-to-Earn) game launched in March 2018 by Sky Mavis. The Axie Infinity universe focuses on Axies, some creatures similar to Pokémon characters.
Axie Infinity players can raise and prepare their Axies (also stored as NFTs) to take part in various battles and championships, thus being able to win two types of tokens: AXS (Axie Infinity Shards) and SLP (Smooth Love Potion). AXS and SLP are ERC-20 tokens and can be used for in-game activities and updates and traded on DEXs (Decentralized Exchanges).
Stacked – Top Web3 Video Streaming Platform
Launched in 2021, Stacked is among the Web3 companies offering live-streaming platforms. The STKD token governs the venue programmatically provided for creators as a reward for their content, thus redefining ownership over live-streaming content.
Stacked has a creator-first focus, constantly developing new features to help video content creators have a better user experience and feel incentivized to deliver more high-quality content.
Niche – Top Web3 Decentralized Social Media Platform
Niche is a fully decentralized social media platform that aims to build an incentivized community around its product. Moreover, Niche was developed to allow content creators to build communities around their content. Niche enables users to get into groups called "Clubs"; each club a user joins will be rewarded with an NFT.
Niche was created with the primary purpose of helping independent artists and small businesses grow their audiences on a new and innovative platform.
Paragraph– Top Web3 Publishing Platform
Paragraph is among the Web3 companies that focus on content creation and publishing. And to do that, Paragraph has launched a publishing platform focusing on Web3 writers, DAOs (Decentralized Autonomous Organizations), and NFT communities. The primary purpose of Paragraph is to help such creators monetize their content through an all-in-one newsletter service.
Gitcoin – Top Web3 Fundraising Company
Gitcoin is a platform built for coders and developers. On Gitcoin, they can get paid to work on open-source software in various programming languages.
Gitcoin was launched in 2017, and since then, it has focused on helping worldwide programmers by allowing them to monetize their codes on the platform.
FAQ
What is Web3?
Web3 is a version of the internet that will be fully decentralized, relies on crypto and blockchain technology, and is not owned by any centralized entity.
How Do Web3 Companies Make Money?
There are several ways in which Web3 companies can make money, such as organizing fundraising events, providing services for their users and tokenizing their business, or tokenizing data collected from users while offering free services.
Can You Invest in Web3?
Yes, you can invest in Web3 and Web3 companies. You can invest in Web3 by purchasing crypto from Web3 companies, investing in Web3 company stocks, or using services provided by Web3 companies.
Does Web3 Have Stocks?
Yes, some Web3 companies have stocks listed on the traditional stock market.
What Are the Best Web3 Stocks to Watch?
Some of the best Web3 Stocks to keep an eye on are considered to be Coinbase, NVIDIA, Meta Platforms, Apple, and Unity Software.
Top Web3 Companies: Final Thoughts
Web3 is most certainly revolutionizing the online space, and while some users still try to understand the concept, Web3 companies keep launching and evolving.
Thousands of Web3 companies are on the market, spread across every industry. From Web3 companies specializing in crypto wallets, staking, and crypto landing, we can go to businesses that offer live-streaming platforms, fully decentralized social media platforms, or music production tools.
While discovering the power and magic of Web3, remember to thoroughly research the companies you choose to invest in and the platforms you use in your daily crypto activities.
* The information in this article and the links provided are for general information purposes only and should not constitute any financial or investment advice. We advise you to do your own research or consult a professional before making financial decisions. Please acknowledge that we are not responsible for any loss caused by any information present on this website.