Non-fungible tokens seem to have made quite a buzz in the crypto market and not only. If you go anywhere and ask someone what an NFT is, they will at least mention "crypto," "art," "blockchain," or "monkey." And experiencing such a growth in popularity over the past years, NFTs could not skip being subject to memes. This happened because NFT memes combine 2 of the most popular topics discussed these days and can be a significant part of keeping a crypto community close.  
Thus, we have prepared a list of funny NFT memes that will most likely make you laugh and relate to the industry and the current status quo.
Top 19 Best NFT Memes
Explaining NFTs at a Holiday Dinner
Some people may not understand the concept of NFTs. But they will. And if you don't make them understand, this guy will most probably will.
Explaining NFTs to Your Family
Simply put, NFTs are those extremely precious items you buy. They become your precious, but you will never be able to hold them. But always remember, they are your precious, and everyone online will know they are.
You Got to Leave Something Behind
These days, some kids are left a fortune as heritage. Other parents, however, have found a new way of leaving something behind: NFTs. How much do you think NFTs will be worth 50 years from now?
Everyone Should Learn about NFTs
Every night out is a new opportunity to talk about NFTs. And while you may be informed about this topic, but your friends might not know anything about it. Still, they should, and you will make sure they do.
Screenshotting NFTs?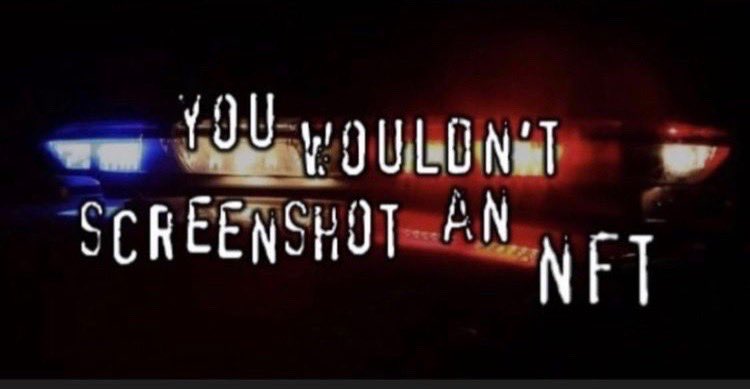 If you recall this NFT meme, it means you were here before NFTs were even popular. Inspired by a campaign about video piracy, this meme is still among the best NFT memes ever created. 
So, keep in mind not to screenshot NFTs. We are sure you know better than that.
Right Click. Save Image As.
Right Click>Save Image As is the combination NFT creators fear the most. Thus, if you want to annoy an NFT creator, you only need 2 clicks.
What Is it Like to Invest in NFTs?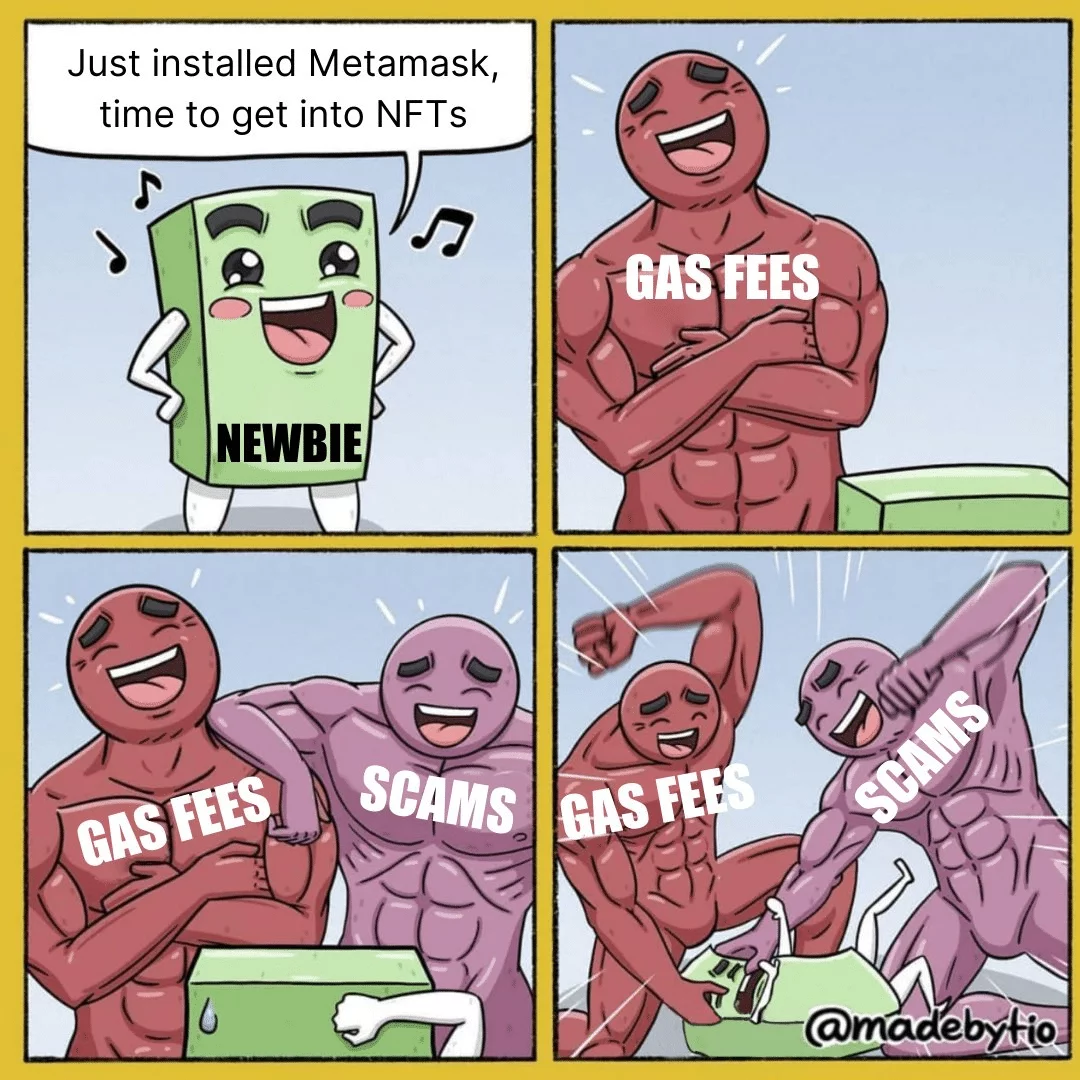 Every NFT newcomer spreads high levels of optimism among other users. And it is no wonder why. Crypto and NFTs are a new and profitable way of investing. Nevertheless, always consider gas fees and scams. Otherwise, they might consider you.
Biggest Mistake to Be Made
There are plenty of pains you can experience. Still, having a whitelist spot and forgetting to mint is the pain nobody should ever feel.
Our Parents vs Us
The "My parents at X age" meme is viral these days. But when it comes to NFT memes, it seems this meme took an even funnier turn. And if you still do not own a digital salmon, monkey, or any other type of NFT available on the market, you should ask yourself how mature you actually are.
NFTs Should Cover It
These days, we can pay for pizza with crypto. Let's not forget that Laszlo Hanyecz paid 10,000 BTC for 2 large pizzas. At the moment of the purchase, 10,000 BTC were worth around $40. At the moment of writing, however, that pizza place has earned over $230 million for 2 pizzas.
So, if you can pay for food with crypto, why would you not try to use NFTs to pay the restaurant bill?
From One NFT Collector to Another
Every NFT collector needs someone to whom they can talk about the latest NFTs discovered and purchased. This is why NFT savvies should always stay together.
Are We NFT Flippers?
Are NFT flippers actually called this these days? Shouldn't they be receiving a finer name? This NFT meme gives a pretty good example of what we should call NFT flippers at the moment.
The Best Retiring Plan
Retirement is a topic every adult is considering and discussing. And nowadays, you should have a quite detailed retirement plan. And besides working hard your whole life, you may also want to consider investing. So, which retirement age would you choose: 70, 50, 40, or next year?
NFTs Be Like:
We all know NFTs are way more than this. But this work of art is still one of the best NFT memes. Imagine creating an NFT collection that actually looks like this.
NFTs Are the Thing to Do
It is not news that there are plenty of worrying things happening worldwide. But in a world full of negative news and unfortunate events, people should still see the good in everything. And NFTs have come to remind you of that.
Another Type of Art
NFTs are art. It is the artist who had a vision, but it also is the buyer who does not see what the artist saw. NFTs are all about perspective and how open you are to changing it.
NFT Memes that Made History
Steve Aoki
Steve Aoki is one of the most popular DJs worldwide. But besides his passion for electronic music, Steve Aoki is also a popular NFT creator and collector. And since he said he had made more money with NFTs than with music, the NFT community has created plenty of memes related to him.
Kevin
Kevin and the Pixelmon NFT collection are a great example of "over promise, under deliver." When the NFT collection was first promoted, it became widely popular among NFT collectors, and everyone was waiting for the NFTs to be launched.
However, when the artwork was revealed, users were pretty disappointed, as the NFTs were not looking as good as they were expecting.
Still, Pixelmon raised around $70 million and led to several funny NFT memes.
Bagner
Bagner started as a joke when a Twitter user misspelled "banger" in an NFT community chat. The word became a meme in less than 24 hours and quickly turned into an NFT collection.
FAQ:
Can you mint a meme as an NFT?
Yes. Usually, any type of digital content can be minted as an NFT.
What are the best NFTs to invest in?
You can find great NFT collections on various marketplaces, such as OpenSea, Binance, or Rarible. Some NFT games also have an NFT marketplace where you can purchase diverse types of artworks.
Can I make money from memes?
Usually, there are several companies and VIPs who pay for memes. Thus, it is possible that you can make money from this type of content.
Final Thoughts
NFTs have become extremely popular among crypto enthusiasts and not only. And besides being a modern and profitable way of investing, they can also make users laugh.
NFT memes have spread rapidly around the internet and do not plan to leave soon. We hope that our list of the best NFT memes has brought you a smile or even a good laugh.
So, repeat after us: we don't screenshot NFTs.
* The information in this article and the links provided are for general information purposes only and should not constitute any financial or investment advice. We advise you to do your own research or consult a professional before making financial decisions. Please acknowledge that we are not responsible for any loss caused by any information present on this website.