You've experimented in the past with many cryptocurrency wallets, but nothing stood up to your expectations. As a result, you started using the Trust Wallet ecosystem, and now that you've enjoyed the many benefits it brings, you discover that having a reliable wallet becomes paramount.
In the dynamic world of cryptocurrencies, Trust Wallet is a reliable and robust crypto wallet that has worked on its vulnerabilities over the years, thus showing resilience towards greedy hackers. Consequently of such sturdiness, this cryptocurrency wallet evolved past its initial scope of being a crypto app wallet, reaching new grounds.
While having the Trust Wallet App is essential, learning how to fund it adequately is equally crucial, as it has the potential to streamline the process of obtaining digital assets and could be helpful.
In today's article, we'll guide you on how to fund your Trust Wallet, ensuring you'll navigate the crypto landscape quickly and confidently.
Whether you are a seasoned investor or a new starter taking his first steps within the crypto space, this guide will provide all the details upon which you can safely fund your crypto wallet, making your journey rewarding and stress-free.
By the end of the article, you'll get a thorough understanding of the following:
Adding Funds Into Binance Account – either by using credit/ debit cards or via the 3rd party service provider;
How to Fund Your Trust Wallet Account via Binance Service Providers;
Convert Euro to BNB and Send Them to Trust Wallet;
How to Fund Your Trust Wallet Using Your Bank Card in the Mobile Application.
So, let's get started!
Understanding the Trust Wallet Ecosystem and How It Can Benefit You
For those who don't know what Trust Wallet is, the official information positions this non-custodial cryptocurrency wallet that offers its investors a seamless way of managing its digital assets, cryptocurrencies, and NFTs, besides the fact that it is the official wallet for one of the most popular cryptocurrency exchange, the Binance exchange.
As such, the Trust Wallet App supports 70 blockchains and 9M+ assets, thus being a convenient and secure way to store all your coins and tokens in a single, secure mobile wallet.
Additionally, you can buy, swap, and hold your favorite cryptocurrencies and store your hard-earned stable coins while earning interest on your cryptos.
Moreover, as Trust Wallet is known for its security and privacy, you can stay private while trading and buy crypto assets with your credit card with just a few clicks.
But these are only some benefits you can enjoy when choosing Trust Wallet App as your crypto companion. One notable feature is that it allows you to interact with many decentralized applications (dApps) across various blockchains.
To benefit from more convenience, you can download the mobile app regardless of the operating system, iOS or Android, or enjoy the web browser extension. Now, allow us to delve deeper into the topic and explain step by step how to fund your Trust Wallet using your bank account.
The first steps are intended as an extra hand for those who interact for 1st time with Trust Wallet, and in the second part, you'll be able to fund your wallet using your bank account. So, skip directly to the steps where you got stuck.
Step-by-Step Guide on How to Create Your Trust Wallet Account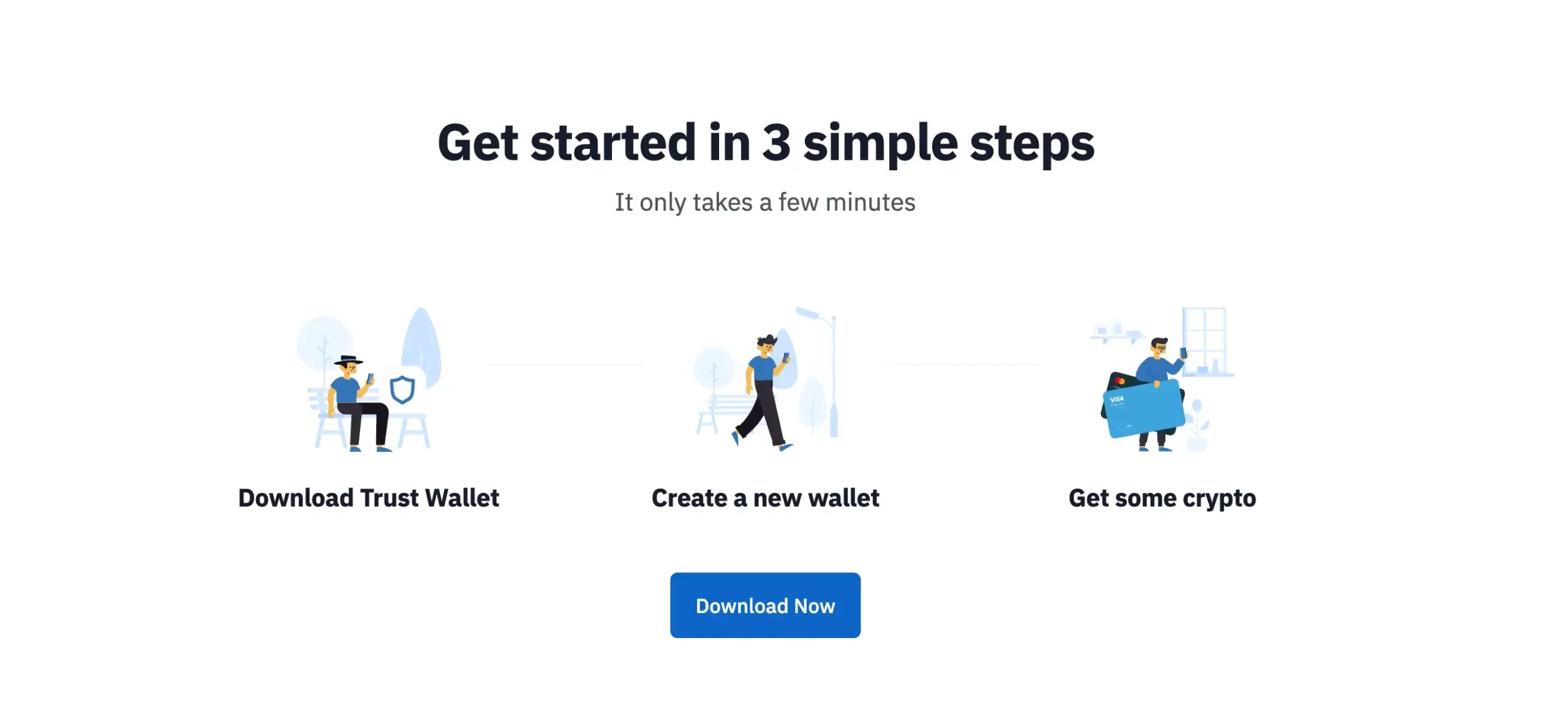 This phase is intended to help those who've just started their crypto investment journey and wish to explore Trust Wallet in detail. So, for this explanatory step, we'll present how to get started with the Trust Wallet App, available both on iOS and Android.
Step 1: Download the Trust Wallet Application
Step 2: Launch the Trust Wallet Application and Hit "Get Started"
For this step, we selected further the option "I don't have a wallet."
Step 3: Create a Secure Passcode
Step 4: Secret Phrase Backup
Step 5: Your Trust Wallet is Ready to Go!
Now that you've set up your account, it's time to move further and discover the three ways in which you can fund your Trust Wallet using your bank details:
How to Fund Your Trust Wallet with Your Bank Card via Binance
Fund your Trust Wallet using your credit card in a centralized exchange via a 3rd party service provider.
Buy crypto assets directly in the Trust Wallet application. Still, you pay with your credit or debit cards via 3rd party payment processors like MoonPay and Simplex directly on the Trust Wallet app.
There is no need to get overwhelmed, as we are here to disclose both methods, and you can just follow each step of the way until you successfully manage to top-up your cryptocurrency wallet.
We will start with the first option, and as such, we will be using Binance – Be sure to have your account in place and that you passed the Binance verification process.
Fund Trust Wallet: Binance, or Buy Crypto Directly in Trust Wallet?
For this tutorial, we will prepare three versions of how you can top-up your Trust Wallet to choose what best represents your needs. Moreover, at this time, the USD bank transfer feature is disabled, as it is in maintenance. As a result, we were able to present this method as well.
So, the first approach is adding Euro to your Binance account via the bank card, and then we will discuss how to go through with a 3rd party provider, such as Zen, MoonPay, Transak, Ramp, or Simplex.
For those who don't know, Binance is one of the most used centralized exchanges whereby users can buy and sell crypto, transfer crypto, withdraw money, earn interest, and many more. This exchange also offers around 500 cryptocurrencies, including the option to buy BNB tokens, Bitcoins, Ethereum, Litecoin, and many other coins.
1. How to Fund Your Trust Wallet with Your Bank Card via Binance
Step 1: Log into your Binance account, go to the "Wallet" tab, and click "Fiat and Spot Wallet."
We will use the Binance account via the web browser for this example. However, you can also use the Binance app if that is easier.
Step 2: Deposit Fiat Currencies
Step 3: Select the Currency
At this step, you can choose from 30+ fiat currencies, depending on your country of residence. E.g., "GBP" for the UK, "USD" if you live in the United States, and "EUR" if you live in Europe. For this example, we'll use EUR to deposit money, especially since, right at this moment, the USD payment channel is in maintenance.
So, as you can see, we've selected "EUR," and here we can either go with the bank card or choose the 2nd option via a Fiat Partner of Bifinity UAB, in this case, Zen.
* Please note that if your currency is not listed, Binance does not support that currency. In such cases, you can buy cryptocurrencies on the Binance P2P marketplace using your preferred payment option, with bank transfer being the most commonly used channel.
Step 4: Enter the Needed Amount to Deposit and Click "Confirm"
Step 5: Add Bank Account Information
From here on, once you go through with the payment, you'll simply need to make another transfer to your Trust Wallet, but we'll get to that in a bit. Now, let's get to the 2nd option, adding funds using a service provider.
2. How to Fund Your Trust Wallet Account via Binance Service Providers
From step 3, where we selected the currency and the amount, we must choose the service provider option, Zen. The service provider might vary depending on the total amount, but the following steps are self-explanatory and will differ from one platform to another. Just be sure to create a new account with the said provider.
Step 3: Select the Currency
As said, please select the Zen option and follow the next steps.
Step 4: Connect Your Existing Zen Account or Create a New Account
Step 5: Enter the Required Amount
Step 6: Confirm Your Zen Payment Method
Once you go through with the payment, you'll need to wait a bit before you access your tokens in your Smart Chain balance, as your deposit order is being processed. However, you can go to the "View History" tab to verify the order status.
3. Convert Euro to BNB and Send Them to Trust Wallet
Now that you have added funds to your Binance profile, it's time to move further and convert your money into your chosen currency; in our case, select BNB.
Select "Trade" from your dashboard and then "Convert". Here, make sure you are using the "spot" option and the "market" tab. After completing the transaction, please ensure the accurate amount in BNB is deposited into your spot wallet.
Send Tokens from Binance to Trust Wallet Address
Regardless of how you deposit money into your Binance profile, now it's time to learn how to send BTC or other coins of your choosing to your Trust Wallet address. So, let's get started!
As we converted our money from Euro to BNB in Binance, it's time to send the tokens to Trust Wallet. Additionally, you can swap the BNB to any tokens or coins you choose directly in the Trust Wallet Application. So, to send BNB to your Trust Wallet, you just need to open the application and copy your BNB address.
In your Trust Wallet, go to the relevant token you wish to exchange; in our case, we need to select BNB;
A new pop-up window will appear, and then just click on the "Receive" button;
Click on "Deposit from exchange" and select the Binance network.
Congrats, you managed to deposit BNB tokens into your Trust Wallet!
As we did this crypto exchange from our mobile Trust Wallet mobile application, the following steps imply connecting to your Binance App, so having it downloaded onto your phone is a must.
Now that we have explained two methods to fund your Trust Wallet, it's time to move further and present another way to top-up your account: by using your credit card directly in Trust Wallet.
As such, let's jump right in, and please remember, whenever you feel lost, start from the beginning, and remember that you can always practice by using the minimum amount of tokens required for your said token.
4. How to Fund Your Trust Wallet Using Your Bank Card in the Mobile Application
As mentioned, we will briefly explain how you can fund your Trust Wallet using your card directly into the mobile application. Instead of going through that hassle of purchasing your favorite tokens within the cryptocurrency exchanges, you can benefit from this additional method.
Furthermore, you need to know that Trust Wallet has many partners for the transaction to be completed, and to name a few, we have Simplex, MoonPay, Mercuryo, Ramp, and others.
Also, depending on the currency of your money, Euro, USD, and others, a payment processor will be selected. Additionally, you can choose either Google or Apple Pay, depending on your mobile operating system or preferences.
Be sure only to select what feels comfortable!
Step 1: Open your Trust Wallet Application and click "Buy".
Step 2: We used the Ethereum token for this example, but you can choose different coins.
Step 3: Here, you'll be prompted with the total amount you wish to spend, the currency depending on your country of residence, how many ETH you'll be receiving, and of course, the payment processor – in our case, Mercuryo.
At this point, after confirming the details, you can hit "Next."
Step 4: Complete your purchase by selecting the preferred method, and clicking on "Continue".
As it is a 3rd party payment processor, you'll need to sign the transaction, complete the verification, and enter your card details to proceed with the payment.
FAQ
Does Trust Wallet have a Credit/ Debit Card Fee?
Trust Wallet is an entirely free application and ecosystem, so it does not require any transaction fee. However, you'll be required to pay the partners' fees, which they determine.
Can I Use Bank Transfer in Trust Wallet?
You cannot directly fund your Trust Wallet through a bank account transfer. However, there are three turnarounds in which you can top-up your wallet: using the Binance centralized exchange, where you can pay with your credit/debit card, via Binance service providers, or using your credit cards within the Trust Wallet application.
Does Trust Wallet Charge for Transfer?
No, Trust Wallet does not charge any fees for its services. However, you'll be required to pay Trust Wallet's partners, and these charges may depend on the currency you've selected and the specific service provider.
Final Thoughts
As we've reached the end of this comprehensive guide, we hope you have discovered the best and most suitable way to fund your Trust Wallet. So, you have three options at your disposal, and choosing what works best for you is the key to successfully managing your crypto assets investment.
Additionally, we recommend reading the Terms and Conditions for any party involved in the transaction. These could have a significant impact and could be your lifesaving hand in case anything goes wrong.
* The information in this article and the links provided are for general information purposes only and should not constitute any financial or investment advice. We advise you to do your own research or consult a professional before making financial decisions. Please acknowledge that we are not responsible for any loss caused by any information present on this website.