Today, we will be reviewing Cryptohopper, a popular trading bot that includes a variety of features that allows users to make trades automatically.
Cryptohopper Overview
Cryptohopper is an online platform that enables the use of an automated trading bot. The bot is semi-automated, meaning you will have to implement the strategies, and the bot will place the trades on your behalf.
The platform is owned and operated by Cryptohopper BV, which is headquartered in Amsterdam, the Netherlands. The Cryptohopper platform launched in 2017, and since its release, the company claims it has had more than 140,000 users.
The Cryptohopper project was created by two brothers, Ruud Feltkamp & Pim Feltkamp, with the former having experience in day trading and web development.
The bot works on a 24/7 basis, relying on technical trading algorithms and programmed trading tactics.
Supported Currencies and Available Countries

The Cryptohopper bot supports the trading of 75 different cryptocurrencies, such as Bitcoin, Ethereum, Litecoin, many others. The bot has a limited selection of ERC-20-based tokens, as they generally have low trading volumes.
The bot is accessible to users based in countries where the company has a regulated broker. The platform is only available in English.
Compatibilities
Cryptohopper is entirely hosted on the cloud, so users will not be required to install anything on their computer. The bot can be accessed via web browsers running on all operating systems.
It features API integration with 11 crypto exchanges being integrated into Cryptohopper: Binance, Binance US, Coinbase Pro, Bittrex, Bitvavo, Bitfinex, Huobi, Kraken, KuCoin, Poloniex, and OKEx.
User Interface and Experience
Cryptohopper developed a simplified interface in which you can drop and drag to create an automated bot from scratch. You just have to drag the elements you want for your trading strategy, and the bot will execute them automatically.
Just click on the specific indicator, select the buy or sell function, configure volumes and other fundamentals.
The platform also has an advanced dashboard, which includes options such as stop-loss, take-profit, trailing stop loss, trailing stop-buy as well as a Trading View widget.
Cryptohopper includes both full auto and semi-auto trading. With full automation, the bot performs all the investment research and trading. The semi-automated trading mode collects tradable information and recommends them to the user.
There is also a mobile app for Android and iOS devices.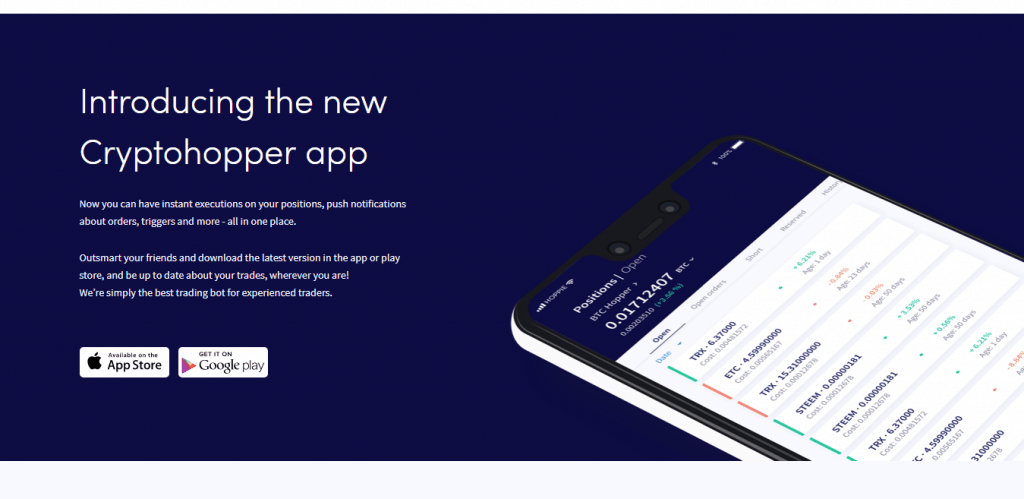 Main features:
Automatic Trading;
Exchange Arbitrage;
Market Making Bot;
Mirror Trading;
Trailing Stops;
Shorting;
Market Orders;
Paper Trading;
Strategy Designer;
Technical Analysis;
Backtesting;
Bear Market Tools;
How to Get a Cryptohopper Account
On the main page, click on the "Try it now" button in the middle of the page.
Provide the required information: name, email address, username, and password.
Confirm your account by clicking the activation link in the sent email.
The setup wizard will ask you what crypto exchange you would like to use for your trading, and you will have to submit the details of the exchange APIs.
How to Use Cryptohopper
Deposit the minimum required funds into your account.
Go to the trading dashboard and select either backtesting or demo trading.
The demo trading account will ask you to choose a trading strategy and set stop loss and take profit functions.
Backtesting relies on historical data, which means it will not replicate the results you will get when live trading.
Cryptohopper Fees
The bot features three main pricing plans. There is also a free 7-day trial version called the "Pioneer Plan." Below are the plans, their respective prices, and included features.
Pioneer Plan: Free Trial for 7 Days
80 positions
Max 15 selected coins
Max 2 triggers
TA with 10 min interval
1 Simulated Trading Bot
Explorer: Starter package ($19 Per Month)
80 positions
Max 15 selected coins
Max 2 triggers
TA with 10 min interval
1 Simulated Trading Bot
Adventure: Trader Plus Package ($49 Per Month)
200 positions
Max 50 selected coins
Max 5 triggers
TA with 5 min interval
1 Simulated Trading Bot
Exchange arbitrage
Hero: Pro Trader Package ($99 Per Month)
500 positions
Max 75 selected coins
Max 10 triggers
TA with 2 min interval
All coins for signals
Market Arbitrage
Market-Making
1 Simulated Trading Bot
The plans can be purchased with a monthly or yearly subscription. The platform does not offer any refunds.
Payment Methods
Cryptohopper enables users to make fiat deposits through Visa, Master Card, Wire Transfer, and e-payment processors, such as PayPal, iDEAL, Giropay, Bancontact, SOFORT Banking, EPS, Przelewy24, KBC/CBC. The platform accepts only the following cryptocurrencies as payment:
Bitcoin (BTC);
Litecoin (LTC);
Dash (DASH);
Monero (XMR);
Transaction limits
In order to start trading with Cryptohopper, you will have to deposit a minimum of $250. The trading limits will differ according to the package you select.
Security Features
The platform has limited information regarding its ownership, although the company has made available its address and is registered as Cryptohopper BV, Johan van Hasseltweg 18A 1022 WV, Amsterdam, The Netherlands.
Trading bots usually work via an API for making the trades on the exchanges, so they do not require to transfer any money to an account owned by the bot developers. The API keys are generated on the exchanges you choose, and these keys restrict the access of the bot to your trading account.
Bots are also not able to perform withdrawal as well, and neither are hackers in the event of a breach. Cryptohopper can set up two-factor authentication (2FA) to enhance their account security.
Customer Support
The Cryptohopper support team can only be contacted by submitting an online contact form or sending an email at [email protected] No live chat function or telephone number is available.
Users can also reach customer service via social media channels, such as Twitter, Telegram, and Facebook. There are also several FAQs included in the Support section, in addition to tutorials for using the accounts. A Cryptohopper Academy video library is also available.
Cryptohopper Reputation
While Cryptohopper has a positive score on TrustPilot of 3.5 out of 5, there are only 6 reviews.
Even if there are several reviews online, the main concern is that many do not seem genuine. Some of the reviews also claimed they had lost hundreds, even thousands through the trading app. The win percentage of the signals was also reported to be less than 65%, which meant that it took less than a month to lose their entire investment.
Several reviews have also complained that the dashboard is not that easy to use.
Cryptohopper Review: Verdict
Cryptohopper is a trading bot designed for the crypto market, which enables the fully automated and semi-automated trading of digital assets across 11 major exchanges by using a number of trading technologies and tools. But the app is rather expansive and not as convenient to use for beginners.
Featured image: Crypto News
* The information in this article and the links provided are for general information purposes only and should not constitute any financial or investment advice. We advise you to do your own research or consult a professional before making financial decisions. Please acknowledge that we are not responsible for any loss caused by any information present on this website.