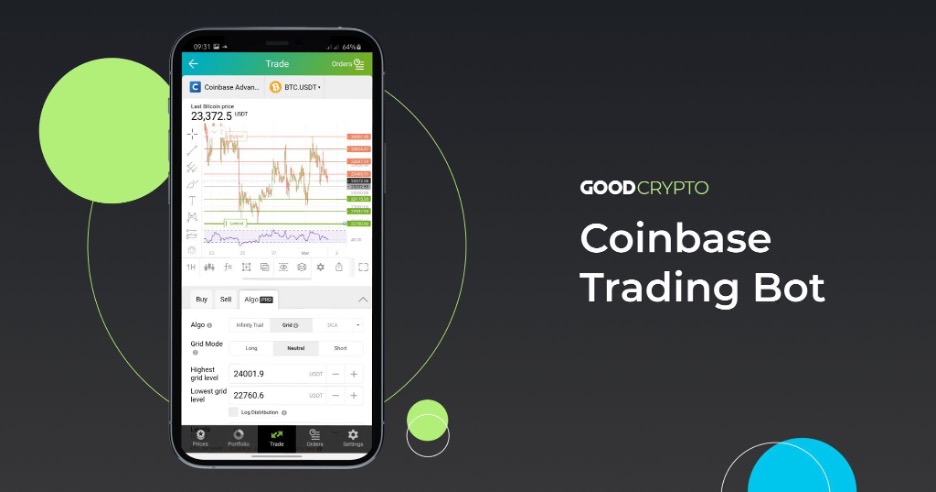 Are you still looking for how to boost your cryptocurrency trading on Coinbase and take it to greater heights?
The idea of implementing trade bots with complete automation and non-stop profit gaining to boost your performance is definitely the point that you will prefer to consider. Implementing the algorithmic Coinbase bot strategies makes the whole trading process much easier, the results significantly more far-reaching, and helps you to keep your trader's life emotion-free.
Such bots for automated trading are capable of operating in multitasking, continuously monitoring and performing trades on a wide variety of cryptocurrencies simultaneously. Robots have a nearly unlimited ability to execute trades per unit of time and can do it non-stop, 24/7.
GoodCrypto is a prime example of a platform with a user-friendly, intuitive interface, a wide array of cutting-edge trading tools and automated bots to trade on Coinbase, and deep customization availability.
Any strategy for the Coinbase trading bot will allow you to reach an extensive result with a greater and more scalable approach for your future trading patterns.
What is the Coinbase Trading Bot?
The concept of the Coinbase crypto bot trading relies on the pre-set algo strategies for each market cycle which aims to monetize any situation for you in the most profitable way, without any intervention from the side. By running the crypto bots, you can enjoy sophisticated automation and various other advanced trading features and tools provided by GoodCrypto. These will help you simplify routines and mitigate the high risks of cryptocurrency trading.
Just launch the Coinbase trade bot for free and experience the lightning-fast benefits for yourself!
Based on market conditions, you can run the bot in different settings in relation to your trading targets and approach. Let's take a few examples.
Grid Bot Strategy
A market hovering in a flat is quite a complex story for many traders. Implicit price movements, fluctuating structure with frequent changes of the trend, broken patterns – all of that cause tangible losses and take lots of effort to predict the near-term market behavior. The way out of such a situation is easily found by using the Coinbase API bot. Let's see what such a Grid bot by GoodCrypto would do.
In the selected price range, the Coinbase Bot will operate a grid of orders of equal size and make trades moving through it. In addition, the Bot will offer you the option to trade in Long / Short or Neutral mode, allowing you to fine-tune the Algo to the exact target or formation in the market. Such a completely automated robot will quickly generate profits in the targeted range 24/7. Moreover, your own Grid bot could be launched in just a few minutes from the GoodCrypto cross-platform trading app.
DCA Bot Strategy
An essential condition for successfully using the DCA Coinbase bot strategy is any price action showing a clear trend structure. A typical example would be a technique for averaging an entry price. Either you are just aiming to accumulate a mid-term position at the early stage of a trend.
There are instances when the entry into the market is frankly not very successful, and in order to lower the cost of such a position, the DCA bot for Coinbase strategy is used. The bot will open extra orders in the same direction as the position has been started if the price suddenly rolls back and start to move against you. Thus you will get the most favorable average entry price by the time the trend reverses.
For now, you can choose between a few DCA bot modes: Manual or Auto TA Signal.
Manual mode will open up for you all the details and flexibility to configure a trade and whether to open it – Long or Short.
The Auto TA Signal mode will provide absolute automation and rely on signals of 25 technical indicators. There you can pre-set the type of signal (a Sell/Buy or the Strong Sell/Strong Buy) and the timeframe – if these points are met in the market, the bot will open a trade automatically.
So profits can now be made much easier than before, you should just try to run your first Coinbase DCA bot.
Infinity Trail Bot Strategy
We have another great tool for your trading arsenal if you are mainly focused on the trends. The strategy is excellent for medium-term and long-trend positions when the price is moving in the direction you have been interested in. For this type of strategy, there is no limit in distance to follow the asset's price, which enables the traders to boost their profits with minimum risks during the most amplitude movements.
Using GoodCrypto's Infinity Trailing Coinbase bots, make profitable steady trading a reality. These Infinity bots can open the Buy or Sell Trailing orders autonomously with a predetermined Take Profit size, one after another. All that's required of you is to set the Trailing Distance value before launching the algorithm and then enjoy the growth in profits.
Closing Thoughts
Overall, bots for trading crypto can help traders save a lot of time, reduce emotional biases, and increase PnL results through the mid-term trading period.
Trading platforms such as GoodCrypto, which aggregates many useful tools in one place, will greatly help traders of all levels to deal with the typical but crucially important aspects of stability in trading. Any strategy for Coinbase bots could be a useful tool for traders who are looking for ways to automate their trading patterns and take advantage of market movements without constantly monitoring their trades.
Set up any Coinbase bot strategy to leverage the efficiency of all your trading activities and send your profitability sky-high. It's a lot easier than it sounds!
* The information in this article and the links provided are for general information purposes only and should not constitute any financial or investment advice. We advise you to do your own research or consult a professional before making financial decisions. Please acknowledge that we are not responsible for any loss caused by any information present on this website.