A cryptocurrency wallet is a must-have whether you plan to start trading or simply hold crypto coins for future investments. So, considering your goal, you need to know how to choose the right crypto wallet.
In this industry, wallets are essential for owning and investing in cryptocurrencies, regardless of their type.
But since there are so many good options in 2023, choosing the right wallet can become a burden, especially if you're new in the crypto world.
This article will guide you toward learning all there is to know about wallets – what they are, how they work, what to consider when choosing one, and what are the best crypto wallets to get.
What are Crypto Wallets All About?
Cryptocurrency wallets serve as secure storage for users' public and private keys, offering a user-friendly interface to handle crypto balances and facilitate transfers on the blockchain. Further, advanced wallets enable users to engage in various actions with their crypto assets, including trading, purchasing, and interacting with decentralized applications (DApps).
Right off the bat, we need to discuss one of the most common misconceptions about cryptocurrency wallets.
Even though crypto wallets are similar to traditional wallets, they don't actually store your cryptocurrency.
As you already know, cryptocurrencies are decentralized. They aren't stored in a single location but are recorded as transactions and stored on the blockchain.
Hence, crypto wallets are software programs that store public and private keys. And in some cases, the software is connected to hardware similar to a USB stick.
To simply put it, they are like bank accounts. They allow you to track your balance and make transactions, all from one place.
No "real" coins are actually ever exchanged.
How Do These Keys Work?
A private key is a randomly generated string of numbers and letters. Your private key allows you to send cryptocurrency to someone else. Without it, you can't approve transactions. So it's crucial to keep it as safe as possible.
Losing your private key means losing your coins.
The public key is a key that others can see. It's derived from the private key through a hash. The public key is your wallet address, and it's used by others to send cryptocurrencies to your wallet.
Think of it like this: your public key is your bank account, and your private key is your security code. It's fine for people to know your public key, but not your private one.
Here's a practical example.
When a person sends you crypto coins, they are signing off ownership of those coins to your wallet's address.
But to spend those coins, the private key stored in your wallet must match the public address they are assigned to. If the public and private keys match, the balance of the wallet will increase, while the senders will decrease accordingly.
Types of Crypto Wallets
Custodial and Non-Custodial
First and foremost, cryptocurrency wallets are either custodial or non-custodial.
The custodial wallets are centralized, where a company holds your public key, private key, and funds, giving you an interface to manage your cryptos.
Major custodial wallet services are typically offered by reputable and widely recognized crypto exchanges such as Coinbase, Kraken, and Crypto.com.
The non-custodial wallets are the ones you manage only by yourself. In that case, users are responsible for managing and safeguarding their keys.
If crypto users prefer the independence of a non-custodial wallet, they can choose from various reliable providers. Trust Wallet, Exodus, Edge Wallet, and MetaMask are some trusted options available to them.
Hot and Cold Wallets
Second, cryptocurrency wallets are either hot or cold wallets.
This classification of crypto wallets can be based on their internet connectivity, distinguishing them as hot or cold wallets.
Hot wallets are connected to the internet, making them less secure but user-friendly.
Hot wallets are commonly used for daily transactions. Setting up hot wallets is easy, and funds are quickly accessible, making them convenient for traders.
Hot wallets are most often divided into:
Desktop Wallets – You can download and install desktop wallets on your computer regardless of your operating system. They are a relatively safe storage method since they can only be accessed through your computer. However, like most things nowadays, our PCs are constantly connected to the internet. So never assume that your keys can't get stolen.
Online Wallets – Online wallets "run" on the cloud, making them very convenient as you can access them virtually anywhere in the world. As long as you're connected to the internet, that is. However, the online storage of the keys also poses a threat. Your keys are not fully in your control, and centralizing numerous keys makes them more vulnerable to attacks.
Mobile Wallets – Mobile wallets are the equivalent of desktop wallets but are designed to run on your smartphone. Since mobile phones are such a big part of our daily lives, it's no wonder that they are among the most convenient crypto wallets. They are also notoriously user-friendly as well as quite stylish. Another upside is that your keys are usually stored locally on your smartphone. But considering the doubtful security of most platforms, mobile wallets tend to suffer from various security shortcomings.
SIDENOTE. Certain mobile wallets also store their keys in a cloud as a safety precaution. Thoroughly research how a wallet works before deciding which to use.
On the other hand, cold wallets are stored offline, providing improved security and lower risks. They can store more considerable sums of money compared to carry-around wallets.
Cold wallets are resistant to hacking attempts, making them suitable for HODLers. As a protective measure, only a small portion of funds is stored in hot wallets, while trading can be conducted directly from cold storage devices.
Cold wallets are most often divided into:
Hardware Wallets – If you're serious about storing your cryptocurrencies for the long run, then as far as security goes, a hardware wallet is your best option. Unlike software wallets, hardware wallets store your keys on a hardware device. Most of them are designed to be safe even when connecting them to infected computers. The only major drawback of hardware wallets is their price. But we all know that good things don't come cheap.
Paper Wallets – As the name suggests, paper wallets allow you to store your private and public keys in print, usually via QR codes. But it doesn't have to be only paper. You can also print them on plastic, similar to a credit card. As strange as it might sound, it's actually a very safe solution to store your private keys. In order to spend money from your paper wallet, you must first transfer it to a software wallet. This process is known as "sweeping." As you can tell, the main drawback is the fact that a printed wallet can easily get lost or stolen.
What Type of Wallet Do You Need?
Of course, choosing the best cryptocurrency wallet is a matter of preference. But selecting it should involve a set of pragmatic and practical reasons. Before anything, it's important to ask yourself:
Do I need daily, quick access to this wallet?
How many currencies will I hold?
What are the costs?
Is security important to me?
Am I willing to trade security for convenience?
Costs
Most cryptocurrency wallets are usually free, but some, like hardware wallets, require a small investment.
We recommend investing in a hardware wallet if you plan to hold onto your coins for longer (or hold large amounts of cryptocurrency).
Security
Keeping your funds secure is extremely important and should be at the top of your priority when choosing a wallet.
It's important to carry out plenty of research about the wallet's security features. If you want to ensure that you've done everything possible to ensure the security of your funds, then opt for a hardware wallet.
Mobility
Regarding mobility and convenience, online and web wallets are your best friend. You can access them from anywhere, regardless of your device.
User-Friendliness
User-friendliness is one of the most critical aspects of any crypto wallet. It can mean the difference between enjoying and getting frustrated with the wallet.
Generally, mobile and desktop wallets are very user-friendly and don't need much work to set them up properly.
Convenience (Multi-Currency)
If you're planning to hold more than one cryptocurrency, pick a wallet with multi-currency support. Usually, it's recommended to pick a renowned wallet with many reviews and good support.
But if you plan to use the wallet for just one crypto coin, you should check out the coin's website to see if they have a dedicated wallet.
We recommended hardware wallets a few times in this article, and one of their main advantages is their number of supported cryptocurrencies.
For example, two of the best-selling hardware wallets (Ledger Nano S and Trezor) boast support for over 700 coins and tokens.
Top Cryptocurrency Wallets to Choose
To make it easier for you when choosing the perfect wallet, we will look at some of the best wallets from each category.
The Best Online Wallets
Coinbase
Coinbase is a crypto exchange service, so their creating their own wallet makes perfect sense. Their wallet is one of the most popular online wallets, and it's one of the best possible options for people starting in the crypto world.
The FDIC insurance covers the Coinbase Wallet for up to $250,000 of your fiat. You can access it via any modern web browser or through the official iOS and Android apps. At the same time, it allows you to use a 2-Factor Authentication system or Google Authenticator for more protection.
MetaMask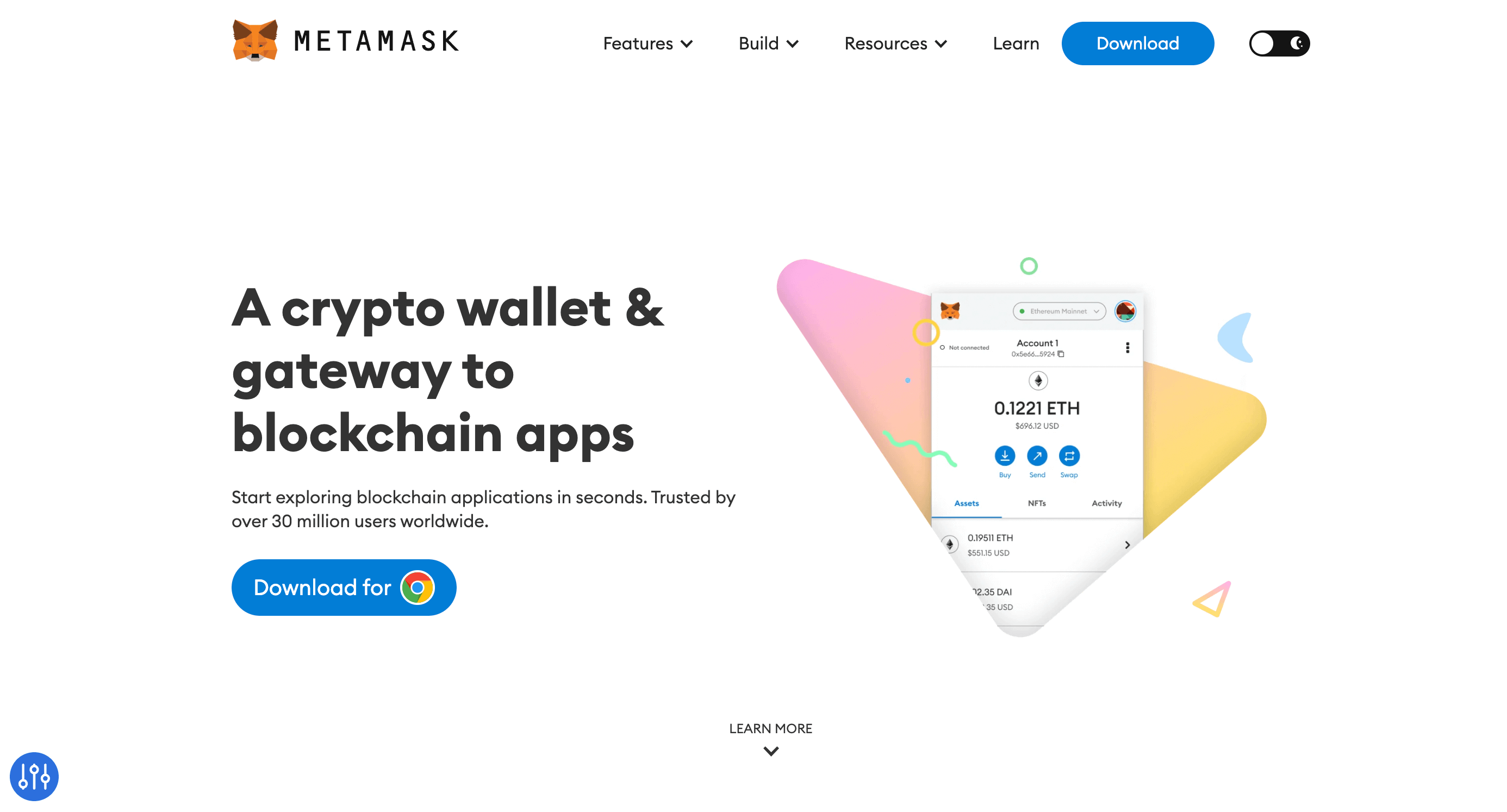 MetaMask is another great option. Launched in 2016, it is an Ethereum wallet that functions as a browser plugin. It enables users to store ERC-20 tokens and transact with any Ethereum address.
Developed by ConsenSys, MetaMask offers a user-friendly platform and is a mobile application for iOS and Android.
In addition to its beginner-friendly interface, MetaMask allows users to explore the world of DeFi (Decentralized Finance), granting access to applications like Compound and PoolTogether.
The Best Mobile Wallet
Trust Wallet
Trust Wallet is a decentralized, non-custodial wallet that gives you full control over your cryptocurrencies and NFTs. It is the official cryptocurrency wallet of Binance, supported by them since its inception. Trust Wallet supports over 65 blockchains and more than 4.5 million digital assets.
Trust Wallet has access to decentralized applications (dApps), making it easy and secure to interact with various dApps across different blockchains. With Trust Wallet, you can effortlessly buy, send, receive, stake, trade, and store cryptocurrencies.
While Trust Wallet is known for its user-friendliness, it's important to note that if your account is compromised, recovering seed phrases to regain access to your assets may be challenging as customer service does not support technical or safety issues. 
Trust Wallet is widely accepted by DeFi apps worldwide, making it an excellent choice for free crypto airdrops. It is available on Android, iOS and as a browser extension, making it a perfect mobile wallet option for both iOS and Android devices.
The Best Desktop Wallets
Exodus
If user-friendliness, security, and convenience are what you're after, then Exodus is definitely a good choice.
It's one of the best-looking cryptocurrency wallets, with a modern and stylish interface and enough practical eye candy to help you control all your crypto funds.
It supports many cryptocurrencies, including some of the most popular ones, such as Bitcoin, Bitcoin Cash, Ethereum, Ethereum Classic, Litecoin, Dash, Zcash, 0x, EOS, Storj, and more.
Electrum
Electrum is a lightweight and fast desktop (and mobile) cryptocurrency wallet. It is popular for its variety of features, making it one of the most flexible choices.
It provides cold storage solutions and integration with some of the best hardware wallets: Ledger Nano S, KeepKey, and Trezor.
The Electrum wallet also features integration with Tor, and it has top-notch encryption technologies built within, which means it's very secure and protects your anonymity.
However, the Electrum wallet only supports Bitcoin. So, if you plan to use other cryptocurrencies, you might want to look for a different wallet.
The Best Hardware Wallets
Trezor (any model)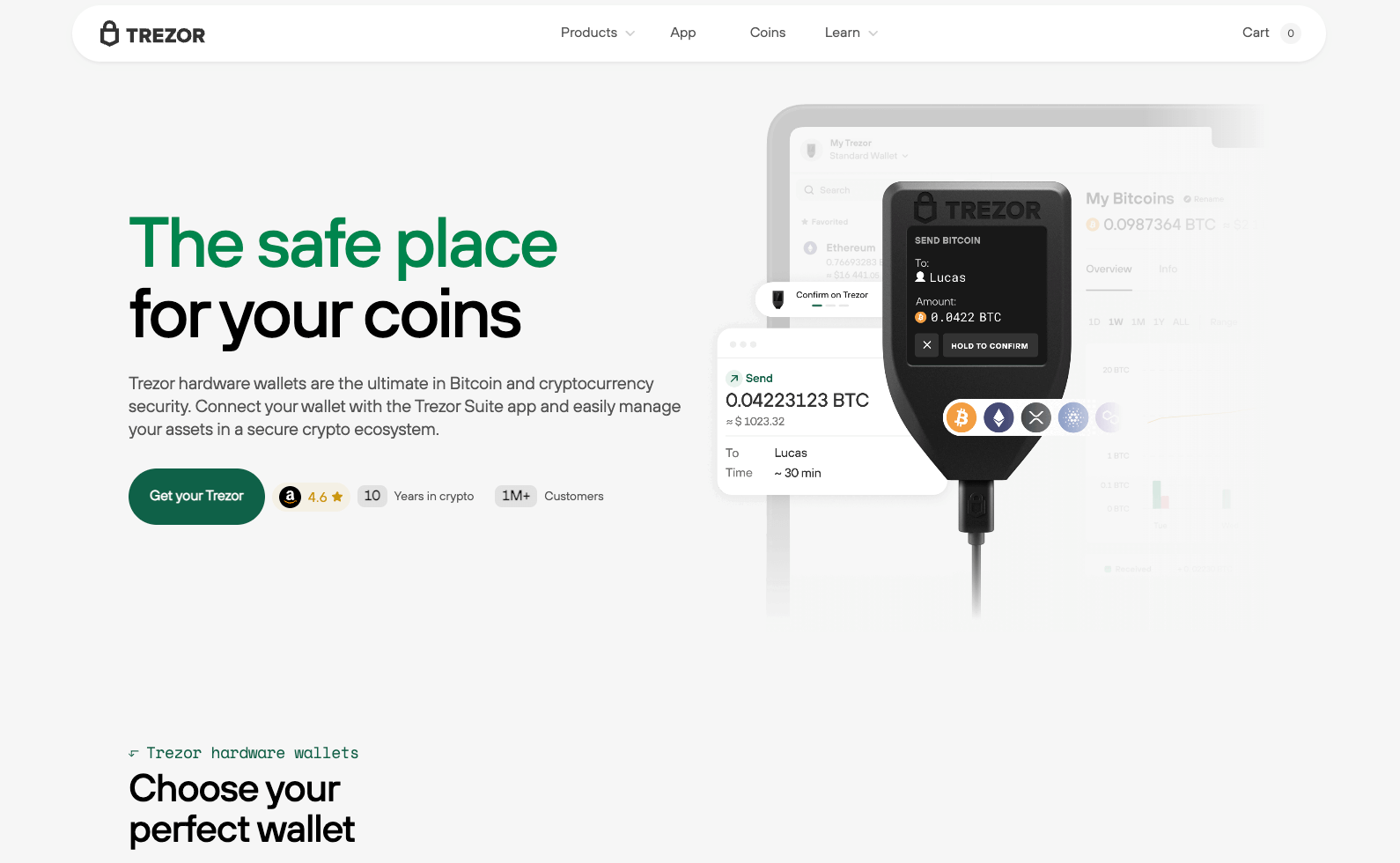 Trezor is a leading hardware wallet with excellent storage for safeguarding valuable cryptocurrencies. Its primary focus is protecting your private keys and minimizing online exposure.
Trezor achieves this through its device and user-friendly web-based app as the wallet interface. It follows a traditional approach in terms of setup and functionalities, including key pair initialization, recovery seed generation, a two-interface transaction signing system, and the added security of a PIN-Passphrase combination.
The hardware relies on the STM32 microcontroller, which allows for community-based audits.
Trezor's use of open-source software sets it apart, which promotes community-driven contributions and enhances transparency. This unique feature encourages collaboration and allows users to verify the software's integrity, instilling a greater sense of trust.
SafePal S1
If Trezor doesn't fit your preferences, SafePal S1 could be another great solution. SafePal S1 is designed to prioritize security and anonymity while offering a reliable solution for storing and managing digital assets. Developed with support from Binance, SafePal provides a user-friendly interface and a range of features tailored to crypto enthusiasts.
SafePal offers the SafePal app as a centralized hub for managing its products. The wallet simplifies the setup process by generating a pool of keys upon activation, and users are encouraged to record the recovery seed for added security securely. Transactions are conducted offline using QR code scanning, reducing the risk of online threats. Moreover, SafePal incorporates the PIN-passphrase combination to enhance protection.
With a strong focus on security, SafePal ensures long-lasting battery life and eliminates the need for USB, WiFi, or Bluetooth connectivity. The wallet minimizes the risk of remote attacks and unauthorized access by removing wireless connections.
Final Thoughts
Choosing a crypto wallet is not simple, and you should not treat it lightly. But it will allow you to store and eventually spend your crypto coins safely.
Prepare for a lot of reading and experimentation, as you may not find your perfect match on the first try.
Be that as it may, we hope this guide helped you and offered all the necessary guidance and basic understanding.
* The information in this article and the links provided are for general information purposes only and should not constitute any financial or investment advice. We advise you to do your own research or consult a professional before making financial decisions. Please acknowledge that we are not responsible for any loss caused by any information present on this website.