The digital world is expanding exponentially, which has made it possible for cryptocurrencies to exist as a virtual form of value exchange. Crypto enthusiasts already understand how crypto works, which allows them to purchase and sell cryptocurrencies to profit from them. This article looks at how to sell SafeMoon on Trust Wallet.
However, remember that for cryptocurrency tokens such as SafeMoon, traders can't make direct purchases and sales. Instead, they will be required to use other alternatives to achieve a means to an end.
SafeMoon was one of the cryptocurrencies that increased prices by over 10,000% when it launched, but it has fallen quite a bit due to the bear market. Besides, there are some cryptocurrencies that users can get for free – from crypto airdrops.
How to Sell SafeMoon on Trust Wallet – Introduction
Those who have bought SafeMoon tokens may find it challenging to make a sale of these tokens, as they cannot be sold directly through existing common exchanges. Therefore, it's essential to understand how SafeMoon holders can maneuver to sell their tokens and get Fiat currency.
This article aims to guide interested sellers on how to sell SafeMoon on Trust Wallet. While the process may seem challenging, understanding the concepts will make it easier.
About SafeMoon
SafeMoon is a cryptocurrency token established on the Binance Smart Chain. It was launched in March 2021 and had a market cap of over $3.5 million at the time of writing.
SafeMoon Protocol is a decentralized finance (DeFi) token that combines RFI tokenomics and auto-liquidity generating protocol. It has three functions, Reflection, LP Acquisition, and Burn, which occur during each trade. By holding SAFEMOON tokens, users can earn up to 80% APY, thanks to its coin-burning strategy. The protocol plans to develop an NFT exchange, charity projects, and crypto educational apps.
The project aims to encourage crypto enthusiasts to make long-term investments and discourage selling by charging a 10% fee for each sale.
As for the SafeMoon tokens, they have very high volatility; therefore, those taking advantage of them end up securing outstanding profits. It is, however, essential to understanding that SafeMoon tokens cannot be sold directly on existing decentralized exchanges; there are alternative methods to complete the action, as explained in this article.
SafeMoon V2
In December 2021, SafeMoon developed a second version of their token, called SafeMoon V2 (SFM). It is an updated version of the SafeMoon contract, and all the holders must migrate their tokens to SFM, or else they will be charged a 100% fee.
Furthermore, SafeMoon released a decentralized exchange called "SafeMoon Swap"; this is the only space for migration to SFM.
SafeMoon is advancing its mission to create innovations for good and establish a Venture Philanthropy model to ensure they reach every corner of the world. Token holders can earn more SAFEMOON based on their number of tokens, and the coin-burning strategy makes it a deflationary digital currency that gains value over time.
According to the official website, the CEO of SafeMoon is John Karony.
About Trust Wallet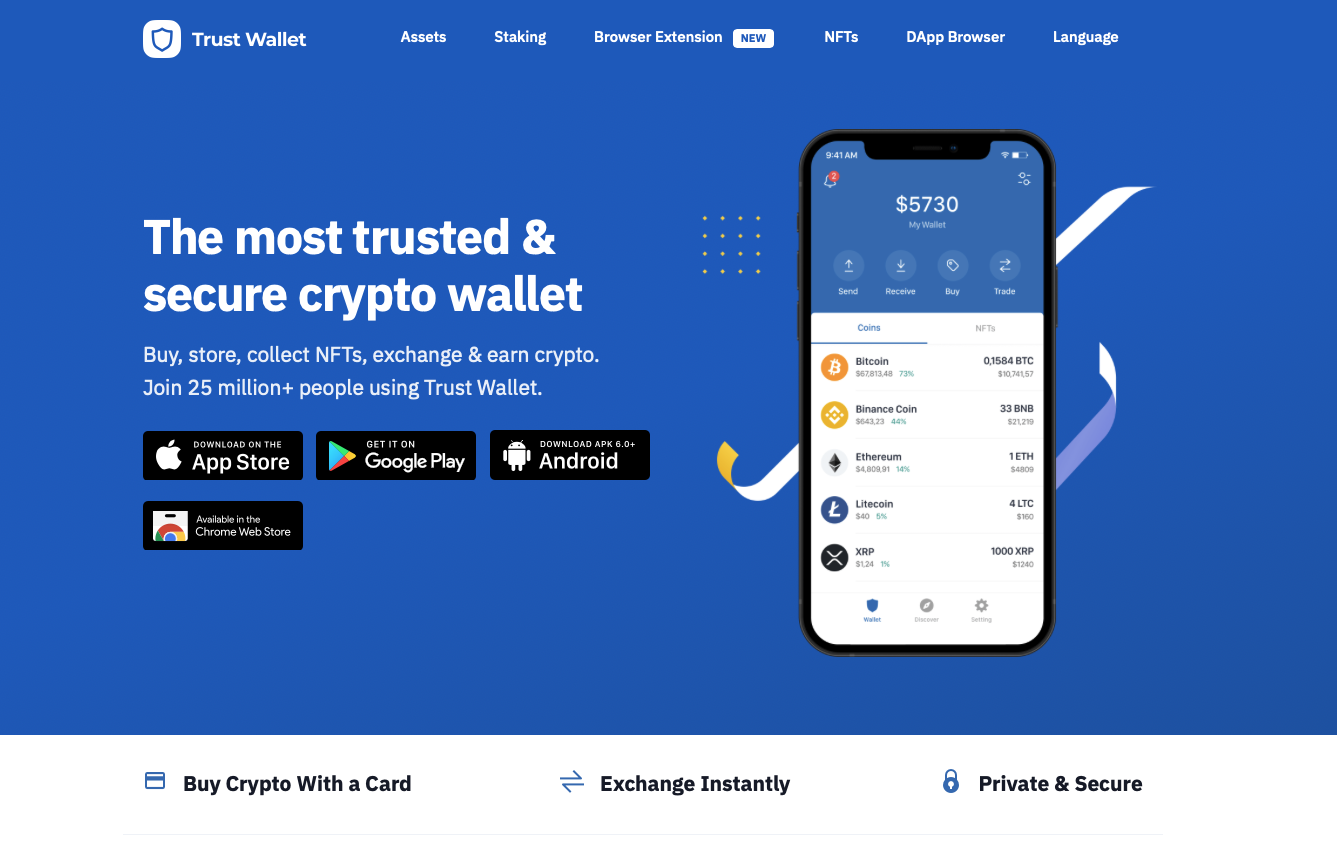 Before learning how to sell SafeMoon on Trust Wallet, let's find some information about this service.
Trust Wallet is a non-custodial wallet that offers complete control over cryptocurrencies and NFTs and is the official wallet of Binance. It supports over 65 blockchains and more than 4.5 million digital assets. Trust Wallet is unique because it allows access to decentralized applications (dApps), making it easy and safe to interact with various dApps across different blockchains.
With Trust Wallet, users can buy, send, receive, stake, trade, and store cryptocurrencies. It is a hot wallet that is connected to the internet, providing the flexibility to manage assets anytime and anywhere.
While Trust Wallet is user-friendly, users may face issues if their account is compromised, as customer service cannot guide them to recover seed phrases to reclaim access to their assets.
Trust Wallet is also a popular choice for free crypto airdrops and is available on Android, iOS and as a browser extension.
How to Sell SafeMoon on Trust Wallet
To successfully sell SafeMoon on Trust Wallet, the seller must create an account on Binance, as SafeMoon runs on the Binance blockchain, and also this is the easier way. 
Therefore, through the help of the Binance blockchain, the seller can easily convert SafeMoon tokens into Binance coins. To successfully achieve this, a user should follow these steps:
Step 1: Download the Trust Wallet app and Create a Wallet/Log into a Trust Wallet Account
To get started with Trust Wallet, the first step is to download the app from the iOS App Store or the Android Google Play Store. Using the Trust Wallet app to sell SafeMoon is much easier and more user-friendly than the browser extension. After downloading, users can create a new wallet and receive a 12-word recovery phrase. This phrase is crucial and must be carefully documented and secured as a backup key to access the funds. Keeping the phrase safe is vital to ensure the safety of the assets stored in the Trust Wallet.
If you have an existing account, just log in.
Once the seller has a working Trust Wallet account, they will then be able to access the main page, where they will see a SafeMoon address. Sellers are advised to look keenly at the amount of SafeMoon tokens they hold in their wallets before proceeding to the next step.
Step 2: Go to Your Wallet
The next step to selling SafeMoon with Trust Wallet involves accessing the SafeMoon Wallet. To initiate the transaction, users need to copy the SafeMoon token's address from the project's main page and ensure that they have sufficient funds in their account before proceeding with the transaction. This verification step is essential to ensure the seamless and successful selling of SafeMoon tokens.
Step 3: Open PancakeSwap in the Trust Wallet Browser Tab
To proceed, access PancakeSwap through your Trust Wallet DApp browser selection. You may select this platform or another depending on your trading or exchange objectives. However, for SafeMoon transactions, PancakeSwap stands as the optimal choice. After accessing PancakeSwap, log into the platform using your Trust Wallet.
Step 4: Swap SafeMoon Tokens for BNB
To initiate the swap process:
Navigate to PancakeSwap, choose "Trade" tab from the bottom left corner and select the BNB symbol under the "From" section. This will take you to a search bar where you can type in "SafeMoon" and select it.
Keep in mind that a 10% fee is included in the transaction.
Agree to the terms and conditions and proceed by entering the desired amount of SafeMoon tokens and clicking on the blue icon.
Once you have clicked both the "Swap" and "Confirm Swap" buttons, a fee breakdown page for the BNB network will appear. Click on "Send" to complete the final step. Your transaction status will then be updated to "Success."
By performing this step and exchanging your SafeMoon for another coin, you will easily withdraw your funds.
Step 5: Convert BNB Smart Chain to Binance Chain
After swapping your SafeMoon for BNB coins, return to Trust Wallet to proceed with the next step. The Smart Chain must be converted to the Binance Chain, which can be accomplished by selecting "Smart Chain" and then clicking the "Swap" icon.
From there, choose "Swap to Binance Chain," insert the amount and proceed with the transaction. A confirmation will be required, and once completed, the BNB Smart Chain will be successfully converted to the Binance Chain.
You can now view your BNB coins on the main page of the Trust Wallet App and exchange them with an external crypto wallet address if desired.
Step 6: Send BNB to Binance
To successfully sell your SafeMoon and withdraw funds to your fiat bank account, you must send your BNB coins to your Binance account. Binance is the recommended exchange since BNB is the native token, and users will have lower fees.
This step is crucial. To begin, select "Send" and keep the tab open. Navigate to your Binance account and access your wallet to start the withdrawal process. Choose BNB as your preferred crypto coin, and then select "Deposit." Copy and paste your wallet address and BNB memo number to the Trust Wallet.
The recipient address details should be entered under the "recipient address" section, while the memo number goes into the corresponding "memo" space. Next, select "Max" for the amount and proceed to the "Next" button. Once you have reached the confirmation screen, click "Send."
After successfully sending the BNB coins, you will be able to see the SafeMoon exchange in your Binance account, listed under BNB.
Step 7: Convert BNB to Fiat Currency
After accessing your Binance account:
Navigate to the "Buy crypto" option and choose BNB as your selling coin.
Enter the desired currency for your payment option. If you are based in the United States, select the "USD" option.
After selecting the preferred currency, click "max" and then proceed to the "Sell BNB" option to begin selling. This will enable you to sell your SafeMoon for your desired currency, in this example, EUR.
The next step is the moment we have all been waiting for: withdrawing your funds into your bank account!
Step 8: Withdraw Money from Binance to Your Bank Account
After successfully selling your BNB for your preferred fiat currency, such as USD, it's time to make a withdrawal request. To do this, go to the "Fiat and Spot" option on the Binance page and make sure to verify your account before initiating the withdrawal process to ensure a smooth transaction.
FAQ
How Can I Withdraw SafeMoon from Trust Wallet? / How to Cash Out Safemoon from Trust Wallet?
To withdraw SafeMoon from Trust Wallet or cash out, follow these steps:
Download the Trust Wallet app and create a wallet or log into an existing account.
Access the SafeMoon wallet and copy the token address to verify you have enough funds to proceed.
Open PancakeSwap in the Trust Wallet browser tab and swap your SafeMoon tokens for BNB coins.
Convert the BNB Smart Chain to the Binance Chain.
Send the BNB coins to your Binance account.
Convert the BNB coins to your preferred fiat currency (e.g., USD).
Withdraw your funds from Binance to your bank account.
Below you have a complete step-by-step guide with examples to follow.
How to Transfer SafeMoon from Trust Wallet to Coinbase?
To transfer your cryptocurrency from Trust Wallet to Coinbase, you must first copy the asset's address from Coinbase. Begin by opening the Coinbase app and selecting "Receive" to obtain the address.
Next, open the Trust Wallet app and choose the crypto asset you wish to send. Paste the copied Coinbase address and confirm the transfer. Finally, check your Coinbase account to ensure the transfer was successful.
In other words, the steps are almost the same as in Binance. The major aspect that differs is that the transaction cannot take place through the BNB Smart Chain.
How to Add SafeMoon to Trust Wallet?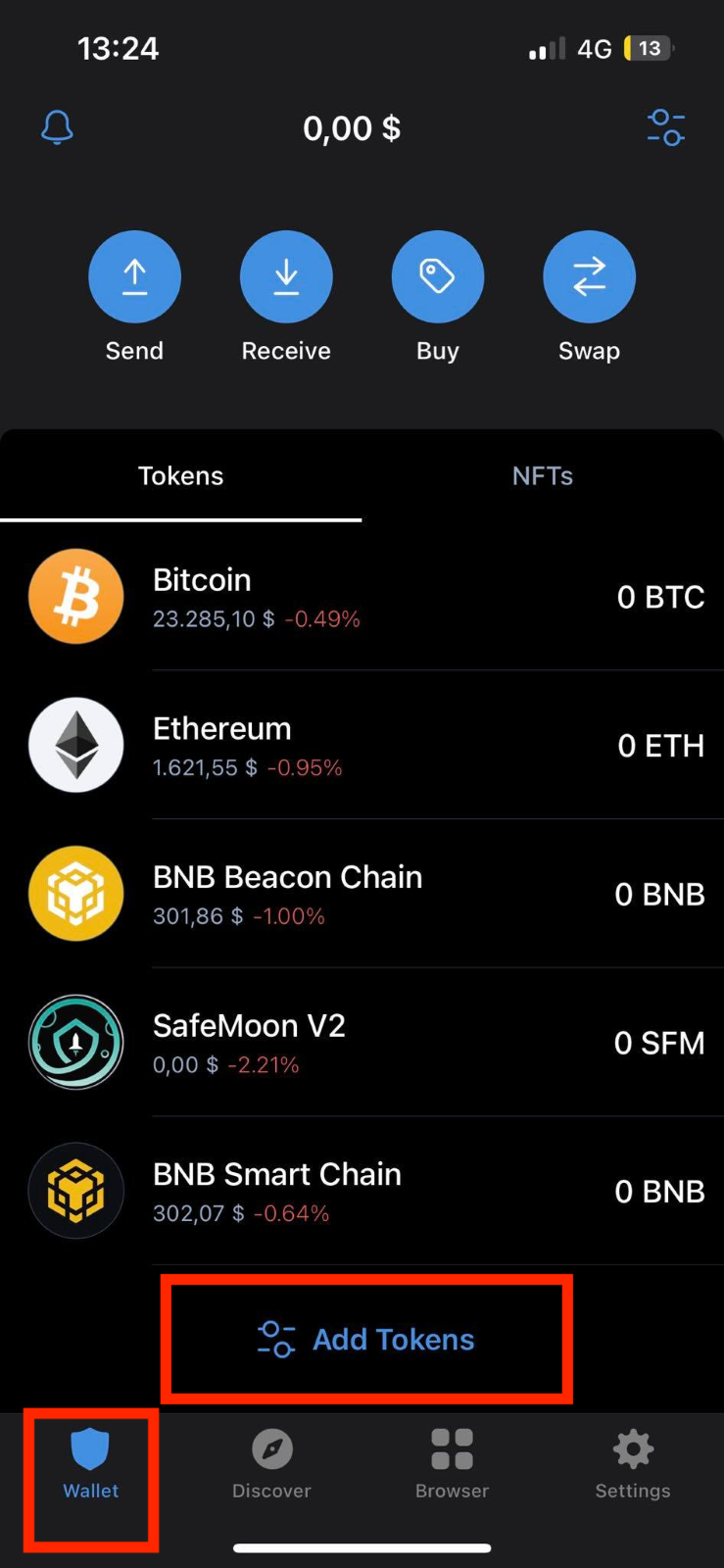 From the wallet menu of the Trust Wallet app, click on Add Tokens, search for the currency you want to add, in our case SafeMoon, and then confirm.
How to Sell Safemoon Crypto on Trust Wallet without Binance
In this article, we have discussed how to sell SafeMoon on Trust Wallet using Binance. As mentioned above, it is impossible to sell SafeMoon directly, and those who wish to sell their SafeMoon tokens will need to use an exchange that can hold Binance tokens.
Those who wish to sell it without using Binance will need to choose a swappable token with SafeMoon. They will also need to select an exchange that supports both tokens. The above process will be repeated, with the only difference being the swap tokens.
How to Sell SafeMoon on Trust Wallet – Conclusion
Ultimately, SafeMoon crypto holders can now sell their tokens and end up with fiat currency within a few hours. But, of course, all this depends on the number of tokens they wish to exchange and the swap currency they have chosen.
The exchange will handle the rest. The process is simple, but as usual, traders are required to be cautious when dealing with cryptocurrencies to avoid the loss of assets. We hope that helps you understand how to sell SafeMoon on Trust Wallet.
* The information in this article and the links provided are for general information purposes only and should not constitute any financial or investment advice. We advise you to do your own research or consult a professional before making financial decisions. Please acknowledge that we are not responsible for any loss caused by any information present on this website.