Today, in our COIN360 review, we will be examining what features this crypto aggregator has to offer, as well as its fees, pros, and cons.
COIN360 Review: Exchange Overview
COIN360 is a cryptocurrency and crypto exchange, interactive infographics and aggregator, which displays data such as performance of different coins, tokens, and exchanges in a visually engaging map. The data is updated every 8 seconds, providing investors with the latest changes on the market.
The site was created to be useful to traders who are looking to monitor various assets from one place and to simplify their tracking.
Supported Currencies and Available Countries
The platform features 3,336 crypto tokens and coins, where you can find basic metrics on the first 1000 coins, according to market cap.
Data is collected from 225 exchanges, including Binance, Bitmex, Bittrex, OKEx, Huobi, HitBTC, Bithumb, Coinbase Pro, UPbit, Bitfinex, Kraken, Coinone, Gemini, Bitstamp, Liquid, bitFlyer, Gate.io, Poloniex, Exmo, itBit, CEX.IO, IDEX,  just to name a few. The data for both coins and exchanges can be filtered in different ways, but more on that later in our COIN360 review.
Users from all countries are able to use the platform.
COIN360 Compatibilities
COIN360 can be accessed through a web browser on any operating system. There is currently no specialized mobile app, but the company has stated that it will launch one soon.
User Interface and Experience
The crypto and exchange data are displayed in a colorful brick diagram that can easily be customized by users to show the coins they are interested in following. "Coin" and "Exchanges" pages, as well as "Watchlists," can also be changed to table view by clicking on the squares next to "View" in the upper right side of the page under the search function.
The site is pretty easy to understand, with few sections to navigate. On the top left side of the page, there are the following sections: "Coins," "Exchanges," "Watchlist," "Liquidity Book," "Charts," "About." There are also "FAQ," "Press Releases," and "Events" sections if you click on the three dots next to "About."
Price changes in cryptocurrencies are shown in the platform through color markers, with cryptocurrencies that are growing in price are marked in green while those with declining prices are featured in red.
When clicking on an individual coin, it takes you to a page that features metrics such as renewed charts, a "Markets" tab, and a "Related news" section. There is also a customizable widget section, as well as a button to directly add the coin to your "Watchlist." Other stats included are mining info, liquidity, and spread.
Charts on the coin page graphically show the market cap and price within a selected time frame. The "Markets" tab lists all of the exchanges where the crypto can be traded, where you can see other trading pairs, 24h volume, current price, circulating supply, fees, and other metrics. In a way, it resembles the structure used by CoinMarketCap.
The filter buttons are always visible and under the header, where users can sort data based on the coins they want, their performance based on specific time frames, top gainers and losers, market cap range, or select against which base currency to display the stats. The base currency is preset to USD, but you can change it to GBP, CNY, EUR, JPY, CAD, RUB, TRY, IRR, BRL, UAH, and USDT, BTC, ETH, EOS.
The exchange page also has filters that can be used to find the top gainers and losers, time-frame performance, volume range, markets, and base currencies. There is also a special filter that sorts the exchanges that have been verified by COIN360 analytics and the ones that have not.
At the bottom of the page, there is a moving strip that features some of the latest news titles from the crypto world. If you click on a title, you will be redirected to the news site that sourced it.
In the "Watchlist" section, you can add any coins you are interested in following.
Liquidity Book
A very helpful section developed by COIN360 is the "Liquidity Book," which allows traders to find the exchanges with the best liquidity, and thus the most convenient buying or selling option for their cryptos.
By using the exchange selector, users are able to compare the prices of an exchange with those of other trading platforms in order to get the best rates on the market. Each box displays a coefficient that is calculated as the ratio between a selected exchange's price and the price for that same order of the best of the other exchanges.
How to Get a COIN360 Account
Users do not have to create an account to use COIN360.
COIN360 Exchange Fees
The site and its services are completely free to use.
Customer Support
Seeing as the platform just displays data collected from multiple sources, and you do not have to create an account to use the service, there is no customer service. The site features a detailed FAQ page which answers most questions related to COIN360.
COIN360 Exchange Reputation
The results for the COIN360 review were scarce, as few users posted their experience with the aggregator.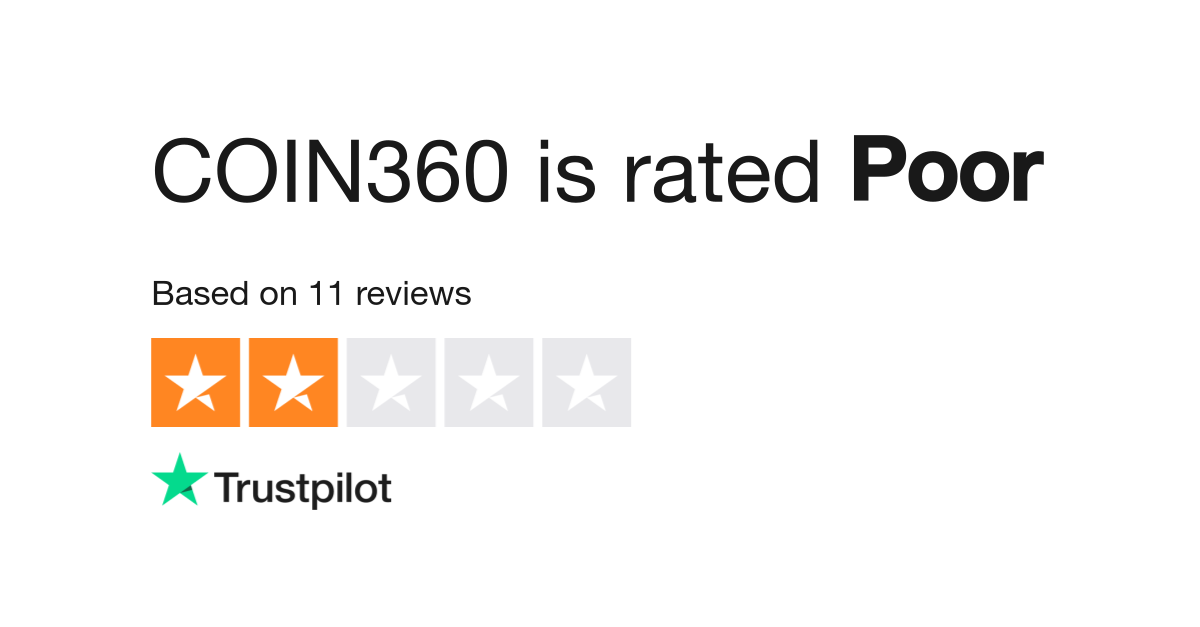 On TrustPilot, the platform has a rating of 4 out of 5 stars, but the rating is based on only 4 user reviews. However, nothing bad can really be said about this platform, as it does not ask users to register, link their wallets, etc. There are no accounts to manage on the team's part, and the algorithm pulls data from so many sources and updates it so frequently that it accurately reflects the market at any time.
Also, it is a platform that does not charge anything for its service. People would have probably written more reviews if they actually had something to complain about.
COIN360 Review: Verdict
COIN360 is an aggregator heatmap tool that pools data for cryptocurrencies and exchanges from a myriad of sources. Free, accessible, and colorful, this platform can help traders keep an eye on the assets they are interested in.
* The information in this article and the links provided are for general information purposes only and should not constitute any financial or investment advice. We advise you to do your own research or consult a professional before making financial decisions. Please acknowledge that we are not responsible for any loss caused by any information present on this website.