Introduction
In the dynamic realm of cryptocurrencies, the quest for an exchange that harmonizes user-friendly simplicity with cutting-edge functionality is a pursuit cherished by many. Let us introduce you to FixedFloat, a fully automated crypto exchange on a mission to revolutionize crypto trading through pragmatic solutions tailored to user needs.
This 2023 review of FixedFloat Exchange delves deep into the distinctive attributes that set FixedFloat apart. It captures its evolutionary journey and myriad advantages for an all-encompassing user experience.
FixedFloat in a Nutshell
FixedFloat is an entirely automated crypto exchange designed to streamline cryptocurrency swaps. Its non-custodial nature sets it apart, obviating the need for users to undergo registration or KYC verifications. Furthermore, it integrates with the Lightning Network, augmenting the speed of Bitcoin transactions.
The exchange prides itself on offering the most competitive rates in the market. Notably, FixedFloat facilitates crypto exchanges with both fixed and floating rates. For context, Fixed rates ensure the displayed crypto quantity remains constant while floating rates adapt to market fluctuations.
Moreover, FixedFloat supports over 60 cryptocurrencies. Tradable pairs include crypto market bigwigs like Bitcoin (BTC), Ethereum (ETH), and Cardano (ADA). Additionally, there are ongoing expansion efforts to diversify FixedFloat's crypto offering. Also, users can effortlessly execute automatic exchanges across various devices.
Ultimately, FixedFloat is renowned for its user-friendly interface, competitive fee structure, and exemption from KYC prerequisites.
| | |
| --- | --- |
| Website | https://fixedfloat.com/  |
| Native token | None |
| Number of orders completed | 1M+ |
| Number of regular customers daily | 1,000+ |
| Number of new customers daily | 5,000+ |
| Number of supported cryptocurrencies | 60+ |
| Available on mobile | Under development |
| Year founded | 2018 |
FixedFloat Crypto Exchange Details
A Glimpse into the Past
FixedFloat was founded five years ago, in 2018. It centered its business operations around a Lightning Crypto Exchange. The aim was to harness the potential of automation and integration with the Lightning Network to conduct faster and less expensive transactions off the primary blockchain.
By its fourth anniversary in 2022, FixedFloat has accumulated remarkable statistics. It has seen over a million successfully executed orders. It maintained a daily influx of more than 1,000 loyal customers and the trust of over 5,000 new visitors daily.
Additionally, the platform remained steadfast in its commitment to the Lightning Network. It actively engaged with the crypto community and even sponsored a gathering of Monero enthusiasts.
Platform User Experience
Navigating the FixedFloat platform is a breeze. It caters to both crypto novices and experts. One of its standout advantages is its commitment to convenience.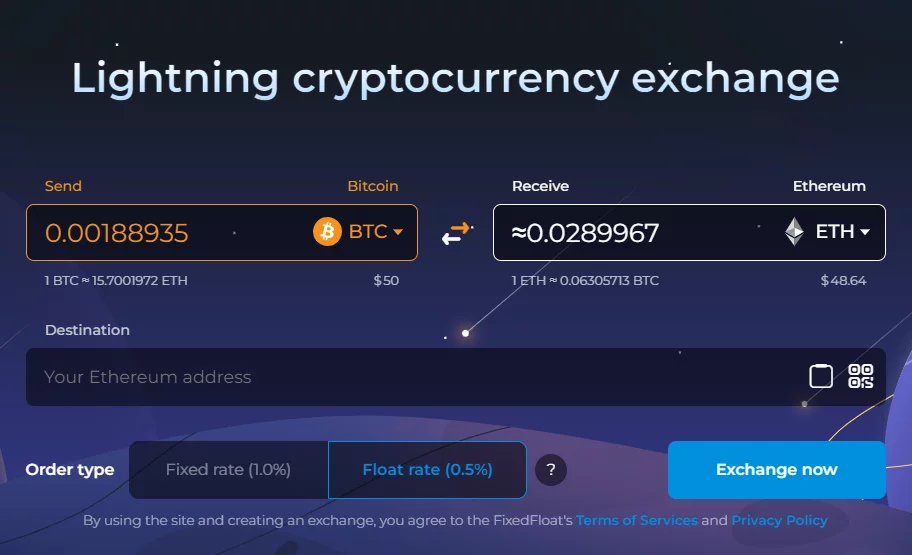 Creating orders on the website is straightforward. It involves selecting the desired cryptocurrencies for exchange, a rate type, and the amount to be traded. The user-friendly system also includes scanning a QR code or inputting a wallet address for swift transactions on the platform.
Notably, FixedFloat recently redesigned its website interface. It unveiled a new user interface optimized for seamless navigation across all devices. Additionally, FixedFloat extended its supported languages to accommodate 12 languages. It includes Polish, Turkish, Ukrainian, Simplified Chinese, Dutch, and Italian. Plans are in place to add Korean, Arabic (UAE), Japanese, and Hebrew soon.
Key Features and Capabilities
FixedFloat offers a comprehensive range of functionalities aimed at streamlining crypto transactions:
Attractive fixed and floating exchange rates
Among the most competitive fees in the crypto industry
Transparent pricing without any concealed costs
An intuitive and user-friendly interface
Effortless network confirmations
No mandatory KYC standard
Support for multiple languages
24/7 customer support
Supported Cryptocurrencies
FixedFloat presently allows trading for 68 digital assets. It encompasses Cardano (ADA), Bitcoin (BTC), Ethereum (ETH), Dogecoin (DOGE), Avalanche (AVAX) and Solana (SOL). The platform is dedicated to continuous growth, as demonstrated by its recent additions of Solana and Avalanche.
Services Offered
Instant Crypto Exchange
FixedFloat provides a simple process to exchange one coin for another. Users can immediately cash out on the swapped currency. 
To get started, users initiate an order by selecting the crypto they want to exchange, the desired receiving currency, and the preferred amount. Users can enter the receiving address by simply pasting it or scanning a QR code.
For a personalized experience, FixedFloat offers a choice between two rate types. They are the Floating Rates based on market and Fixed Rates to ensure an exact amount.
After configuring all necessary parameters, users can initiate the exchange by clicking "Exchange now." This action creates a new order. The subsequent page provides a comprehensive overview of the order, including details about fund transfers.
The order is automatically executed once the transaction becomes visible on the blockchain network. This process is expedited upon receiving the required network confirmations.
FixedFloat API
The updated FixedFloat API enables users to streamline fetching exchange rate data, generating orders, and overseeing transactions automatically.
This API enhancement includes comprehensive documentation, readily available code libraries for seamless integration, and the opportunity to generate profits from exchanges without necessitating participation in the affiliate program.
Affiliate Program
Fixedfloat provides an opportunity for users to generate income via its referral program. This affiliate initiative enables participants to sign up and earn 40% of the profits generated from transactions conducted by their referred downlines.
Transaction Fees
FixedFloat's fee structure is determined by Fixed Rate and Float Rate. The two rates have three applicable fees: the FixedFloat service fee, the miner fee, and the consolidation fee.
FixedFloat fee: This service fee is either 1% for the fixed rate or 0.5% for the floating rate. When choosing the fixed rate option, which remains fixed for 10 minutes, the fee amounts to 1% of the transaction's total value. On the other hand, when opting for the floating rate, the fee stands at 0.5% of the transaction amount until the necessary blockchain confirmations are received.
Miner fee for a sent transaction: The miner fee, applicable to outgoing transactions, covers the expenses associated with miners processing the transaction. This fee applies to various actions, including fund transfers, smart contract functions, and token transfers.
Consolidation fee for an accepted transaction: This fee pertains to the consolidation of funds into a single address, thereby helping to reduce fees for subsequent transactions.
Security and Transparency
FixedFloat places a strong emphasis on security due to its decentralized design. Transactions occur peer-to-peer, cutting out intermediaries and third-party agents, guaranteeing secure and private exchanges.
Notably, FixedFloat is a non-custodial service, meaning it does not hold user deposits, greatly reducing the vulnerability to cyber-attacks and potential asset loss. The platform provides multiple tracking options to empower users in overseeing their transactions. It includes email notifications, website monitoring, and accessible order links.
Furthermore, FixedFloat's commitment to transparency extends to its fee structure, which is completely transparent and free from concealed commissions.
KYC Process
FixedFloat distinguishes itself from the market competition by employing no mandatory know-your-customer (KYC) compliance prerequisites. This distinctive feature resonates with individuals prioritizing safeguarding their data, streamlined onboarding, and shared philosophical principles.
In contrast to conventional exchanges, FixedFloat enables users to utilize the platform without logging in or registering. Nevertheless, users must log in to their respective accounts to access their order history.
Mobile Application
FixedFloat has included in its strategy for the current year the introduction of a new mobile application to improve its service offerings. This initiative will offer users a more convenient means to access cryptocurrency exchange services.
Customer Support
To deliver outstanding user experiences, FixedFloat extends around-the-clock customer support across various communication channels such as live chat, Telegram, X (fka Twitter), and email.
Pros and Cons
Here's a list of the advantages and disadvantages associated with utilizing FixedFloat:
| | |
| --- | --- |
| Pros | Cons |
| User-friendly interface | No NFT marketplace |
| No KYC | Limited selection of cryptocurrencies |
| Fast exchange | No fiat currencies |
| Favorable exchange rates | |
| Low fees | |
Final Score
| | |
| --- | --- |
| Services offered | 4 |
| Cryptocurrency support | 4 |
| Fees | 4 |
| Security | 4 |
| Review Score | 4 |
Summary
FixedFloat stands out as a crypto exchange renowned for its harmonious blend of user-friendly accessibility and cutting-edge features.
It places a premium on user security and autonomy by adhering to a non-custodial philosophy and forgoing KYC checks. Offering flexible and competitive rates, minimal fees, transparent pricing, and swift network confirmations, FixedFloat establishes itself as a dependable choice.
Furthermore, the platform boasts an affiliate program and ensures round-the-clock customer support. In sum, FixedFloat earns accolades for its unwavering reliability, robust security measures, and unwavering dedication to enhancing user convenience.
Frequently Asked Questions (FAQs)
Is KYC mandatory for FixedFloat?
No, FixedFloat does not require mandatory KYC compliance. It offers a privacy-conscious choice for users.
What do fixed and float rates mean?
Fixed rates maintain the displayed crypto amount unchanged, while float rates adjust according to market fluctuations.
Which cryptocurrencies are supported on FixedFloat?
FixedFloat supports a diverse range of over 60 cryptocurrencies, including Bitcoin, Ethereum, and Cardano, with more additions planned for the future.
Are there fees associated with using FixedFloat?
Yes, there are fees involved. Applicable service fees include 1% for fixed rates and 0.5% for float rates, a miner fee, and a consolidation fee. These fees ensure the efficiency and reliability of transactions.
Does FixedFloat offer customer support?
Absolutely, FixedFloat provides 24/7 customer support accessible through various channels, including live chat, Telegram, Twitter, and email.
* The information in this article and the links provided are for general information purposes only and should not constitute any financial or investment advice. We advise you to do your own research or consult a professional before making financial decisions. Please acknowledge that we are not responsible for any loss caused by any information present on this website.