Kraken and Gemini are two US-based crypto exchanges, which are among the top preferences of traders.
We will be examining the differences between what features each exchange provides so that you can establish which one is best suited for your need.
About Kraken
Kraken was founded in 2011 by Jesse Powell. The exchange is owned and managed by Payward, Inc., a San Francisco-based company.
The platform is one of the oldest and most well-known cryptocurrency exchanges in the world. Kraken also supports fiat trading, and it is a global leader when it comes to Bitcoin to EUR trade volumes.
About Gemini
Gemini was established by Tyler and Cameron Winklevoss in 2015 as the first exchange in the US that is licensed to offer Bitcoin and Ethereum trading. It is said that the founders own 1 percent of all the circulation supply of Bitcoin. The company is based in New York.
Since its launch, Gemini has quickly evolved to become one of the most popular cryptocurrency exchanges based in the United States.
Supported Currencies
Kraken supports a wider variety of coins and tokens than Gemini. Kraken's crypto listing comprises of 23 coins including Bitcoin, Ethereum, Litecoin, EOS, Dash, Ripple, Monero, Zcash, Augur, Gnosis, Stellar Lumens, Dogecoin, EOS, and many other altcoins. Kraken's listing is always expanding with new crypto options.
The San Francisco-based exchange is also one of the few exchanges that offer trading against fiat options, such as USD, CAD, GBP, EUR, and JPY.
Gemini instruments are more limited, supporting Bitcoin, Ethereum, Bitcoin Cash, Litecoin, and Zcash. Almost all of the coins can be traded against the US dollar.
Kraken vs Gemini: Interface
In terms of trading platforms, Kraken's proprietary software has advanced functionality and outsources charting from Trading View.
Kraken comes in three platform versions: Simple, Intermediate, and Advanced. The interface includes a variety of trading indicators and parameters, which can seem a bit too much for the beginner trader.
Gemini's interface has a simple design, focusing mostly on the order book feature. The charts are next to the order form through which users can order coins in an auction format.
Kraken vs Gemini: Supported Countries
Kraken has a wide reach, being available in most countries with a few exceptions, such as:
Afghanistan;
Cuba;
Iran;
Iraq;
Japan;
North Korea;
Tajikistan.
While Gemini's services can only be accessed by a number of countries:
United States;
Canada;
United Kingdom;
South Korea;
Hong Kong;
Singapore.
What I would like to point out is that Gemini is able to operate in all US states due to its BitLicense, and Kraken is prohibited from operating in Washington and New York.
Kraken vs Gemini: Deposits and Withdrawals
Kraken supports crypto and fiat currency payments. Fiat deposits and withdrawals can be done via Bank Transfer, SWIFT, wire, ACH (for US residents), and SEPA (for EU residents). Here are the fees:
EUR SEPA: Deposit (Free) / Withdrawal (€0.09) – EEA countries only;
USD Bank Wire Deposit ($5 USD) / Withdrawal ($5 USD) – US only;
EUR Bank Wire Deposit (€10) – outside US only;
USD Bank Wire Deposit ($10 USD) / Withdrawal ($60 USD) – outside US only;
JPY Bank deposit (Free, ¥5,000 deposit minimum) / withdrawal (¥20) – Japan only;
CAD Wire Deposit (Free) / EFT Withdrawal ($10 CAD fee, $25K CAD daily max).
Almost all crypto deposits are free, but withdrawals come with a fee:
Bitcoin (XBT): Withdrawal (0.001 BTC);
Ether (ETH): Deposit (small transaction fee to move ETH into Kraken's wallet) / Withdrawal (0.005 ETH);
Ripple (XRP): Withdrawal (0.02 XRP);
Litecoin (LTC): Withdrawal (0.02 LTC);
Bitcoin Cash (BCH): Withdrawal (0.001 BTC);
Tether (USDT): Withdrawal (5 USDT).
Gemini supports ACH Bank Transfers and wire, crypto funds, as well as deposits and withdrawals in its native stablecoin the Gemini Dollar (GUSD).
Deposits on Gemini incur no fees, but there are costs when it comes to withdrawals. Also, if you withdraw before the 10th of the month, then you do not have to pay any fees. Here are the withdrawal fees after the 10th:
Bitcoin: 0.001 BTC fee;
Ethereum: 0.001 ETH fee;
Litecoin:0.002 LTC fee;
Bitcoin Cash: 0.002 BCH fee;
Zcash: 0.002 ZEC fee;
Wire transfer: Free;
ACH: Free;
Gemini dollar: Free.
BTC withdrawals that surpass 100 per month may incur extra fees.
Kraken vs Gemini: Fees
Both Kraken and Gemini use a fee structure that is based on the maker-taker model that is determined by the 30-day trading volume.
The maker fee from Gemini can go from 1.00% to as low as 0.00%. The taker fee can vary from 1.0% to 0.10%.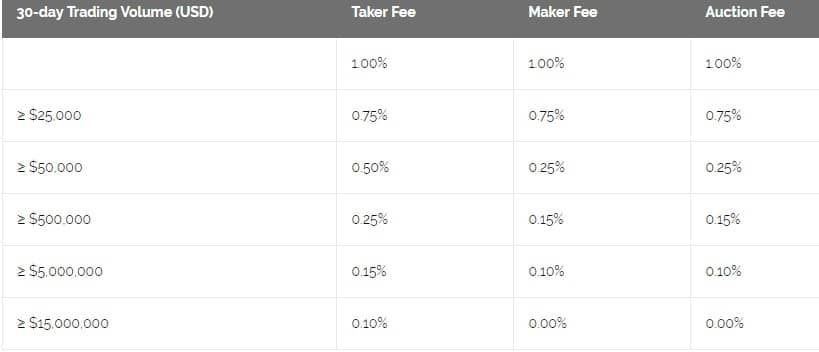 The Kraken maker fee can vary from 0.00% to 0.16% with a taker fee between 0.10% and 0.26%.
Spot trading fees: 0.26% – 0.00%;
Stablecoin trading: 0.2% – 0%;
Dark pool fees: 36% – 0.2%;
Margin Fees: 0.002%- 0.001% (for both opening and 4-hour rollover fees).
It is obvious that it has lower fees, as none of them ever go even near to Gemini's 1%.
Kraken vs Gemini: Security
Both Kraken and Gemini have strong security implementations. But Gemini has taken extra measures for its U.S. dollar deposits, as they are insured by the FDIC for up to $250,000 per user.
Kraken keeps 95% of all its crypto fund in cold wallets, which are geographically distributed across the globe. There is no exact percentage provided by Gemini, but the exchange assured its customers that most of the funds are stored in their enhanced cold storage system. Gemini's system claims to have no single point of failure as it employs secure hardware security modules (HSMs) with multi-signature technology.
Kraken keeps all personal user information encrypted on secured servers, protecting the data through GSL and Master Key features. The exchange and domain are constantly monitored for all the outgoing and incoming activity. It also features 2 Factor Authentication, email confirmation for withdrawals, global setting time lock, granular API key permissions, and SSL encryption.
So far, the exchanges haven't been hacked.
Customer Support
Kraken provides support through email and chat service, while Gemini only has an email service.
Both exchanges have their own FAQs sections which feature answers to some of the most common questions. Kraken also includes trading guides to help novice traders.
Users reported that response times for both exchanges can be quite slow, but most online reviews said that the exchanges had good support.
In conclusion
There is no clear winner in the Kraken vs Gemini battle. While Gemini is pricier, it has an easy-to-use platform, and can also be used by NY residents, Kraken is a better option for advanced traders that are looking for a wider array of altcoins at lower trading fees.
You will have to decide which exchange is the best one for you.
Featured image: coincentral.com
* The information in this article and the links provided are for general information purposes only and should not constitute any financial or investment advice. We advise you to do your own research or consult a professional before making financial decisions. Please acknowledge that we are not responsible for any loss caused by any information present on this website.