Bitcoin Making Headlines in a Chinese State Newspaper
Last Updated on Nov 11, 2019 at 13:52
Today morning, Bitcoin has made the headlines in a Chinese state publication as the crypto market becomes bullish following Beijing's blockchain drive. According to reports that appeared on crypto Twitter on Monday, November 11, the pioneer cryptocurrency was on the front page of Xinhua, a state-run newspaper. The publication featured an article with the title "Bitcoin: The First Successful Application of Blockchain Technology."
Sino Global Capital CEO, Matthew Graham first saw the article and took it to social media.
Chinese state newspaper today (Xinhua)

Bitcoin: The First Successful Application of Blockchain Technology https://t.co/85icR9FcAH pic.twitter.com/8ZOF6UBSzw

— Matthew Graham (@mg0314a) November 11, 2019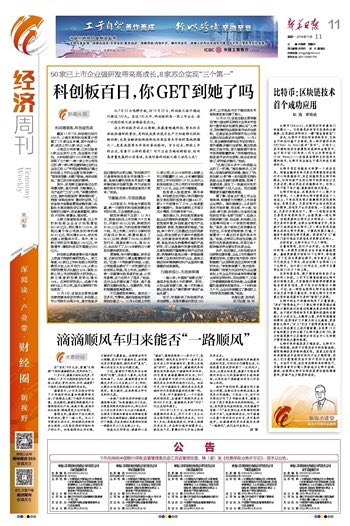 The piece, which did not draw many compliments, opened with the following line (translated version):
"First of all, Bitcoin is not a tangible currency. It is produced and operated on the Internet … [Unlike] banknotes [which are] supported by national laws and sovereign credit, Bitcoin is completely born in the modern technology Internet era."
Curtailing Crypto Progress
The Chinese government has tried its best to thwart the progress of digital assets in the country, as witnessed in the banning of ICOs and other crypto-related projects. However, things appear to be taking a different turn. Recently, president Jinping lauded blockchain technology and now the appearance of Bitcoin on the front page of a state-run publication sends a clear message to millions of people that the country is warming up to the concept.
The report further explores how blockchain operates, touches briefly on cryptography, mining, consensus, and halving. Touching the characteristics of Bitcoin, the article stated:
"Good anonymity, the identity of the account holder will not be known to anyone. People can freely transfer money through Bitcoin without having to verify various identity information like a bank transfer."
However, the report also discredited the pioneer cryptocurrency saying that it is widely used for "darknet" and "black market" transactions. It also mentioned that the digital currency is prone to high volatility.
"The price of Bitcoin is subject to large fluctuations. Bitcoin is just a bunch of data. If it is not linked to real money and physical goods, it is difficult to ensure the stability of its price."
China Warming Up to Bitcoin
All the same, China appears to be warming up to the pioneer digital currency regardless of the caveats. As reported earlier, the government recently eliminated Bitcoin from the official list of industries under the radar of the National Development and Reform Commission (NDRC).
With BTC on the front page of a state-run publication, many crypto enthusiasts believe it was a bullish move. In addition to president Jinping's remarks on Bitcoin a couple of weeks ago, China could be positioning itself for blockchain and crypto transformation. Beijing is increasing its momentum on blockchain drive, and the evidence is clear.
Featured Image Source: Pixabay