How many times have you worried about whether your crypto assets are safe in a specific wallet? Researching all the wallets available, considering buying a hardware wallet, and learning what special features each wallet has can affect your overall experience with crypto.
But when you find a trustworthy crypto wallet to store your assets, it's like you're on the sunny side of the street again. Knowing that your crypto is safe and can be easily accessed from multiple devices can make you trade with more ease.
So, if you've been in this situation, trying to find the right wallet, you probably noticed Coinbase Wallet and even decided to use it. But now, you want to transact some crypto, and you need to find your wallet address. If you're having difficulties finding what you need on Coinbase, we're here to tell you how to find a Coinbase wallet address.
About Coinbase
Launched in 2012 by Brian Amstrong and Fred Ehrsam, Coinbase is a cryptocurrency exchange that allows users to buy, sell, and trade crypto as easily as possible. The platform is available almost worldwide and supports over 250 cryptocurrencies, including Bitcoin (BTC), Ethereum (ETH), Litecoin (LTC), Tether (USDT), Solana (SOL), Dogecoin (DOGE), Polygon (MATIC), and many more.
Besides the main platform we all know, Coinbase always launched an advanced trading platform called Coinbase Advanced Trade. It was first named Coinbase Pro, and it is designed for more experienced crypto traders.   
In what concerns the fees, Coinbase requires less from makers and more from takers. The maker fees vary between 0.00% and 0.40%, while the takers have to support fees ranging from 0.05% to 0.60%. The fees depend on the amount of crypto you trade. Thus, the highest fees are for transactions between $0 and $10,000, while the lowest fees are charged for transactions of over $400,000,000.
Coinbase supports multiple payment methods, including bank account (ACH), instant cashouts to bank accounts, debit cards, wire transfers, PayPal, Google Pay, and Apple Pay. The fees strongly depend on the payment method you choose.
Coinbase Wallet
Coinbase Wallet is a non-custodial crypto wallet that allows users to store over 100,000 crypto assets in a safe and secure space. Furthermore, with Coinbase Wallet, users can also explore decentralized applications (dApps) and manage Ethereum and Polygon-based NFTs (Non-Fungible Tokens).
Coinbase Wallet is extremely easy to set up. All users have to do is download the app (mobile) or the Chrome extension (web) and create or import a wallet. To create a wallet, they will also need to back up their secret recovery phrase.
While storing your assets on Coinbase Wallet is entirely free, depositing or withdrawing crypto to an external wallet may come with some fees that users believe to be quite high. Still, Coinbase Wallet has some great security and safety features, and this is why many users decide to use it.
Coinbase Address vs Coinbase Wallet Address
It is essential to note that a Coinbase address and a Coinbase Wallet address are 2 entirely different things. A Coinbase address can be found on your exchange account, but you can't find a Coinbase Wallet address on that platform. However, don't worry, as looking for your wallet address could not be easier.
How to Find Coinbase Wallet Address – Step-by-Step Guide
The processes of finding your Coinbase Wallet address on mobile and on the web are similar. In just a few steps, you will be able to use your address for transacting crypto.
First, you will have to open Coinbase. Ensure that you are on the account you want to share information about. You can do this from the upper left corner of the screen. Whether you open Coinbase Wallet on your phone or laptop, the settings buttons will be in the bottom right corner of the screen. Click on that.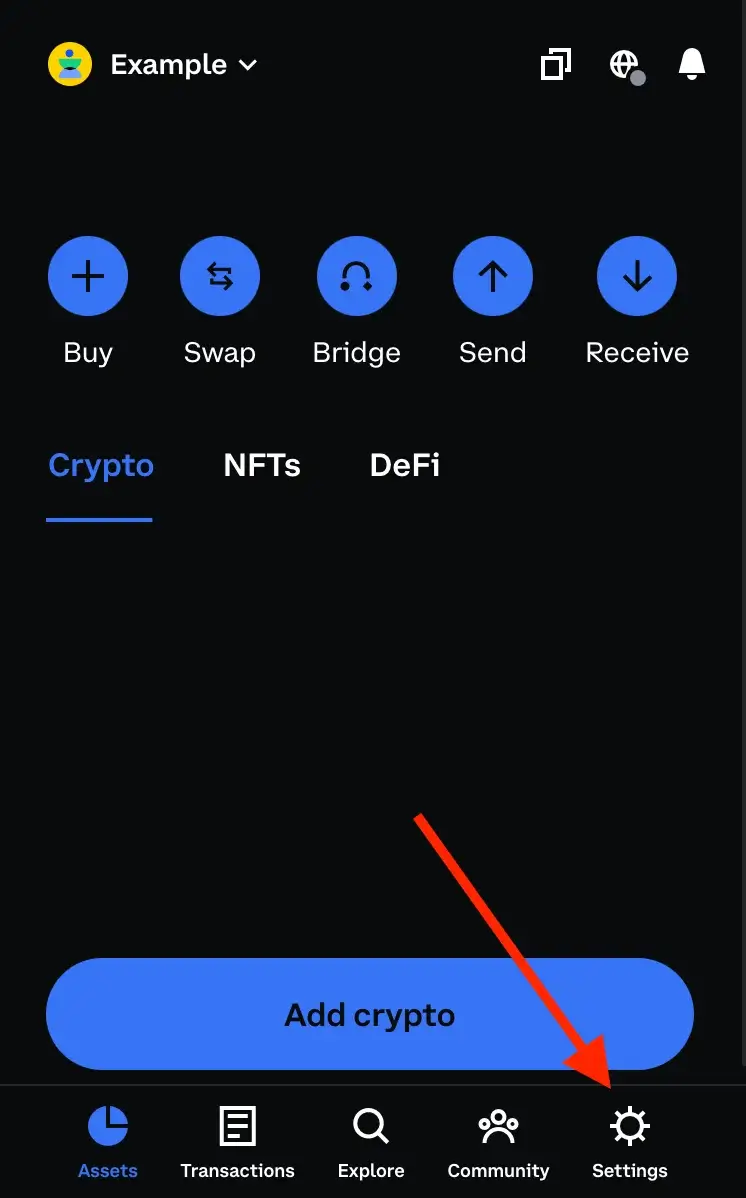 Then, you will see an area with part of your profile information. Click on that.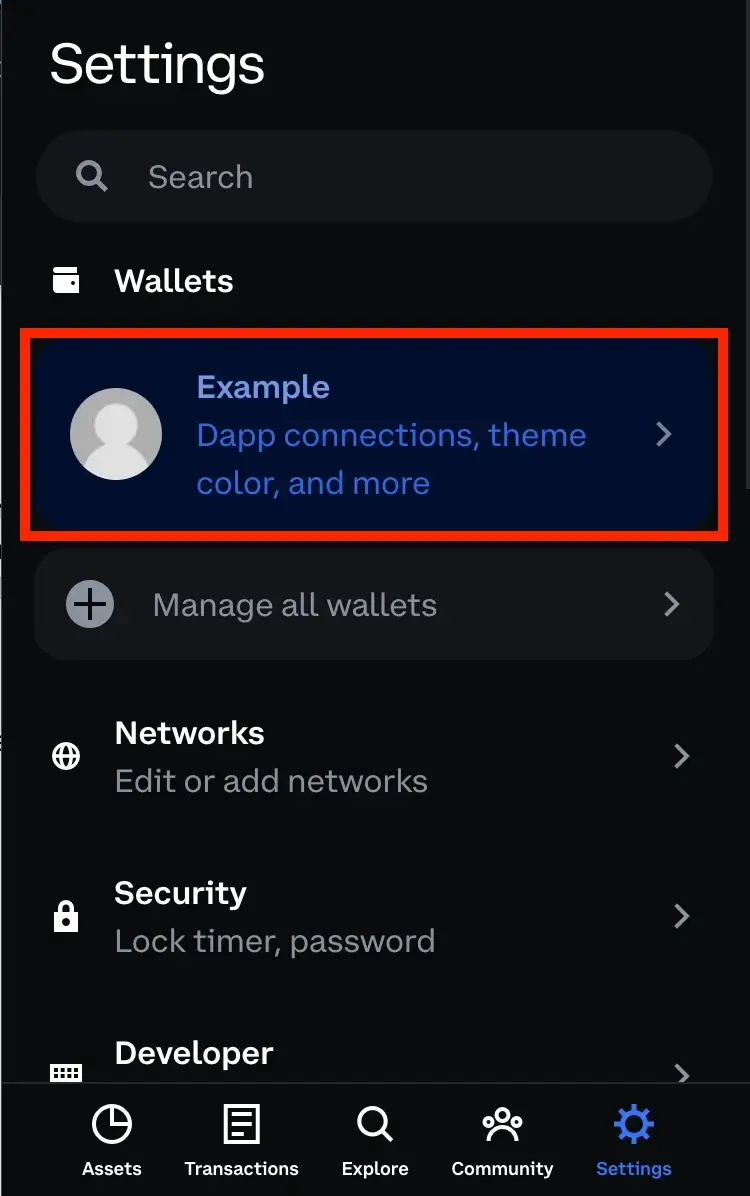 Once you reach this menu and scroll down just a little, there will be an option called "Export public addresses." You can click there.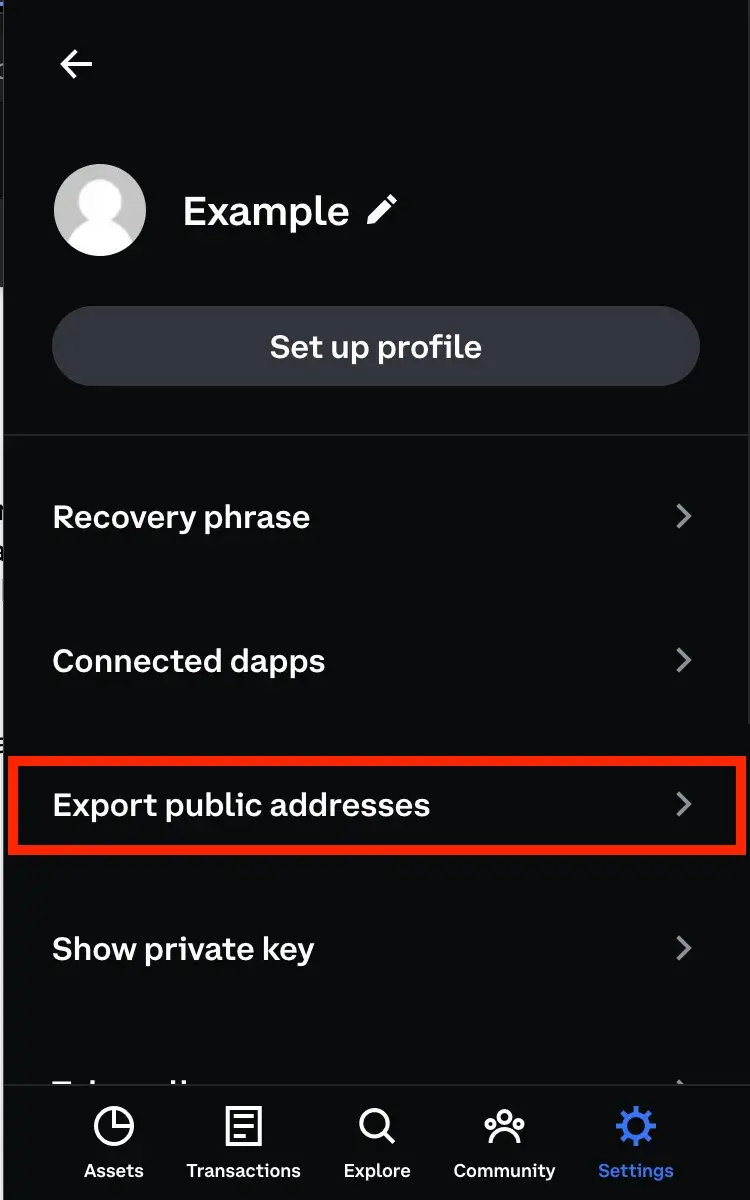 There, you will be able to copy your wallet address or public key. Just click on "Copy."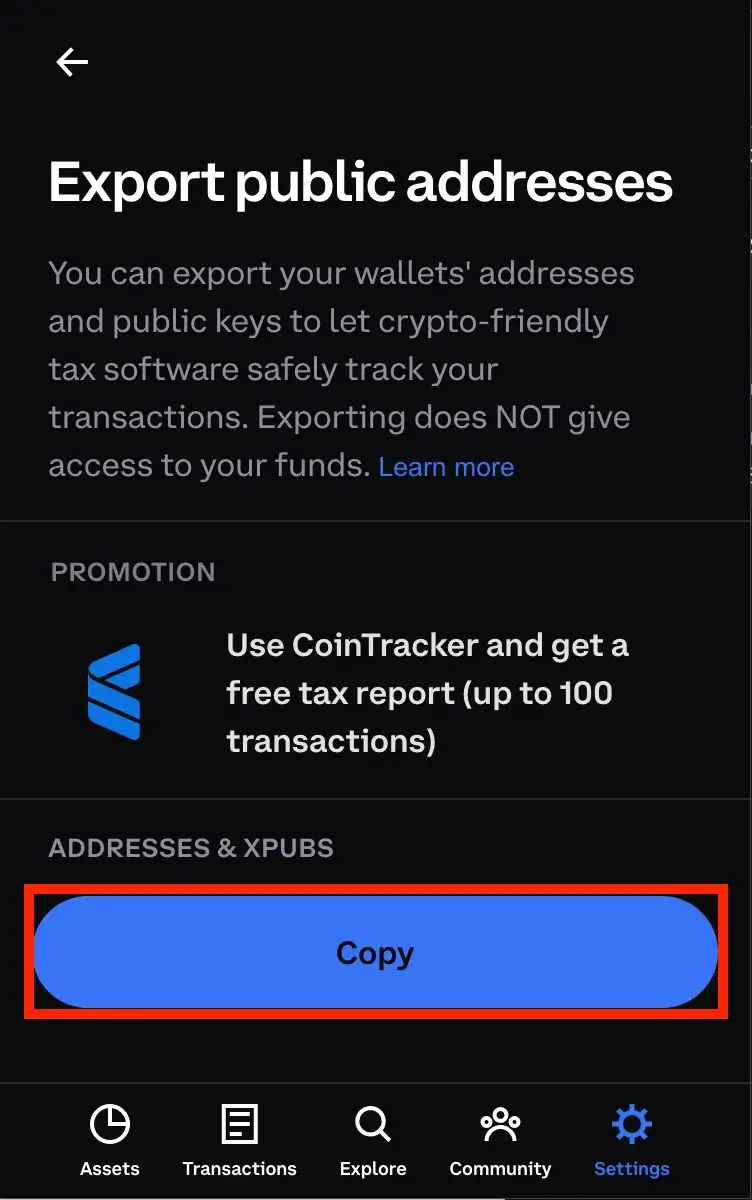 After you click on copy, not only did you find the Coinbase wallet address, but you also copied it successfully and now you are ready to go on with your trading activities.
FAQ
What is my Coinbase wallet address?
Your Coinbase wallet address is also called "public key" and is a row of random letters and numbers associated with your wallet and, therefore, with your funds. Whenever you want to send or receive funds, you will have to copy this address. So, try to keep it close.
Where is my Coinbase wallet address?
Your Coinbase Wallet address can be found as follows: Settings>Profile>Export public addresses>Copy.
Is Coinbase Wallet safe?
Many believe that Coinbase Wallet is a safe option to store your funds. It also allows users to set up 2FA (Two-factor authentication) and is a non-custodial wallet, meaning that only you can control your digital assets.
Final Thoughts
Storing your crypto assets can sometimes be a bit scary, especially when you don't know what wallet to choose. With so many options out there, it can be hard to decide which one is the best for you. However, with some research, you may find the crypto wallet that has the features you need.
If you're using Coinbase Wallet and you can't find the wallet address, keep in mind that the process is surprisingly simple. All you have to do is go to Settings, click on your profile, then go to "Export public addresses," and copy the address of your wallet.  
* The information in this article and the links provided are for general information purposes only and should not constitute any financial or investment advice. We advise you to do your own research or consult a professional before making financial decisions. Please acknowledge that we are not responsible for any loss caused by any information present on this website.