Regardless of your trading experience, you have heard about Coinbase, as it is a prominent figure within the crypto sector. As you wonder, "What is the difference between Coinbase and Coinbase Wallet?", we are discussing the main difference between these two so you can choose best.
As Coinbase, the exchange, and Coinbase Wallet are part of the same ecosystem, it's crucial to understand the key differentiators between them.
So, if you're wondering which Coinbase product is best for your crypto needs and strategies, we invite you to keep reading.
Coinbase vs Coinbase Wallet in a Nutshell
For starters, it's a matter of platform concept and usability regarding your crypto journey. While Coinbase.com is a hub for all your crypto trading activities, Coinbase Wallet is an app-based wallet seamlessly designed to allow you to interact within the decentralized web.
As such, Coinbase exchange could be your way to go for buying, selling, and trading crypto, while Coinbase Wallet allows you to manage your private key and interact with DeFi (Decentralized Finance) protocols.
Coinbase Features at a Glance:
Govern your cryptocurrency portfolio;
Perform recurring buys with ease;
Vault security for your digital assets;
Mobile apps within a comprehensive ecosystem.
Overview of Coinbase Wallet Features:
Store and organize all your cryptos, NFTs (Non-Fungible Tokens), and wallets with just one application;
It supports your favorite tokens and dApps;
Enjoy exploring the decentralized web at your hand;
Secure your digital assets in a trustworthy and secure manner;
These are just a few critical differentiators within these two crypto mediums, and if you want to go into specifics, be sure to read further and discover our in-depth take on Coinbase and Coinbase Wallet.
What is Coinbase?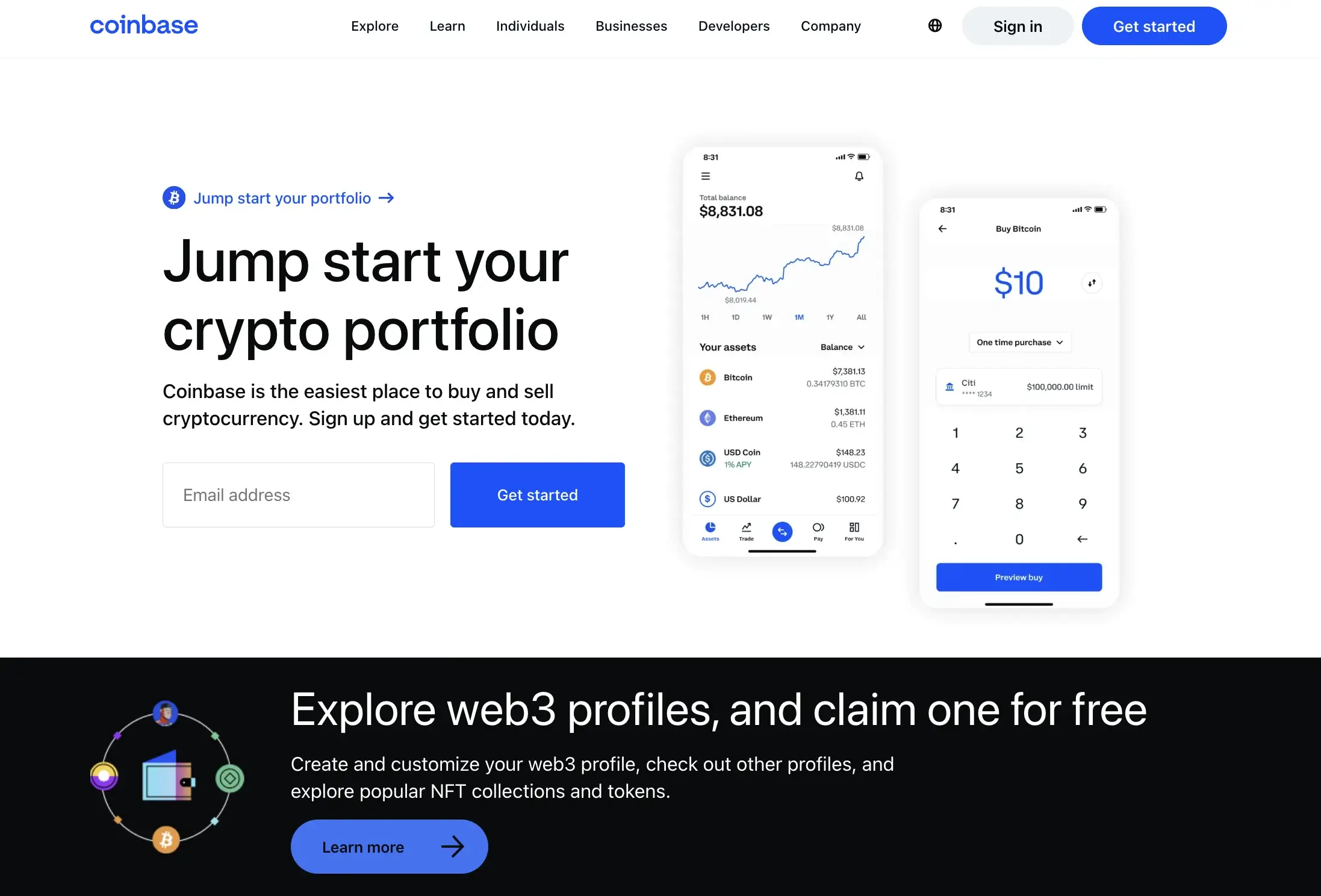 Coinbase is one of the most accessible crypto exchange platforms you'll need to achieve financial freedom.
Founded in 2012 by Brian Armstrong and Fred Ehrsam, Coinbase stands as the most convenient crypto exchange, operating in more than 100 countries, thus having a trading volume of $76 billion in the past quarter.
Given this, Coinbase manages a robust cryptocurrency ecosystem supporting 13,000 financial institutions, having more than 4500 employees worldwide.
Moreover, this centralized crypto exchange aims to support new starters and seasoned investors through the help of its two trading platforms: Coinbase Simple Trade and Coinbase Advanced Trade.
If you didn't know about Coinbase's Advanced Trade, no sweat; it was formerly known as Coinbase Pro.
Coinbase Exchange Offerings
Besides the fact that you can create your own Coinbase account in just three simple steps, this exchange offers many beneficial features.
To name a few, Coinbase provides a learning hub where you can explore anything you need to know, from crypto basics to Web3 and market updates, including crypto policies.
Then, you can put your knowledge to the test and experiment with Coinbase Earn. This digital product allows you to stake and earn interest in your crypto.
Afterward, when you have made some transactions, you can jump into the water and buy, sell, and use crypto, borrow cash using collaterals, and grow your NFT (Non-Fungible Tokens) collection.
On the other hand, Coinbase can also sustain you further if you're an enterprise, offering crypto solutions for institutional investors, family offices, and businesses.
From your first steps into the adventurous crypto journey until you become a crypto master, Coinbase the exchange could be your virtual pal for all your trading activities as it offers over 35 products for individuals, developers, and businesses.
How to Open Your Coinbase Account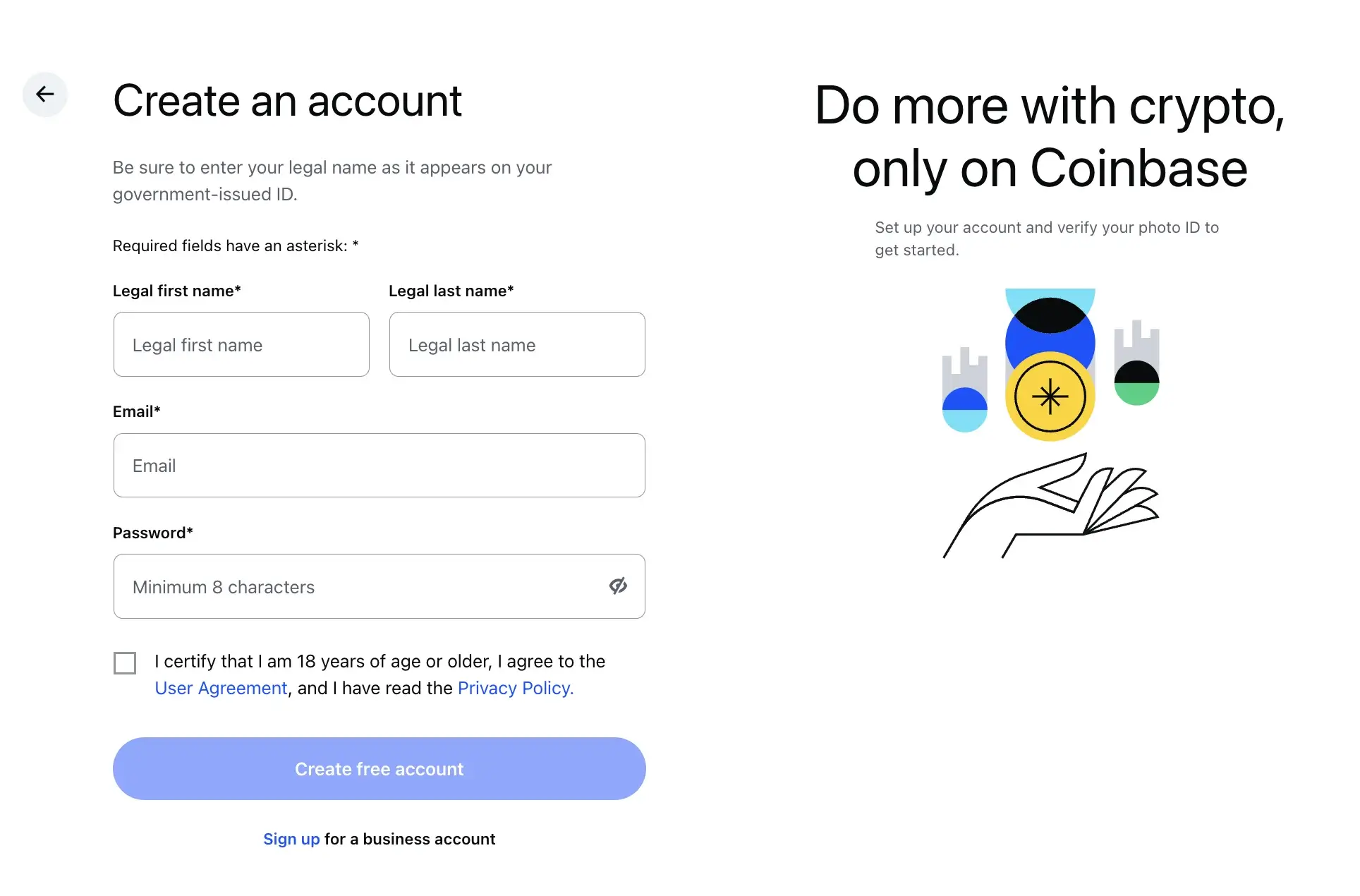 Coinbase offers a straightforward way to create your account, and as such, you'll need to submit your details, including your name, email, and proof of residence.
However, please note that you must meet the Know Your Customer (KYC) regulations alongside a picture of your government-issued ID.
What is Coinbase Wallet?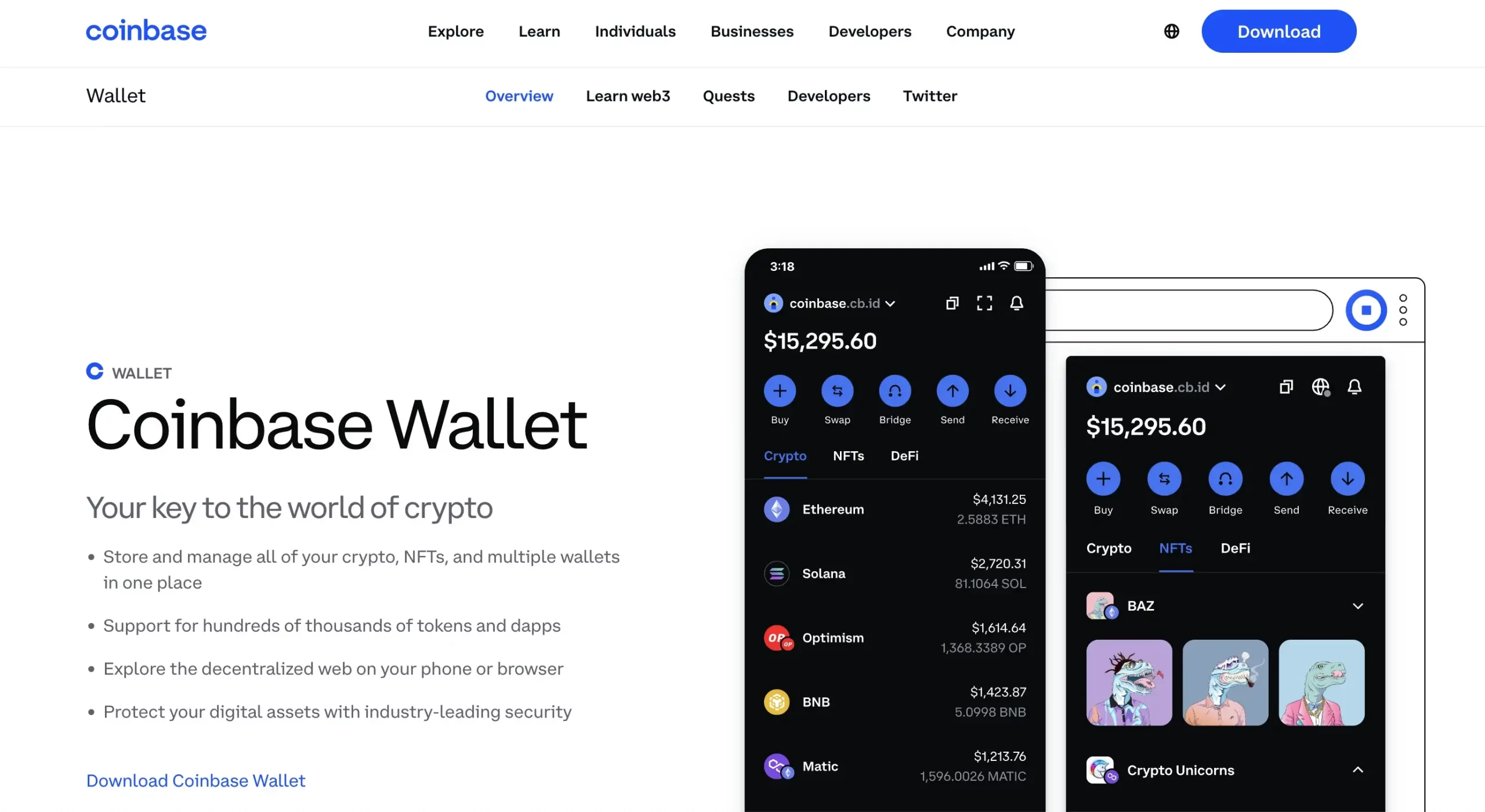 Coinbase Wallet can be your crypto key to a new world of financial possibilities!
Launched in 2018 as part of Coinbase's ecosystem, this self–custodial cryptocurrency wallet is considered one of the safest crypto wallets, offering complete control over a wide range of cryptocurrencies.
To better grasp this, it is essential to understand that this crypto wallet provided a critical layer of security in cases where funds are mishandled, as seen in November 2022 in the FTX bankruptcy.
You don't need to create a Coinbase account to use the wallet. You can start directly within the Coinbase Wallet by using your email address or bank account.
What is remarkable about this crypto wallet is that it can communicate with other hardware wallets in case you also want to benefit from offline security.
Now, it is essential to understand the main difference in storing your crypto assets between Coinbase and Coinbase Wallet.
While with the crypto wallet, you can manage your private keys and data, Coinbase, the exchange, offers a "hosted wallet." This means that you don't need to manage your private keys, and you can easily make basic crypto transactions via the main Coinbase app or website.
Coinbase Wallet Features
One of the key features of this crypto wallet is that it enables you access to Ethereum and Polygon-based NFTs and to explore decentralized apps, besides managing hundreds of digital assets.
Another notable feature is part of the usability. As such, Coinbase Wallet can be accessed through the browser, as an extension, or mobile app. This ensures a seamless experience across different platforms, allowing users to switch between desktop and mobile devices effortlessly.
However, the desktop version offers basic functionalities compared to the mobile application, whereby you can enjoy all its crypto services with just one click.
How to Get Started with Coinbase Wallet
Available for iOS, Android, or Chrome extension, all you need to do is download the app and start with your email address or bank account, and you're done!
However, please note that writing down your private key (the random 12-word phrase) is essential. You need to remember this 12-word phrase to access your digital assets.
Coinbase vs Coinbase Wallet: Supported Currency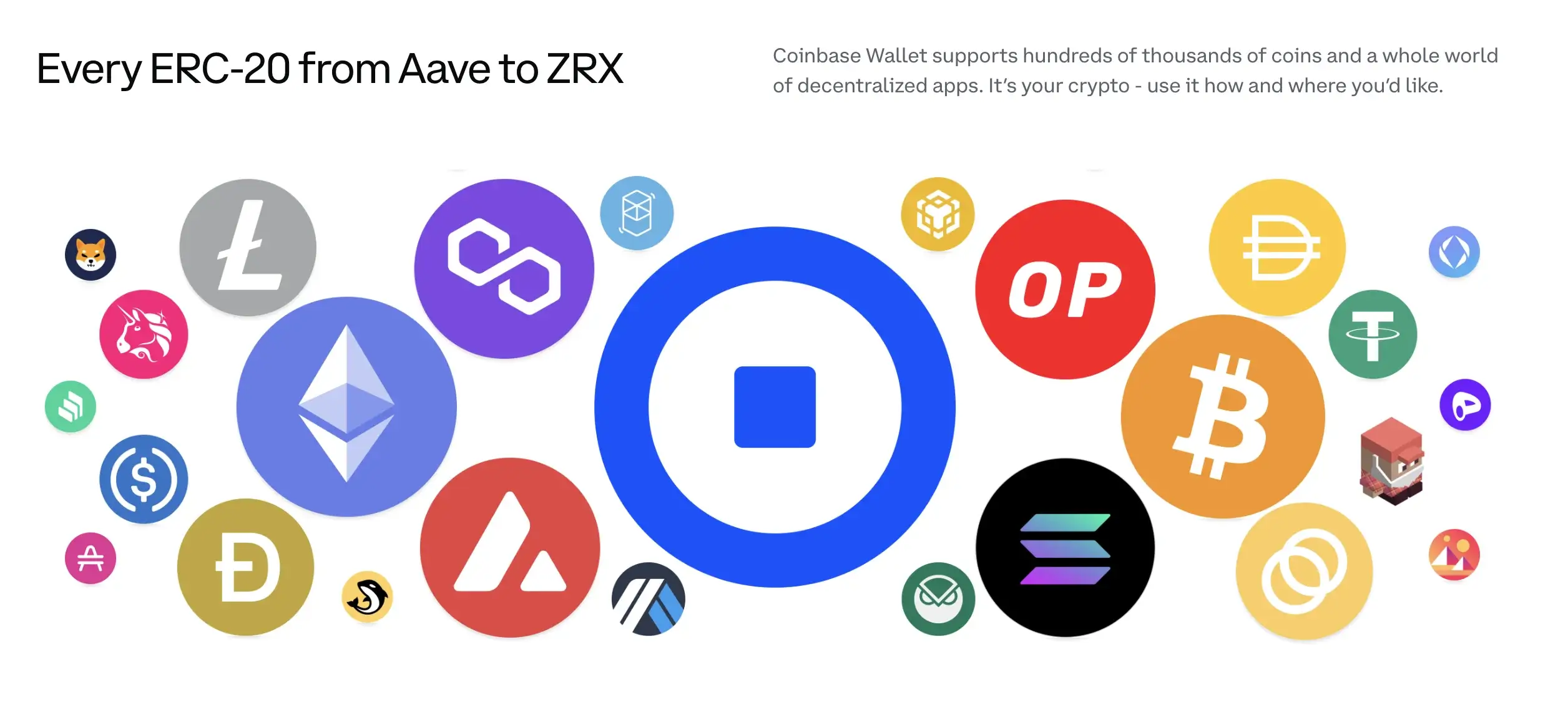 Coinbase Wallet stands as the winner in the battle of the assets, as it supports thousands of tokens, including all ERC-20 tokens and all tokens on EVM-compatible chains, such as Avalanche, C-Chain, and Polygon.
However, we must understand that as of February 20th, 2023, Coinbase Wallet discontinued support for the following assets and networks due to low usage: BCH (Bitcoin Cash), ETC (Ethereum Classic), XLM, and XRP.
Get this: as Coinbase and Coinbase Wallet are separate products, if you synchronize these two, you can use them intertwined. As such, you can buy or transfer cryptos from the exchange into your hot Wallet.
At this moment, please keep in mind that some cryptocurrencies are available on the Wallet but not on the exchange and vice versa. Also, even though the transfers between these two are on the identical blockchain, they are subject to network fees.
Coinbase vs Coinbase Wallet: Fees
Regardless of using the exchange or crypto wallet, Coinbase is known for having high transaction fees. However, Coinbase allows its users to customize the network (miner) fee depending on the urgency of the action.
For example, if you just download and store your digital asset on the wallet, it is free, yet depositing or withdrawing from Coinbase imposes a fee.
But if you're looking to buy or sell crypto, Coinbase uses a maker-taker fee model for determining the trading fees. As such, these might vary accordingly: 
Coinbase and Coinbase Wallet: Security
There's no wonder that Coinbase and Coinbase Wallet provide some of the most secure platforms for its users, and as such, they integrate industry-standard measures required for operation.
Moreover, the Coinbase Wallet underlines security by integrating biometrics or passcode for the mobile application. For browser extension, you must create a password to inhibit unauthorized access.
Other than this, Coinbase offers:
2-Step Verification on All Accounts;
Password Management;
Enhanced Account Protections;
Lock My Account Option;
Access to Coinbase Vault;
Proactive Security Notifications;
Coinbase vs Coinbase Wallet: Insurance
Concerning insurance, the Coinbase ecosystem doesn't cover any financial losses resulting in a breach or loss of credentials or unauthorized access to your personal Coinbase or Coinbase Pro account.
Just so you know, cash balances are stored as a balance in your Coinbase or Coinbase Pro account. For U.S. crypto investors, Coinbase combines your funds with those of other customers to hold those funds in custodial accounts at U.S. banks or invest those funds in liquid U.S. Treasuries.
Final Thoughts
As we've reached the end of our comprehensive article, we must say that understanding the distinctions between Coinbase and Coinbase Wallet is pivotal for anyone navigating the cryptocurrency world.
Whether you prefer the simplicity of a hosted wallet on Coinbase or the control of managing your private keys through Coinbase Wallet, both options cater to various aspects of the crypto experience.
By weighing each platform's features, fees, and security measures, you can make informed decisions tailored to your specific needs.
FAQs
Is Coinbase and Coinbase Wallet the same?
No, Coinbase and Coinbase Wallet are two separate products but are part of the same ecosystem.
Do You Need an Account to Use Coinbase Wallet?
No, you can download Coinbase Wallet from iOS or Android and start without needing an account. However, creating an official account on the Coinbase exchange and linking it to the Coinbase Wallet could bring other benefits.
Is Coinbase Wallet Safer than Coinbase?
From an objective perspective, Coinbase Wallet is safer than Coinbase since it offers a self-custodian wallet compared to the "hosted wallet" that the exchange provides.
* The information in this article and the links provided are for general information purposes only and should not constitute any financial or investment advice. We advise you to do your own research or consult a professional before making financial decisions. Please acknowledge that we are not responsible for any loss caused by any information present on this website.