Forget airdrops, Dogecoin faucet is becoming the best way to earn free Dogecoin and crypto in general. While most airdropped coins are likely worthless, the Doge faucet earns you real Dogecoin, which has value and underpins a thriving chain.
Free money makes the cryptocurrency world go round. These free Dogecoin faucet giveaways are embraced as a way to grow the ownership, usage, and reach of Doge. They help raise the profile of Dogecoin as a universe of millions of coins and millions more users.
This guide to the best Dogecoin faucet will teach you everything you need about these free Dogecoin. Keep reading the Dogecoin faucet list to find the ones that have proven lucrative. While the Dogecoin faucet is growing in popularity, the underlying idea is not new. Here's everything you need to know.
Another way to get some Dogecoin is to buy them, and you can buy dogecoin from eToro if you don't want to bother with setting up a crypto wallet, transferring the coins to the wallet and other complicated things.
What Is a Dogecoin Faucet?
A Dogecoin faucet is simply an app or website that gives away DOGE coins. The goal here is to spur the adoption of Dogecoin. It's worth $10 billion today. So, a user only needs to complete a simple task to earn free Dogecoin. 
The idea finds its roots in the bitcoin faucet created in 2010 to award anyone who downloaded the bitcoin software. Some faucets allow users to request free Dogecoin every one or three hours, with payouts running to $200 in some cases. 
You can be rewarded for watching videos, taking surveys, even shopping, or any other everyday activity. What you need to do to earn free crypto depends on the faucet, but the requirements are simple tasks to bring more people to adopt Dogecoin. 
Dogecoin Faucet List – Introduction
There is a growing list of Dogecoin faucets. However, for this Dogecoin faucet list, we're only working with the top five. This list includes everything from fan favorites to promising entries that have the potential to change the way you look at a Doge faucet.  
The pick for the best Dogecoin faucet isn't based on the potential rewards of the website or app alone but on the overall likable features of the platform. Here are the most rewarding Doge faucets that you can use to earn free crypto. 
1. Cointiply
Cointiply is a widespread Dogecoin faucet that allows users to earn Dogecoin and other cryptocurrencies by completing simple tasks such as visiting websites, solving captchas, watching videos, completing surveys, and playing games. The site offers a clean and user-friendly interface, making it easy for beginners to navigate and earn their first bit of Dogecoin.
One of the unique features of Cointiply is their "multiplier" feature, which allows users to increase their earnings by up to 100x by completing specific tasks or reaching certain milestones on the site.
Users can also earn additional Dogecoin by referring friends to the site and participating in the Cointiply lottery. The site has a low payout threshold, making it easy to withdraw earnings.
Cointiply also has a variety of fun games that users can play to earn Dogecoin, including a "Coin Flapper" game, a "Coin Rain" game, and a "Wheel of Coins" game. 
2. Free Doge
Free Doge is a Dogecoin faucet that allows users to earn Dogecoin. You can claim up to $300 in Dogecoin every hour on Free Doge. This high payout rate makes it an attractive option for users looking to accumulate a significant amount of Dogecoin quickly.
Users can earn additional Dogecoin by referring friends to the site. Free Doge offers 50% of your referral earnings. Besides, the site has a low payout threshold, making it easy to withdraw your earnings.
The faucet has been in operation for some time, and the owner is known to be active on Twitter, frequently sharing promotional codes for free rolls.
3. FireFaucet
FireFaucet is a multi-cryptocurrency faucet that allows users to earn various cryptocurrencies, including Dogecoin, by completing simple tasks such as visiting websites, solving captchas, and playing games. As Cointiply, FireFaucet has a clean and user-friendly interface, making it easy for beginners to navigate and earn Dogecoin.
FireFaucet also offers a variety of games that users can play to earn Dogecoin, such as a "Roll and Win" game, a "Coin Flip" game, and a "Scratch and Win" game.
Users can also earn Dogecoin by watching videos, completing surveys, and completing offers. FireFaucet also offers a loyalty bonus for users who use the site regularly.
FireFaucet also allows users to upgrade to a premium membership, which gives them access to additional earning opportunities and higher payouts.
4. FaucetCrypto
FaucetCrypto is another crypto faucet that also gives other assets apart from Dogecoin. There are several ways to earn on this faucet. You can just claim free crypto every 40 minutes, which is the easiest way. To increase your earnings, you can watch ads, participate in surveys, and offerwalls. 
Faucetcrypto also offers an over 20% commission when you refer friends to the website. This is another easy way to earn more passively. When you earn enough, you can place a request, and your crypto will be sent directly to your personal wallet. 
In this faucet, users are directed to several real ways to make money from home. After each claim, the time resets to countdown the minutes to your next Dogecoin claim. 
Faucet Crypto Dogecoin offers lots of lottery games where users can earn Dogecoin rewards. The free Dogecoin payouts can be used as a buy-in to participate in the lottery game, which means the player has literally nothing to lose by playing, but the free Dogecoin claim. 
5. ESFaucet
ESFaucet is another incredible Dogecoin faucet. The team behind it wants to put crypto in the hands of everyone with this faucet. There is, therefore, no wonder that it is so generous. With it, you can earn Dogecoin every 5 minutes. The amount of crypto generated depletes over time, but there are ways to compensate. You can earn extra by collecting ES coins redeemable for Dogecoin or any other supported cryptocurrency.
For everyone you refer to the faucet with your link, you earn 25% of their earnings. A fascinating aspect of this faucet is that it has an Android app that you can download and claim free Dogecoin on the go. An iOS app is still under development for everyone to access more assets wherever they are. There is no excuse for not getting some free Dogecoin with ESFaucet.
6. Claim Free Coins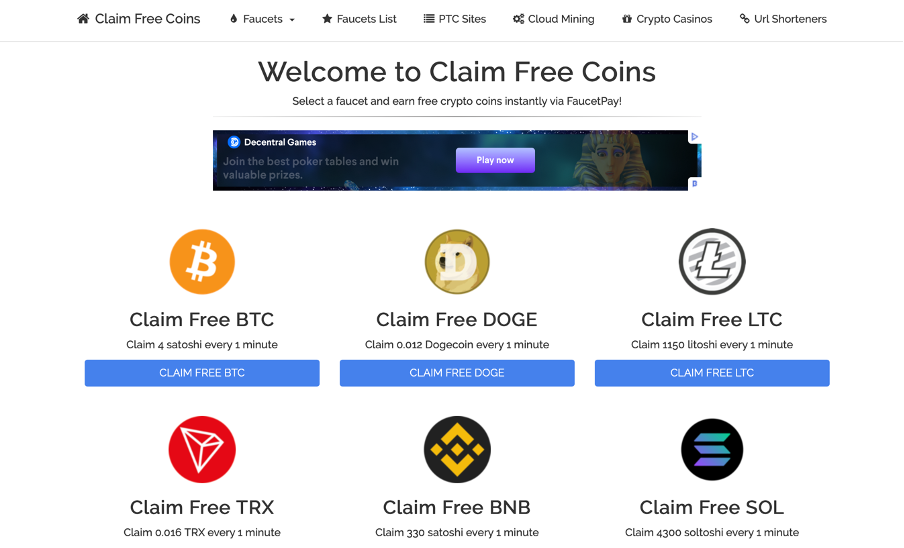 Consumer input is a vital piece of brand advertising, so brands pay third parties like Claim Free Coins to recruit people to offer input in every stage of brand development. When you watch ads on this faucet, you are rewarded with free DOGE. 
Joining and earning are simple, and sign-up is free and straightforward. Claim Free Doge issues thousands of dollars in Dogecoin every day. Also, on this platform, you will be able to accumulate 0.012 DOGE per minute, 51 times a day. 
Besides, if you bring along a friend, you will earn even faster. Everything you do makes you more crypto.  
7. Allcoins.pw Faucet
Allcoins.pw is one of the most rewarding Dogecoin faucets. There is a long list of cryptocurrencies, including Dogecoin, Bitcoin, Ethereum, and Litecoin. You can claim DOGE every 6 min by just clicking a button. You can earn more coins between the spins by playing games, offerwalls, or using the auto-faucet.
This faucet also offers a generous 25% commission on your referral's earnings. You can share your referral links with friends and invite them to get rewarded. Moreover, you can use the faucet to mine Dogecoin if you wish to earn even more. You can easily download the Command Miner and let it run in the computer background. This mines Dogecoin on autopilot while you do other things. It is definitely worth trying if you are looking to get a good amount of free Dogecoin from a faucet with some fun added.
8. Althub
Althub is a multi-coin faucet that supports Dogecoin. This platform offers instant withdrawals for some coins, while others may take up to a week to arrive due to unique withdrawal options. Users can also earn more coins by clicking on short links and completing offerwalls.
Like the above, Althub is an excellent option to get some DOGE.
FAQ 
Why Were Dogecoin Faucets Created?  
The Dogecoin faucet was created as an initiative to broaden the ownership of Dogecoin by putting coins from contributors into a pool to distribute to other users. The community as a whole benefits from the heightened profile of the coin. 
The purpose of issuing free Dogecoin is to grow adoption. It works a lot like an airdrop, but a faucet has a broader outlook on the airdrop. The thinking is that because Dogecoin works on a decentralized platform, a faucet is the only way to give users a taste of what it can do. 
How to Use a Dogecoin Faucet?  
The only thing you need to earn free Dogecoin is to have a smartphone or computer with internet access. With this item, you must sign up for a Dogecoin wallet from any popular crypto exchange. The best Dogecoin faucet will ask you to provide a wallet address. 
Now all you need is to complete a predetermined task. Some faucets may require you to simply click a button at certain intervals to earn Dogecoin rewards. Once the task is complete, the faucet will dispense your rewards to your DOGE wallet. 
Are There Any Risks with a Dogecoin Faucet?  
Yes. While these websites and apps take a lot of precautions to keep users safe, they are not immune to malicious third parties. Users have in the past been subjected to phishing campaigns as hackers attempt to exploit the identity of users. It is always a good idea to take precautions. 
Before submitting your personal information:
Survey the faucet for any red flags. The best Dogecoin faucet should have only one function: to dispense Dogecoins.
Consider the reviews by past users to find the reputation of the faucet.
Watch out for ad-tracking cookies that may commoditize your data.
Is the Dogecoin Faucet App Legit?
Yes. However, you should practice caution and online safety measures, as using a faucet is as risky as anything related to investing in cryptocurrencies. The first thing you should do before using a faucet is to check the reputation of the service among previous users. 
It can be helpful to look through the app. A legitimate faucet will only have a feature to dispense free Dogecoin. This feature should be the main attraction of the faucet; therefore, anything that is not related to this should be scrutinized. 
How many Dogecoins are there?
Unlike other cryptocurrencies, Dogecoin does not have a hard cap limit. The number of Dogecoins that is in existence is more than 130 billion DOGE at the time of writing this Dogecoin faucet list. The rate of coins created is pre-set at 10,000 per minute forever.
The lack of a hard cap is designed to counter the limitation the bitcoin network may experience in the future in transactional-based applications. Hence, the lack of a hard cap encourages users to invest in Dogecoin solely for transactions rather than long-term value growth investing. 
Conclusion
Dogecoin faucet is a reward system. They dispense free Dogecoin for users to claim in return for doing a task as prescribed by the website or app. The idea is not new and not exclusive to Dogecoin, and there are faucets for other cryptocurrencies like bitcoin.
The best Dogecoin faucets are issue-free DOGE in a predetermined interval. The number of rewards varies from one faucet to another, but they can accumulate to a full Dogecoin over time. They are a great way to introduce new users to Dogecoin. 
* The information in this article and the links provided are for general information purposes only and should not constitute any financial or investment advice. We advise you to do your own research or consult a professional before making financial decisions. Please acknowledge that we are not responsible for any loss caused by any information present on this website.