Before selecting a cryptocurrency exchange, one of the best we can do is to check a Coinbase review. In this article, we will be making a full Coinbase review that would help you know more about this platform.
Moreover, we will share some of the best characteristics of this exchange, and we will provide you with the details of the services they offer. Coinbase is also experiencing constant changes. As the market moves forward, Coinbase will also have to provide new solutions.
Coinbase Review: Exchange Overview
The exchange was founded in 2012 in San Francisco, California, by Ben Reeves, Brian Armstrong, and Fred Ehrsam. The website first started out as a Bitcoin (BTC) only trading services, but it soon expanded its listing to incorporate a variety of coins.
Coinbase is a regulated company that is able to offer its services in the US, being among the first in the country to receive a BitLicense, which enables it to operate in New York.
Supported Currencies and Countries
The platform supports 39 different cryptocurrencies:
Algorand (ALGO);
Cosmos (ATOM);
Balancer (BAL);
Band Protocol (BAND);
Basic Attention Token (BAT);
Bitcoin (BTC);
Bitcoin Cash (BCH);
Bitcoin SV (BSV);
Celo (CELO);
Ethereum (ETH);
Litecoin (LTC);
Compound (COMP);
Ethereum Classic (ETC);
Tezos (XTZ);
Chainlink (LINK);
EOS (EOS);
Civic (CVC);
0X (ZRX);
Zcash (ZEC);
Dash (DASH);
Stellar Lumens (XLM);
Ripple (XRP);
Augur (REP);
Dai (DAI);
USD Coin (USDC);
district0x (DNT);
Kyber Network (KNC);
Loopring (LRC);
Decentraland (MANA);
Maker (MKR);
Numeraire (NMR);
NuCypher (NU);
OMG Network (OMG);
Orchid (OXT);
Ren (REN);
UMA (UMA);
Uniswap (UNI);
Wrapped Bitcoin (WBTC);
yearn.finance (YFI).
The fiat currencies accepted by the exchange are Euro (EUR), British Pound (GBP), and US Dollars (USD).
The main difference between Coinbase and other exchanges is the fact that it has always added respected digital assets. The exchange has never added support to a cryptocurrency that was accused of being a scam. In addition to it, Coinbase has very close contact with regulators all around the world. The main goal is to be compliant with all the international regulations in the crypto space.
Coinbase is available to traders from over 100 countries from the following regions:
Africa;
Asia;
Australia;
Europe;
North America;
South America.
Coinbase Compatibilities
The exchange's platform can be used in all web browsers, supporting all major tablet and PC operating systems, as well as iOS and Android systems.
User Interface and Experience
The website has designed an intuitive interface that is suitable for beginner traders. It has a straightforward and clean design that allows easy navigation.
The basic platform has very limited charting features that record only the price movement of a chosen digital asset. The more complex features are available on the Coinbase Pro platform, which is Coinbase's platform for advanced traders.
Users also have the option to create customizable watchlists for price tracking any of their supported cryptos.
Coinbase also has developed mobile apps for both Android and IOS devices, which have been reported to run smooth and incorporate all web-account features.
How to get a Coinbase account
Go to Coinbase's website and click on "Get started";
Open individual account;
Complete form with personal details;
Click on the link provided in the confirmation email to verify your account;
You will be required to provide additional information such as a phone number for 2F-Authentication;
Verify your identity by providing either a passport, driver's license, or photo ID.
Then, you will be able to connect your personal bank account or credit/debit card.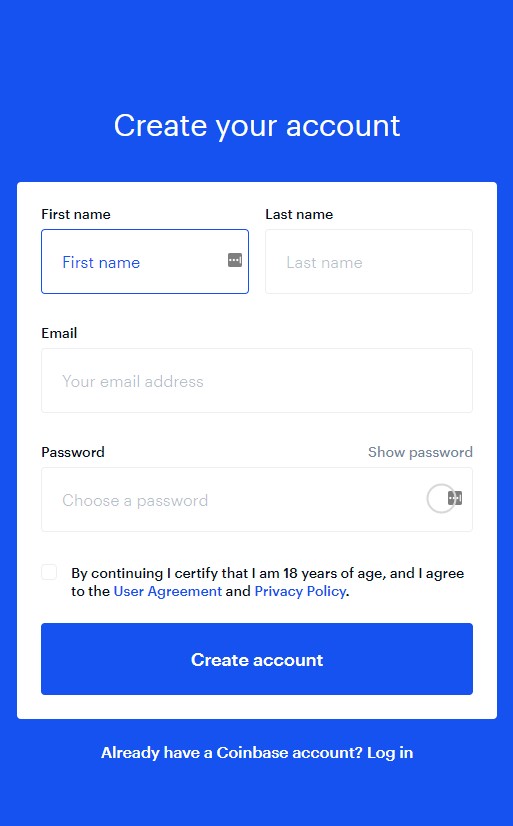 How to Use Coinbase Exchange
Buying crypto
Go to your Coinbase account, click the "Buy/Sell" link;
Click on the "Buy" tab;
Select the coin you want to buy from the "Cryptocurrency" heading;
Select payment method (all your available payment methods will be listed on the screen);
Enter the amount you would like to buy;
Click the "Buy" button;
Confirm the Buy;
You should see the "Your Purchase was Successful" message on your screen;
Wait for your crypto to be credited.
Withdrawing Crypto
Go to Coinbase account and select the "Sell" tab.
Select the wallet from which you will be withdrawing;
Select the crypto you want to sell;
Choose your withdrawal method (you will be required a wallet address if you want to withdraw to an external crypto wallet);
Enter how much and in which currency you would like to sell;
Click the "Sell" button;
After this, the funds will be automatically deposited into the payment method you had chosen.
Coinbase Exchange Fees
Coinbase is one of the most expensive exchanges, charging a fee of trading volume on all its assets, with an additional 0.5% spread fee for all crypto transactions:
≤ $10 – a fee of $0.99;
​≤ $25 – a fee of $1.49;
≤ $50 – a fee of $1.99;
​≤ $200 – a fee of $2.99.
The fee structure for withdrawals and deposits is rather complicated. The fees vary according to the payment method used and the country of residence. Coinbase also charges a conversion fee if you deposit in other fiat currencies.
Payment Methods
Users can fund or withdraw money from Coinbase through several methods :
Bank transfer: US customers only;
Credit/debit card;
Wire transfer: ACH for US, and SEPA for Europe;
Xfers: Singapore only;
PayPal: withdrawals only;
Cryptocurrency.
Transaction Times
Transaction times on Coinbase depend on a variety of factors, such as countries, network speed, and payment method.
United States
Transactions with credit cards are instant on the exchange, while bank transfers can take at least five days.
Canada
Sell ​​Bitcoin through Coinbase in Canada is possible in 4 days through the EFT system. There is also an Interac online service through which transactions are carried out instantly.
Europe
SEPA bank transfer for all European countries usually requires 1-3 days to process the transaction.
Transfer limits
The platform has a 4-tiered user account system that requires different identity verifications.
The higher the level, the higher the buying and selling limit.
Coinbase has no limit on how much fiat or cryptocurrencies you can deposit into your account, but the withdraw and purchase limits are based on your level of verification and country of residence. These are the four account levels:
Level 1 – requirements: email address, and phone number. Buy and withdrawal limit starts off under $1,000.
Level 2 – requirements: full name, date of birth, and address of residence. US customers have a daily purchase limit of $25,000.
Level 3 – requirements: input of bank account details, as well as credit and debit card details.
Level 4 – requirements: government-issued identification document, taxpayer identification number, and identity verification by answering a few questions.
Other Coinbase Products
In our Coinbase review, you can know more about the products provided by this cryptocurrency exchange. Bellow are their main products:
Coinbase wallet
The Coinbase Wallet – formerly known as Toshi, is a custodial multi-currency wallet that also supports non-fungible tokens (NFTs) and ether-based Web 3 Decentralized Applications (DApps).
The exchange developed three types of wallets:
Hot option – ideal for storing only a small amount for quick sells and buys;
Cold storage – secure for long term storage;
Multisignature Vault – the exchange has one private key, while the other two are held by the coin owners.
The issue here is that the exchange could block your account at any time, and it also monitors all your transactions.
It also has a USD wallet for fiat storage through which you can buy cryptocurrencies and bypass bank processing times.
Coinbase Custody
Coinbase Custody provides secure storage options for the cryptocurrency assets of financial institutions and hedge funds that have Coinbase accounts.
Coinbase Card
Users can also buy a "Coinbase Card" that can be used for making crypto purchases worldwide. Your physical Visa Debit card syncs with your Coinbase account balance and enables contactless payments and ATM withdrawals. Keep in mind that there are extra conversion fees when you use the service.
Security Features
The company has adhered to all U.S. regulations at a federal and state level, being compliant with a number of regulatory entities, such as ​FinCEN, ​The Bank Secrecy Act, and ​The USA Patriot Act.
All investor funds that are kept on the exchange's hot wallet are insured, with the company stating that "the insurance policy would payout to cover any customer funds that are lost." Coinbase USD Wallets are insured by FDIC up to $250,000.
The exchange states that it holds 98% of users' funds in cold storage, with the keys to the wallets being distributed in various geographical locations. Other implementations include 2FA on each account, strong SSL, and AES-256 wallet encryption. It also uses email verification each time a withdraw order is placed on an account.
All user data is held by the platform and its partners securely and in agreement with all relevant laws, such as the Data Protection Act 2018 and the General Data Protection Regulation.
While Coinbase is one of the most regulated companies in the crypto market, it is not the safest, as it has experienced several hack scandals.
In January 2018, the firm was targeted several times by hackers and lost a total of 40 BTC of different users. Users reported losing around $10,000 Bitcoins that they were hacked several times. It should be noted that Coinbase did no refund all the affected users.
Customer Support
The Coinbase support team can be contacted via email at any time. The platform offers phone support on a 24/7 basis, but for U.S. and UK toll numbers only.
Users can also reach out to the exchange through Twitter for general questions. Coinbase also provides a detailed FAQ section that provides answers to most common dilemmas or questions regarding the use of the platform and trading.
The company's customer support has been reported to have issues with their responsiveness, in some cases taking up to 72 hours to respond. Users also reported that the responses they received were not helpful with the issues they were dealing with.
Coinbase Review: Exchange Reputation
​While there is no doubt that Coinbase is a legitimate exchange, in the past years, it seems like its reputation in the community has started to dwindle and has been labeled as rather controversial.
There have been many posts on sites, such as Reddit and Trustpilot, in which users complain about not being able to perform simple tasks, such as Bitcoin buying and selling.
​Other issues that come up online are with regards to missing funds, withdrawal issues, long transactions, and other problems that lead to losses.
The main issue is that no response has been given from any of Coinbase's representatives, and users grow tired after waiting for weeks to have their problem solved.
Coinbase Review: Verdict
We hope that our Coinbase review has helped you to decide if it is the right crypto exchange for you. It is true that it is on the expensive side, but instant card purchases are an attractive offer for a trader that is in a hurry. We also recommend looking into users' posts, as there have been many negative experiences associated with their services.
Coinbase Exchange Review: Pros and Cons
Pros:
Easy to use interface;
Decent crypto listings;
Supports fiat options;
Supports a variety of payment options, including credit card and PayPal;
Fully regulated;
Insured funds.
Cons:
High fees;
Many negative reviews from users;
Unresponsive support;
Limited trading options.
Featured image: besticoforyou.com
* The information in this article and the links provided are for general information purposes only and should not constitute any financial or investment advice. We advise you to do your own research or consult a professional before making financial decisions. Please acknowledge that we are not responsible for any loss caused by any information present on this website.