If you have been regular in and around the crypto world, then there is a good chance that you have tried your hands on Ethereum at least once in your entire crypto tenure. But do you have a reliable exchange platform using which you can engage in crypto trading daily? In this guide, we will be covering some of the top exchange platforms using which you can buy Ethereum with credit card.
Buy Ethereum with Coinbase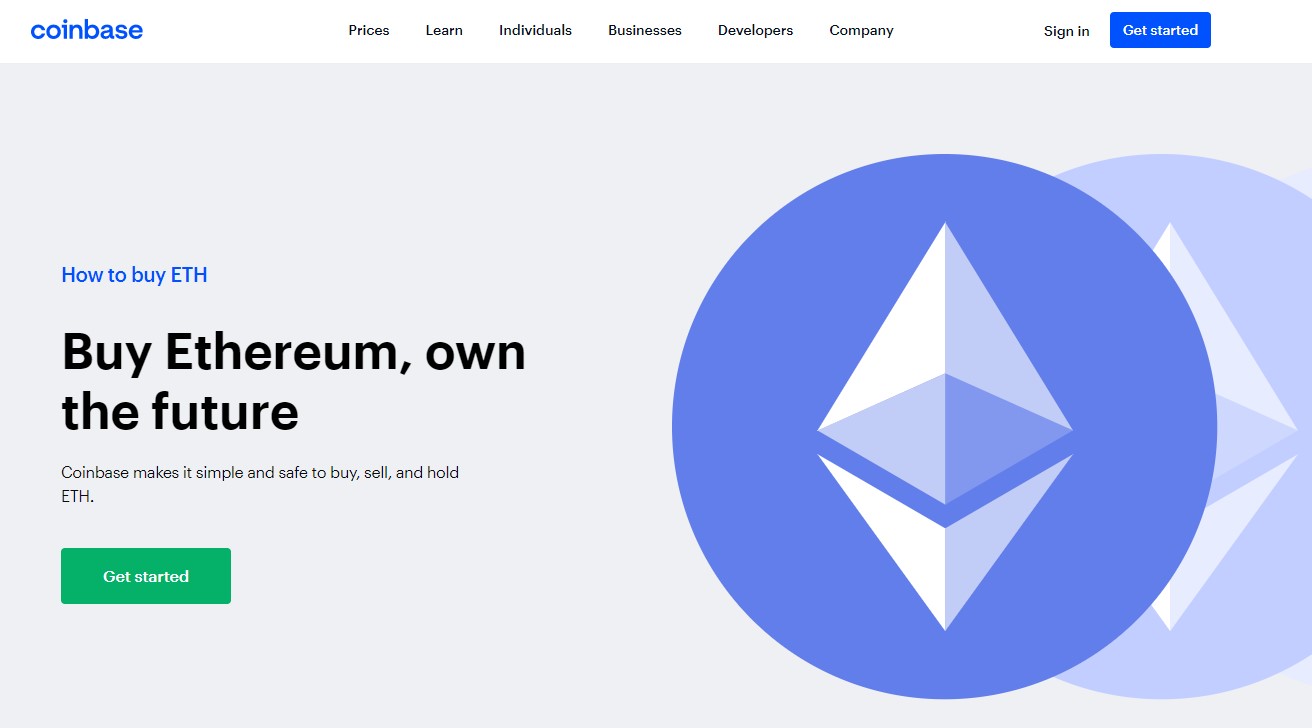 Coinbase is one of the top exchanges in the crypto world, supporting Ethereum purchases via card.
To buy Ethereum, you first have to register for an account on Coinbase. You will also be required to provide your ID for KYC and AML purposes. After your confirmation, you will be able to select your deposit method, which in our case, will be through a credit card.
After this, Coinbase will verify your credit or debit card by sending two small test payments, and then, you will be able to buy Ethereum with your credit card.
The process of buying ETH from here is like with any other crypto; you enter the sum you want to purchase and select "Card" as your payment option. After the process is completed, you should have Ethereum credited to your account in just a few minutes.
Coinbase has a 3.99% fee applied to all credit and debit card purchases.
How to Buy Ethereum with Credit Card Using Coinbase
Go to Coinbase site and click on "Sign up";
Provide your name and email;
Select a credit card as a payment option;
Upload a picture of your passport, ID, or driver's license;
Access the "Buy/Sell" tab and select how much Ethereum you want to buy;
Click "buy."
Buy Ethereum with Binance
Binance is a well-known cryptocurrency exchange that was founded in the year of 2017 by Changpeng Zhao and Yi He and is based out of the Cayman Islands. Another noteworthy mention about Binance being registered at the Cayman Islands is that the government imposes no direct taxes upon people or businesses at all, making it a favorable place for any exchange to exist, so you can expect a few amazing deals if you use Binance. It can be called the best cryptocurrency exchange and one of the largest trading platforms in the world, if we take the trading volume into account.
The Binance platform is perfectly compatible with all your devices, starting from a MAC to Linux and Microsoft. It also supports mobile devices with a well-designed application suited for iOS and Android platforms. You can reach the Binance platform via a simple web browser as well. The user interface has a lot to offer as you can even select the interface from 'basic' or 'advance'. Binance offers easy and swift transactions, so you can use this platform not just for the times when you want to buy ethereum with credit card but also for your daily transactions. It levies 0.1% as transaction fees.
How to Buy Ethereum with Credit Card Using Binance
Go to the Binance website and register to get access to an account.
After verifying your email address, you will be redirected to the first landing page select "Buy Crypto Using Credit Card".
Then complete the personal verification; note that different verification levels will allow you varying deposit and withdrawal limits.
Enter your name, country, address, and PAN details to get full access to perform transactions.
Then, just select Ethereum and the amount that you want to purchase.
Select your payment method – Credit Card.
Enter your card details in the Visa/ Mastercard section and process the payment from your source account.
Buy Ethereum with Coinmama
Coinmama is a crypto exchange platform founded in 2013 by Nimrod Gruber, Lawrence Newman, and Ilan Schuster. The company is registered in the United States, so even US residents (apart from a few exceptions) can enjoy access to this exchange. Coinmama serves over 188 countries, but the only drawback is the limited number of cryptocurrencies offered to the users for trading purposes. The exchange provides quick transactions but has a high trading fee.
The platform is compatible only with a web browser, as no mobile application has been developed for the people as of now. Although, it is a valuable website, especially for beginners, due to the hassle-free website integration. All the transactions are facilitated via Simplex. Using Coinmama, you can buy Ethereum with credit card, but only VISA and Mastercard are accepted when it comes to card payment methods.
Make sure that you complete your verification process before you dive straight into buying and selling crypto assets. Just like Binance, there are multiple verification levels, so choose wisely as it determines the number of deposits and withdrawals that you can process on a daily basis.
How to Buy Ethereum with Credit Card Using Coinmama
Visit the Coinmama website and create an account.
Simply click on "Buy now" once you are through with your email verification process.
Select "Ethereum" from the crypto drop-down list along with the amount that you want to purchase.
Enter your crypto wallet address, and then you will be redirected to the payment methods page, which is powered by Simplex and Coinmama.
Now add your card details, security pin, and your name to process the transaction.
Upon successfully completing all the steps, including your verification, the crypto you paid for will be added to your wallet.
Note that an additional 5% is deducted by Coinmama as transaction fees when it comes to credit/debit cards.
Buy Ethereum with Bitpanda
Bitpanda is a simple and user-friendly platform using which users can buy and sell cryptocurrencies, metals, and stocks. It was founded in 2014 by 3 people, namely Eric Demuth, Paul Klanschek, and Christian Trummer. The platform has about 900,000 users in less than a decade and accepts transactions via 10 payment gateways, making this platform extremely popular in the crypto world. The Austria-based company charges 1.49% for buying and 1.29% for selling the digital assets, which is comparatively much lower than the other existing crypto exchange platforms.
Bitpanda follows high-security protocols, so once you create your account, you will have to answer 6 questions that are mandatory in order to comply with EU Money Laundering regulations, followed by personal identity verification. The best thing about BitPanda is that it has never been hacked, and all the deposits exist in cold storage. In 2019, Bitpanda also received a Payment Services Directive 2 (PDS2) license from the Austrian Financial Market Authority. The only snag of using Bitpanda is the limited number of crypto assets offered and the fact that the complete services are available to only EU residents at the very moment.
How to Buy Ethereum with Credit Card Using BitPanda
Create a BitPanda account by visiting their official website.
Complete the verification process by providing accurate information regarding your current status.
Once you are done with the verification, select "trade" from the top right corner of your screen.
It will then allow you to choose from various cryptocurrencies, search for "Ethereum," and then buy.
You can edit the amount you want to purchase and then head over to the payment methods.
Simply select Credit Card (VISA and Mastercard supported) and then enter your card details.
You will have your crypto transferred to your wallet in just a few minutes.
Withdraw Your Ethereum to Your Wallet
Make sure to relocate the funds to your own wallet immediately after buying Ethereum with your credit card. Leaving the coins on your exchange wallet makes them vulnerable to hacks, or you may lose them if the exchange suddenly shuts down.
You will have to send your tokens to your Ethereum wallet address. There are multiple types of wallets that support Ethereum, be it desktop, mobile, hardware, etc. You can check our article to find out more about Ethereum wallets. Your address looks like a long string of letters and numbers that you can generate from your Ethereum wallet.
Withdrawing Ethereum
Go to your exchange account and go to the Withdraw section;
Select the wallet that you will be withdrawing from (in this case, your ETH wallet);
Select to withdrawal to your crypto wallet;
Provide ETH wallet address;
Enter the amount you would like to withdraw (preferably the entire amount);
Click the withdraw button;
Wait for funds to be credited to your wallet.
Conclusion
Although there are multiple payment methods that you can use to buy your desired cryptocurrency, the trick is to find yourself the right platform. This has been our guide on how to buy Ethereum with credit card. It is not necessary that you use our suggested exchanges to buy ETH, but the overall process is the same if you should choose other trading platforms as well. Ensure that whatever exchange/ wallet that you are using is safe and follows strict security guidelines so that your investments are protected 24/7.
Featured image: congtienao.com
Note: This post was originally published on 16 October 2019 and has been totally updated for the completeness and veracity of the content on 27 May 2021.
* The information in this article and the links provided are for general information purposes only and should not constitute any financial or investment advice. We advise you to do your own research or consult a professional before making financial decisions. Please acknowledge that we are not responsible for any loss caused by any information present on this website.