In this Coinmama review, we will be taking an in-depth look at the main features offered by this well-known exchange on the cryptocurrency market.
Coinmama Review: Exchange Overview
Coinmama is an Israeli exchange established by Nimrod Gruber, Lawrence Newman, and Ilan Schuster in April 2013. In 2020, Sagi Bakshi was appointed as the CEO of the long-serving cryptocurrency trading platform. Coinmama is owned and managed by New Bit Ventures Ltd, a venture of NBV International s.r.o., which is a company registered in Slovakia, but its main office is located in Ra'anana, Israel.
The exchange is registered with FinCEN in the US as a money service business (MSB), which allows the company to provide its crypto trading services to several US-based states.
The platform enables users from 188 countries to buy and sell Bitcoin and altcoins using their credit cards, debit cards, Apple Pay, or bank accounts. The introduction of transactions being facilitated via Apple Pay is a recent addition keeping in mind the people's heavy dependency on e-wallets in recent times. It is worth mentioning that due to the swift transactions, active customer support, and the brand's goodwill, Apple Pay is slowly and steadily gaining momentum in the world of cryptocurrency. We will discuss more about the payment methods in our Coinmama review in detail.
According to a press release made in March 2019, Coinmama was also buying Bitcoins from customers in the thirty-seven European countries in the SEPA, the Single Euro Payments Area.
"We are looking forward to making Coinmama your place to sell Bitcoin as well," said the company.
Now, Coinmama users can transfer up to 12,000 USD in a day without paying any additional bank transfer fees. Talking of SEPA bank transfers, any user who buys Bitcoins using this platform can trade for more significant purchase amounts and pay a very low processing fee for all the transactions. So, the trader does not have to worry about paying hefty sums as transaction fees while buying more significant amounts via SEPA through Coinmama.
Supported Currencies and Available Countries
Even if Coinmama displays its rates in USD, EUR, GBP, CAD, and AUD, they accept all fiat currencies. From this perspective, Coinmama is one of the few crypto exchanges out there that offers the widest range of fiat options.
In terms of cryptocurrency support, the exchange is rather limited, listing only seven coins:
Bitcoin (BTC);
Ethereum (ETH);
Litecoin (LTC);
Bitcoin Cash (BCH);
Ethereum Classic (ETC);
Tezos (XTZ);
Cardano (ADA).
As we stated at the beginning of our Coinmama review, the exchange operates in 188 countries and 40 US states. Residents from the following countries and states cannot register and use Coinmama's services:
| | | | | | |
| --- | --- | --- | --- | --- | --- |
| Alabama | Arkansas | American Samoa | Bangladesh | Brazil | Connecticut |
| Cuba | Crimea | Delaware | Egypt | Florida | Guam |
| Georgia | Hungary | Hawaii | India | Iowa | Iran |
| Israel | Japan | Lebanon | Louisiana | Mexico | Nigeria |
| Nevada | New Mexico | North Korea | New York | Northern Mariana Islands | Oregon |
| Palestinian Territories | Puerto Rico | Romania | Rhode Island | Serbia | Somalia |
| South Dakota | South Sudan | Sudan | Syria | Somalia | United States Minor Outlying Islands |
| Vermont | Virgin Islands | Washington | Zimbabwe | | |
Coinmama Compatibilities
You can only access the Coinmama trading interface via a web browser page on your desktop. There is currently no mobile app available that we can add to our Coinmama review.
User Interface and Experience
The exchange's interface is straightforward to use, featuring an intuitive and simple UI that allows you to navigate and access without any confusion. These characteristics make Coinmama an excellent entry-level exchange that we should mention for all the readers of this Coinmama review, especially for novice users looking to buy crypto for the first time.
The interface does not feature any trading tools, such as charts and price notifications, so this platform is not a good option for advanced traders.
How to Get Coinmama
In our Coinmama review, we will be showing you how to create and verify an account on the exchange.
Go to their official site and click the "Sign Up" button from the top right of the page.
Fill in all the required fields (name, email, password, country).
Click the "Create account" button to submit.
Click on the link featured in your confirmation email.
Log back into your account.
Verify your account by submitting your personal and ID details:
Enter your details: your first name, middle name (optional), last name, gender, date of birth, address, and ZIP code;
Enter the details of your identification card (ID);
Scan and upload both the front and back of your ID;
Upload a selfie (or photograph) with you holding your ID and a piece of paper with "Coinmama" and that day's date written on it;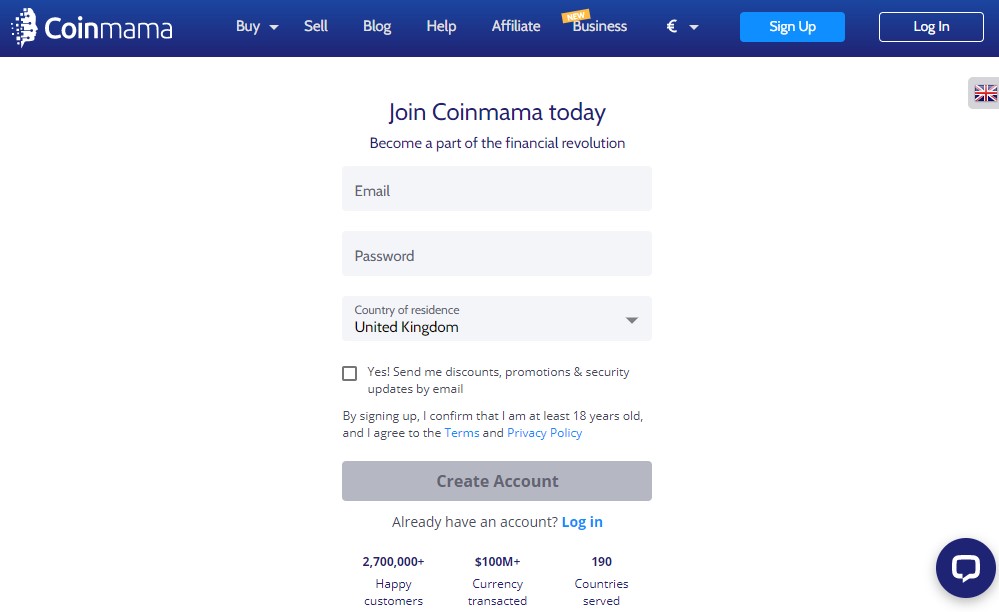 Click "submit documents."
How to Use Coinmama
Buying crypto using Coinmama:
Make sure you have an external crypto wallet;
Login to your Coinmama account;
Click on the "Buy" link on the top of the page;
Select the crypto you would like to buy;
Select the fiat currency with which you would like to make the purchase;
You have the option of either selecting one of the pre-set packages (100,500,1000 USD/EUR), or you can set a specific amount;
Click the "Buy" button;
Paste the address of your receiving wallet where the coins will be sent;
Select which payment method you would like to use: Credit/Debit Card or Bank Transfer; (more on payment options later on in our Coinmama review)
Enter all the required details in the fields on the payment form;
Click the "Pay Now" button;
Enter the 3D Secure Code or other authentication code sent by your bank;
Coinmama Exchange Fees
Compared to other exchanges, Coinmama is rather expensive.
Transaction Fee
Coinmama's purchasing rate is based on the XBX Index for XBX+2% deviation, with an extra 3.90% commission fee paid per transaction. This fee is included in the crypto rate that is displayed on Coinmama's website.
When it comes to selling, the fee is calculated on the XBX index average with a 2% standard deviation with 0.0-1.9%. Apart from that, fees will be calculated depending on whether you are a Crypto Curious (1.9%), an Enthusiast (1.4%), or a Believer (0.9%).
Credit Card Fee
For each credit and debit card transaction, Coinmama applies an additional 5% fee. This fee is added after users have selected their method of payment.
Bank Transfer Fee
There is no processing fee for SEPA bank transfers and Faster payment transfers, but depending on the bank, they may decide to apply a fee for creating the bank transfer.
For SWIFT bank transfers, there is an extra processing fee of 20 GBP for orders below 1000 USD. Orders of 1000 USD and above have no processing fees. Banks may charge a separate fee for creating the bank transfer.
Cash Advance Fee
Customers may also be charged a Cash Advance fee, which is imposed by their bank or card issuer if they consider the transfer a "cash" transaction. According to users, this fee should be around 5%.
Even the company has admitted that its fees are considerably high: "We're aware that the current commission can be considered pretty high to the average customer. That's why we're constantly looking for ways to lower it in order to give our customers more value for their money."
Payment Methods
Users on Coinmama can purchase coins through Visa and MasterCard credit, debit cards, Apple Pay, as well as SEPA and Swift bank transfers.
As mentioned at the beginning of our Coinmama review, users can now also sell their Bitcoin to Coinmama, but this feature is currently limited to those of the 37 countries of the SEPA region. There is speculation that this service will be expanded to other users worldwide in the coming few years.
Transaction Limits
There is a minimum buy limit of 100 USD (or its equivalent in EUR).
Transaction limits vary depending on regulations, method of payment, and account verification level. According to verification levels, here are the limits:
Verification Level 1
Total account spending limit: 15,000 USD;
Daily limit: bankcard limit (buy only) – 5,000 USD; wire transfer limit (buy & sell) – 15,000 USD;
Monthly limit: bankcard limit (buy only) – 15,000 USD; wire transfer limit (buy & sell) – 15,000 USD;
Maximum number of daily orders: bankcard limit (buy only) – 5 orders ; wire transfer limit (buy & sell) – 10 orders;
Maximum number of monthly orders: bankcard limit (buy only) – 20 orders; wire transfer limit (buy & sell) – 50 orders.
Verification Level 2
Total account spending limit: 50,000 USD;
Daily limit: bankcard limit (buy only) – 5,000 USD; wire transfer limit (buy & sell) – 35,000 USD;
Monthly limit: bankcard limit (buy only) – 30,000 USD; wire transfer limit (buy & sell) – 50,000 USD;
Maximum number of daily orders: bankcard limit (buy only) – 5 orders; wire transfer limit (buy & sell) – 10 orders;
Maximum number of monthly orders: bankcard limit (buy only) – 30 orders; wire transfer limit (buy & sell) – 50 orders.
Verification Level 3
Total account spending limit: 1,000,000 USD;
Daily limit: bankcard limit (buy only) – 7,500 USD; wire transfer limit (buy & sell) – 50,000;
Monthly limit: bankcard limit (buy only) – 40,000 USD; wire transfer limit (buy & sell) – 100,000;
Maximum number of daily orders: bankcard limit (buy only) – 5 orders; wire transfer limit (buy & sell) – 10 orders;
Maximum number of monthly orders: bankcard limit (buy only) – 30 orders; wire transfer limit (buy & sell) – 50 orders.
Security Features
Our Coinmama review will not be complete if you do not balance all aspects of this exchange platform, especially without discussing the security features.
The plaform keeps users' personal data on secured servers, employing high-level encryption and authentication measures to keep funds and information safe. However, we should also mention that the exchange suffered a security breach in November 2019 in which 450,000 email addresses and passwords were leaked in a larger global hacking attack affecting 24 websites and 747 million records.
Fortunately, no funds were stolen from users or the platform. This is probably because Coinmama does not store any user coins on its platform, instead of depositing them directly in the user's external wallet.
Coinmama Review: Customer Support
The Coinmama support team can be reached via email. The team has reportedly been very fast to provide customers with answers to their queries, replying within 24 hours.
The exchange also features a comprehensive knowledge base on their website, which provides answers to the most common queries. The support team is also able to answer questions on their blog.
Most complaints are regarding the slow account verification process or that orders cannot be placed successfully after verification.
Coinmama Reputation
We must mention in our Coinmama review that even though Coinmama is not one of the top crypto exchanges, they mainly evade media scandals or news that might involve them. However, they do have a positive reputation, according to user reviews.
Coinmama Review: Verdict
Coinmama can be called the best cryptocurrency exchange for those who want to buy some pupular digital assets using fiat quickly. There are no withdrawal waiting times, as the coins are directly deposited into your external wallet. However, be prepared to pay high fees for your purchase.
This platform is more suitable for beginners than advanced traders who want to significantly expand their crypto portfolio with more coin options.
Coinmama Exchange: Pros and Cons
Lastly, in our Coinmama review, we would like to present a 360-degree analysis of what we think about the Coinmama services.
Pros:
Supports all fiat currencies;
Supports credit and debit card purchases;
Coins deposited directly into an external wallet;
User-friendly interface;
Buy instantly from the site.
Cons:
High fees;
A limited selection of cryptos;
Cannot trade between coins;
The interface does not have advanced features;
No mobile app;
Long verification process.
Note: This post was originally published on 16 November 2019 and has been totally updated for the completeness and veracity of the content on. 24 April 2021.
* The information in this article and the links provided are for general information purposes only and should not constitute any financial or investment advice. We advise you to do your own research or consult a professional before making financial decisions. Please acknowledge that we are not responsible for any loss caused by any information present on this website.