If you want to find out the latest events that transpired in the past week in the world of crypto, but can't be bothered looking on all the news sites, here is our weekly news summary:
Brave Partners Up with Binance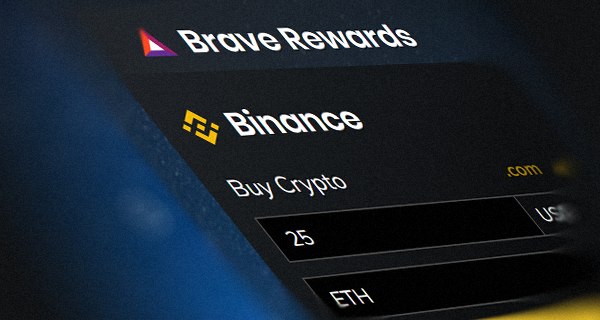 The privacy-focused web browser Brave is joining forces with the popular crypto exchange Binance to integrate new crypto features on its platform. Users will now be able to buy, receive and trade cryptos directly on the new tab page.
"Brave Software, makers of the innovative Brave browser which combines privacy with a blockchain-based digital advertising platform, and Binance, the global blockchain company behind the world's largest cryptocurrency exchange by trading volume and users, today announced a partnership that enables Brave browser users to seamlessly trade cryptocurrency assets through Binance"- read the official post.
Brave already has its own crypto called Basic Attention Token (BAT), but now it will also be adding Ethereum, Bitcoin, Litecoin and many others in future releases.
The new Binance widget in the Brave desktop browser, users can access the Binance.com and Binance.US (for US-based users) sites. The widget also enables the buying and selling of crypto assets, view asset balances, and obtain deposit addresses directly from within the browser. This makes Brave the only browser that has integrated trading capabilities for crypto assets.
The widget is also inbuilt in Brave and is not a loaded iframe (remotely embedded document), thus preserving users' private data. "API calls will only be made into Binance if the user authenticates via OAuth and interacts with the widget."
"Cryptocurrency trading can be a daunting task for users not familiar with such assets, so integrating Binance into the Brave browser makes the process seamless and simple. By bringing a leading exchange like Binance directly into the browser, Brave is taking cryptocurrency trading mainstream and enabling users to conduct transactions with ease."- said Brendan Eich, Brave CEO and co-founder.
"The Binance widget on Brave's privacy-oriented browser instills a safer way to buy and sell crypto and also reduces user friction to onboard, trade and interact with the Binance ecosystem. We are looking forward to our long-term partnership with Brave to make it even easier to interact with crypto and encourage more utility in the near future." -stated Binance CEO Changpeng Zhao ('CZ').
Binance Charity Announces New Fundraiser for COVID 19 Damages
Binance Charity, the branch of the exchange that specializes in charities, has revealed a new fundraising project for lessening the damages caused by the COVID-19 global outbreak.
The fundraising project called 'Crypto Against COVID', has set a target of $5 million USD in cryptocurrencies (BNB, BTC, BUSD, and XRP). The money will be used to buy medical supplies for the countries that have been impacted the most by the spread of the virus.
Binance Charity had already started philanthropic initiatives in Africa, concentrating primarily in Uganda. The exchange also recently announced a $1 million fund in South Africa. Binance will be leading this effort with an initial donation of $1 million USD and commits to donating up to $2 million USD through the #CryptoAgainstCOVID social media campaign. In addition, Binance will match $1 million USD of public donations received.
ChangPeng Zhao, CEO of Binance, said with regards to the initiative:
"The crypto community is a growing force and we have an opportunity to strengthen this through philanthropy. We encourage the community to take part in this initiative as we unite against COVID-19, and together, we'll drive impact."
"In the third phase of donation, aside from masks, protective suits, gloves, and more items, Binance Charity also donated 1,000 germicidal lamps. These lamps were sent to Wuhan University People's Hospital, which then distributed them to 74 medical teams and health centers, as well as the hotels that accommodated the medical teams. Germicidal lamps can produce ultraviolet (UVC) light that can result in the deactivation of bacteria, viruses, and protozoa, providing a clean living and working environment for the medical teams. "
Coinbase Wallet Integrates Lending Capabilities
Coinbase Wallet has implemented several decentralized finance (DeFi) apps which enables users to lend out crypto assets and monitor the growth of their interest from within the wallet.
The company announced on Wednesday that "Thousands of Coinbase Wallet users have already deposited millions of dollars into DeFi apps like Compound and dYdX, earning interest at rates ranging up to 6% APR. Users currently access these apps through Wallet's built in decentralized application (dapp) browser or via WalletLink on desktop. However, it isn't easy to compare rates or view total balances across different providers."
The new integration of this feature enables users to have an easier interaction with DeFi platforms such as Compound and dYdX. Users are able to select a coin and a smart contract provider to make investments in the DeFi product selected. From within the wallet, users can track their total balance and how much interest they accrued.
The lending feature will be added to iOS users this week and Android users in the upcoming weeks.
In the announcement, Coinbase also issued a warning to investors cautioning investors of DeFi products as they still are a new product on the market.
"Before you get started, please be aware that DeFi lending apps are relatively nascent and come with risks. DeFi apps are programs running on the blockchain, and like any computer code they can potentially have bugs that cause you to lose money." – read the announcement.
"Returns are not guaranteed and your deposits are not insured," cautioned the blog post.
Featured image: The blockchain land
* The information in this article and the links provided are for general information purposes only and should not constitute any financial or investment advice. We advise you to do your own research or consult a professional before making financial decisions. Please acknowledge that we are not responsible for any loss caused by any information present on this website.