Today, we will be reviewing some of the market opinions and TRX historical prices, so that we can formulate a Tron price prediction for January 2020.
Tron Overview
TRON is an open-source, decentralized blockchain network that was introduced in 2017 by Justin Sun. The platform originally aimed to facilitate the publishing of decentralized content, but then Tron decided to shift its focus to dApp and online game development.
TRX is the native coin that has an economic function on the TRON blockchain network. TRX is currently ranked 12th according to a market cap of $927,719,352. In the last 24-hours, $999,946,797 worth of TRX has been traded. There are currently 66.682.072.191 TRX in circulation out of a total supply of 99.281.283.754 TRX.
Tron Price Prediction: Analysis
The starting price Tron on December 1st was $0,015510, continuing the bearish momentum started in November. The coin continued decreasing in value like the rest of the market, dropping from $0,015 to $0,014 support levels.
TRX reached a new multi-month low on December 18th, $0,012311, but fortunately, it managed to get back to at least $0,013 levels. The crypto closed the day at $0,013376. Until December 22nd, Tron fluctuated between $0.013 and $0.0127 levels. On December 23rd, Tron shot up back to $0,014918, reaching a high of $0,015227 that day. But these sudden gains were not kept for long, with TRX closing at $0,013843.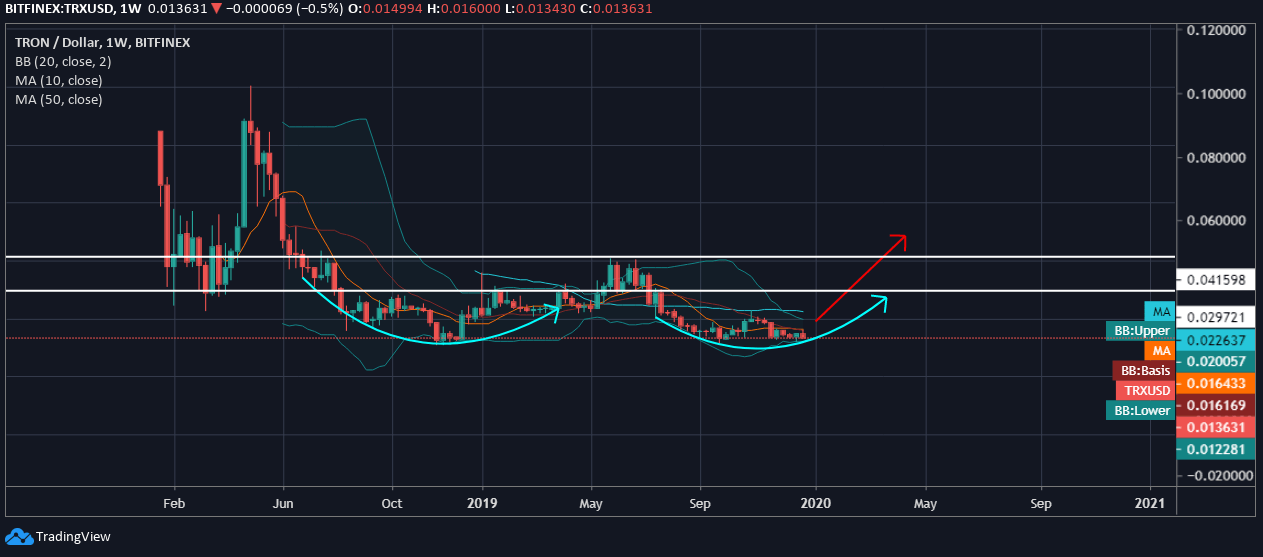 Should the price go lower than the $0.0130 support, this could trigger a downslide for the Tron price. The next major support is near the $0.0128 level, with the swing low of $0.0119.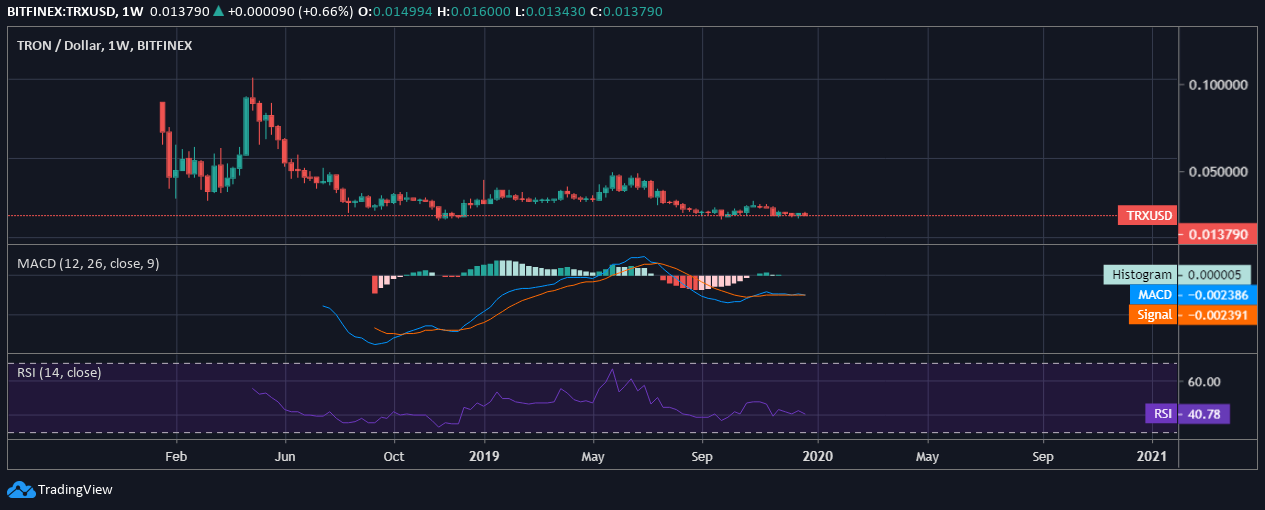 The pivot point is set around $0.0140. If Tron increases past this level, it could begin testing the $0.0145 resistance. The bullish obstacle is set at the $0.0150 level, and if the price also manages to break this one, it could go on to $0.0160.
The charts are showing that TRX is currently in a bearish zone, trading below $0.0145 and $0.0140 levels. This signifies that there are more chances of TRX supporting more losses in the near future.
The calculated resistance, pivot, and support levels by WalletInvestor are:
Resistance Level (R3): $0.0162
Resistance Level (R2): $0.0157
Resistance Level (R1): $0.0148
Pivot Point: $0.0143
Support Level (S1): $0.0133
Support Level (S2): $0.0128
Support Level (S3): $0.0119
Developments
Recently it was revealed that cryptocurrency exchange Poloniex has purchased the largest decentralized exchange (DEX) on the Tron network, TRX Market, and has renamed their new acquisition Poloni DEX.
"This acquisition is bound to be a very significant move for the TRON ecosystem, signaling the exchange sector's trust and recognition of TRON," read an excerpt from Poloniex's blog.
Huobi Wallet, a branch of the Huobi Exchange, is continuing with its campaign to become a TRON (TRX) Super Representative. The final representative list is expected to be announced soon. Other than that, there have been no other developments aside from a logo redesign and another giveaway campaign.
Tron Price Prediction: Market Opinion for January 2020
Considering that there have been multiple sites that have made their own Tron price prediction for January 2020, we have featured some of the most relevant ones below to portray the TRX market sentiment better.
Previsionibitcoin
Previsionibitcoin predicts that TRX will have a trading price of $0.015368 at the start of January 2020.
WalletInvestor
WalletInvestor has made a Tron price prediction for the next days of January, along with their possible maximum and minimum prices.
2020-01-11: average $0.0141, minimum $0.0135, maximum $0.0147;
2020-01-12: average $0.0144, minimum $0.0139, maximum $0.0149;
2020-01-13: average $0.0145, minimum $0.0140, maximum $0.0150;
2020-01-14: average $0.0141, minimum $0.0136, maximum $0.0146;
2020-01-15: average $0.0139, minimum $0.0134, maximum $0.0144;
2020-01-16: average $0.0140, minimum $0.0135, maximum $0.0145;
2020-01-17: average $0.0140, minimum $0.0135, maximum $0.0146.
Cryptoground
Cryptoground predicted that at the start of January, TRX will be trading at $0.0165, with a change of 19.41%.
Tradingbeasts
Tradingbeasts projected that Tron would have a price of $0.0172628 by the beginning of January 2020. The site's forecasted highest value is $0.0211354, with the minimum value at $0.0143721. They expect TRX to close the month at a price of $0.0169084.
Cryptorating
Cryptorating forecasted that at the start of January, Tron will be changing hands at a market value of $0.016527, which signifies an increase of 20.99%.
Digitalcoinprice
Digitalcoinprice expects Tron to be trading at $0.02693656 in January, which signifies an optimistic price increase of 97.34%.
Coinpredictor
Coinpredictor expects Tron to suffer a decline of 14.3% which would place the coin at a price of $0.013695, but also sees a rebound towards the end of the month with an increase of 29.4% which would raise TRX to $0.020678.
Gov.capital
Gov.capital forecasted that TRX would start January at a price of $0.01053, with a minimum value of $0.0089505, and a maximum value of $0.0121095. The site also predicted that TRX would have at the end of January a price of $0.01088, with a possible low of $0.009248, and a possible high of $0.012512.
Tron Price Prediction: Verdict
This has been the end of our Tron price prediction for January 2020. We hope the information we provided has been of help to you and your TRX trading endeavors.
Featured image: Blokkt