Today, we will be featuring a list with some of the most rewarding XRP faucets you can use this June.
XRP faucets are straightforward, easy, and free methods for people new to crypto that want to earn free XRP. On these sites, you have to complete a series of simple tasks, such as rolling a dice, pressing a button, filling out a captcha, completing a survey, etc., to generate free XRP.
People should keep in mind that they can make only small fractions on XRP faucets.
You will have to own an XRP wallet so that you can link the address to the faucet and receive your funds. It is worth mentioning that you will have to deposit 20 XRP in order to activate any XRP wallet.
XRP faucets and lotteries make income through ad revenue, such as pay-per-impression, pay-per-click, or other pay-per-x schemes. This is why you will see many advertisements all over their homepages and disable your ad-blocker if you want to use the faucet.
At the time of writing, XRP was trading at $0,198521, according to data supplied by the crypto tracker website, CoinMarketCap.
CoinFaucet.io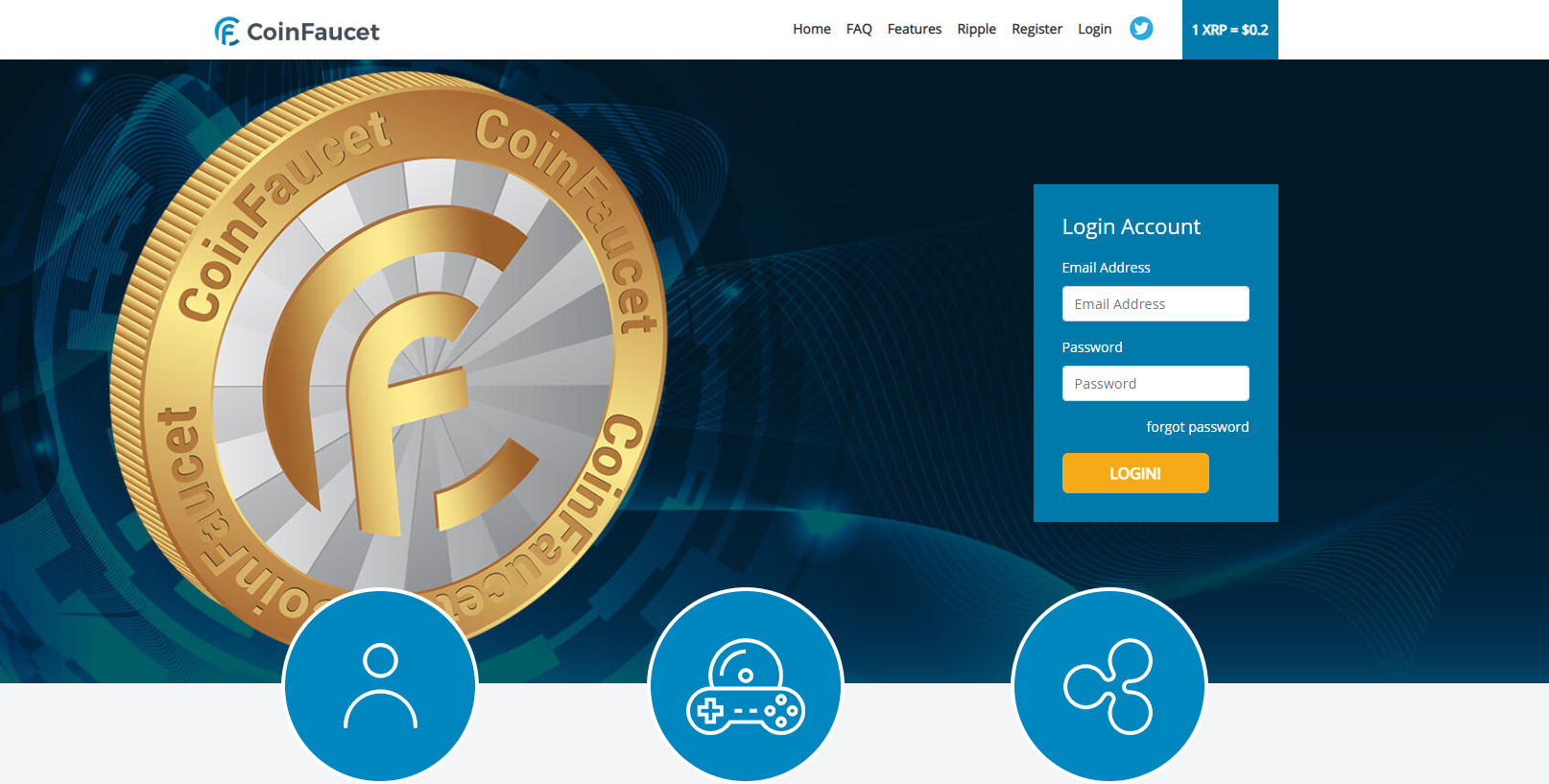 CoinFaucet is one of the first XRP faucets, launched in October 2017. Due to its simple to use and straightforward system, it is one of the most popular and used crypto faucets today. The site has to date 622,478 registered users, 49,798,200 games played, and 16,734,800 Ripple given to users.
You can make a claim every 60 minutes or play a straightforward game to earn free XRP. At random, several users will be rewarded with $300 just for clicking a button. For extra dice rolls, you can click on the sponsored links, which post a daily bonus roll code on Twitter.
Withdrawal from the site is done in an instant, as opposed to other XRP faucets that require users to wait for a certain period before their funds are credited. CoinFaucet users receive their XRP immediately after reaching the minimum withdrawal amount, which is 1 XRP. There are no fees applied when cashing out.
If you refer new users to CoinFaucet, you will benefit from a substantial referral bonus of 50% of whatever they earn. You can make unlimited referrals to the site.
CoinFaucet has social media accounts that are very active, frequently posting free promo codes for extra rolls/spins, which can increase the chances of a visitor to win more XRP.
The site mentions in its FAQ section that you can create an XRP wallet with Rippex.net and keep it offline, but you will have to deposit 20 XRP to activate it, which might take quite a while with any faucet.
Allcoins.pw
Allcoins.pw is a very popular multi-crypto faucet that allows you to earn free XRP in addition to other cryptocurrencies. Allcoins supports a total of 29 cryptocurrencies, including BTC, LTC, ETH, DASH, XMR, BCH, ZEC, and ETC.
Claims can be made on the site every 300 seconds or every 5 minutes. You can earn free XRP on Allcoins by solving captchas, playing games (LuckyNumber, Dice, FreeRoll, etc…), browser mining, and SolveMedia. There is also an auto-claim feature which can be activated for up to 3 cryptos at once.
Another way of increasing your XRP balance is by leveraging their lifetime referral program, where you can get up to 25% of the earnings of the people you referred to.
After you have met the minimum limit of 2 XRP, you can withdraw directly to the Ripple wallet you linked to the faucet. The fee for withdrawing is set at 0.10000000 XRP.
Allcoins.pw has received good reviews on the Bitcointalk page, with users praising the feature, which allows them to claim multiple coins at once. According to user reports, the XRP payouts have been consistent and fast, which is a big plus for a faucet site.
Xcolander.com Faucet
Xcolander's site features XRP faucets as well as a wide range of other faucets for cryptos such as Tron (TRX), Stellar Lumens (XLM), Ethereum (ETH), Bitcoin (BTC), Bitcoin Cash (BCH), Litecoin (LTC), and others.
With this faucet, you can earn free XRP through lottery and betting. The site also features open statistics for the rewards and withdrawals of their users to show that they are completely legitimate.
A claim can be made every 15 minutes, where users can make between 0.00155263 XRP and 1552.63000000 XRP per claim.
You will have to reach a minimum amount of 0.005 coins in order to withdraw from the site, and there is no withdrawal fee applied.
XRPFaucet.Info
XRPFaucet.Info is a well-known XRP faucet where visitors can make a claim every 60 minutes, and 30% of users will earn up to 0.0015 of an XRP, while 0.001% will earn up to 7 XRP. 65% will earn 0.0016 of an XRP, 3% will receive 0.005 of an XRP, 1.9% will get 0.01 of an XRP, and 0.099% will receive 0.07. Users just have to link their XRP wallet address and complete a captcha.
Keep in mind that you will have to make a claim once every 30 days, as the site will then deem your account inactive and close it and redistribute your funds.
The site's homepage displays all the claims that have been recently made on the faucet, as well as the top active users on the site.
When you make an XRP withdrawal from XRPFaucet.Info, keep in mind that some crypto exchanges use a single XRP address for every user and ask for a destination tag, so remember to put in your XRP destination tag when executing a withdrawal transaction.
Conclusion
While it is a repetitive task, claiming on XRP faucets is a good way of earning a few coins for new crypto enthusiasts who are looking to learn about XRP transactions.
Featured image: coindesk.com
* The information in this article and the links provided are for general information purposes only and should not constitute any financial or investment advice. We advise you to do your own research or consult a professional before making financial decisions. Please acknowledge that we are not responsible for any loss caused by any information present on this website.