If you're new to using Robinhood, you may wonder how to withdraw money from the app. This article will provide a clear and easy-to-understand guide on the process of withdrawing money from Robinhood.
But first, let's see more about what Robinhood is, and no, we don't mean the character from the famous novel of the same title.
Robinhood is a financial platform based in Menlo Park, California, launched in 2013. Using Robinhood, you can open a brokerage account to buy and sell stocks, options, exchange-traded funds (ETFs), and cryptocurrencies without paying any commission fees, being designed to make the process of trading and investing in the stock market more accessible and affordable for the average person.
How to Withdraw Money from Robinhood – Introduction
Are you wondering how to withdraw money from your Robinhood brokerage account? Don't worry. It's actually quite simple! But before you start, it's important to understand the terms and conditions of the withdrawal process.
One thing to remember is that there are limits on how much you can withdraw. For example, you can only make up to five withdrawals per day, and the maximum amount you can withdraw per day is $50,000.
It's essential to keep these limits in mind, as exceeding them can cause your account to be restricted. Even if it may seem like a lot of money, many users who have built up large portfolios can reach these limits quickly.
How to Withdraw Money from Robinhood: Rules for Withdraw Money from Robinhood App
Before getting started to discover how to withdraw from Robinhood or transfer funds into your personal bank account, you must be aware of the following rules:
30-Day Waiting Period for Withdrawing Funds from Free Stock Sales – Did you receive free stock through Robinhood's Referral program? While you can sell that stock immediately, there's a catch. You'll need to keep the cash value of the stock in your account for 30 days before you can withdraw it.
Special Rules for Switching Bank Accounts on Robinhood – If you originally deposited funds with one bank account and now want to transfer your money to a different bank account, be cautious. Robinhood has specific rules for such transactions, as they can raise suspicion. To ensure a smooth process, you might be asked to provide supporting documents, such as pictures of your photo ID or bank statements, to verify ownership of both bank accounts. To avoid inconvenience, consider withdrawing your cash into the same bank account that funded your account.
Withdrawal Restrictions during Account Restrictions – In certain circumstances, Robinhood may restrict user accounts. These restrictions can arise if your account has a negative balance, experiences a reversed bank transaction, or if there are suspicions of fraud, among other reasons. If your account is restricted, it's important to note that you may not be able to withdraw any money until you've contacted Robinhood to resolve the issue.
Next, let's see this guide that will break down the steps for withdrawing money from Robinhood systematically and easily.
How to Withdraw Money from Robinhood – Step-by-Step Guide
Although it may seem logical, we still mention that you need to have a bank account to withdraw or deposit money more easily from Robinhood. A bank account is a financial tool offered by a bank that enables individuals or businesses to deposit, withdraw, and manage their funds through a designated account. A bank account serves as a secure repository for an individual's or business's funds, allowing them to track their expenses and savings over time.
A bank account may be opened with various institutions, including commercial banks, savings and loan associations, credit unions, and online banks. Also, remember that many banks offer the possibility to open a bank account directly from your phone, so you can easily open one if you don't have a bank account.
Withdrawing money from your Robinhood app is easy, but the process can vary depending on whether you use the mobile app or the website.
If you're using the mobile app:
Step 1: First, go to the account section. This step requires you to have the Robinhood application installed on your phones. Then, open the application and tap on the 'Account' icon. This icon is located at the bottom-right corner of the application. 
Step 2:  Locate the 'Transfers' button and click on it. 
Step 3: After that, choose the option that is available in the 'Transfer to your Bank.' Don't forget that you'll need linked bank account or linked bank accounts.
Step 4:  A list will appear on the user's screen, after which you should identify the bank you wish to make the withdrawal into. 
Step 5:  Enter the amount you wish to withdraw. Robinhood allows its users to withdraw the total amount or part of the amount, depending on how much money you require. This is essential especially when asking to withdraw all funds from Robinhood.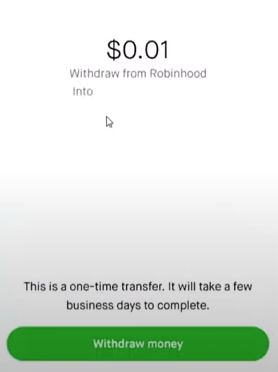 Step 6: Finally, double-check the pending transaction before you confirm and let the processing begin. After this step you will see a confirmation prompt and the money will soon arrive in your bank account.
Suppose you don't want to withdraw through your phone. In that case, it is as simple to withdraw money from Robinhood using a desktop as it is to withdraw through mobile, but slightly different.
Since there is no application, you will use your browsers to locate the Robinhood website in this case.
If you're using the website:
Step 1: The first step is choosing a favorite browser and logging into a personal Robinhood account using personal details.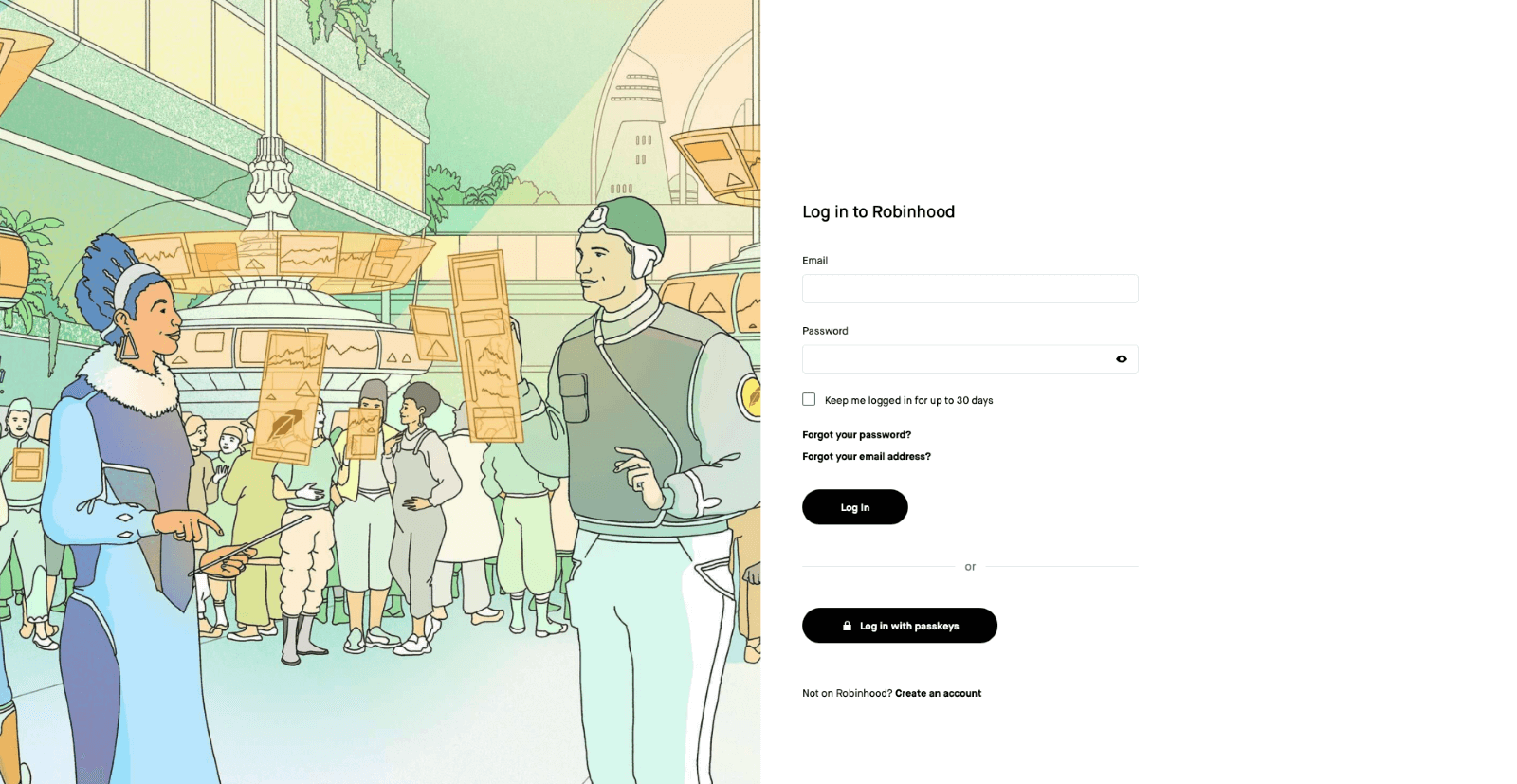 Step 2: Once logged in, you should locate the 'Account' button, which, this time, is located at the top-right corner of the screen. 
Step 3:  Click on the 'Banking' option to prompt the form you need to fill in the amounts you wish to withdraw. Once you have entered the desired amount, you can confirm the transaction and wait for the funds to reach the bank account.
How to Withdraw All Money from Robinhood
Withdrawing all of your money from your Robinhood account is similar to the process outlined above, but there may be some fees associated with the withdrawal. It's essential to keep these fees in mind and set aside enough money to cover them so that the withdrawal process can be completed successfully.
When withdrawing money from Robinhood, you can choose from different withdrawal accounts, but you will need to go through a verification process to convince the platform the account you're using is really yours. This process can take some time, but it's for your own protection and the security of your funds.
Sometimes, you may find that you cannot withdraw money from your Robinhood account. Don't worry; there are a few possible reasons why this might happen:
You may have reached the $50,000 withdrawal limit or made the maximum of five daily withdrawals.
The withdrawn money may still settle into your account, which Robinhood requires. Don't expect the cash in one business day. This process can take up to 3 business days.
You may have an account restriction. This is not a common occurrence, but it may happen if Robinhood detects unusual trading patterns or a change in the linked account. Customer support can help you resolve these restrictions.
So, before starting the process, consider the limits, fees, and possible restrictions.
How Long Does It Take to Withdraw Money from Robinhood
Withdrawing money from Robinhood can take a bit of time, which can be frustrating for users. Typically, it takes around 2-3 business days for the money to show up in your account after you initiate a withdrawal. This is normal for bank transfers and electronic transfers in general. Unfortunately, there's not much that can be done to speed up the process, but at least you know what to expect and can plan accordingly.
Fees Robinhood Withdraw
Regarding bank deposits into your account, it may take up to 5 business days for the process to be completed. You won't have access to these cash during this time. Once the deposit is marked as finished, the funds will be available.
If you prefer a faster option, you can choose to withdraw funds instantly using a debit card or instant transfers. Depending on your bank, this process typically takes 10-30 minutes but could take longer. Note that there is a 1.5% fee for instant debit card withdrawals, which will be reflected in the adjusted transfer amount.
So, please keep in mind that while Robinhood doesn't charge any fees for transfers, instant withdrawals with a debit card incur a 1.5% fee.
Note: Only funds can be withdrawn to accounts that are in your name.
Rules for Withdrawing Funds from Your Robinhood Brokerage Account
To withdraw funds from Robinhood, you need to follow these rules:
Account Ownership – The account from which you withdraw funds must be in your name.
Wait for Clearing – If you have recently deposited funds into your Robinhood account, you may have to wait for the clearing process to complete before you can withdraw the funds. This process typically takes five business days.
Withdrawal Method – You can choose to withdraw your funds/cash value through a bank transfer or by using a debit card. Bank transfers are free, but instant withdrawals using a debit card incur a 1.5% fee.
Minimum Balance – Remember that the minimum balance required to open an account is $0, margin accounts must have a minimum balance of $2,000 (also named "initial margin") in cash before trading starts, and Pattern Day Traders must preserve a minimum balance of $25,000 in their margin accounts. In cases of withdrawal, you can withdraw all the money, with a few minor notes in the case of certain things (e.g., selling and withdrawing money from referral stock or free stock, cause Robinhood offers a stock entitled referral stock for invited users to the platform).
Proper Documentation – To ensure the security of your account, Robinhood may require additional documentation before processing a withdrawal request. This could include proof of identity, proof of address, or proof of ownership of the specific bank account to which you want to transfer the funds.
These are the general rules for withdrawing funds from Robinhood at the time of writing this article.
FAQ
How long until Robinhood cash is withdrawable?
According to the information provided on the Robinhood website, the availability of funds for withdrawal depends on several factors, including the method of deposit and the status of the deposit.
For a money transfer, it typically takes five business days for the funds to be available for withdrawal after the deposit has been made.
For instant deposits using a debit card, the funds should be available for withdrawal within 10-30 minutes after the deposit has been made. So, deposits using a debit card are an excellent option.
It's important to note that these timelines may vary depending on your bank's policies and other factors.
Why can't you withdraw money from Robinhood?
There could be several reasons you might not be able to withdraw money from Robinhood, including the clearing process, verification requirements, technical issues, or account restrictions.
Related articles: How to Buy Bitcoin with Cash App | How and Where to Buy OMI 
How to Withdraw Money from Robinhood – Conclusion
To wrap up, withdrawing money from Robinhood is a simple process that most users can figure out independently. However, it's important to note that some fees may be associated with withdrawals. For bank transfers, there are no fees, but it's always a good idea to check with Robinhood for the most up-to-date information.
Withdrawing your money from Robinhood is easy, and you can do it confidently. To make sure the process goes smoothly, it's important to stay within the limits set by Robinhood.
* The information in this article and the links provided are for general information purposes only and should not constitute any financial or investment advice. We advise you to do your own research or consult a professional before making financial decisions. Please acknowledge that we are not responsible for any loss caused by any information present on this website.