If you are one of those people who have just started getting interested in the crypto world, then this article is for you. Before you start investing your funds into cryptocurrencies, make sure that you know where to invest. After all, while in 2008, the world of crypto was limited to Bitcoin, things are different these days; there are many other valid and innovative digital currencies. One of the most promising cryptocurrencies in 2023 is Cardano (ADA).
If questions like "How to buy Cardano" and "Where to buy Cardano" intrigue you, keep on reading this article, as we have covered everything you need to know.
Cardano at a Glance
Cardano is a PoS (Proof of Stake) crypto project designed to run smart contracts and to be exceptionally sustainable at the same time. Founded in 2015 by Ethereum co-founder Charles Hoskinson and launched 2 years later, Cardano aims to be a dApp (Decentralized Application) development platform that works based on verifiable smart contracts and a multi-asset ledger.
The native token of the Cardano blockchain is ADA. ADA is used to reward users that are part of the validation process. Thus, crypto enthusiasts who stake Cardano can earn interest and increase the amount of ADA they hold.
And besides earning additional tokens through staking on the Cardano network, you can buy ADA on various crypto exchanges. However, it is essential to research the platforms available, as not all cryptocurrency exchanges support Cardano. Thus, let's see which are the best places where you can purchase Cardano.
A Few Steps to Consider Before You Start Buying Cardano
1. Choose a Safe Cardano Wallet
The primary step that you should take before you purchase ADA or other crypto assets is to look for a safe wallet. It is vital to be familiar with the best wallets before you start your crypto journey. You can choose from the plethora of online wallets or go for a hardware wallet to give you maximum protection.
Usually, hardware wallets may turn out to be safer than software wallets. Two of the most popular hardware wallet companies are Ledger and Trezor. Some of the best software wallets that support the ADA token include Trust Wallet, Binance, eToro, and Coinbase Wallet.
2. A Steady Payment Method
If you plan to buy Cardano, make sure that you are able to use one of the supported global payment methods. While some crypto exchanges may handle multiple payment methods, such as credit or debit cards, bank accounts, PayPal, Apple Pay, and more, others may accept only some of them.
In order to know how to buy Cardano, check out the following platforms and have a swift experience.
Where to Buy Cardano
Binance
If you have been spending days and nights looking for that one platform that will be able to help you through all your questions concerning where to buy Cardano, then Binance may be one of the best options for you. Binance is a cryptocurrency exchange that will offer a seamless experience for both advanced and novice traders. The moment you open Binance, you will see the market trend of all the cryptocurrencies offered.
The platform also allows its users to apply multiple discounts and compete for rewards from time to time. You can use Binance on any Android or iOS device, as well as on Windows, macOS, and Linux devices. Moreover, the platform offers 24/7 customer support to all its users.
How to Buy Cardano on Binance
1. Sign up or log in on Binance with your email address. You can also verify your account with your phone number and your Google account for higher protection.

2. Once you reach the Binance dashboard, click on "Buy Crypto" and then select your preferred payment method.


3. Now, simply look for Cardano, also known as ADA, and enter the amount you want to buy.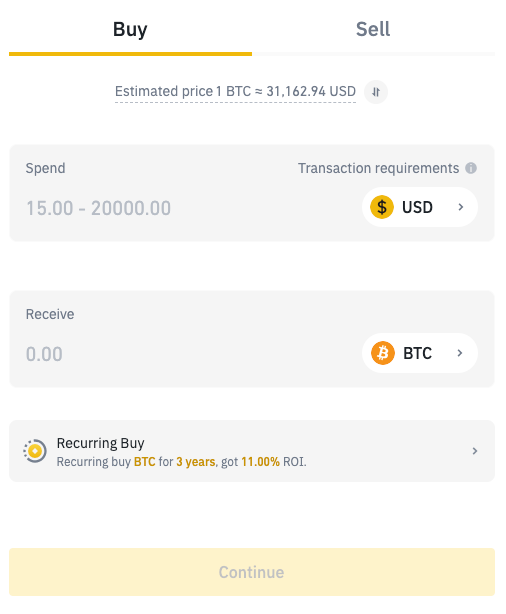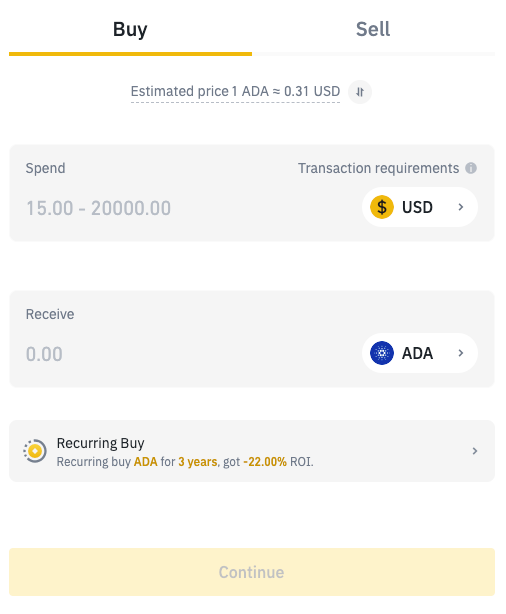 4. Click on "Continue," select the card you want to use, and confirm the transaction.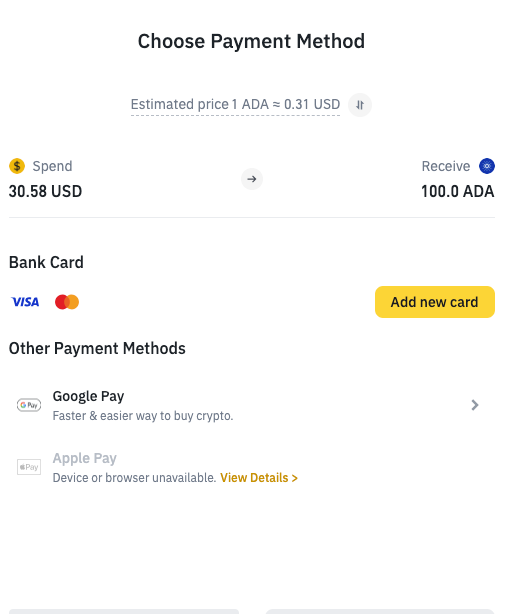 Coinbase

Coinbase is currently the 2nd largest crypto exchange on the market, having a trading volume of almost $2 billion. Launched in 2012 by Brian Amstrong and Fred Ehrsam, Coinbase offers over 350 trading pairs, supports more than 250 cryptocurrencies, and is available in over 100 countries.
Coinbase was designed to help both beginners and experienced traders. Thus, the platform provides Coinbase Simple Trade, an option that is popular thanks to its beginner-friendliness, and Coinbase Advanced Trade, formerly known as Coinbase Pro.
Coinbase Advanced Trade is perfect for experienced crypto investors that look for more complex platforms. Coinbase Simple Trade, on the other hand, makes crypto buying, selling, and trading extremely straightforward.
The main downside of Coinbase may be its fees, as they might be higher than in other cases. However, there are ways to avoid Coinbase fees.
How to Buy Cardano on Coinbase
1. Sign up or log in on Coinbase.

2. Click on "Buy & Sell."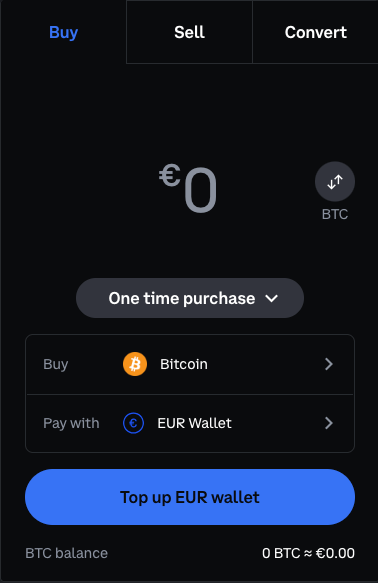 3. Select ADA in the "Buy" section.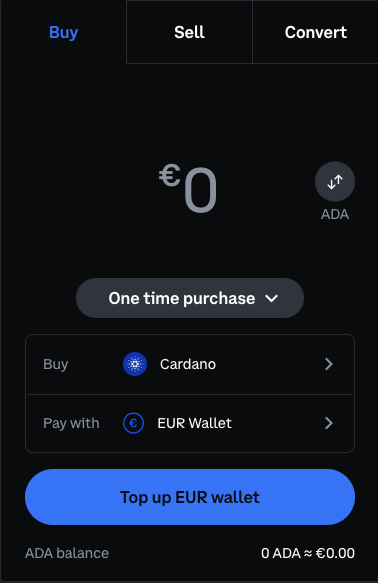 4. Select the payment method you want to use and enter the amount of fiat you aim to sell for ADA.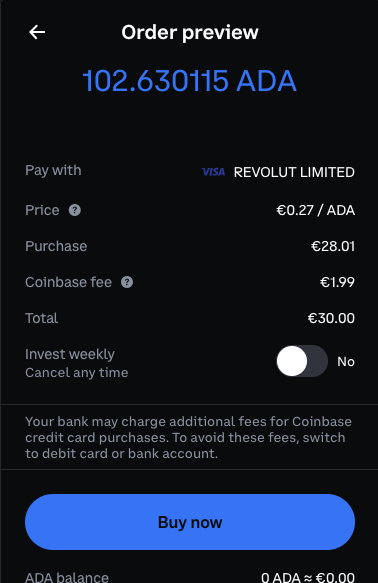 5. Check the order preview and click on "Buy now" once you are sure that everything is in order.
Kraken
Launched in 2011, Kraken is among the largest and most popular cryptocurrency exchanges in the world. Kraken supports over 200 cryptocurrencies and offers more than 600 trading pairs. Currently, Kraken is the 3rd largest crypto exchange on the market.
How to Buy Cardano on Kraken
Sign up on Kraken and verify your account by providing information such as your date of birth, country of residence, phone number, or certain documents. If you already have a Kraken account, simply log into your account.
Deposit cash through one of the payment methods available.
Buy Cardano (ADA).
Buy Cardano on Coinmama
Coinmama is one of the oldest and most trusted crypto platforms, which was launched in 2013. At the moment, the platform is used by millions of crypto enthusiasts all across the globe and is available in 188 countries. Coinmama facilitates crypto trading between users with almost all the high-end cryptocurrencies and offers a very rigid security system to protect their accounts.
If you are looking for high spending limits, fast-track deliveries, and instant transactions, Coinmama may be just right for you. The platform supports some of the major payment methods, such as wire transfer, debit card, credit card, Skrill, Apple Pay, Google Pay, SEPA, and a few more.
How to Buy Cardano Using Coinmama:
Go to the Coinmama website and create your account by adding your email address. To start transactions, you must complete the verification process.
Once you are through with the verification process, click on "Buy now."
Select "ADA" and adjust the amount of Cardano that you are willing to buy.
Add your wallet address and complete the payment process to receive the Cardano instantly.
In Conclusion
The crypto world is undoubtedly evolving in 2023, so it's time to take a chance by buying crypto or earning it in other ways. If you just keep investing in the safer bets without doing your complete research, you might miss out on some of the most profitable options.
Cardano is one of the most popular cryptocurrencies and has the potential to reach a reasonable price by the end of this year. Make sure that you use reliable platforms and invest smartly.
Keep in mind that it is extremely important to choose your crypto wallet wisely. While a software wallet may provide higher levels of accessibility, a hardware device can be safer in various situations.
Some of the best crypto exchanges where you can buy Cardano include Binance, Coinbase, Kraken, and Coinmama.
When buying Cardano, some of the most popular payment methods are wire transfers, bank accounts, credit or debit cards, and services such as Google Pay, Apple Pay, and PayPal. However, each exchange supports certain payment methods; thus, you should check such information before choosing a platform.
* The information in this article and the links provided are for general information purposes only and should not constitute any financial or investment advice. We advise you to do your own research or consult a professional before making financial decisions. Please acknowledge that we are not responsible for any loss caused by any information present on this website.