Safety and security aim to be among the main features of a blockchain or a cryptocurrency in general. Thus, crypto users will always look for projects that provide high levels of security to ensure that their assets are safe and that they are not required to share too much personal information.
However, some platforms do need some user information to comply with any regulation that might apply to the crypto industry. And Coinbase is one of the crypto projects that may not require much personal information, but its verification can still take some time.
Thus, let's see what the Coinbase verification process implies, what are you required to provide, and answer one of the most popular Coinbase-related questions: how long does Coinbase verification take?
About Coinbase
Launched in 2012, Coinbase is a San Francisco-based cryptocurrency exchange launched by Brian Amstrong and Fred Ehrsam. Since April 14, 2021, the company is also traded on the stock market through the American Nasdaq exchange.
At the moment, Coinbase is the 2nd largest crypto exchange on the market, with over 100 million users spread across more than 100 countries. The platform supports over 250 cryptocurrencies and 500 trading pairs, and its fees strongly depend on the type of transaction you want to complete, the amount of crypto you trade your location, and many more.
In what concerns the platform provided by Coinbase, the company ensures that it develops a crypto exchange that suits both beginners and experienced crypto traders. And to do that, Coinbase developed Coinbase Pro, a platform specially designed for advanced traders. In 2022, the crypto exchange announced that Coinbase Pro will become Coinbase Advanced Trade and be integrated into the main Coinbase website.
Currently, Coinbase is developing Base, an Ethereum Layer-2 network that aims to offer a low-cost and safe place for developers to build on-chain. Base will be incubated inside Coinbase, allowing various crypto developers to build crypto projects on the Layer-2 chain.
How to Sign up on Coinbase
The Coinbase sign-up process is pretty straightforward, and everyone should be able to complete it. The main requirements include:
Being at least 18 years old;
Having a govern-issued photo ID;
Having a device connected to the internet;
Having a phone number connected to your phone.
Coinbase Sign up Step-by-Step
1. Go to Coinbase.com and click on "Get Started";
2. Enter your information to create an account;
3. Verify your email through the email you received from Coinbase;
4. Decide whether you want to receive notifications from Coinbase;
5. Enter your phone number (this will also help you enable Two-Factor Authentication);
6. Verify your phone number by introducing the code you received via SMS;
7. Verify your identity by providing information such as address, birth date, and what you want to do on Coinbase;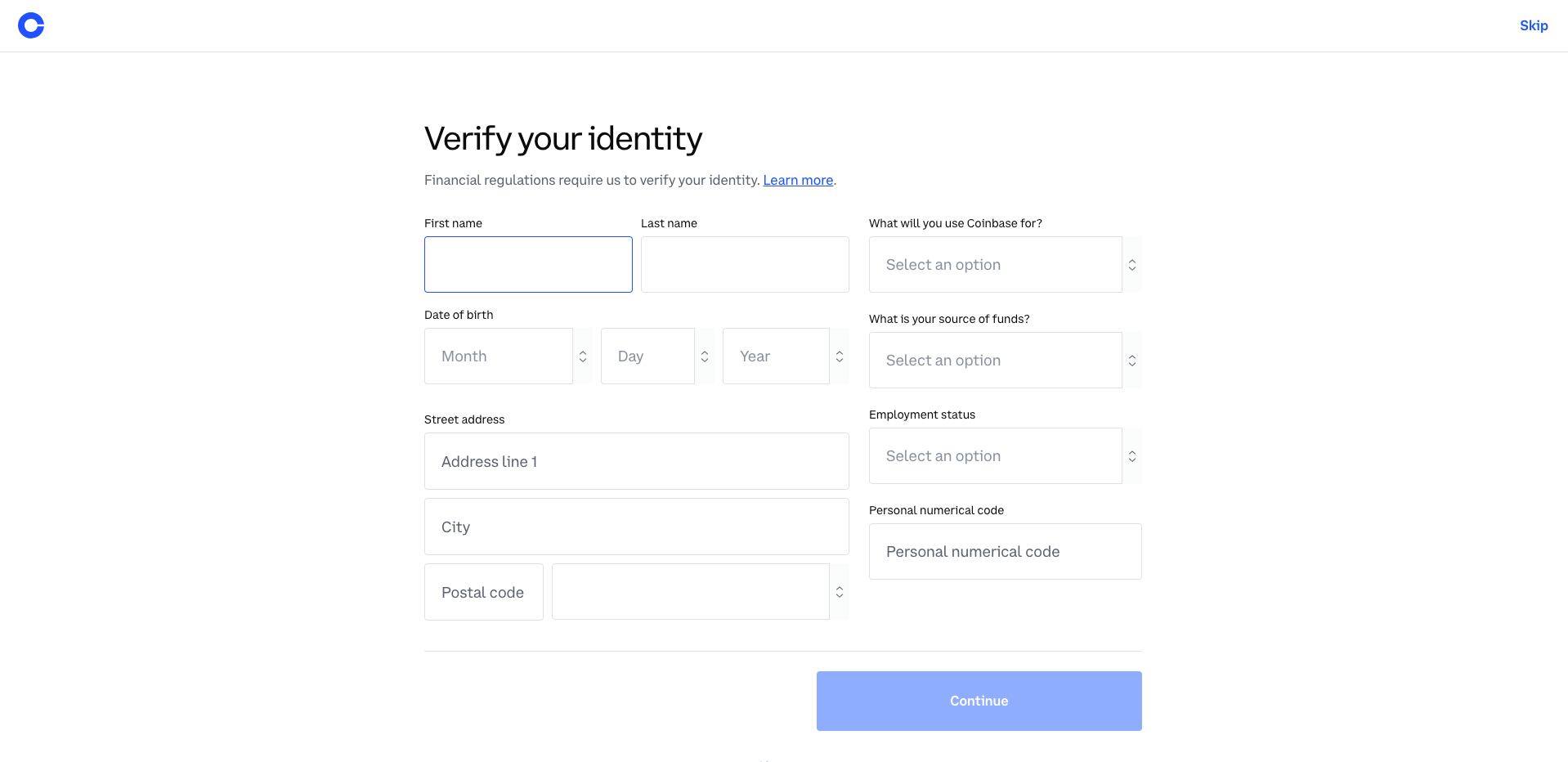 8. Select your citizenship;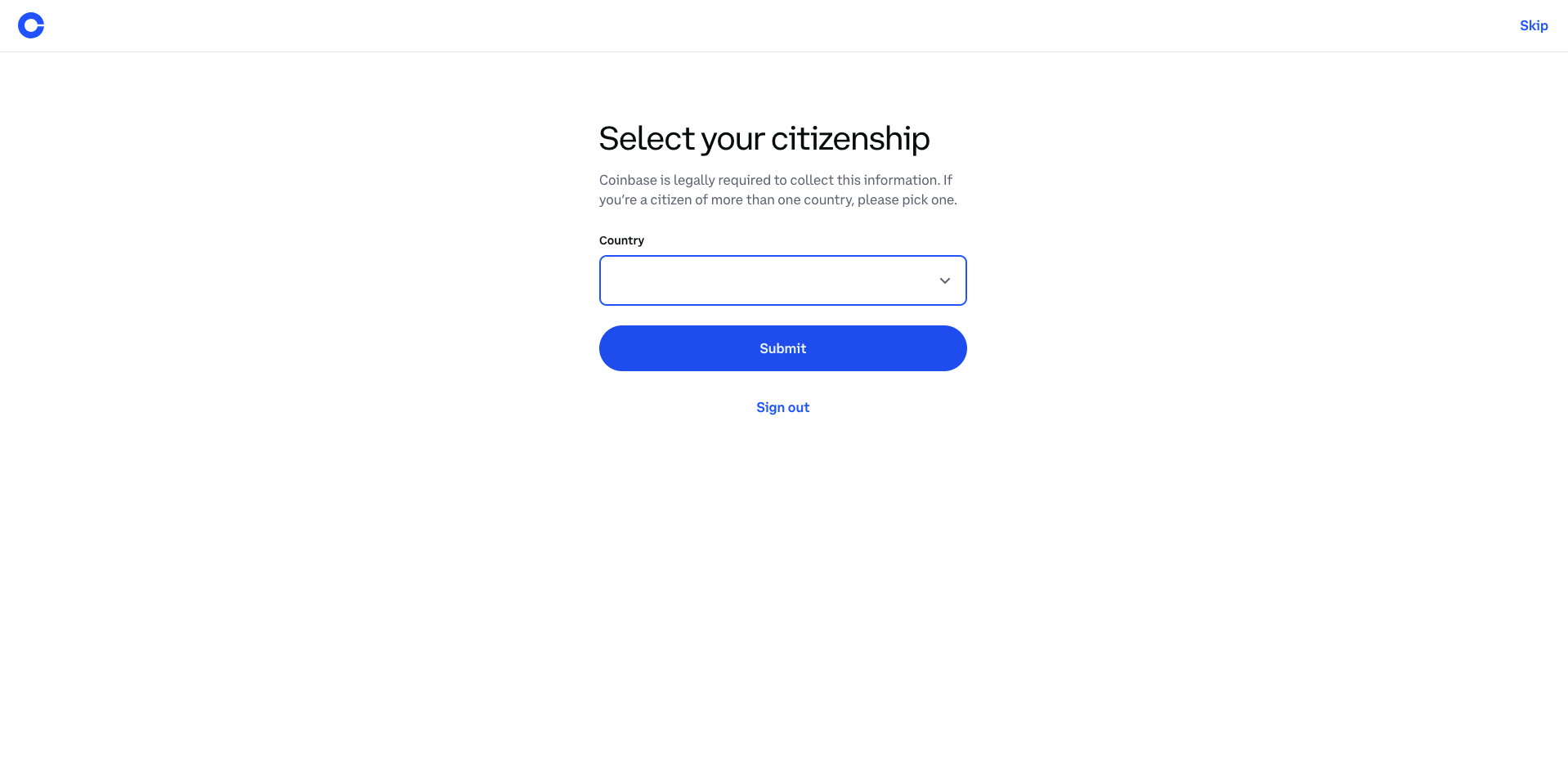 9. Provide information such as the industry you work in and how much you plan to spend on Coinbase;
10. Select the personal document you will provide for verification. You will usually have to choose between a driver's license, personal ID, or passport;
11. Upload a photo of your document;
12. Verify your address by uploading a document, such as a bill that displays your address.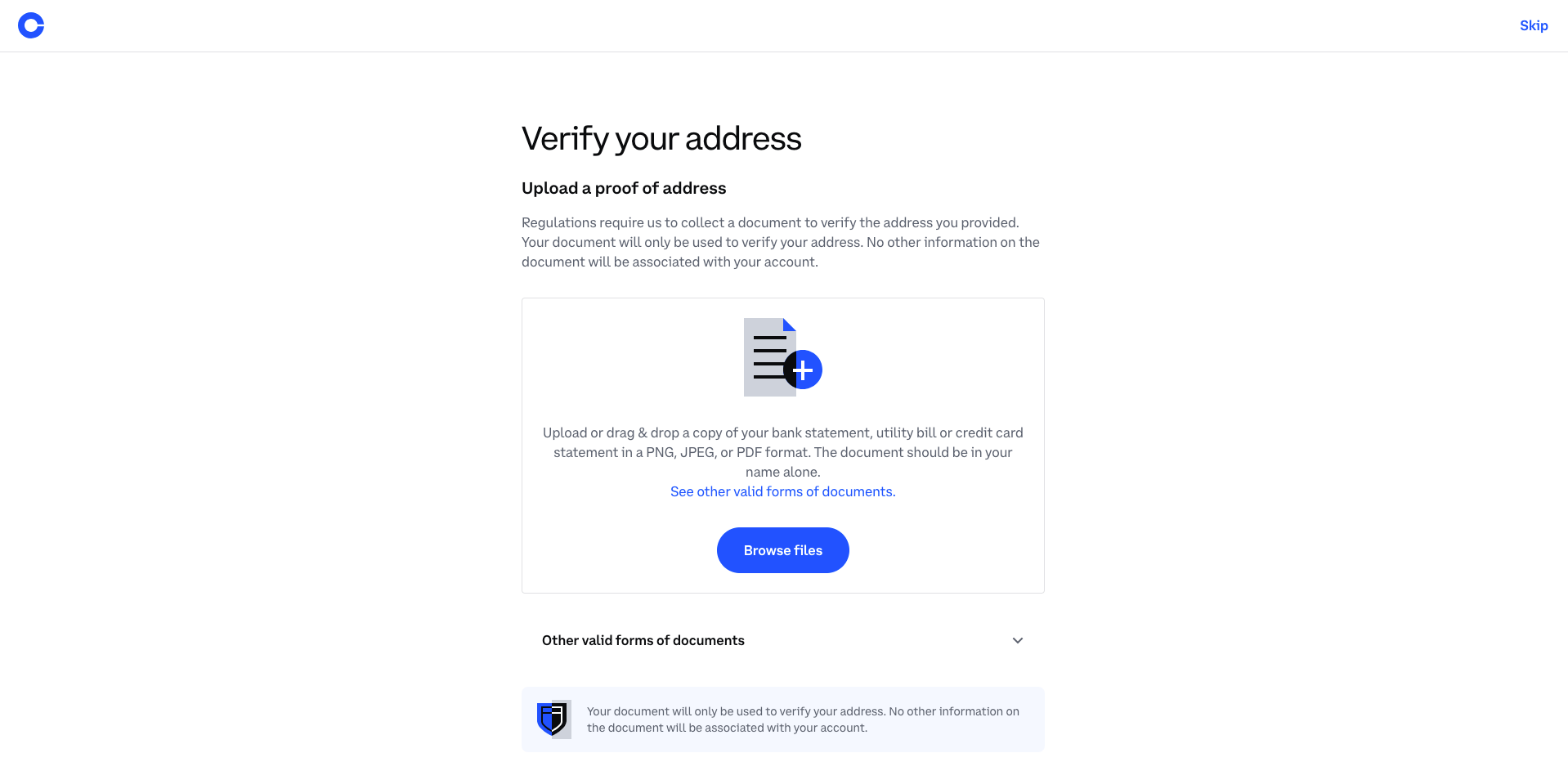 How Does Coinbase Verification Work?
At first, it may seem that Coinbase asks for too much information when creating your account. And in the crypto industry, such things can scare or worry certain investors. Usually, some crypto enthusiasts prefer not to share too much personal information, as they might like to keep their transactions anonymous.
However, Coinbase requires its users to share the exact amount of information the platform needs to create your account and ensure that accepting you as its user will not violate any regulations applied to crypto projects.
For instance, when requiring you to give your first and last names, Coinbase aims to complete your profile and is also preparing to verify your identity. Your phone number can be used to complete the 2FA every crypto platform recommends users to set up. A government-issued ID will assure Coinbase that you are over 18 years old and can trade crypto legally.
A bill that proves your address is another step of the KYC procedure and assures the platform once more that it is you who is trying to sign up on Coinbase. Furthermore, in case any central authority wants to check Coinbase's activity, such documents can prove that the platform is legally offering crypto trading services. This can also keep your funds safe.
How Long Does Coinbase Verification Take?
Everyone would like to receive a concrete answer when asking about how long the Coinbase verification takes. However, the answer they will always receive (at least for now) is that it depends.
There is no set time for the duration of the Coinbase verification, as the process implies various types of information and documents. While in some cases, users can have their account verified in a few hours, other traders might have to wait up to 48 hours for Coinbase to verify their account.
Usually, the duration of the Coinbase verification process depends on:
The country where you are located;
The type of documents you provide for the verification;
Any additional information that Coinbase might request during the verification process.
However, if the verification process for your account takes longer than 48 hours, you can contact Coinbase's customer support via phone, email, or the chat available on the official Coinbase website.
Tips to Speed up Coinbase Verification
Usually, the first steps of the Coinbase verification process should not take too long, as you are only required to provide simple information. However, you can ensure that your phone is close to you and your internet connection is good so that you can receive the first email as soon as possible.
When it comes to documents, you can ensure that you have them close to you once you start the Coinbase verification process. You can even have pictures of your documents already prepared. This way, all you will have to do is upload them on Coinbase.
FAQ
Does Coinbase take days to verify?
Usually, the Coinbase verification process takes a few hours. In some cases, the process can take up to 48 hours, but the duration of the verification process strongly depends on factors such as your location or the types of documents you provide.
How do I know if my Coinbase account is verified?
Once your account is verified, you will receive an email from Coinbase informing you that you can use all the features available on the crypto exchange.
How do I speed up my Coinbase verification?
You can ensure that you have everything prepared when starting the verification process. Furthermore, try to prepare photos of your documents to upload them on Coinbase when you are required to.
How long does it take Coinbase to send the verification code?
The Coinbase verification code can be delivered almost instantly. However, if you do not receive it within a few minutes, you can ask Coinbase to resend the code.
In Conclusion
Cryptocurrencies have become quite popular all over the world, and users are constantly looking for platforms that can help them trade crypto seamlessly while maintaining high levels of security and not asking for too much personal information.
Coinbase is the 2nd largest crypto exchange on the market, and while the platform is highly user-friendly, some crypto enthusiasts believe that the KYC verification may sometimes take too long.
While Coinbase does not require that much information during the verification process, it may take up to 48 hours to verify a new account, but only in some cases. Usually, the Coinbase verification takes up to a few hours, depending on your location and the documents you provide during the process.
* The information in this article and the links provided are for general information purposes only and should not constitute any financial or investment advice. We advise you to do your own research or consult a professional before making financial decisions. Please acknowledge that we are not responsible for any loss caused by any information present on this website.