Crypto has become increasingly popular over the past few years. And while some crypto enthusiasts prefer to invest in various cryptocurrencies or crypto startups, others are constantly looking for the best Bitcoin games that will bring them some rewards.
Crypto games are a great option to earn Bitcoins while using your mobile phone for a fun and engaging activity.
Now plenty of crypto games reward mobile users with tangible digital assets. But the most rewarding games are the Bitcoin games, as BTC is the world's most valuable and popular crypto.
If you are tired of earning satoshis by aimlessly clicking on Bitcoin faucets, you can try to have some fun while doing so. Here are some of the best Bitcoin games that Android and iOS users can install on their mobile devices and make some free Bitcoin.
Let's find together which are the highest-paying Bitcoin games.
How Do Bitcoin Games Work?
Bitcoin mobile games are based on blockchain technology, which allows players to own in-game assets that can be exchanged for cryptocurrency and real-life money.
Of course, to start playing Bitcoin games or rather to take the rewards out of the game, players need to have a Bitcoin wallet.
Players can then start playing the game just like any other online game. The main difference is that they are playing for the chance to earn Bitcoin rather than virtual currency.
As they play the Bitcoin game, they will have the opportunity to win Bitcoin in a variety of ways, such as through progressive jackpots, bonuses, or special game offers.
Benefits of Playing Bitcoin Games
Playing mobile Bitcoin games can provide numerous benefits, the most well-known including the following:
You can earn free Bitcoin while playing an engaging and fun game;
You can contribute to developing new trends regarding playing games to earn Bitcoins;
Playing a Bitcoin game can encourage and grow the gaming communities;
Considering that all crypto-related games, such as Bitcoin games, Play-to-Earn games, and many more, are developed on blockchains, by playing a Bitcoin game, you will encourage blockchain adoption;
The fact that you win digital assets when you play Bitcoin games can create real-world value.
Types of Bitcoin Games
There are several types of Bitcoin mobile games available. Thus, let's talk about the most popular ones.
Puzzle Games
Puzzle games are similar to traditional puzzle games but reward users with Bitcoin for completing various challenges and levels.
Adventure Games
These games provide players with an immersive experience by offering various missions and challenges to complete while offering Bitcoin rewards.
Strategy Games
These games require players to use their strategic thinking and decision-making skills to complete various objectives while earning Bitcoin and other rewards.
Skill Games
Skill games test players' abilities in various skills, such as reaction time or hand-eye coordination, and offer Bitcoin rewards for achieving high scores.
These are just some of the many types of Bitcoin mobile games available, and new games are constantly being developed to offer more variety and excitement to players.
Highest Paying Bitcoin Games for Android and iOS Users
Alien Run
Available on: Android and iOS.
Alien Run is a classic arcade game with simple yet addictive gameplay. The game was launched in 2016 by a mobile game developer who teamed up with Bitcoin Aliens, a well-known web faucet.
Alien Run features an extraterrestrial hero called Daniel D'Alien, which has to jump, flip, flap, dodge, and learn new skills through hundreds of custom-created levels.
This adventure can go on forever, and while you play, you can rack up a reward of up to 1000 satoshi every five levels. You can play two sets of 10 levels every hour.
In the game, you receive new missions daily with up to eight levels where you can accumulate up to 10,000 satoshis in rewards. After completing each level, you will be able to claim the rewards.
Your alien character will increase in power as it passes through the levels. As the level of difficulty increases over time, so does the amount of Bitcoin you receive.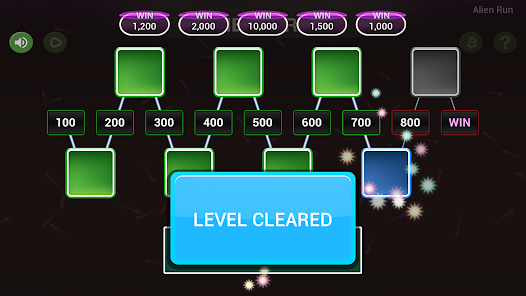 Each player starts the game without any tools and will have to get valuable items, such as Orbs, Trump Cards, or Mystery Cards, from other players or the game store. Remember that you do not have to finish first but with the most Orbs in your possession.
The attractive bonus structure of this Bitcoin game is enough to keep players engaged and motivate them to get to the top.
CropBytes
Available on: Android and iOS.
CropBytes is a game of business based on real-world farming. You can play the game to own digital assets and increase your farm's output or trade them with other players for returns in crypto.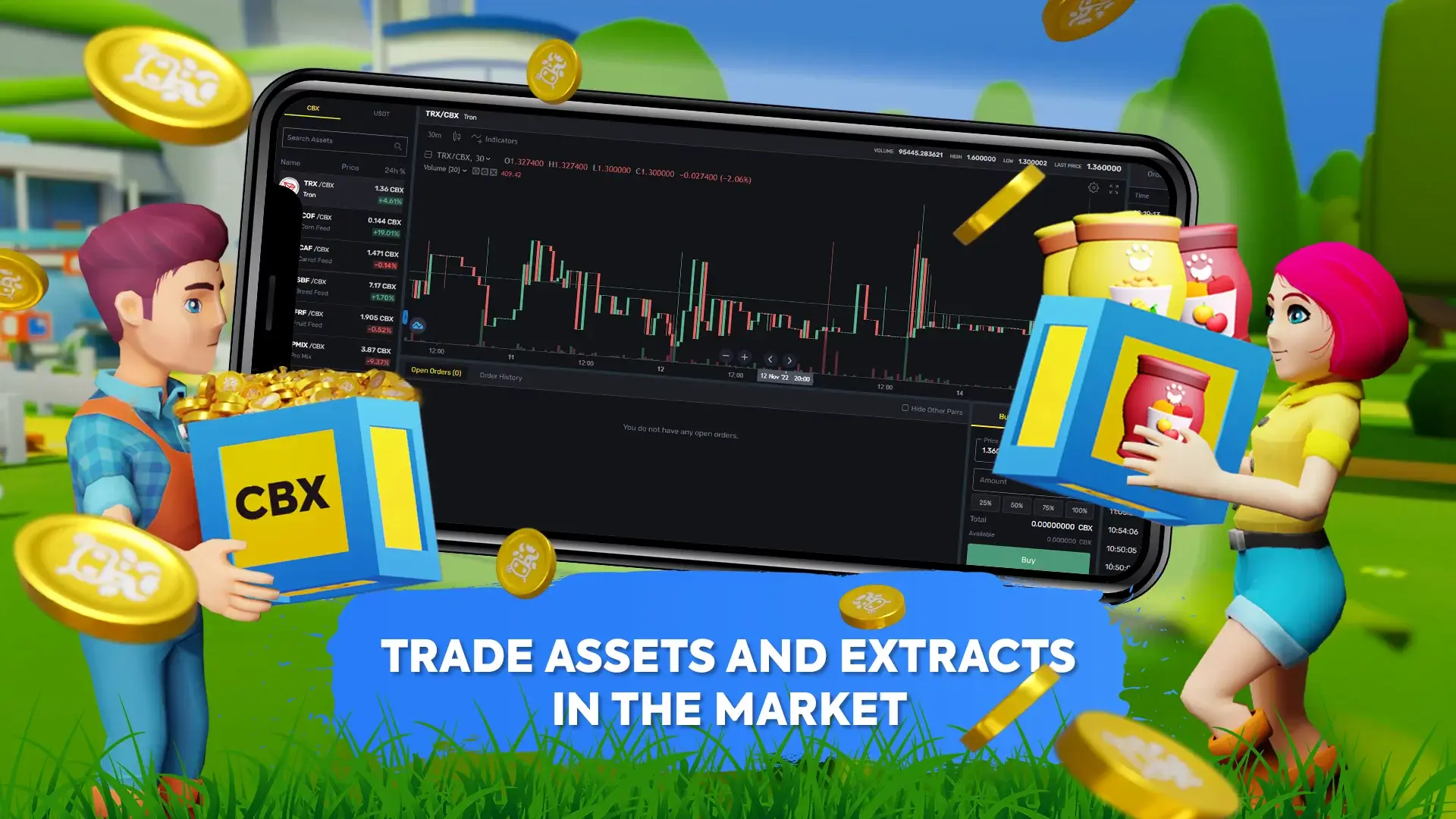 In this game, you can play the role of both merchant and investor.
As a merchant, the main goal is to create and develop a farm as much as possible. You can purchase farm assets, grow crops and fruits, and harvest them. You can grind them to make food to feed animals and collect extracts.
Your animals must be fed daily to preserve their health and provide extracts like milk, wool, eggs, truffles, etc. You can manage utilities to use and sell them.
With all these goods produced on your own farm, you can convert them into CBX Tokens to generate crypto returns. Of course, you can then convert CBX into BTC.
As an investor, you can trade the assets produced on the farm. Trading is the best way to grow your portfolio. Make calculated trades in the market and get returns, just like in the real world.
If you've played farm simulator games before, this game will be very familiar to you, and you'll be able to make an income from it.
You can earn high incomes if you take every job at a time. 
Bitcoin Solitaire
Available on: Android and iOS.
Solitaire is one of the most popular games in the world. However, Bitcoin Solitaire, a game where you can earn Bitcoin, has appeared to add value to the classic game. It combines a game many people like to play on phones with the ability to win Bitcoin. 
The game looks like a classic solitaire game, except that the faster you complete some levels, the quicker you can win Bitcoin in the app.
The points system is named after the developers, Bling Studios, who have collaborated with PlayDay Studios on this title. Thus, the game points are called Bling Points, which you can convert into Bitcoin via Coinbase.
The game has some significant improvements, such as the 'Klondike Solitaire' game mode, turning the game into a more addicting, easy-to-play option. The bugs and other issues present in the original Solitaire game also no longer exist in Bitcoin Solitaire. 
This is one of the best Bitcoin games where you can earn money by playing, and it is available for both iOS and Android users. If you are passionate about Solitaire and other quirky card games, this is for you!
Several games are created on behalf of PlayDay Studios where you can win Bitcoin, some of them being Bitcoin Sudoku and Word Breeze.
Merge Cats
Available on: Android and iOS.
Merge Cats is perhaps the easiest game in this article and a great option if you love idle cryptocurrency-earning games and cats.
If you've played Candy Crush before, you'll definitely get the hang of this game because it's an alternative version of Candy Crush where instead of candy, you pull similar cats together to earn points.
Firstly, right upon entering the game, you'll have to buy some cats using in-game money – not real money. After you buy them, your cats will fly around the level's racetrack, and you earn money every time a cat hits the finish line.
You should know from the start that you can only buy a limited number of cats, depending on your level. Also, you need to merge cats of the same level to make higher-level cats.
The higher-level kitties are much faster and will increase your income per second. You can unlock other racetracks and buy faster cats when you've earned enough points.
The game's native currency is "Soul," which you can convert to Bitcoin.
Bitcoin Pop
Available on: Android and iOS.
Bitcoin Pop is another excellent game for its simplicity, built after a classic puzzle game. As soon as you read the following lines, you'll understand what it's all about.
In this Bitcoin game, you will play the role of a bubble shooter. You will simply have to aim, match, and pop bubbles of the same color to collect the required number of juices.
Bitcoin Pop puts your hand-eye coordination and puzzle-solving skills to the test. Make your way through hundreds of levels by strategically popping bubbles, spraying juice, and collecting increasingly more points.
Bling Points, the native token of Bling Studios, the developers of Bitcoin Pop, can be easily exchanged for BTC.
If you want a game that doesn't require much and that you can play in moments of boredom, such as when you're on the bus or have some spare time, you should play Bitcoin Pop.
You can also try Bitcoin Blast, Bitcoin Blocks, and Sweet Bitcoin, all of these games being developed by Bling Studios.
RollerCoin
Available on: Desktop.
RollerCoin may be one of the most popular Bitcoin mining simulators ever developed. The main idea behind RollerCoin is to compete against other users in order to win BTC.
However, instead of mining BTC to win more coins, players are required to complete various tasks in order to be rewarded with Bitcoin.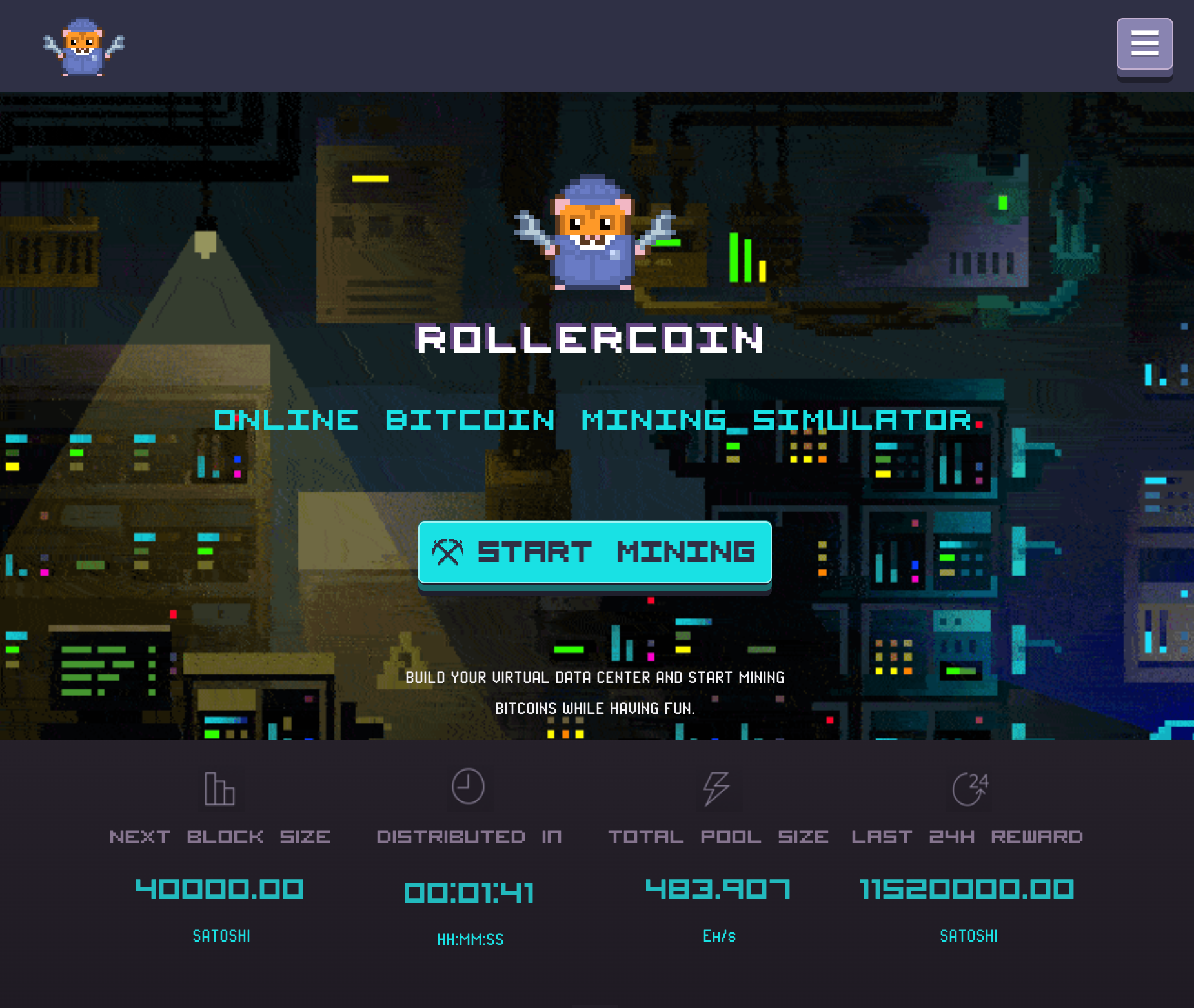 RollerCoin has some unique features that make users stay close to the game and play it more and more. For instance, the project offers a block reward every 5 minutes.
The reward is usually shared between players according to their mining power. The mining power can increase depending on how many tasks a user completes.
Besides, RollerCoin challenges users by giving them tasks related to data center repair, air conditioning costs, or electricity bills. Such realistic tasks may intrigue players even more, and the rewards offered by RollerCoin will most surely keep them incentivized.
Bitcoin Bounce
Available on: Android and iOS.
Bitcoin Bounce is extremely easy to play, and this may be one great advantage. The rules are pretty simple: users have to bounce a Bitcoin from one platform to another without falling. This way, they are able to win crypto in a fun and simple way.
Furthermore, in Bitcoin Bounce, players are able to find THNDR tickets that can get them into the daily lottery events. Daily lotteries offer significantly higher rewards; thus, collecting THNDR tickets may be among the most important thing to focus on while playing.
It is essential to note that if a player is chosen in a Daily Lottery event, they will get paid through the Lightning Network. Thus, users are required to hold a compatible crypto wallet. Some options can be Bitcoin Lightning Wallet, Blue Wallet, Wallet of Satoshi, or Breez.
Bitcoin Bounce is a great game to play in order to get significant Bitcoin rewards in a pretty straightforward way.
FAQ
How to earn Bitcoins by playing games?
There are several ways to earn Bitcoin while playing on your phone. The first thing is choosing a game that offers Bitcoin rewards and playing it frequently.
In the list above, you will find the best Bitcoin games available on both Android and iOS.
How can I earn Bitcoins on Android?
The best way to earn Bitcoin on Android is to play games that offer such rewards. In the list above, you will find such games.
Of course, it is not the only method. The great news is that you can also turn to different Bitcoin-related applications that allow you to enter stake pools and mine cryptocurrencies, although they do not bring consistent results.
Are there any play-to-earn crypto games on iOS?
Of course, almost all play-to-earn games mentioned above are also valid for iOS. While researching the best Bitcoin games, we have aimed to mention games that are valid on both Android and iOS and offer the highest rewards. 
Highest Paying Bitcoin Games – Conclusion
If you are in the mood to play some games on your phone and make some Bitcoin while you have fun, then try one of the highest-paying Bitcoin games listed in our article.
It is essential to note that users should perform thorough research before choosing a Bitcoin game, as some apps may not have the best interest when it comes to rewarding players.
Regardless, Bitcoin games are a fun way of winning some more digital assets, and once you find the one game that suits your wishes, we are sure that you will want to get more and more rewards.
Keep in mind that if a crypto game does not reward users with Bitcoin directly, it is quite easy to trade other tokens for BTC.
* The information in this article and the links provided are for general information purposes only and should not constitute any financial or investment advice. We advise you to do your own research or consult a professional before making financial decisions. Please acknowledge that we are not responsible for any loss caused by any information present on this website.