Ethereum (ETH) Price Prediction 2025: Market Analysis and Opinions
Last Updated on Oct 13, 2021 at 11:21
Price at Writing
$3,548.04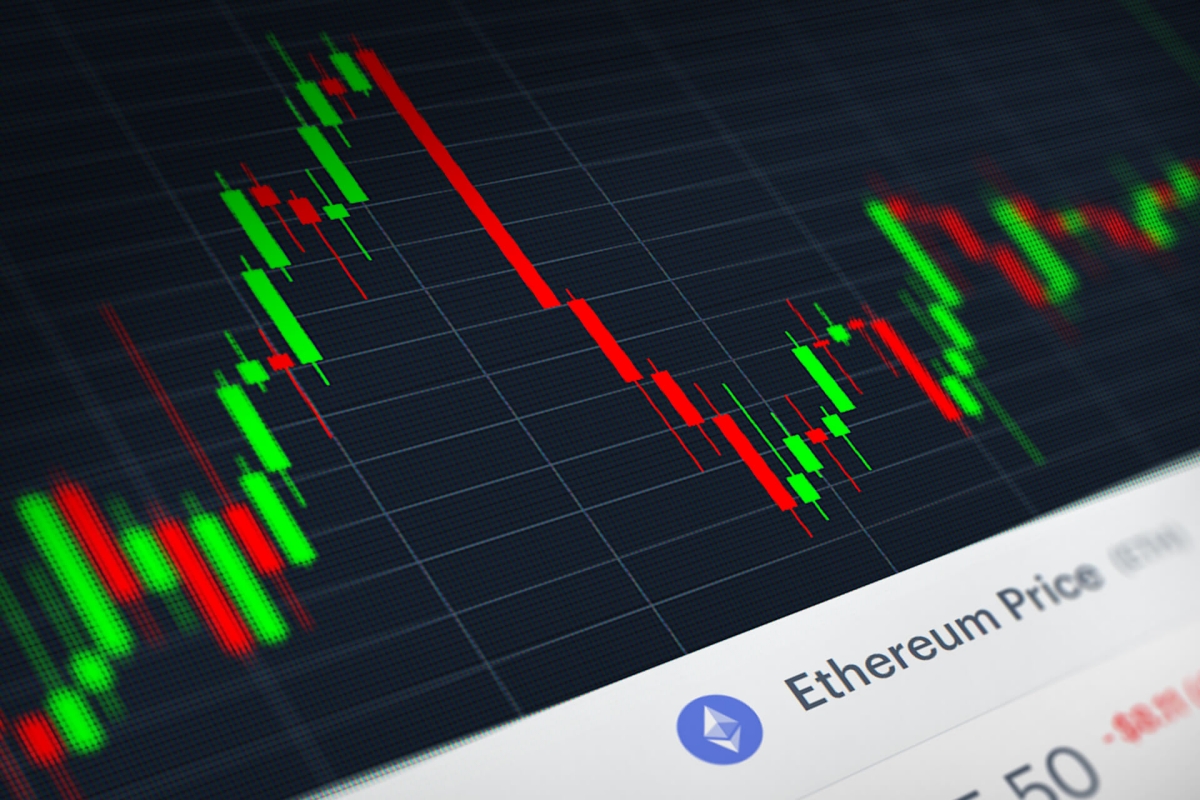 Ethereum price prediction 2025 is an almost impossible forecast, but we've gathered the most realistic market opinions and analyzed the historical behavior of its price in order to get an idea of its volatility. The second-largest cryptocurrency has a market cap of $393,902,312,019. It has a circulating supply of 115,911,541.75 ETH, which is roughly the same as its total supply since it migrated to Proof-of-Stake. Trading volume in the last 24 hours is $59,909,994,466.
Ethereum Price Prediction: Analysis
Ethereum is currently one of the fastest growing and the highest gainer in the cryptocurrency market. It hit $1,000 for the first time since 2018 January. Since then, it has been growing steadily and breaking several new highs. As a result, analysts are becoming optimistic that the asset could reach much higher levels in 2021 than earlier anticipated.
According to the daily ETH/USD chart, the price has been appreciated consistently since 25 of April with just a few red candles. This is also supported with significant volume, which means the rally is genuinely supported by investors' interest in the asset.
The 20, 50, and 100 moving averages are far below the current price, which means the uptrend is quite strong.
The relative strength index (RSI) is at 84 at the time of writing this article. This is the first time it had reached this level since early January when it got to 87 before a reversal kicked in. At this level, it is likely that a reversal may be around the corner, and the price could tip downwards soon even though the moving averages suggest otherwise.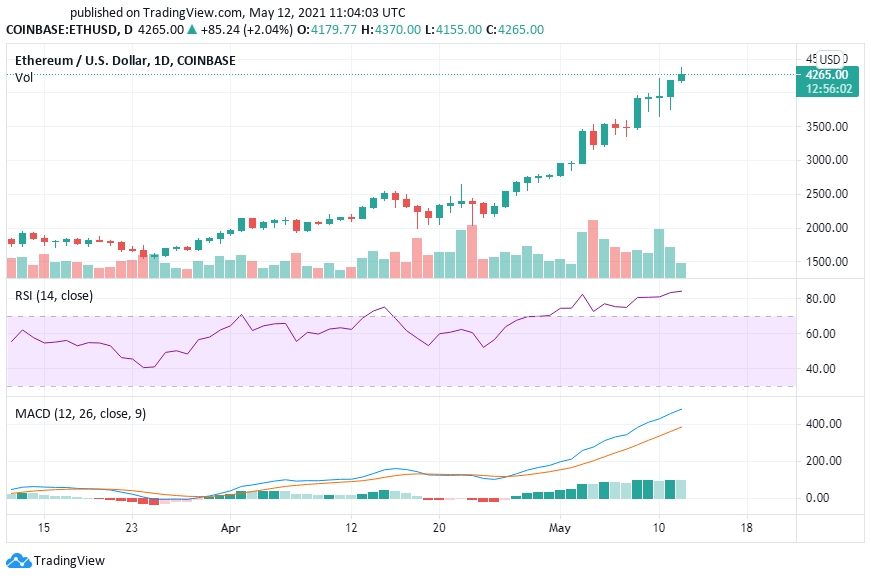 This tendency is supported by another indicator, the moving average convergence divergence. The indicator shows that the uptrend is weakening, as indicated by the light green color of the last bar in the chart above. This suggests the bears may take over any time soon, and there could be a reversal.
Developments
In our ETH price prediction, we will take into account the latest developments and news that anyone interested in this currency needs to know.
Moving to Proof-of-Stake from Proof-of-Work may be one of the most important steps that the Ethereum team took ever. The staking of ETH for profit has greatly attracted investors to engage more with the asset.
However, even beyond this, Ethereum plans to implement other upgrades that will help the network scale and also make it more friendly for developers. For instance, the introduction of sharding will help improve scalability and so reduce the cost of transactions significantly. This could help to remedy the large exodus of Ethereum users to alternative blockchains, such as Tron and Binance Smart Chain, because of high fees.
There are also plans to replace Ethereum Virtual Machine (EVM), which is responsible for how Ethereum operates. This is a computational wonder, but it is a bit of a headache even for the best developers. Therefore, it is to be replaced with a web assembly language known as eWASM. This will allow developers to execute Ethereum codes in web browsers. All these developments, when put in place, will greatly improve Ethereum's usability, which could make ETH even more valuable in the future.
Ethereum Price Prediction 2025: Market Opinions
The following are market opinions on Ethereum price prediction 2025.
PrimeXBT
PrimeXBT's ETH price prediction is that it may reach $70,000 between 2024 and 2025. This will, however, not happen without some rough times. They predict that it could tumble in 2024 before breaking out in 2025 to reach this price. An expected low during this period is $3,500.
Digitalcoinprice
Digitalcoinprice expects Ethereum to have a price of $12,898.02 by the end of 2025. According to its ETH price prediction 2025, the lowest price will be $10,529.82, while the highest price will be $13,505.47 in August of the year.
| | | |
| --- | --- | --- |
| Month | Average Price ($) | Change (%) |
| Jan 2025 | $10,826.96 USD | 172.77 % |
| Feb 2025 | $13,034.11 USD | 228.37 % |
| Mar 2025 | $12,069.92 USD | 204.08 % |
| Apr 2025 | $12,416.74 USD | 212.82 % |
| May 2025 | $10,529.82 USD | 165.28 % |
| Jun 2025 | $11,412.14 USD | 187.51 % |
| Jul 2025 | $13,199.47 USD | 232.54 % |
| Aug 2025 | $13,505.47 USD | 240.25 % |
| Sep 2025 | $10,971.34 USD | 176.41 % |
| Oct 2025 | $10,564.66 USD | 166.16 % |
| Nov 2025 | $12,804.34 USD | 222.59 % |
| Dec 2025 | $12,898.02 USD | 224.95 % |
Trading-education
This website's ETH price prediction is that it could reach $15,500 by 2025. This is because the price is likely to grow fast in the next four years, mainly driven by massive adoption, according to the website.
Changehero
This website predicts that Ethereum will reach at least $10,000 by 2025. They foresee a maximum price for the year of $200,000. According to the website, the prediction is based on experts' expectations on the technical capacity of Ethereum, which could significantly add value to its price.
Ethereum Price Prediction 2025: Verdict
Ethereum has a bright future as an investment asset. Looking at the current rate of growth and the huge potential based on its technology, this could just be the beginning of Ethereum's price surge. The Ethereum price prediction 2025 also suggests optimism, as the asset may have risen to levels that are greater than what analysts are predicting now. However, investments must be made based on information in order to avoid disappointment.
Featured image: quoteinspector.com