Coinbase and Bitstamp are two crypto exchanges that are known in the crypto community for their excellent reputation and trading services. Both Bitstamp and Coinbase have been on the crypto exchange market for more than 7 years, making their teams some of the most experienced out there.
In our article, we will compare side by side the features of each exchange in order to help you choose the right one for you.
About Coinbase
Coinbase was first established in 2012 in San Francisco, California by Brian Armstrong and Fred Ehrsam.
Coinbase is regarded as one of the most reliable and secure platforms for crypto trading. The exchange holds a BitLicense, which means that it is one of the few crypto exchanges allowed to legally operate in New York.
The company partnered with top brands, such as Dell, Expedia, Time Inc., and others to facilitate Bitcoin payments.
The platform is a broker that lets users to buy and sell cryptos at a set price based on the current market. This means no waiting for orders to be matched, as transactions are fast and simple.
About Bitstamp
Founded by Slovenians Nejc Kodric and Damijan Merlak in 2011, Bitstamp is an exchange that was built to be as safe and reliable as a banking service.
The founders made the exchange compliant with many rules and regulations in order to maintain the security of customers' funds.
As in their native Slovenia, there was no crypto regulatory framework, the exchange moved to London and ultimately settled in Luxembourg, a country with proper regulations in terms of crypto matters.
In 2016, Bitstamp became the first fully certified crypto exchange, as it received its license in Luxembourg.
Coinbase vs Bitstamp: Available Currencies
Coinbase supports a variety of cryptocurrencies: Bitcoin, Bitcoin Cash, Ethereum, Ethereum Classic, Litecoin, 0x, USD Coin, Basic Attention Token, Ripple, EOS, Stellar, Augur, DAI, Link, Atom, Kyber Network, and Zcash.
Bitstamp allows users to trade with two fiat currencies: US Dollars (USD) and Euros (EUR). British Pounds and Swiss Francs deposits can also be made, but they will be converted into USD or EUR before trading.
In terms of crypto, Bitstamp is more limited in its listing, having only 5 cryptos: Bitcoin (BTC), Bitcoin Cash (BCH), Litecoin (LTC), Ethereum (ETH), and Ripple (XRP).
Coinbase vs Bitstamp: Available Countries
Coinbase supports 77 countries from Africa, Europe, Australia, South America, North America, and South Africa.
Due to its Luxembourg license, Bitstamp is available in all 27 European Union countries. This year, Bitstamp also got its license from the New York State Department of Financial Services, which means it can legally operate in the US. It also activates in 49 other countries outside of the EU, including Australia, Brazil, China, South Africa, and South Korea.
Coinbase vs Bitstamp: Interface and User Experience
Coinbase is often touted as the best platform for novice traders. This is because it was created with simplicity and ease of use in mind, aiming to replicate the functionality of PayPal.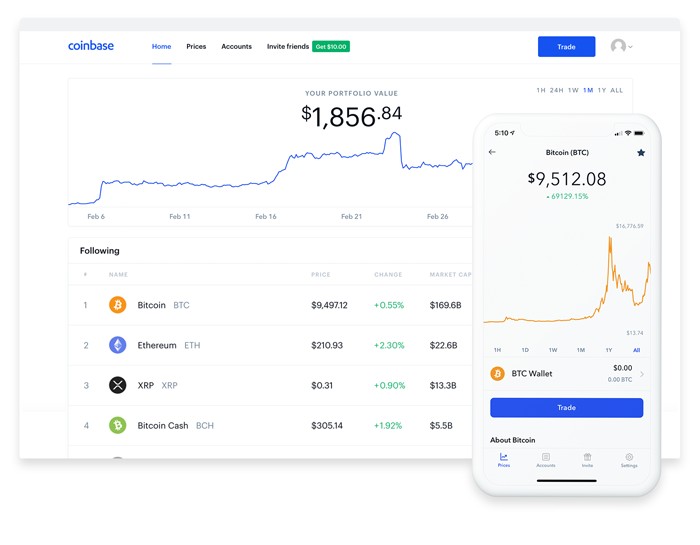 While Bitstamp has an aesthetic interface design and less trading features, the layout is a bit confusing, especially for beginners. Most new traders complain that Bitstamp's Tradeview page has too many complicated features.
Even though both platforms support Bitcoin/US dollar exchange services, they function differently. Coinbase is a broker exchange, which means that users buy and sell Bitcoins directly from the company for fiat currency. Buyers and sellers do not trade amongst each other instead, they go to the "buy/sell" page to enter their orders and trade with the prices set by Coinbase.
As users trade directly with Coinbase, there is no waiting time for orders to be matched, and the conversion takes place quickly after the order was placed.
Bitstamp is an exchange platform where users buy and sell between themselves at the most convenient prices available in the system. The advantage here is that traders can look for the prices that are more advantageous for them and make profitable trades.
If you are looking to make quick crypto conversions without any complications, then Coinbase is the better alternative for you.
Coinbase vs Bitstamp: Mobile Apps
Bitstamp features mobile apps for both iOS and Android users, but there have been some complaints regarding its lack of features and latency when it comes to updates.
Coinbase also has apps for iOS and Android operating systems. The Coinbase mobile apps have better ratings than those of Bitstamp, with users praising their reliability and ease of use.
Coinbase vs Bitstamp: Deposits and Withdrawals
Bitstamp supports deposits and withdrawals both through fiat and cryptos, SEPA, and international wire, as well as credit card purchases.
Coinbase users can make payments in a variety of options:
Bank transfer (as well as ACH in the US and SEPA in the EU);
Credit cards;
Debit cards;
PayPal (withdrawal only);
Listed cryptos;
CAD, EUR, GBP, SGD, & USD.
Coinbase vs Bitstamp: Fees
Like most exchanges, the fees are different based on the user's country, payment method, currency, and trading volume.
Coinbase charges its trading fees based on the following structure:
$10 and below: $0.99 fee;
$10 to $25: $1.49 fee;
$25 to $50: $1.99 fee;
$50 to $200: $2.99 fee.
Credit or debit card purchases incur a fee of 3.99% on Coinbase.
| | | | |
| --- | --- | --- | --- |
| Standard Buy/Sell | Instant Buys (debit card only) | Bank Transfers (SEPA) – in/out* | Faster Payments |
| 1.49% | 3.99% | Free/€0.15 | Free |
| | |
| --- | --- |
| Payment Method for Purchase/Payout Method for Sale | Effective Rate of Conversion Fee (after waiver) |
| US Bank Account | 1.49% |
| Coinbase USD Wallet | 1.49% |
| Debit Card | 3.99%*** |
| | |
| --- | --- |
| USD Deposit Method | Fee |
| ACH Transfer | Free |
| Wire Transfer | $10 ($25 outgoing) |
Bitstamp applies its fees on the trading volume of a 30-day period, with 0.50% applied to trades under $10,000 and 0.25% for trades over $20,000. SEPA withdrawals have a fee of 3 EUR, and credit card purchases a fee of 5%.
International wire deposits come with a fee of 0.05% (min fee = 7.5 USD/EUR, max fee = 300 USD/EUR), and a withdrawal fee of 0.1% (min fee = 25 USD/EUR). Your bank may charge additional fees.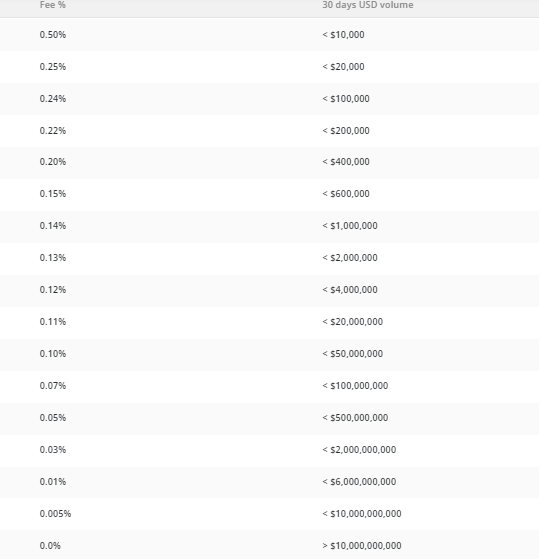 Service type
SEPA
International Wire
Transfer return
0.25%

(min fee = 25 EUR)

0.25%

(min fee = 25 EUR)

Transfer trace
30 EUR
35 USD
Transfer amendments
30 EUR
35 USD
Administrative costs
50 EUR
50 USD
Transfer recall
30 EUR
35 USD
Transfer receipt
30 EUR
35 USD
Bounced back transfers
Charged like a regular bank deposit
Charged like a regular bank deposit
Transaction type
Fee
Deposit
0.05%

(min fee = 7.5 USD/EUR, max fee = 300 USD/EUR)

Withdrawal
0.1%(min fee = 25 USD/EUR. Your bank may charge additional fees
Crypto deposits on both exchanges are free of charge.
Coinbase vs Bitstamp: Security
Coinbase and Bitstamp both have high rankings when it comes to their security implementations.
Both exchanges apply strong security measures and store most of their cryptocurrency funds in cold wallets to secure their funds from hacking attempts. Nearly 98% of Coinbase's funds are stored in cold wallets, while the remaining 2% is insured by a syndicate of Lloyd's of London. The USD funds of US-based customers have FDIC insurance for losses of up to $250,000.
Bitstamp also keeps a majority of its digital assets in cold storage.
So far, Coinbase has never been hacked, but users have lost funds because of phishing scams or incidents where their accounts' passwords were stolen.
Bitstamp was hacked in January 2015, losing 19,000 BTC, which was around 5.1 million at the time. While the breach impacted Bitstamp's reputation, the company worked hard to enforce stronger security mechanisms and paid back its customers for their lost funds. Bitstamp has experienced any major security issues since.
Bitstamp's funds have been audited by Ernst and Young accountants. The platform was tested to see if they were using and storing its customers' money properly, and passed the audit with flying colors.
Both platforms require users to have two-factor authentication activated on their accounts.
Coinbase has a good track record when it comes to security, but in February 2018, it caused concerns as it supplied the details of 13,000 users to the IRS.
Coinbase and Bitstamp are legally licensed to operate in the US and Europe.
Coinbase vs Bitstamp: Customer Support
Coinbase has been reported to offer excellent customer service when compared to most crypto exchanges. Coinbase's customer support team can be contacted via email, and they recently added phone customer support, which is a great plus for a crypto exchange as not many offer such an option. The response time for support tickets has been reported to be between 24 and 48 hours.
Bitstamp has also been rated to provide decent customer support. The exchange can be reached either through email or by phoning the nearest office for emergencies.
Bitstamp also includes an FAQ section on its website, detailing how the platform can be used. We recommend that beginners analyze this section in order to better understand the interface and TradingView.
Most complaints from Bitstamp are answered directly by their support team and are usually related to accounts being closed after depositing abnormally large sums for those users.
Coinbase vs Bitstamp: Public Opinion
Coinbase is considered to be one of the safest and most reliable in the crypto industry. This platform is consistently ranked among the top 1 or 2 of the most trusted exchanges in Google searches, and it is often recommended as the best crypto broker for US-based users.
Bitstamp has also built a strong reputation in the past years and has earned the respect of the community through its efforts to offer the best security and compliance. The exchange is rated as being one of the top crypto trading platforms for EU-based users.
Coinbase vs Bitstamp: Verdict
Coinbase and Bitstamp are both leading exchanges in the crypto industry.
Coinbase would be a more suitable option for those looking to convert USD, as it is based in the US. While the EU-based users looking to fund their accounts with euro through SEPA transfer should opt for Bitstamp.
In the Coinbase vs Bitstamp debate there is no clear winner; it all comes down to your choice of fiat, crypto, location, and budget.
* The information in this article and the links provided are for general information purposes only and should not constitute any financial or investment advice. We advise you to do your own research or consult a professional before making financial decisions. Please acknowledge that we are not responsible for any loss caused by any information present on this website.