What is Coinbase Pro?
Coinbase Pro is an online digital currency exchange which features highly liquid and uses one of the world's biggest cryptocurrency networks. It features advanced trading tools, competitive fees, deposit options as well as leverage of up to 500:1.
The exchange is also backed by the biggest traders in the industry, such as the New York Stock Exchange and Andreessen Horowitz, a private venture capital firm form the US.
Coinbase Pro is the advanced version of the Coinbase platform, which features enhanced trading tools, including more detailed charts, graphs, and trading options.
In May 2016, the company rebranded its Coinbase Exchange into GDAX, around the same time it listed the Ethereum token. In July 2018, the company changed its name from GDAX to Coinbase Pro.
What cryptocurrencies does Coinbase Pro support?
According to data provided by CoinMarketCap, Coinbase Pro supports the following cryptocurrencies: 0x, Basic Attention Token, Bitcoin, Bitcoin Cash, Civic, Decentraland, district0X, Ethereum, Ethereum Classic, Litecoin, Loom Network, Zcash.
The accessibility of various trading pairs depends on the regulations of the user's country of residence. While users of Coinbase Pro have access to view the orderbook and other information related to any trading pair, they can only trade the pairs compliant with local regulators in their area. In Canada, Australia, and Singapore, users are able to trade with the following pairs: ETH/BTC, LTC/BTC, and BCH/BTC.
UK users have the available pairs: BTC/GBP, BTC/EUR, ETH/BTC, ETH/EUR, LTC/BTC, LTC/EUR, BCH/BTC, or BCH/EUR. European traders have access to the same trading pairs, minus support for BTC/GBP. US-based traders can trade BTC/USD, ETH/BTC, ETH/USD, LTC/BTC, LTC/USD, BCH/BTC, and BCH/USD.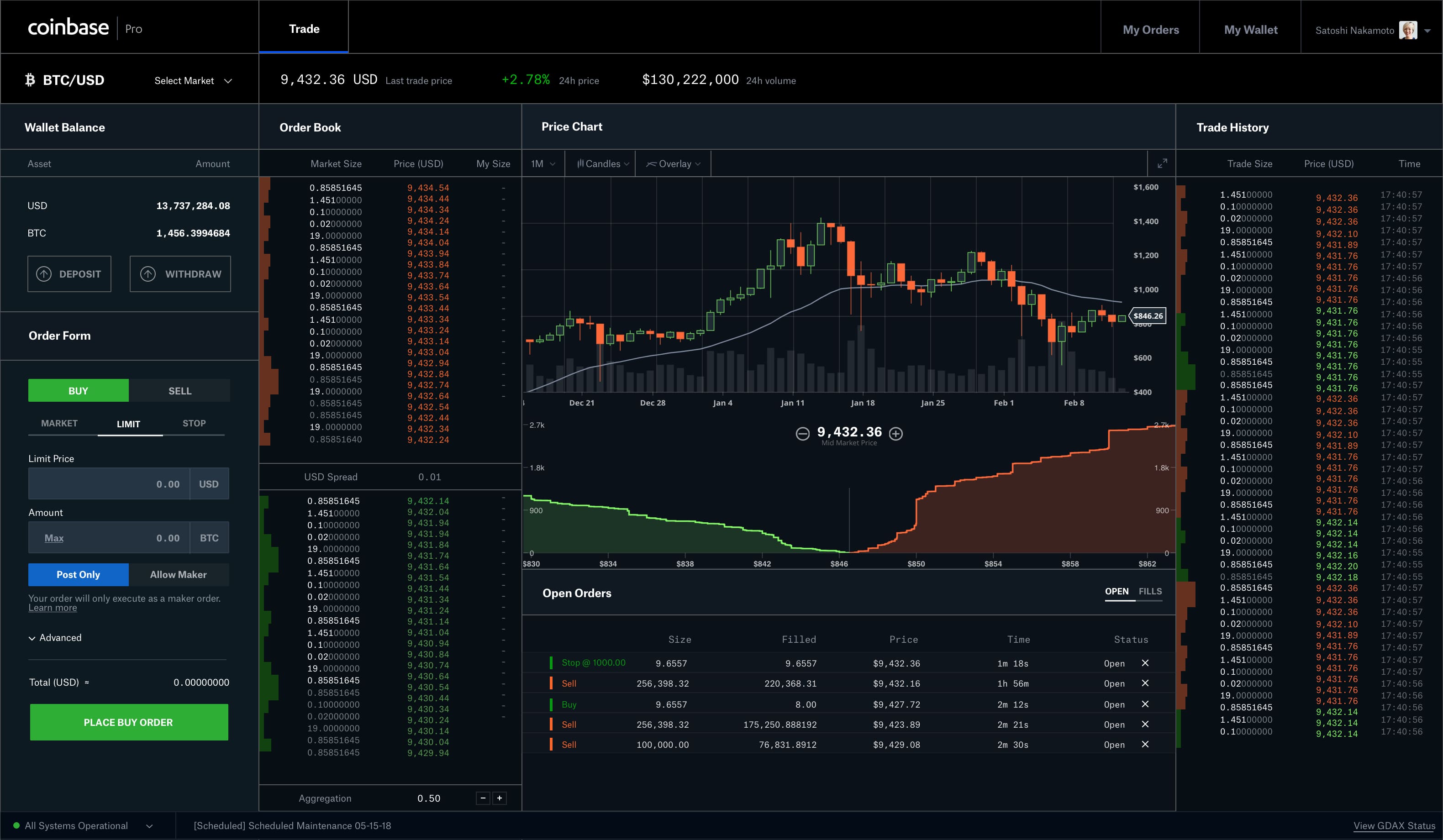 Which payment methods are accepted?
Coinbase Pro has three methods through which users can make payments:
Automated Clearing House (ACH) bank transfers
Single Euro Payments Area (SEPA) withdrawals and deposits in euros
Wire transfers in US dollars (same-day deposits are available, so long as they are initiated before your bank's daily cut-off time.)
Which countries does it support?
Coinbase Pro currently offers its services in the following countries: the United States, Europe (including the UK), Canada, Australia, and Singapore.
Coinbase Pro fees
Coinbase Pro employs the maker-taker model for fees, where maker traders have no fees at all. Coinbase Pro can divide an order into multiple orders which include a maker order and a taker order. In this case, each separate order is charged the appropriate fees, including no fee on the maker portion.
Taker fees can make the most of volume-based discounts that can reduce fees to a substantially low 0.10 percent. Taker order fees are 0.30 percent for amounts of up to $10 million. Between $10 million and $100 million, the fee incurred is 0.20 percent. Trading volumes that surpass $100 million will have a 0.10 percent fee. The trading volume is determined by the volume (in USD) that a trader experienced in the period of 30 days.
Below is a list of deposit and withdrawal fees charged by ACH, SEPA and USD Wire:
ACH Deposit: Free
ACH Withdrawal: Free
SEPA Deposit: Free
SEPA Withdrawal: EUR0.15
USD Wire Deposit: $10
USD Wire Withdrawal: $25
Is Coinbase Pro secure?
Coinbase Pro is considered to have the best security measures in the industry. So far, its record is clean of any hacks, and it's also backed up by leading traders and insured by the Federal Deposit Insurance Corporation (FDIC) for a sum of up to $250,000 per customer.
Coinbase stores 98 percent of customers' digital funds in offline wallets. Account verification requires photo ID and proof of address.
Customer support
Coinbase Pro features a broad FAQ section on its main site, providing answers to the most frequent questions users have. Each page in the support section also has a "Submit a Request" button, where users can contact customer support with any account and trading –related issues.
Verdict
Coinbase Pro is one of the most trusted and reliable exchanges available at the moment, having advanced security measures implemented to ensure that online customer funds are protected, while most of the funds are safely kept in cold storage.
Coinbase Pro can aid a traded in avoiding the regular Coinbase fees, which can go pretty high for credit and debit card purchases.
Image Source: The Coinbase Blog
* The information in this article and the links provided are for general information purposes only and should not constitute any financial or investment advice. We advise you to do your own research or consult a professional before making financial decisions. Please acknowledge that we are not responsible for any loss caused by any information present on this website.