Cardano and Ethereum are two of the most recognizable projects in the crypto space, and today, we will analyze the two in our Cardano vs Ethereum comparison.
What Is Cardano?
Cardano is a blockchain project that was designed to support smart contract functionality.
The project was developed in 2015 by an organization called Input Output Hong Kong (IOHK), led by Ethereum co-founder Charles Hoskinson. While Ethereum is regarded as a second-generation blockchain, Cardano claims to be a third-gen blockchain.
The native crypto of the Cardano platform is ADA coin, that can also be used to conduct transactions over the network.
The project is led by a team of scholars, researchers, and scientists, who are working together for the long-term objective of providing fast, cheap, and highly scalable transactions.
Unlike most blockchains that come to life by forking, the ADA team built their own protocol from scratch by using the Haskell programming language.
What Is Ethereum?
Ethereum was created back in 2015 by Vitalik Buterin, and it is known for being the first blockchain to ever implement smart contracts. Ethereum thus became more versatile than Bitcoin, as it had more purposes than supporting financial transactions.
But just like Bitcoin, Ethereum can be used to send and receive coins in the form of its native crypto Ether.
The Ethereum network is decentralized, but all smart contracts and transactions are verified by the community.
Now that you know what Ethereum and Cardano are, let's look at some of their defining features in our "Cardano vs Ethereum" guide.
Cardano vs Etereum: Stats
Cardano is ranked 13th, with a market cap of $971,196,803, and a 24-hour volume of $49,149,252. It is priced at $0.037459 at the time of writing. There are currently 25.927.070.538 ADA in circulation out of a total supply of 31.112.483.745 ADA.
Ethereum is ranked 2nd, with a market cap of $15,744,613,960 and a 24-hour volume of $9,168,341,537. The current ETH price is at $144.21 at the time of writing. There are currently 109,176,123 ETH in circulation.
Cardano vs Ethereum: Consensus and Technology
Both platforms use a "consensus mechanism" that validates new transactions before adding them to the block.
Ethereum currently uses the "Proof of Work" consensus, which is the same one used by Bitcoin. This algorithm requires a lot of computational power to solve the cryptographic equations of the transactions.
Mining Ethereum can be done using powerful hardware called ASIC, with miners competing to be the first one to solve the equations to get the ETH reward.
Ethereum's Proof of Work model requires more electricity, as the solving difficulty increases when more miners join the network.
The Proof of Work model also restricts the number of transactions that can be verified, with Ethereum managing only 15 transactions per second.
This is why the Ethereum is working towards upgrading Proof of Stake, to make transactions faster, cheaper, and more scalable. The Casper upgrade is expected to happen in 2020, which will shift Ethereum from Proof of Work to Proof of Stake.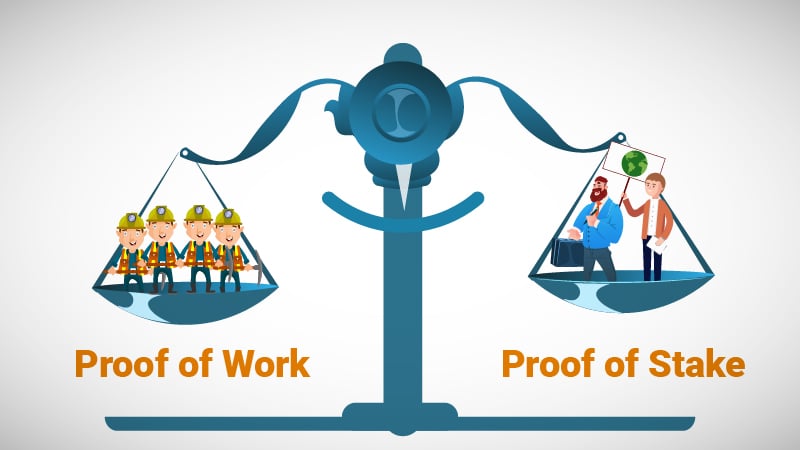 However, switching from PoW to PoS is no easy task. This has speculated that Ethereum will have a resulting blockchain hybrid, a merge between PoW and PoS.
Cardano is based on a variation of "Proof of Stake," similar to Delegated Proof of Stake, which is called "Ouroboros." The Proof of Stake model uses forgers who are users that "stake" ADA coins.
The Ouroboros model was created by the Cardano team and had no minimum amount required for staking.
In 2020, Cardano is expected to upgrade its already pre-existing PoS platform to a public network. Charles Hoskinson has said that the new network will have hundreds of times more people running its software than any other PoW system.
"This marks the starting point for handing the protocol completely to the community," commented the co-founder.
For the past two years, Cardano has developed and tested a working PoS system.
After the "Shelly" upgrade was executed, Cardano began working on an upgrade that would introduce smart contract functionality that would permit dApp development. The team is also aiming to increase the scalability of the network to 10,000 transactions per second. The Shelly, Goguen, and Basho upgrades are expected to be finalized by the end of 2020.
Cardano vs Ethereum: Predictions and Future Developments
Since Ethereum debuted on the crypto market, it has performed well. And this is not surprising, as it was the first-ever blockchain project to provide smart contract technology, and still holding the second position according to the market cap to this day. It is the most used platform for issuing initial coin offerings (ICO's), for new start-ups and new tokens.
Ethereum also has many dApps built in their ecosystem, which use the Ether coin. The project still has scalability issues, but they are hoping that through their Proof of Stake, Plasma, and Sharding upgrades, the problem will be resolved.
Cardano, like the rest of the cryptocurrency industry, has experienced a noticeable decrease in value.
The main issue with Cardano is the slow development process, with the team claiming to take their time to build the product without any flaws.
The platform still has to undergo a long way to achieve its final goal of unlimited, instant, and free transactions. Even though the team comprises of experienced engineers, scientists, and developers, there is no guarantee that the project will ever be finalized, and investors may lose interest in the meantime.
The Cardano roadmap is ambitious, with future development plans, including the implementation of quantum-resistant addresses, on-chain voting, and off-chain payments.
Predictions for both ETH and ADA are either bearish or bullish, depending on the person making the forecast. ETH has been estimated to reach anywhere from $1000 to $11000 in 2020, while Cardano has been predicted to trade between $0.08 and $10 in 2020.
Cardano vs Ethereum: Verdict
Ethereum might seem the obvious winner in the Cardano vs Ethereum battle, as it is already the second-largest crypto by market capitalization, and the other still has a long way to go before completing its product.
Note: This post was originally published on 9 December 2018 and has been totally updated for the completeness and veracity of the content on 9 January 2020.
* The information in this article and the links provided are for general information purposes only and should not constitute any financial or investment advice. We advise you to do your own research or consult a professional before making financial decisions. Please acknowledge that we are not responsible for any loss caused by any information present on this website.