In May 2021, the total market capitalization of the decentralized finance (DeFi) sector has gone beyond $140 billion and reached a historical maximum.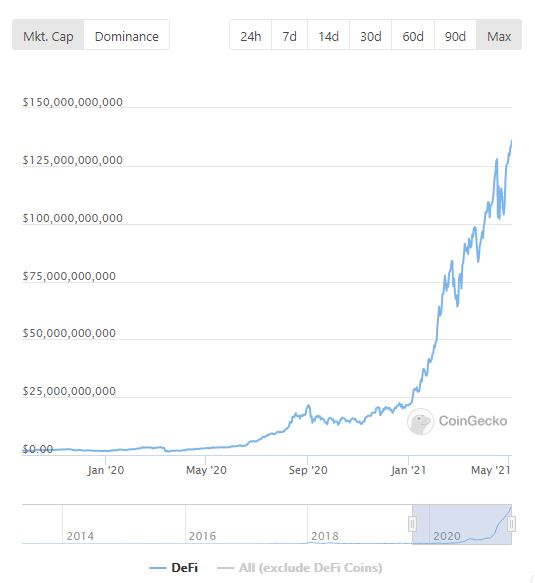 Due to the rise of DeFi, projects that operate on the Ethereum Network continue to deal with higher gas fees and transaction times. That is the reason why in 2021 the priority interest of VC and retail investors and market in general is focused on DeFi projects built on other protocols and L2 networks: Polkadot, Solana, Binance Smart Chain and others… For example, the Total Value Locked on Binance Smart Chain (BSC) went from $1.5 Billion to $47 Billion in the last 3 months, that is around 30X increase with a very small period.
Looking at these stats, we can see that overall ecosystem is continuously growing, with people trying their hands on different protocols. These market conditions frame a growing investment opportunity in this industry.
Amid rise of these new protocols and DeFi projects, InnMind started doing special editions of the VC shark tanks dedicated to defi and blockchain startups and VCs. The unique event where pre-IDO startups pitch to VC investors for the private token sale round.
Usually, many of the DeFi projects remain anonymous even after the public sale. It creates some uncertainty and useless buzz which sometimes reminds "crazy" times in 2017th and 18th when investors were losing money while projects did not deliver.
InnMind aims to bring more clarity and transparency to the sector, and DeFi Shark Tanks are a great step into that direction, combining a great deal-origination event for startups and VCs with the educational stuff for newbies in the sector. So far it had very high success rate with over 60% of start-ups got funded after the shark tank session. You can find more about this here.
If you have DeFi, Crypto or Blockchain MVP, and you are raising funds to grow, scale and enter new markets, you are more than welcome to apply and pitch on InnMind's next session. Apply here.
* The information in this article and the links provided are for general information purposes only and should not constitute any financial or investment advice. We advise you to do your own research or consult a professional before making financial decisions. Please acknowledge that we are not responsible for any loss caused by any information present on this website.