As the current situation is still far from being solved, many events in the crypto world have been moved online. If you are interested in participating in an online crypto event, please continue reading our list.
Below are the top crypto events that will take place online in May:
DeFi Discussions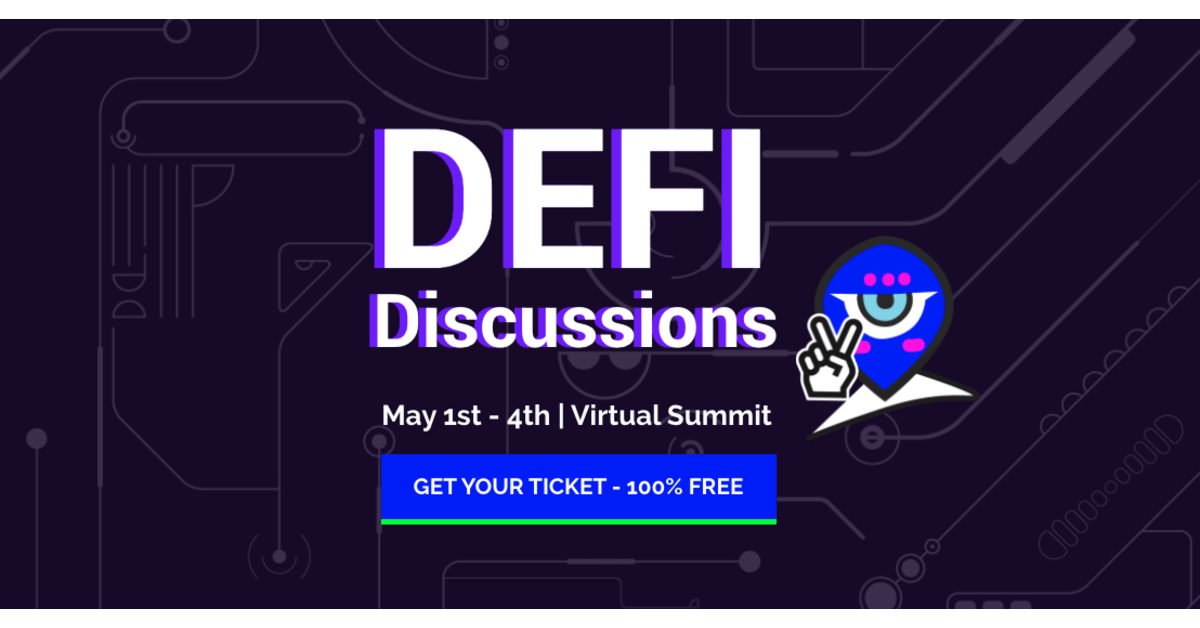 Event date: 01 – 04 May 2020
This is the fourth DeFi Discussions conference, but this edition will be special, as it will be completely virtual. The online crypto event is focused on helping developers create better DeFi products and to help traders have a better understanding of the technologies surrounding cryptos.
Some of the topics that will be presented at the event will include Bitcoin, cryptos, DeFi, security, data, prototyping, regulation, and scalability.
Participants can attend by logging in via crowdcast, but because of bandwidth issues, the spots will be limited, and after the limit has been reached, no more people can join the streaming.
The event will have the following speakers:
Jeremy Rubin, BTC Core Developer; Advisor at Layer1; Co-Founder of Scaling Bitcoin;
Sep Kamvar, Co-Inventor of EigenTrust & Co-Founder of cLabs;
Austin Griffith, Ethereum, Burner Wallet & ETH.BUILD;
Luke Youngblood, Exec at Coinbase Custody;
Taylor Monahan, Founder & CEO of MyCrypto;
Gavin McDermott, Engineering & Research at IDEO;
Allison Lu, Co-Founder of UMA; Ex-VP at Goldman Sachs;
Alex Wearn, Founder & CEO of IDEX;
Peter Yuan Pan, Summoner & Operator of MetaCartel;
Hugh Karp, Co-Founder & CEO of Nexus Mutual;
Aparna Krishnan, Co-Founder & CTO of Opyn;
Michael Feng, CEO & Co-Founder of Hummingbot;
Noah Zinsmeister, Engineering Lead at Uniswap;
Felix Feng, CEO & Co-Founder of Set Protocol;
Benedict Chan, CTO of Bitgo.
IEEE International Conference on Blockchain and Cryptocurrency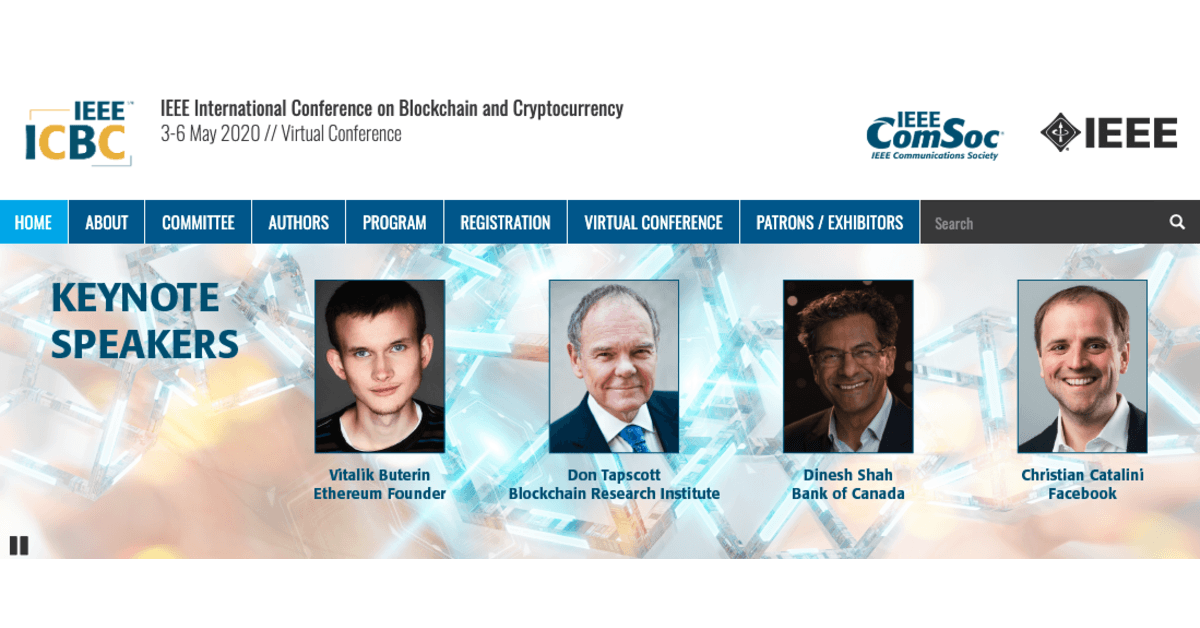 Event date: 02-06 May 2020
The IEEE International Conference on Blockchain and Cryptocurrency in 2020 (ICBC 2020) is the second iteration of the IEEE Communications Society (ComSoc)-backed conference that will focus on cryptos and blockchain technology.
The agenda will comprise of keynotes, tutorials, peer-reviewed whitepaper presentations, and demonstrations from top businesses, open-source projects, and researchers.
ICBC 2020 will focus on matters relating to innovation, regulation, policies, and apps that are applicable to the field of blockchain and cryptocurrency.
Some of the most prominent speakers to attend will be:
Vitalik Buterin, Founder of Ethereum;
Don Tapscott, Blockchain Research Institute;
Dinesh Shah, Bank of Canada.
Ready Layer One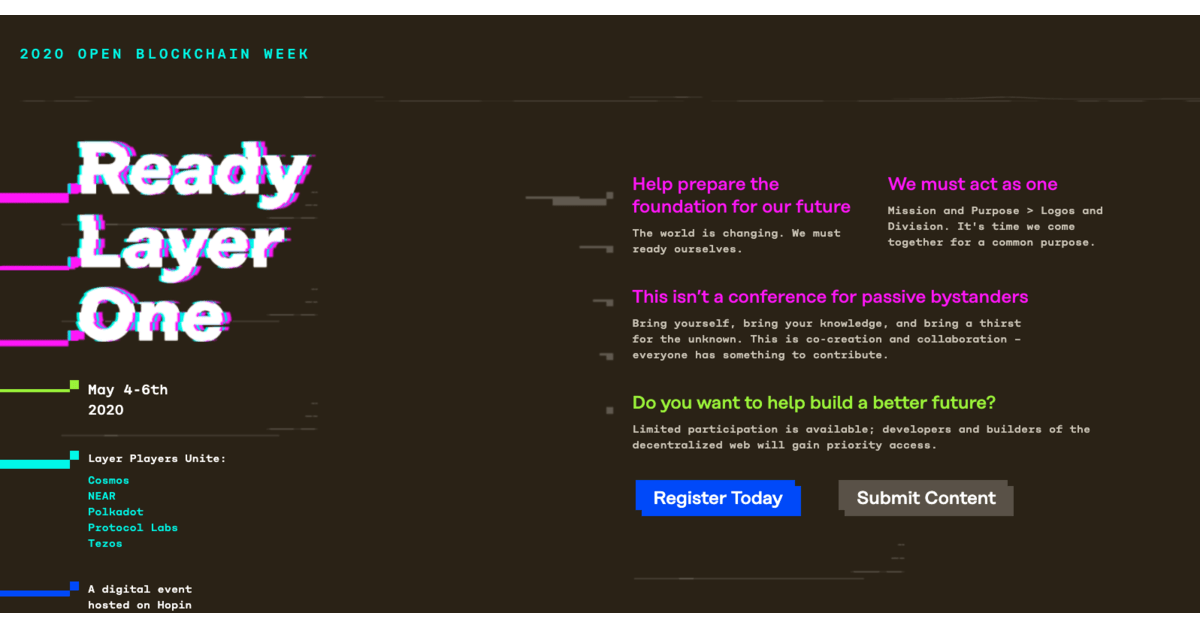 Event date: 04-06 May 2020
Ready Layer One is an online crypto event that promotes interaction between its participants in a virtual setting. The program of the event includes discussions, workshops, and rants from leaders of the industry as well as people from the community.
The event is a crossover between a hackathon, a conference, and a masterclass seminar where developers and other IT specialists can join to create tools for a decentralized web.
The data sourced here will teach developers how to create decentralized applications by using the next generation of layer 1 protocols by tackling specific examples and using real code in a live format.
The event will have the following speakers:
Zaki Manian, Cosmos;
Illia Polosukhin, NEAR;
Erik Trautman, NEAR;
Anatoly Yakovenko, Solana;
Ejaaz Ahamadeen, ConsenSys;
Jake Brukhman, CoinFund;
Neil Bergquist, Coinme;
Sergey Nazarov, SmartContract;
Christian Arita, StakerDao;
Adrian Brink, Cryptium Labs;
Simona Pop, Ost;
Jonas Lamis, StakerDao.
Ethereal Virtual Summit 2020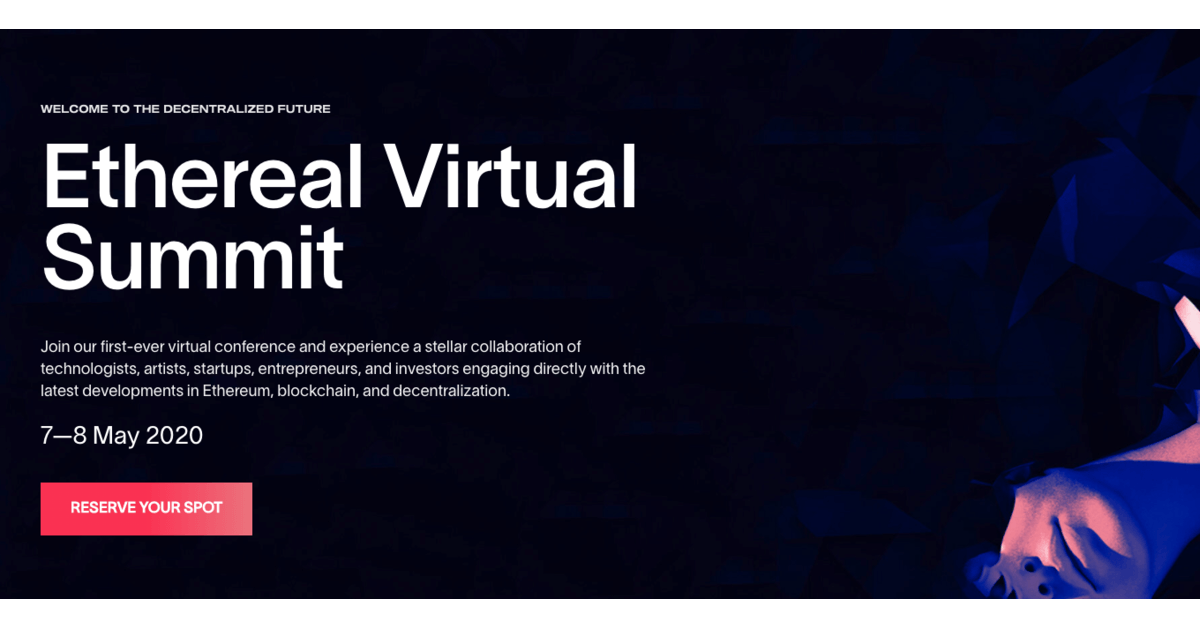 Event date: 07-08 May 2020
Ethereal Summit is a platform where people from various industries and startups will be joining to directly engage with each other. Developers, investors, and entrepreneurs will be focusing their conversations on the latest developments in Ethereum, blockchain, and decentralization.
Speakers at the event will be:
Vitalik Buterin, Ethereum Co-Founder;
Taylor Monahan, Founder, and CEO at MyCrypto;
Joseph Lubin, CEO, and Co-Founder at ConSensys and Ethereum;
Rune Christensen, Founder MakerDAO;
Mike Novogratz, Founder, and CEO at Galaxy Digital.
Consensus 2020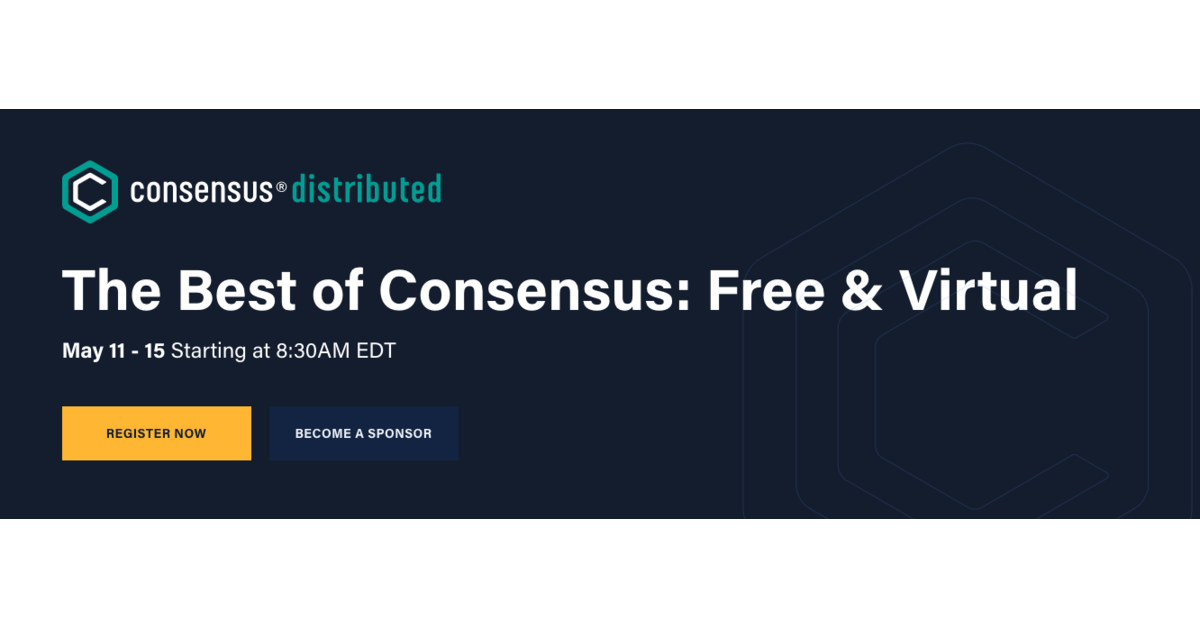 Event date: 11-13 May 2020
Consensus is one of the biggest annual crypto events in the industry. Hosted by the popular crypto news site Coindesk, this year, Consensus will be entirely virtual so that everyone can attend from their home and prevent the spread of COVID 19.
The event will bring together some of the biggest names in the industry that will take part in exciting debates and through-provoking conversations.
The following names from the industry will be on the speaker list:
Tyrone Ross, 401, Financial consultant and entrepreneur;
Changpeng 'CZ' Zhao, Binance, Founder and CEO;
Akon, Akoin, Founder;
Carlota Perez, Author of 'Technological Revolutions and Financial Capital', Economist;
Chris Burniske, Placeholder Capital, Partner;
Caitlin Long, Avanti Bank & Trust, Founder, and CEO;
Christina Lomazzo, UNICEF, Blockchain Lead;
Brian Klein, Baker Marquart, Partner;
Chris Giancarlo, Wilkie Farr & Gallagher, Senior Counsel.
COVIDathon: Decentralized AI Against COVID-19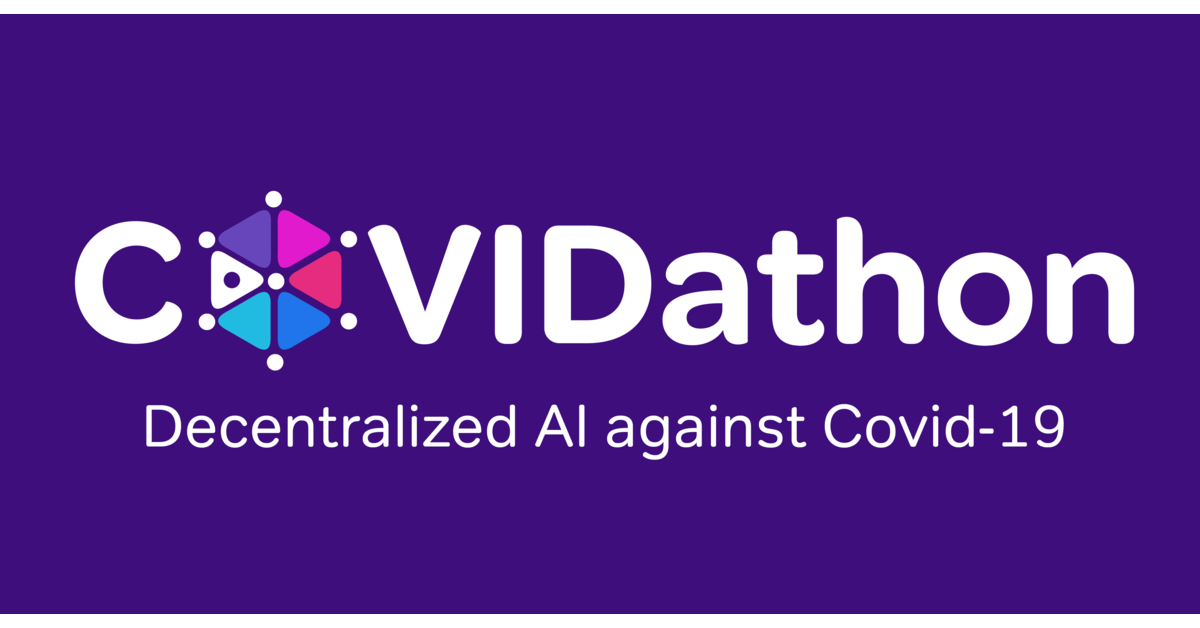 Event date: Apr 01, 2020 – Jun 01, 2020
Hosted by SingularityNET and Ocean Protocol, The Decentralized AI Alliance is an online crypto event where developers of AI and blockchain projects can share their decentralized tools for the fight against COVID-19 and prevent other future pandemics.
"Our goal is to unite in the fight against COVID-19. Together we can develop and launch open-source code using AI and/or blockchain to combat COVID-19, reduce risks from future infectious outbreaks, and cope with the COVID-19 pandemic situation, " – said its organizers.
The hackathon will run over the course of two months, and it will be divided into two phases: Phase 1, which will be until the 30th of April 2020, and Phase 2, which will run until the 1st of June 2020.
The projects can be submitted by teams or individuals, and they will be judged by a panel consisting of the following names:
Bruce Pon, Founder of Ocean Protocol;
Ben Goertzel, CEO SingularityNET & Chief AI Scientist Rejuve;
Ray Ng, MD, Nth Opinion;
Roger Ng, MD, Nth Opinion;
Jonathan Passerat-Palmbach, Research Scientist at Consensys Health;
Robert Miller, Senior Consultant at Consensys Health;
Elad Verbin, PhD, Founding Partner at Lunar Ventures;
Astrid Woollard, PhD. Partner at Scytale Ventures;
Michael Zargham, PhD, Founder, and CEO at BlockScience;
NiMA Asghari, Ecosystem Accelerator at Ocean Protocol;
Ibby Benali, Director of Product Development at Rejuve;
Robin Lehmann, Developer Relations at SingularityNET.
BlockConf
Event date: 25 May
BlockConf Digital is a two-day, non-stop online crypto event that will welcome leaders of the industry, academics, and blockchain enthusiasts from all over the world to share their passion and insight to further the advancement of blockchain technology.
Participants will be able to interact with the representatives of some of the biggest companies in the crypto space by accessing the virtual booths' video chat rooms, partake in e-workshops, talk in e-coffee break rooms, reserve private meetings at VIP e-meeting rooms, take part in other activities.
"We are very excited to see the transformation and how fast the conference market is adapting to the new scenario. BlockConf DIGITAL is our 2 cents to join that trend and also going further with a whole new concept of online networking,"-Juan Manuel Domínguez, the organizer at BlockConf DIGITAL
"BlockConf Digital is our way to bring networking back to the community and entirely reshape the conference format. We welcome blockchain veterans, as well as newcomers as this blend, can move the technology adoption further,"-stated Elena Obukhova, one of the organizers of BlockConf DIGITAL.
Some of the speakers for the online crypto event will be:
Adam Back, Blockstream;
Peter McCormack, What Bitcoin Did;
Emily Coleman, Marketing Expert;
Dan Held, Kraken;
Giacomo Zucco, Bitcoin Educator & Researcher;
Gleb Kostarev, Binance;
Diego Gutierrez Zaldivar, IOV Labs.
Conclusion
This is the end of our article featuring some of the online crypto events of this May. Considering that all of them will be hosted online, you can join all of them if you want, especially the free ones.
Featured image: businessinsider.com
* The information in this article and the links provided are for general information purposes only and should not constitute any financial or investment advice. We advise you to do your own research or consult a professional before making financial decisions. Please acknowledge that we are not responsible for any loss caused by any information present on this website.