Binance Exchange Review | Fees, Security, Pros and Cons
Last Updated on Feb 22, 2021 at 6:32 PM
Today, we will be reviewing the Binance exchange, a popular platform that features a variety of crypto pairings and is respected in the community for its transparent approach. We will provide you with all the necessary information to handle your cryptocurrencies.
Binance Exchange Overview
Binance is a well-known cryptocurrency exchange that came to light in 2017 following a successful ICO in China, which offers users the possibility to trade a large number of crypto assets. Binance was initially based in Hong Kong, subsequently relocating to Tokyo. Recently, the exchange has moved its headquarters to Malta, a very friendly nation towards crypto.
The CEO of the exchange is Zhao Changpeng, who is very active on social media accounts and quick to alert the community of any of Binance's activities. Before launching one of the most popular trading platforms in the crypto space, the CEO was employed at the Tokyo Stock Exchange and Bloomberg.
The company has launched many other subdivisions, such as Binance US, Binance Uganda, and has also developed several platforms for lending, staking, and margin trading.
Binance DEX and Binance Chain
If you are reading this Binance review, it is important to understand that Binance is a decentralized exchange. In addition to it, the platform has also released its own blockchain network called Binance Chain.
While centralized exchanges are fast and user-friendly, decentralized platforms are lagging behind. Binance is trying to change this with its Binance DEX solution. This platform has already been released to the market, and it has attracted several traders.
The Binance Chain is also a massive project for Binance. Some firms are already launching their tokens on top of this independent blockchain network.
Nowadays, projects can simply start working on the Binance Chain and create their own solutions. Some firms have already launched stablecoins, and the whole Binance DEX is running on top of it.
Supported Currencies and Available Countries
Binance features a wide array of coins, counting hundreds of cryptos on the platform. Some of the supported coins include Bitcoin, Bitcoin Cash, Bitcoin Gold, Dash, EOS, Ethereum, Ethereum Classic, IOTA, Litecoin, NEO, Ripple, and OmiseGo.
The exchange has also removed several coins and pairs from the platform, including ANKR/PAX, ANKR/TUSD, ANKR/USDC, BCPT/PAX, BCPT/TUSD, BCPT/USDC, BTT/BTC, DENT/BTC, DOGE/PAX, DOGE/USDC, ERD/PAX, ERD/USDC, FTM/PAX, FTM/TUSD, FUEL/ETH, GTO/PAX, GTO/TUSD, GTO/USDC, LUN/ETH, NCASH/BNB, NPXS/BTC, ONE/PAX, ONE/TUSD, PHB/PAX, PHB/USDC, TFUEL/PAX, TFUEL/TUSD, TFUEL/USDC, WAVES/PAX, WIN/BTC. Bitcoin SV had also been delisted.
Binance is available in all countries around the world, except the following:
Afghanistan;
China;
Congo (Brazzaville);
Congo (Kinshasa);
Cuba;
Democratic People's Republic of Korea;
Eritrea;
Iran;
Iraq;
Ivory Coast;
Kyrgyzstan;
Lebanon;
Libya;
South Sudan;
Sudan.
Also, Binance services are not available to US residents from the following states: New York, Connecticut, Hawaii, Georgia, New Mexico, and Washington.
Binance Jersey and Binance US support all US residence.
Compatibilities
The exchange has developed desktop apps for its trading platform, which are compatible with Microsoft and MAC operating systems, as well as mobile apps for Android and iOS devices. The platform can also be accessed via opening any web browser.
User Interface and Experience
The platform has two options available for traders: basic and advanced.
The advanced version lets users view a technical comprehensive analysis of the digital currency's price over time. The basic version's dashboard features several graphs and charts for trading pairs, in addition to order books and the coin's trade history.
The Basic option has an aesthetic and clean interface, displaying on the left prices, graphs in the middle, and on the right the buy and sell boxes as well as the trade history.
The advanced view has a dark theme, the trading charts are enlarged and the current trade prices are on the right with the buy-sell boxes featured underneath them.
How to Get a Binance Exchange Account
Go to the Binance website and register for an account.
Provide a valid email and password.
Click the verification link sent to your email address.
Verify identity by uploading your national ID; a selfie with your national ID and a note is recommended.
Wait for the company to send you a confirmation email saying that your identity has been verified.
How to Use Binance Exchange
Buying crypto
Select the crypto you want to deposit into your Binance account.
The deposit address to send your coins will be displayed in the list of options. You can also purchase top coins, such as BTC or ETH with a credit card.
Click on "Exchange" and select "Basic." You can also click on the coin you want to trade from the list in the middle of the screen to make the main trade page appear.
On the top left of the screen, the pair you are interested in trading will appear. The order book of buy and sell bids will be featured below.
Click on the price you want to buy the coin and the order form will fill in automatically. You can also type in the trade order box (market, limit or stop-limit order) the amount you want.
Wait for the order to be executed and the new coins to be deposited into your Binance wallet.
Withdrawing funds
Click on "Withdrawal" which is located under "Funds" at the top of the screen.
Select the crypto you want to withdrawal and paste in the wallet address.
Type in how much you want to withdraw and click "Submit."
Send your two-factor Google authentication code.
Click on the confirmation link sent in the email.
Confirm the withdrawal.
Binance Exchange Fees
Binance has an average fee of 0.1% for its transactions. Users who want to make payments with the Binance Coin (BNB) can have their fees substantially reduced.
Credit card payments in other fiats aside form USD or EUR will have a standard processing fee of 3.5% ($10 minimum) applied to the transaction.
Withdrawal fees vary depending on the traded coin.
Payment Methods
The Binance platform supports crypto deposits and withdrawals, but in recent years, it has also added fiat purchases and withdrawals via credit cards. The credit card option is, however, limited to a number of cryptos:
Bitcoin;
XRP;
Binance Coin;
Ethereum;
Litecoin;
Bitcoin Cash ABC.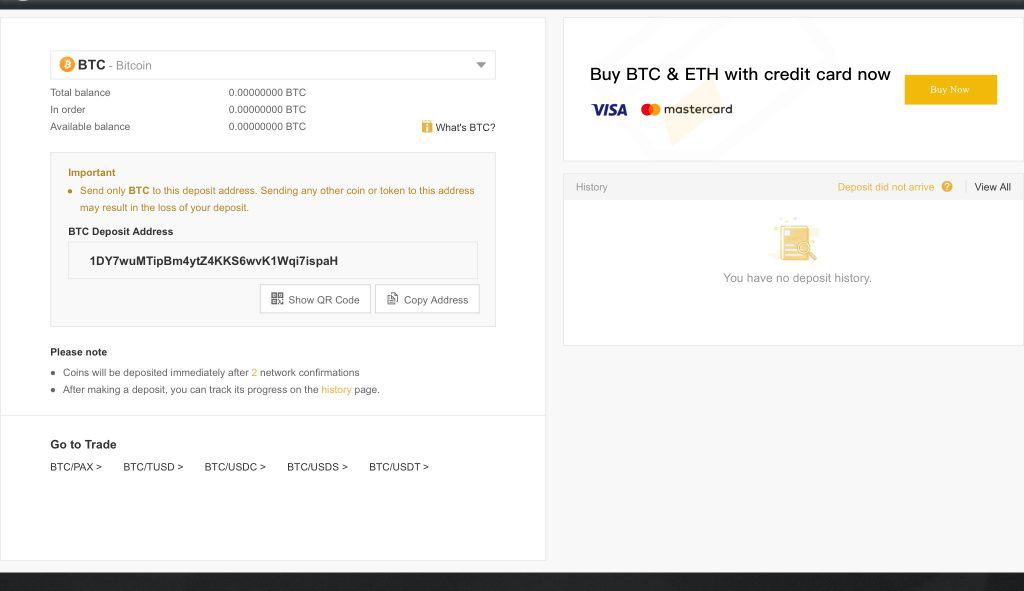 You can also pay using Binance Coin, the native coin of the platform, for your trading fees. This offers you a discount of 25%, which means that from the 0.1% standard trading fee, you will have to pay only 0.075%. The discounted fees will reduce over time, with 12.5% being the next percentage which will be deducted.
Transaction Times
Depositing times vary according to the traffic of the network of the coin you are using in your operation. Withdrawals can take up to 12 hours, as the company states that they are not able to provide instant withdrawals.
Transaction limits
There is currently no limit to how many coins you can deposit into your account. Users that have not verified their account have withdrawal limits, while verified "level two" users are not limited.
Security Features
The Binance platform has implemented ISO/ICO_27001:2013 and CCSS security protocols. The accounts use an SMS two-factor authentication system and Google Authenticator for withdrawal verification and security changes. Users must have one of these features activated in order for their account to be verified.
Binance's privacy policy states that the exchange saves user information, such as IP addresses, and stores the data on its servers.
The platform was the target of a hack in March 2018, in which the attackers tried to steal user's funds, but its automated systems averted the attempt. For months, the hackers had been gathering people's logins through a phishing website that covertly installed API access on the infected accounts. The funds in the victims' accounts were then converted to BTC and invested in Viacoin, making the coin surge. After this, the hackers went on to sell their own supply of Viacoin at its highest price, before trying to transfer the BTC to their own wallets.
But fortunately, they did not manage to steal any funds, as they were caught on time, with the hackers' funds being given away to charity.
Seeing as this hack was accomplished because of the people entering their site logins and 2FA information into a fake website, always check if you have the correct Binance URL before logging in.
After this hack attempt, Binance introduced the Secure Asset Fund for Users (SAFU) in 2018. The SAFU function acts is a reserve fund that is there to cover the possible losses of a hack. The reserve SAFU takes 10% of all of Binance's trading fees.
In May 2019, the platform was hacked, with the hackers stealing 7,000 Bitcoin, which was estimated at that time to be around $40 million. But as the exchange had the SAFU account to cover the losses, none of the affected Binance customers lost any money.
Regulation wise, Binance is regulated in Malta and operates under the Virtual Financial Assets (VFA) act. The platform complies with anti-money laundering obligations, but it is not licensed by any other regulatory bodies.
For its other platforms, Binance US and Binance Jersey, the company has applied and obtained the necessary licenses to offer crypto for fiat and vice versa in the countries these platforms operate.
Customer Support
Binance's support is offered in the form of support tickets, which are sent via an online form available on their website, and responses are given via email. The exchange's official Reddit page states that tickets will be answered by a support agent that knows the system you are using. Live chat support and a phone number are not available at this moment.
The platform is however very active on social media platforms, such as Telegram and Twitter, so it is also indicated to follow those accounts as well for information. Their blog and FAQ section on the main site also answers a wide array of questions and provides details regarding the company, its platforms, pairs, and other issues.
Binance Exchange Reputation
In spite of its hacks, Binance is highly regarded as one of the best exchanges in the crypto world, as it has managed to handle very well all its losses and be completely transparent when anything occurs on the platform.
Binance Exchange Review: Verdict
Binance is one of the most prominent cryptocurrency exchanges, which has developed to offer a diversity of platforms and products aimed at crypto traders. The exchange is convenient to use and has proven to be reliable.
Note: This post was originally published on 29 October 2018 and has been totally updated for the completeness and veracity of the content on 10 March 2020.